…Or Hello Fresh, as it is actually called! 😛
If I'm honest, I have been stuck in a dinner-rut for a while now and have had the same 7-8 dinners on rotation for the past few years.  It doesn't help that Dan is the world's pickiest eater and the only vegetables that he will willingly eat are carrots and peas.
Now that I'm back at school and out for at least 12 hours each day I don't really want to come home and worry about what to cook each evening.  I often use the slow cooker for meals when I am thinking ahead, but this can become a bit same-y after a while.
Basically, I either wanted to employ a fantastic chef to supply me with delicious food whenever my tummy rumbled, or I wanted an easy way of making some top-quality new and filling meals.
I read a review by Anna several months ago now about how she had been talked into signing up for Hello Fresh boxes by a door-to-door salesman, but was actually enjoying them so much that she had continued her order past the initial trial.  Everything about the Hello Fresh service sounded appealing to me and so I decided to sign up for the Classic Hello Fresh box for three meals a week to see how I got on.
Each week you can decide which of the five meals available that week appeal to you the most and select them ready for the following week.  On the Hello Fresh website you can scroll through dishes from previous weeks and I noted that there was such a wide selection of meals that have been used.  I thought that perhaps the meals would have been on rotation every month or so, but that doesn't seem to be the case.
Because I don't return from work until 6pm I chose a 'safe place' for the delivery driver to delivery my box at home each week.  My selected safe place was next to my recycling bin along the side of my house.  If I was to continue ordering boxes through the winter though, I would set up a more sturdy safe place for the boxes so that the produce inside would not be damaged from the elements.  I literally could not believe the size of the box when we returned home from work on the first Monday.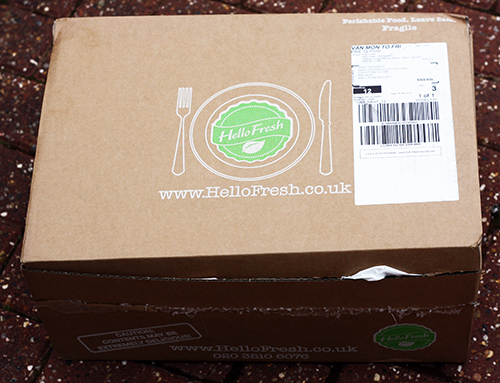 I'm not sure how I was expecting enough ingredients for three meals to fit into a smaller box but the box was about as large as one of the (many) large craft storage containers I own and rather heavy to pick up to bring inside.  I was so excited to get it unpacked and look through the ingredients which had been delivered though!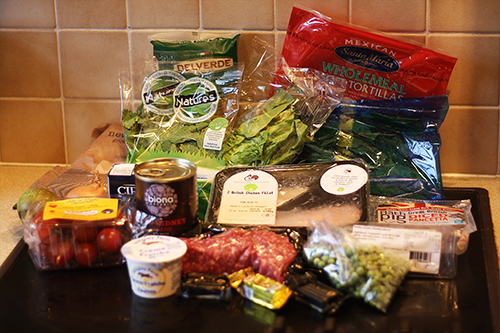 All the chilled ingredients were carefully wrapped in tiny little ice packs and wool lining.  They arrived perfectly fresh and ready to eat/be stored until required.  All ingredients that are required for the meals have been included in the box each week, apart from salt, pepper and the odd dash of olive oil.  Even items like stock, spices and cloves of garlic are included, just in teeny tiny containers for the exact amount you require.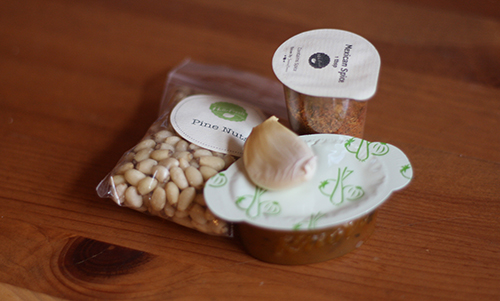 You also get a thick sheet of about A5 size containing instructions for each meal.  The sheet has a slightly shiny surface (to allow for any wild pan sloppage) and contains step-by-step instructions on how to create the dish, along with photographs of the process and a snapshot of the finished meal.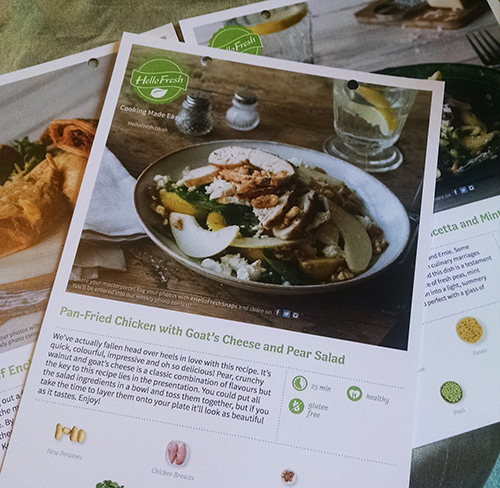 My first week of meals contained the following:
1. Pan-fried Chicken with goat's cheese and pear salad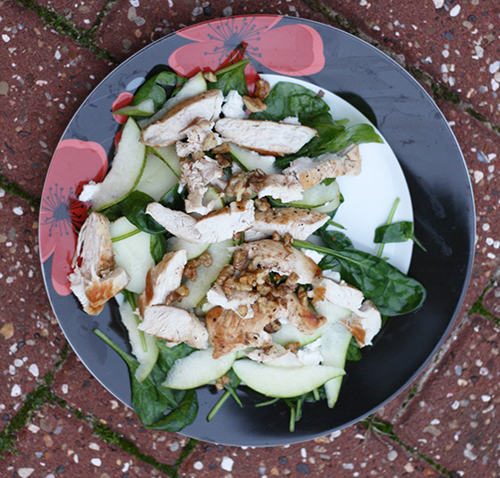 2. Refreshing Pasta with peas, pancetta and mint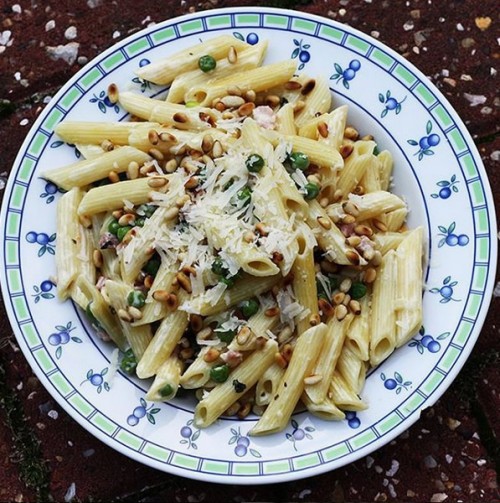 3. Quickfire Beef Enchiladas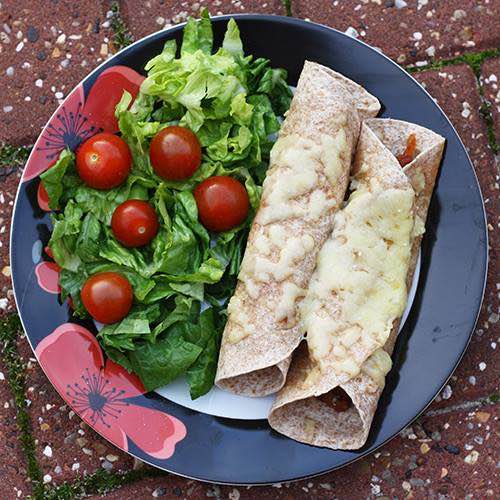 What did I learn from week one?
I learnt that Dan's favourite meal of the week was the salad.  Well, after I had removed the spinach and pears from his half at least!  But he loved the mix of walnuts, warm chicken and goats cheese over the new potatoes.  This is something that I shall make again.  (I served his share with a side of peas just so that he got a portion of vegetables into him as part of his evening meal!)
I learnt that pasta doesn't have to be boring.  I was a very fussy eater as a child, as was my brother.  My poor Mum only ever cooked a selection of about ten different meals that we would both eat, and that included pasta.  Pasta with lots of grated cheese on top and served with sweetcorn on the side.  Except I'm pretty sure my brother didn't like the sweetcorn?…I think this has meant that I now tend to associate pasta with being a quick and easy yet incredibly boring meal choice, never choosing to order a pasta dish when eating out and often putting a pasta bake dish in the oven for nights when I'm going to be back late from running as it requires very little effort.  I adored the change in texture achieved by adding the pine nuts to this dish.
I learnt that I see enchiladas as primarily a lunch meal.  Perhaps because they are served in a wrap, and I tend to associate wraps or sandwiches as portable and therefore a lunchtime food.  This was the only Hello Fresh dinner where I felt like I needed dessert afterwards!
When cooking these dishes you need to make sure you have a lot of pans available, as often the recipes call for two or three pans on the hob, another in the oven and a couple of bowls on the side containing sauce/some sort of seasoning!
Week number two of the meals contained:
1. Chermoula Chicken with chorizo lentils and roasted peppers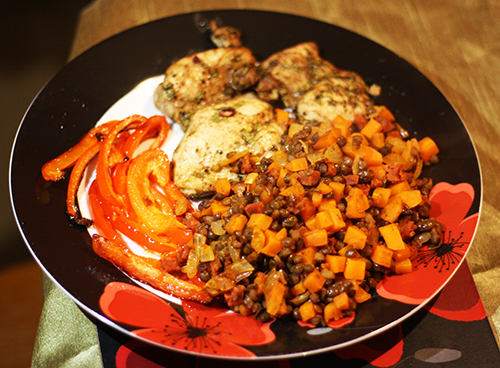 2. Duck Steaks with spiced chickpeas, sweet potatoes & lemony yoghurt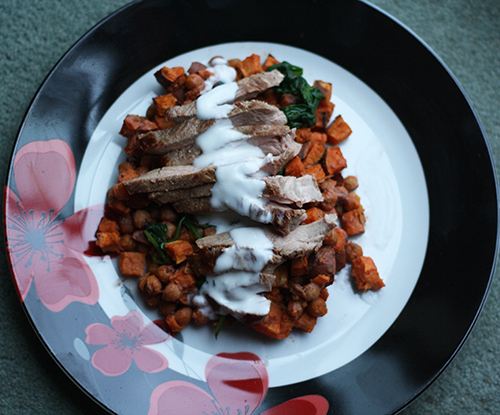 3. Sage and Butternut Squash Risotto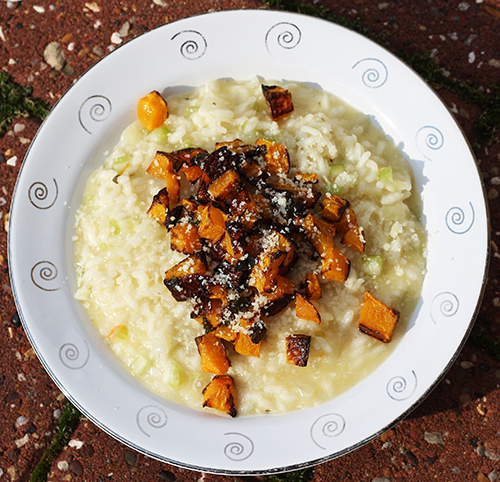 I learnt that a bit of spice on a dish can completely change the flavour and turn it into an exciting meal.  I'd also never tried lentils before.  Yep, I normally favour the veggie dishes but I can't remember having ever seen these on a menu before and wouldn't have ever thought to hunt them out in a supermarket.
I learnt how to heat spinach to add to a dish.  Literally the best thing ever, and so quick to do.
Despite Dan being really good and trying so many new foods over the past fortnight, there is only so far I can push it and he refused to try any of the Sage and Butternut Squash Risotto, so I had that one for a couple of lunches instead!
Bella is still learning boundaries in our new house and when I sat down for a few minutes in the lounge after munching through my first home-cooked duck she decided to jump up onto the worksurface in the kitchen to lick out the frying pan.  Dan happened to be in the kitchen at the time, so shouted at her and booted her out the back door.  His solution to the problem though?  To cover the washing up with a tea towel!  Oh, to be a man!
If you are careful about your shopping and would class yourself as a 'frugal' shopper, Hello Fresh may seem a little pricey.  Boxes are £39 per week for three meals for two people (you get greater value if you choose to have more dishes per week (you can choose 3 or 5) and the more people you order for (2 or 4).  I received a £20 discount when I signed up for the service using Anna's sign up code which made starting out a little less of a hit on my purse.
I think that the cost of the meals works out better than going out to a restaurant for dinner several times a week though and I also feel much happier knowing that I have eaten a healthy, well-rounded meal in the comfort of my own home.  I love that I have learnt new skills in the kitchen as well as discovered ingredients I'd never come across before, or dared to try, creating new combinations to construct my meals.  Knowing a little more about foods such as lentils and pinenuts and how to prepare them I will be much more likely to purchase them and experiment with adding them to dishes in the future.
I intend on continuing to use Hello Fresh for inspiration although slightly less regularly as it is more expensive than my weekly shop would be otherwise.
If you would like to try Hello Fresh, I have a discount code which will give you £20 off when you sign up.  (Just so you know, using my referral code would also give me a further £20 off my next box.)  Just enter the code X4BXEG in the referral box when you sign up and we will both be winners!
Have you tried Hello Fresh?
How do you get inspiration when you want to try new dishes?