On Sunday I raced a trail half marathon.  I didn't stop to take photos along the route, I ran through drink stations and I didn't hold any gates open for other runners (erm, sorry about that!)
Usually, I don't race trail races but instead run them at a leisurely pace.  I walk the hills, munch at the checkpoints and take a few photos on the way round.  This time though, two weeks out from my goal marathon, I wanted to run the race hard and to feel comfortably uncomfortable the whole way round – trying my best to run on feel, not heart rate or pace.  I don't want to run looking down at my watch every few seconds when I get to Mablethorpe and wanted to check how in-tune I was with my body.
I think I cracked it and I certainly had a fantastic race experience.  My best in a long while!
I grabbed a lift with another club runner to the race and seventeen from our club ran in total, all of varying speeds and abilities.  The race we ran was the Royston harvest trail half marathon, but there was also an option to run the Royston harvest trail quarter marathon, starting out along the same course.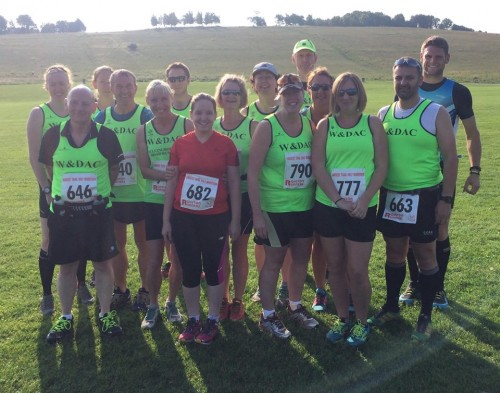 I set out fairly steadily, chatting to another runner for the first mile.  Despite chatting, and the route being off-road on thick grass, I was surprised to see the mile tick by in 9:52.  The first couple of miles are on a gradual incline, with a few small bumps in the path.  At one point you have to duck underneath some racetrack fencing to get out onto a small country track.  You then head out alongside a field and onto a very narrow track that climbs steeply up through a small wood just before mile four.  Although I felt pretty strong still, I was forced into a walk here by the runners in front.  There were about 20 runners ahead of me who were all walking this section, and had I managed to squeeze past the first one, I would have had to continue asking if I could squeeze by those further ahead of me, so resigned to a fast walk here instead.  At least the majority of people were walking fairly quickly at this early point in the race.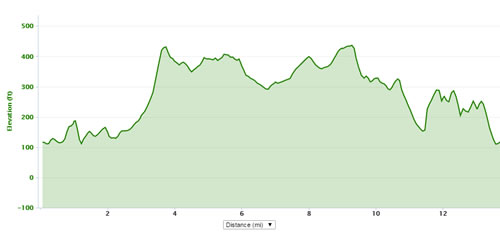 I had run the race last year, so knew roughly what to expect from the elevation. (1,109ft!)
Mile 1: 9:52
Mile 2: 9:33
Mile 3: 9:57
Mile 4: 12:04
Upon reaching the top of the steep track we came out onto a road.  The quarter marathon runners turned left and the rest of us turned right to continue along our way, heading past the water station for the first time.  I took a sip from a cup before chucking it and carrying on running.  Several of the runners who had been walking in front of me stopped at the water station and I never saw them again out on the course.
There were several kissing gates out on the course, which broke up the route.  I think my body prefers the route to be naturally broken up by road crossings, gates and changes in terrain and it was nice being made to take tiny little mini breaks whilst out on the course.
Mile 5: 10:03
Mile 6: 10:13
Mile 7: 9:58
Mile 8: 10:32
I was still feeling very strong and so amazed at how consistent my running had been throughout the course so far.  I had intended on running hard, but had expected to die off a little before this point.  That feeling never came though and I remained strong throughout.  I was trying not to constantly look at my watch, but rather aim to run by feel.  If I had been running to heart rate, I would have been checking to ensure I was running just under 160 bpm.  Upon looking at my stats after the race I can see that I was spot on, at 159bpm on average during the race.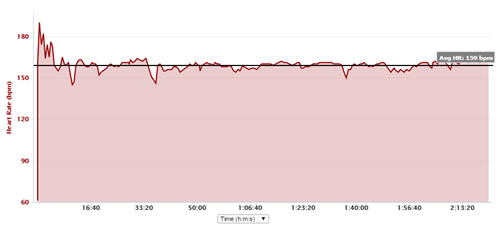 At mile 9 we ran through the second water station and it was here that I passed another runner from club, – Ian, who I ran with at Dunstable Downs 20m the previous weekend.  Ian is a much faster runner than me so I knew that I was having a good race when I glided past but had lost sight of him another mile along the track.
Mile 9: 10:18
Mile 10: 9:59
Mile 11: 10:08
With two miles until the end you reach this spectacular hill.  (Image taken from the Royston Runners Facebook page.)  This was the only point where I chose to walk rather than to run, as did the majority of entrants and I overtook several more walkers along this section with my long stride.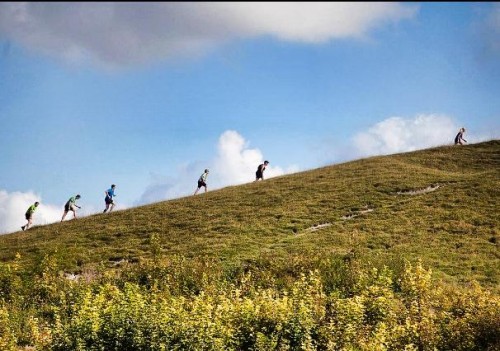 It was here that I passed a woman wearing sandals!  I spoke to her briefly as I went past.  Her feet looked amazing – not all battered and beaten like the feet of runners usually do!  Apparently she had been wearing sandals whilst out running for several years with the aim of encouraging her to run more on her fore-foot and discourage heel striking.  I'm not sure how the skin between her big toe and toe number two felt by the end of the race though…there was a lot of downhill just before the end so there would have been a lot of pressure where the toe piece went!
Luckily, this was quite a short (although incredibly steep!) hill and I was soon off running again, enjoying a brief bit of downhill before tackling the lumps and bumps within the final wood.  Everytime the course threw in a welcome downhill, it seemed to be followed by a steep climb the other side again, and the wood was filled with trees, with roots sticking up everywhere so even though legs were tired by this point, you had to really pick your feet up to stop from going flying.
Once out of the wood though, there is an amazing long downhill all the way round the outside of the sports fields and through to the finish line.
Mile 12: 11:48
Mile 13: 11:25
Nubbin (0.7m): 9:06
The course was a fair bit over distance.  I've come to expect that with trail races though and as a lot of the extra was along a lovely downhill section I didn't mind too much!  It was nice to breeze through the finish line knowing that I had worked hard and was able to collect my certificate and cake.  Not bad for a £6 entry fee!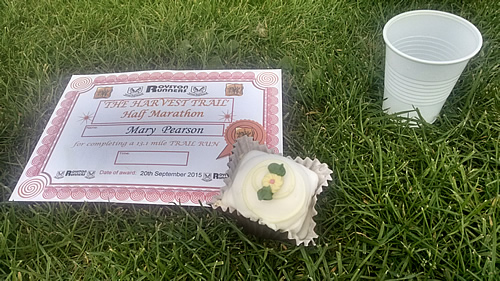 Watch time: 2h 22m 12s
Official time: 2h 22m 16s
Position: 117/158
Following the race I was eager to check my predicted times on the Fetch website to look at what time Fetch thought I would be able to achieve over the marathon distance.  I covered 13.1 miles of the incredibly hilly course in 2h 15m 36s on Sunday, which gave me a predicted time for my future marathon of 4h 42m 44s.

Well below my goal of a sub 5 hour marathon!  Sunday's half was so hilly I did wonder how I would get on in an actual road half marathon at the moment.  I haven't raced one in a long while and I would like to think I could achieve a new PB if I were to race one right now.  Basically, racing last weekend has given me bucketloads of confidence to relax and enjoy my taper this time round, knowing that I've put the hard work in ready for marathon day.
11 days and counting…!
Do you use race time predictors to work out what you should be capable of achieving?
Where is the hilliest place you have ever run/walked?