I'm pretty sure it's a fact of life that if things have been running too smoothly for a while you are probably due a bump in the road.
My bump came last night whilst out on an easy trail run.  My legs felt good and were enjoying a stretch out after a long day sat behind my desk in the classroom.  Wednesdays are my light teaching day, with two hours of marking and planning time slotted into my timetable and I had felt rather cooped up all afternoon, looking forward to the run that evening.
We hadn't even been running for five minutes when it happened.  I was concentrating on where to put my feet on the track as with all the rain we've had just lately the grass was overgrown in places.  I had literally thought just a few minutes earlier "I need to make sure I really watch where I'm putting my feet.  It would be rubbish if I ended up going over on my ankle this close to marathon day."  The runner in front of me asked if I wanted to go past as we wouldn't really be in a spot suitable for overtaking for a while.  I told her that she was fine.  I don't even remember what she said next, but I replied.  She didn't hear me, so I lifted my gaze from the floor to respond a little louder and then I remember going down on the ground.
Normally if I fall I prefer to get up straight away and run it off but I knew as soon as I stood that continuing my run wouldn't be a very good idea.
Tears instantly tried to form.  I've worked bloody hard this marathon cycle.  I've done things the way I should do them.  Hell, I've even been stretching religiously after every run!  Kev offered to walk me back to my car and we chatted about upcoming races and about runners in the club – trying to take my mind off of the pain in my foot. I could walk, and although it was uncomfortable, I wasn't in so much pain that I was completely unable to get back to the car and drive home.
In the privacy of my car I did cry and have a little self-pity party but had managed to feel fairly positive again by the time I got back home.  Kev seemed to think that as I could walk so freely I hadn't done anything too serious and upon examining my foot Dan assured me he didn't think I had obtained any ligament damage.
Ice packs and elevation before bed!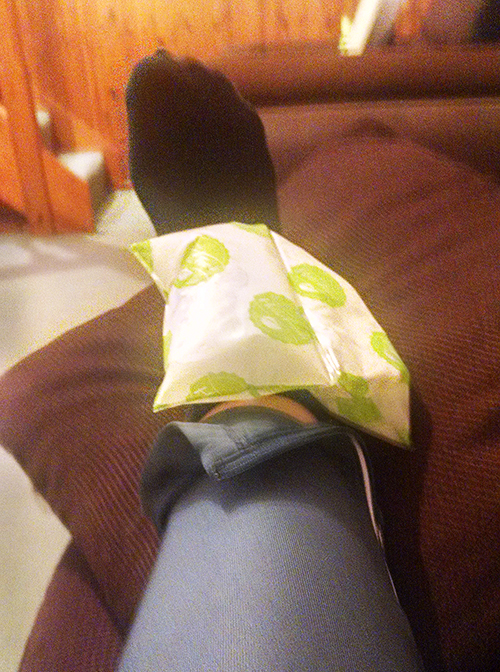 I knew keeping hold of the ice packs from the Hello Fresh boxes would come in handy!
I wanted to get to bed pretty early, with the hope that I could sleep the discomfort off.  I managed to hobble fairly easily up the stairs and to bed last night.  Coming downstairs this morning was a different story though.  I woke naturally at around 4:45am and was instantly aware of my foot.  My alarm does not go off until 5:15am on a school day but I thought it best to get moving as simple tasks were likely to take longer than they usually would.  Upon rising out of bed I immediately felt very light headed from the pain and it ended up taking me three attempts to even stand up out of bed before I was able to crawl to the top of the stairs and slide down on my bum to get some breakfast from the kitchen downstairs.  Not the start to the day I was after.
After a long debate with Dan it was decided that I should not go into work today as sliding up two flights of stairs on my bottom inbetween lessons (unfortunately today is not a day where I remain teaching in the same room all day), gulping painkillers between students and teaching whilst lying on the floor were probably not the most professional methods of working.  I hate missing a day of school.  It's so frustrating to come back in and hear that students didn't achieve what was asked of them or that they acted up for a cover teacher.  I like things to be done just right and hate when I have to hand over my classes to somebody else, picking up the pieces on my return.  It takes much longer to provide lessons for someone else to teach as well.  I spent two hours this morning re-writing my lessons so that a non-ICT specialist would be able to deliver them.
Alongside writing my cover work this morning I applied ice for a twenty minute stint, followed by applying a layer of Voltarol gel at 6am.  My foot is now currently raised up on the couch with orders from Dan (and several other runners!) to repeat all of the above throughout the day.
I'm still hopeful that I will make Mablethorpe Marathon next weekend.  Some sort of foolish runner dream?  I hope not!  The pain has faded considerably already.  I'm planning on spending as much of my day as possible working from the couch (or sliding around the floor on my bottom!) and therefore giving my foot a chance to heal.  My fingers are crossed that this has happened early enough that it won't affect my chances in the marathon.  Someone out there is determined to spoil all chances of a good marathon for me this year!  First, breaking my toes four weeks before Milton Keynes and now this!
In the grand scheme of things I know this is something very minor and something much worse could have happened, but it was not part of my plan and I like working to a plan!