I hate putting my feet up and watching TV.  I hate putting my feet up even more when I can see that the washing up needs doing, there is laundry to be dried and I haven't even thought what I'm going to do for tea.
I've tried to be pretty sensible over the past couple of days since my fall though, and luckily it seems to be paying off.  On Thursday I struggled to stand without feeling dizzy from the pain, on Friday I returned to work and hobbled about the school grounds, which gradually got easier throughout the day.  I had some fantastic classes on Friday and I love my optional GCSE ICT class that little bit more for helping each other out and allowing me time to get from one student to the next around my classroom.  I'm really enjoying my year 10 class this year and I can't wait to see them achieve the fantastic marks they deserve in the Summer term.  By Friday evening my ankle was feeling much looser and I could turn it a lot more freely than I had been able to earlier on in the day.  This morning I felt like I didn't really need to be limping/hobbling around at all.  Occasionally throughout the day I've turned my foot a little sharply and a slight twinge has made me remember that I need to be careful, but essentially my limp today was more of a protection exercise – trying to make sure that I don't put too much pressure on my ankle too soon, to risk not making it to the marathon next weekend.
I hate putting my feet up and doing nothing, but I would hate not making it to the marathon start line a whole lot more.
I did head over to help marshal at Northampton parkrun this morning though.  If I can't run, I can still marshal.  I tried to take the weight off of my poorly side whilst standing and cheering runners through my marshal point, but I think that unless my marshal point was going to involve a lot of twisting and turning my right ankle, I would probably have been fine anyway.  (Wary about talking too soon here though!…)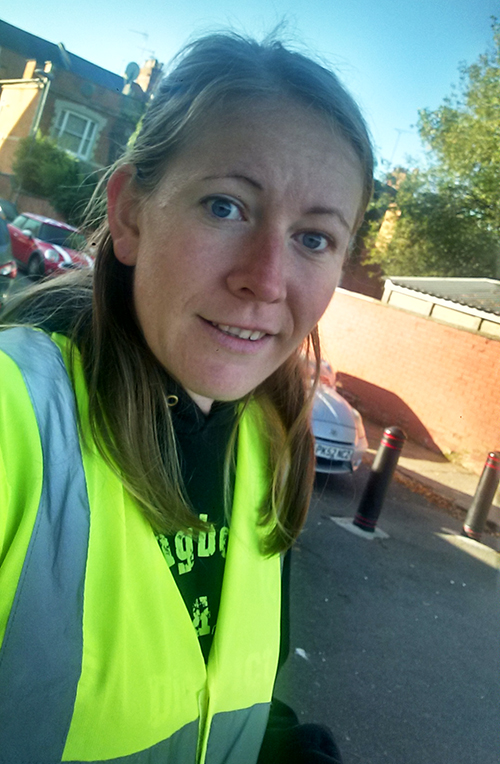 I always find it hard to shout "Well done!" to each group of runners and not look like a wally.  I vary it now and again to "Good work guys!" but generally I just tend to be pretty smiley and repeat the same shout out over and over again for 40 minutes when I marshal.  The only time I feel 'natural' congratulating/encouraging runners is when I'm out there running myself as well or having just completed my run and cheering the tail runners in.
This was only the second time I have marshaled at Northampton parkrun, and I was placed in the same spot as last time – on the finishing straight, just before reaching the play-park.  At this point you see runners at about 3k into the run and then about 200m before the finish as they come round for the second loop.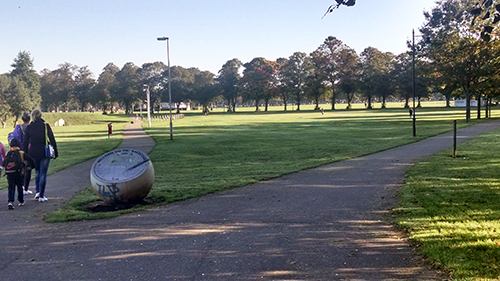 Both times I've marshaled here I've found myself chatting to lots of non-parkrunners who are interested in knowing what is going on.  I'm pretty certain that I convinced a non-parkrunner today to go home and print off a barcode for next week!
At midday there was also going to be a Rainbow colour run held at the park, so whilst cheering on the runners I had to ensure the vans driving across the field to set up for the event didn't disrupt our run.  When one of the Rainbow organisers came to speak to me to see if there was a number she could ring to find out if any of our marshals would go back and volunteer at the Rainbow run in a few hours' time I told her that it didn't really work like that and that there wasn't any number to call.  I hope she managed to get enough marshals though…!
I had travelled up to the parkrun with Jenny and when I arrived, also met up with Lindsay.  I've paced Lindsay a few times at parkrun in the past, and she has gradually been chipping away this year at the 36 minutes it took her to run the course back in April.  Her ultimate dream was to run a sub 30minute time, and over the past few months she has mastered the 10k distance and begun training towards a half marathon.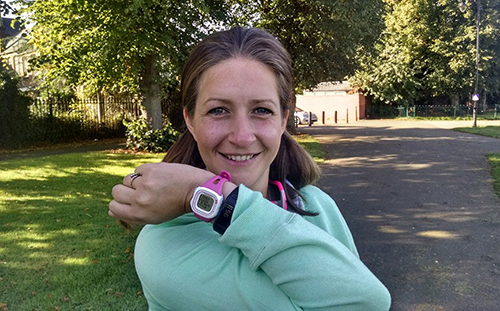 I was so happy for her when she walked over to my marshal point following the run to exclaim that she had burst into happy tears after crossing the line when she saw that her watch displayed a sub 30minute 5k time, taking nearly a minute and a half off from her previous PB of 31:16.  Hard work does pay off!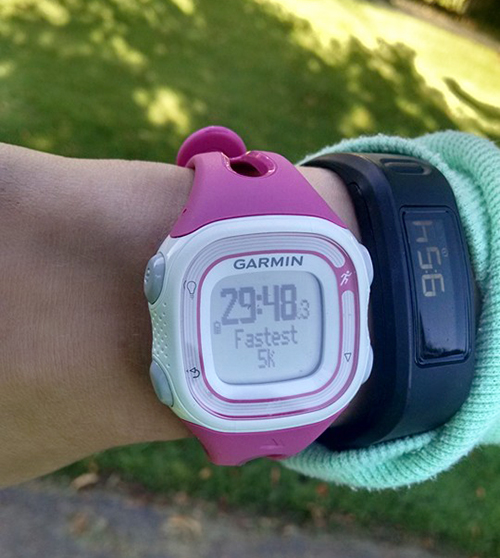 Following the parkrun, Jenny and I stopped by Magee Street Bakery for a drink and cake.  It's a ritual now.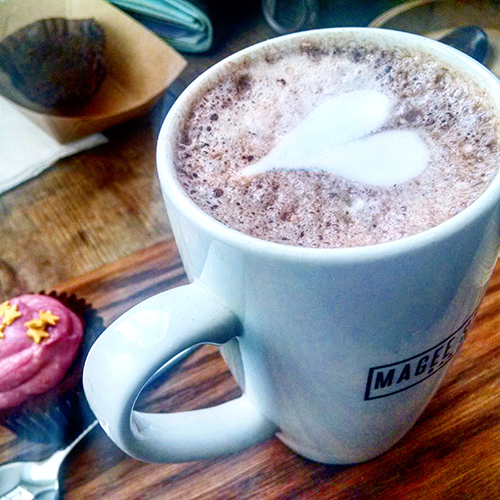 I must say though, hot chocolate and cake always taste better after a run first.  I kind of felt like a bit of a fraud this week!
And then I returned home to spot Bella drinking from the pond.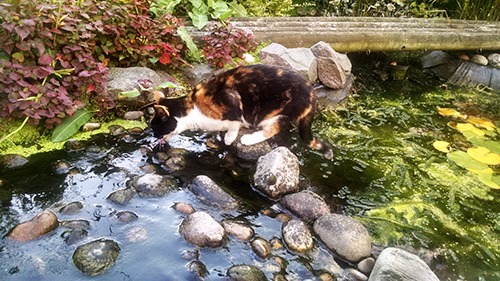 This week she has discovered the line of rocks that make up the top of the waterfall of the pond in our garden.  Every day since she has taken several trips balancing precariously across these rocks to drink from the water before it tumbles down into the main part of our pond.  I'm just waiting to see her fall in!
Any variations on 'Well done!' I can add to my list for the next time I marshal?!
What is your 'dream' 5k time?