Wednesday: I headed out on one last trail run before marathon day.  An easy 7 miles was the aim, however we didn't even get as far as one mile before my ankle twisted over and I ended up flat on my face.  I then hobbled back to my car and admitted defeat for completing those seven miles.  Lots of ice for the rest of the night, although I didn't think anything was too serious as I was still capable of walking (even if it was with a slight hobble!)
Thursday: The pain was so much when I first woke that I couldn't bear to put any weight on my right side at all without feeling light-headed and I had to slide downstairs for breakfast on my bum!  I ended up taking the day off from work as I would not be able to travel between classrooms (unless it was by sliding around on my bum!) or teach effectively.  Instead, my day became a pattern of voltarol gel, ice and rest.  I was incredibly bored and worried whilst laying out on the sofa hoping for a quick recovery.
Friday: I was back at work but sporting a thick ankle support and a limp.  I used my wheelie chair to get around the classroom and it took forever to get up and down the stairs inbetween lessons.
Saturday: I marshaled at Northampton parkrun which involved standing for longer than I had since injuring my ankle.  I continued to wear my support and wore the running trainers I will be running the marathon in, although I could feel my ankle was still slightly swollen against the sides.  I didn't feel like I needed to limp anymore though, but instead, used limping almost as a way to protect my weaker ankle.  By Saturday I could walk up the stairs at home without problem.
Sunday: Dan and I went for a stop-start walk around a nearby village to look at the Scarecrow Festival.  By Sunday evening I could walk both up and down the stairs without any twinges.  It was also on Sunday that I discovered my Garmin would not turn on, or charge.  I asked for advice on Twitter/Facebook and contacted Garmin support as well.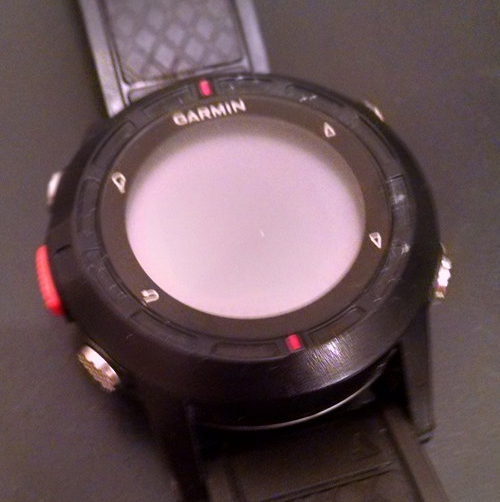 Monday: Garmin support told me to connect my Garmin to my computer and update the software on it.  They assured me that this would fix my problem.  However, I still could not turn it on so was unable to update anything.  My marathon number arrived in the post.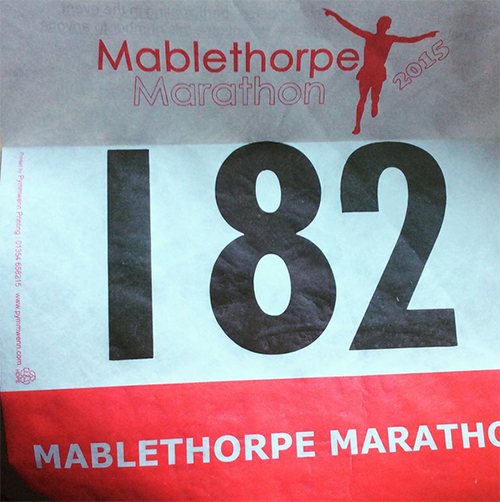 Tuesday: I went for a 45 minute walk in the evening whilst wearing the running trainers I hope to wear on race day.  My injured foot felt fine.  My left foot however managed to cramp up about 20 minutes into the walk underneath the arch.  Potentially because it has been doing all of the work for the past week whilst the right foot has been out of action.  After a minute or so it was fine again and I could continue without issue.  That evening Dan said that I could use his Garmin (my old one) for the race on Sunday.  Although, after several hours of searching we still could not find the charger for Dan's Garmin.
Today: With a busy day at school I made sure to keep the support bandage on my right ankle.  Having worn the same flat pair of shoes for work all week rather than my boots though meant that they had begun to rub.  By the time I got in the car to head home the top of my foot, just underneath my big toenail but still on the surface of my left (was) good foot was bleeding and mildly uncomfortable.  The hunt for the Garmin charger resumed after school.  It was getting rather stressful and I was rushing around.  The rushing meant that I managed to knock a heavy tin of snacks onto my left foot.  I swore a lot.  Dan then found the Garmin charger behind his Playstation.  After the ache from my knock had died down I threw on my running shorts and top and changed into my trainers.  My left foot was now uncomfortable where the cut was on my big toe.  Two plasters and some padding and it felt much better.
The run: I decided to try and pace out one mile tonight to see how my ankle felt whilst out on the road.  As I started off the slow run I could tell that my right ankle was slightly weaker than the other one and when I extended my stride the extra flick of my ankle was – not uncomfortable exactly – but I was aware that it wasn't quite normal.  After a few minutes of easy running this feeling started to fade and I could extend my stride further.  Towards the end of the mile, my ankle began to feel 'normal' again and so I decided to try out a few faster strides to see if the weakness in my ankle returned.  It did not but as I lowered my pace back down to a walk again I could feel a little tension on the underneath of my foot.  This could be because I was unknowingly tensing up expecting something to happen though.
Up next: I won't run again before Mablethorpe now.  I do intend to be on the start line though.  I am hoping that a few more days of resting from runs and several longer walks and exercises will help to build up my ankle strength again ready for Sunday.  However, I'm not going to be stupid about it.  If I need to pull out I will do so, although will be absolutely gutted if that ends up being the result of my stupidity on Wednesday night and the finale of my training cycle is a DNF.  Over one stupid misplaced foot.  

 I know there is always 'another marathon', but I had planned on not necessarily running a Spring marathon next year but instead focusing on other things.  If I am unable to achieve my goal on Sunday then I shall have to rethink my plans for next year again.
Frustrating.
Fingers are still crossed.
GAH!