Yesterday I ran my ninth marathon.  I've run 34 parkruns and 15 marathon+ distance races.  Which distance will I run 50 in first?!
I didn't hit my goal yesterday, my ankle was fine and I paced the first eighteen miles perfectly, yet once again it seems it just wasn't meant to be.
Everybody met at mine at 6:30am to carshare over to the race and we arrived a little after 8:30am, nearly an hour before the race was due to start.
I hadn't slept very well at all the night before the race and had woken for a good couple of hours at around 1am for no apparent reason at the time.  I'd packed everything up the night before though, so like a zombie yesterday morning I munched down my almond butter bagel at the last possible minute before leaping in the car to drive the two hours over to Mablethorpe.
As soon as I stepped out of the car at the other end I knew that my ankle would be OK to race on.  I'd run a test mile on it earlier in the week on the Wednesday, and then again on Saturday, although that was more to test out the Garmin I was borrowing.  There was a noticeable improvement in strength even just between those three days and I felt very relieved.  My ankle was OK, the weather perfect for running – nice and cool – maybe today would be my day.
At school the day before I'd printed out two pace bands.  One which gave timings for me to cross the finish line in 4h 45m, and another for me to cross the line in 5hours.  The basic plan was to run the first 10 miles at a 10:52mm pace, the next 10 miles at 10:45-10:52mm pace and then see if I could push up a notch for the final 10k.  Basically, use the mile markers around the course to check how far out I was against the 4h45 band and ensure that I was sticking within the 5h one.
The six of us runners (four marathoners, two half marathoners), one partner and one support crew member sat ourselves outside the registration area to apply vaseline and eat last minute snacks, getting our things together.  In the hubbub of taping on my pace bands and munching on a few crisps I completely forgot to put on my heart rate monitor, and didn't remember until I was heading to the start line a few minutes before the race, long after I'd left my bag containing my HRM in the car.  Nothing I could do about it by then though.
We lined up for a group photo…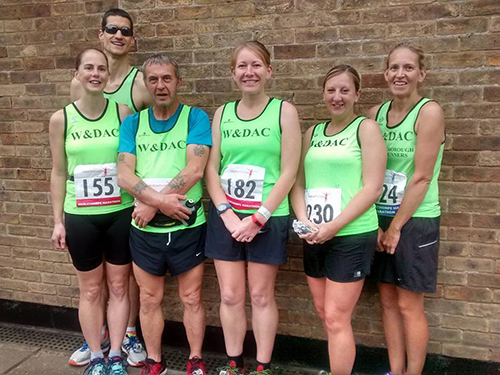 …and then took our separate places on the start.  I made sure to move myself right to the very back of the crowd.  I was probably within the last ten people to cross the start line.  Mablethorpe isn't huge in number (500 or so runners across both distances) and I find there is much less pressure that way.  It's chip timed, so there is no rush to cross the start and get swept away with the other runners.
I was a little concerned though when a mile up the road I was still very much towards the back of the pack.  I consoled myself by remembering that both distances had set off at the same time and that I would be able to pick people off later on in the race.  (I did.)  For now, I just enjoyed the cheers of the locals and seeing the outfits runners were wearing for race day.  One woman was wearing a naked human costume.  It came with added hair and everything!
I was literally spot on my race plan for the first few miles and I quickly settled into a rhythm.
Mile 1: 10:44
Mile 2: 10:55
Mile 3: 10:40
Mile 4: 10:59
Mile 5: 10:48
Mile 6: 11:54
Within the first mile I knew that I needed the toilet and would need to use it at some point on the race.  Luckily I had studied the map beforehand to discover that each of the water checkpoints (approx every 3 miles apart) also had a portaloo next to them.  I avoided the loo at the first checkpoint, knowing that runners were likely to still be quite clustered together, and instead ran up to the loo just before the mile 6 marker literally as another runner was running out.  Perfect timing!
What wasn't quite so perfect timing was my period.  Six miles into a marathon.  They don't teach you how to deal with that problem in any of the marathon training books I've ever read!  I decided to put it out of my head and just get on with the race, hoping I wouldn't get any pain.  Good job I am an organised runner!
Mile 7: 10:47
Mile 8: 10:48
Mile 9: 10:47
Mile 10: 10:59
Mile 11: 10:39
Mile 12: 10:49
I was borrowing Dan's Garmin for the marathon and had set the display to show overall time, heart rate (waste of a display!) and average overall pace.  My own watch didn't have an option for average overall pace on it but it was quite handy to see this during the race and for my next watch (hope you're reading this Santa!) I think this feature is a must.  I was ensuring that my average overall pace displayed between 10:48-10:52 at all times.  A 10:52 pace would mean I would come in at 4h 45m.  A little optimistic, but I wasn't pushing for that time, just hoping that if I aimed for it, I would come in under 5 hours.
The thing was, it was still easy.  I decided to continue running at the same pace until 15 miles and then reassess from there if I was ready to up the pace to get to mile 20.
At mile 11 you run what is possibly the only uphill on the course – a steep slope up onto the promenade.  I pushed up the hill and then was out onto my least favourite section of the route – the almost two mile stretch along the flat, stretching into the distance promenade which lasts almost until the 13 mile point.  I usually hate flat stretches and struggle mentally with them, but I sailed through here.  Mile 11 was one of my faster miles!
Just before I reached mile 13 I saw a familiar runner leant over the barrier, fag in hand.  Kev had originally set off helping to pace another club runner, Kim for the first lap of her marathon.  He was worried she was going to set off too fast, but when she seemed to have things under control and when Kev could no longer keep up, he decided to drop back and wait for me.  (Kim aced her first marathon and came in in 3h 52m!)
He dropped in next to me and we ran through the halfway point together where the two half marathoners, two supporters and one marathon runner who had decided to pull were cheering us on.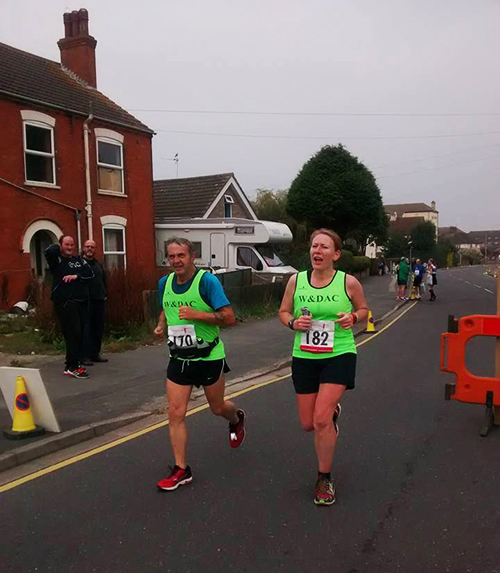 I think someone took a video of us here, but I don't know where it is.  I remember waving to the cameras and smiling.  I'm aware that doesn't look like a smile on my face though!  Haha!  I swear I was still breezing here!  Maybe I was singing?!
Mile 13: 10:48
Mile 14: 10:56
Mile 15: 11:00
Mile 16: 10:55
Mile 17: 10:58

Kev kept telling me off for looking at my Garmin, but it had done me well so far and I wanted to keep looking at it.  It gave me a focus and something to aim for.  I did start looking at it less and my mile splits dropped by a few seconds, but I was still well on target for a sub 5 hour marathon.  It was at about mile 17 when we began discussing the fact that it looked like I was going to do it.  I was only 9 miles from the finish, hardly any distance at all.  What could go wrong now?!
We spoke too soon.
As we approached the toilet just before the mile 18 marker I knew that I needed to go again and so Kev picked me up some water whilst I dashed inside.  As I returned from the toilet I realised how the sun had begun to made an appearance and then my lovely lady problems caused me to get a headache which seemed to turn into a full blown migraine within minutes.  The migraine in turn made me feel sick, to the point that my stomach was heaving and I was worried about continuing running in case the movement made me sick.  My thighs had also begun to ache – something which has never happened to me in any race before, despite running much further distances.  I had a quick walk in miles 19, 21, 22 and 23, (although never more than 100 steps or so) where I eyed up the verge and best spots to throw up and try and get rid of my headache.  Mainly focusing on getting extra water in and calming my stomach.  I didn't want to be sick!  (Although later decided it might have been better to get it out of the way!)
Mile 18: 12:42
Mile 19: 12:18
Mile 20: 11:33
Mile 21: 12:06
Mile 22: 13:01
Mile 23: 12:50
Kev kept passing me the water he was carrying and I took lots of sips.  It kept me going to know that the two half marathoners that had already run that day were going to be outside with their family at the mile 24 marker and I ran past them, trying my best to look strong as I did.  My running pace had dramatically decreased now though and even though I was constantly moving forward, running felt like I was barely moving.  Still better than a walk though and I ploughed on.  I wasn't making a lot of conversation by this point though.
It was around here that there was a lady on the side of the street with little bags of sweets.  I was desperate for sweets by now.  Anything which would either make me sick, or give my stomach something else to whinge about.  I threw myself on her table and took two packs, hoping afterwards they were actually for runners, as they were very neatly labelled and laid out.  As an afterthought she looked like she was only just setting up her stall, so I hope she wasn't selling them along the seafront and I stole from her!  I crammed a handful of jelly tots into my mouth and glugged down some water.  That felt good and my sickness started to dull.  I'd had a couple of gels on the way round – a third of one every three miles – I'm certain that my sickness had been brought on by my headache though!
I perked up a lot when I reached the promenade.  Less than two miles to go.  Kev had already told me that I wouldn't make it now.  He'd wanted me to push when I reached mile 24 in 4h 30m but I knew my body couldn't handle it then.  Something clicked when we reached the prom though and I just kept placing one foot down in front of the other, and gradually getting closer and closer to the slope back down onto the road which led through to the school where the finish line was held.  At mile 25, another runner from the club jogged over to meet us and joined Kev and I for the final mile.  I was so grateful for their support, but at the same time felt like I had really let both of them down by not reaching the goal I had set out to achieve.
They pulled back so that I could sprint(!) across the finish line and I collected my foil blanket and bottle of water before lying on the floor for a stretch.
Mile 24: 13:14
Mile 25: 14:04
Mile 26: 11:58
Nubbin (0.31m): 11:44 pace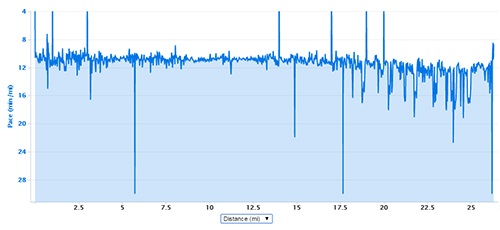 I was done.  Really done.  I felt nothing at all.  I wasn't upset, I wasn't disappointed.  I was a little frustrated knowing how close I had been once again, but I couldn't do anything about it so that feeling soon disappeared.  I spoke to find out how the others had gotten on and then somehow, in all the rush of everyone catching up around me I fell asleep on the floor.  Just for a few seconds, but I knew it was time to get up and get moving again.
What if… I hadn't damaged my ankle ten days before the race…I'd remembered my heart rate monitor…my Garmin had never broken…I was born a man?!
Official time: 5h 2m 58s
Position: 164/171

There, my first marathon recap condensed to one post I think!  A better run down of my post marathon analysis/feelings to follow though.