I can't believe it is Friday already.  This week has sped by so quickly!  Dan disappeared off to Manchester on a training course last Sunday morning after I had left for the marathon.  He doesn't get back until this evening so I have been home alone all week.  I thought travelling to work on my own each day would mean I could leave a little later in the morning and get away from work a little earlier each evening, but in reality if I leave it much later to head to work in the morning I get caught in bad traffic and if I leave much earlier in the evening I end up bringing a lot of work home with me.  There goes all my plans for a productive week of relaxing post-marathon pampering!
I have managed to get a few tasty Hello Fresh meals in this week though.  I absolutely fell in love with the 'Oven baked chicken with an orange and sesame quinoa salad'.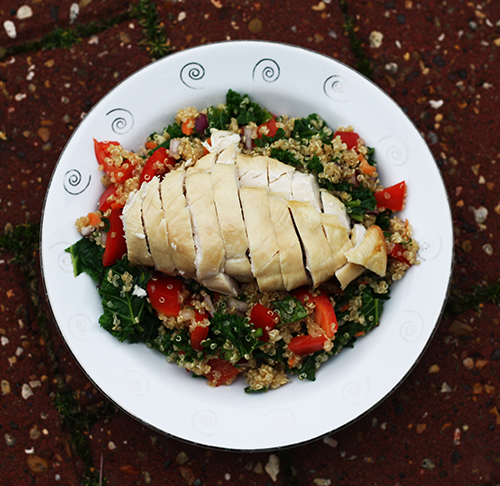 It is something Dan would never touch, had he been home.  The salad is made up of kale, pepper, red onion, carrot and garlic, then doused in a sauce consisting of orange juice, soy sauce, tahini paste and rice vinegar.  Way too many vegetables for Dan!  It was absolutely delicious though, and the very generous portion sizes measured out from the Hello Fresh recipe meant that I could not only have the meal for dinner one evening and lunch the following day, but I also had enough for lunch on day three as well!  Following my announcement that lentils were a new-to-me-food from Hello Fresh a couple of weeks ago, both kale and quinoa were also new-to-me-foods in this meal.  I know, – how can I class myself as a blogger at all?!
If you would like to try Hello Fresh, I have a discount code which will give you £20 off when you sign up.  (Just so you know, using my referral code would also give me a further £20 off my next box.)  Just enter the code X4BXEG in the referral box when you sign up and we will both be winners!
I struggle to eat immediately after long runs – often favouring some chocolate milk to get something back in my body easily.  There's something about being really hot and sweaty and your stomach having jiggled around for several hours.  I think I just need my stomach to settle down for a fair while before it will cope with attempting to digest any solid foods again.  After the race on Sunday I munched slowly through the post-marathon Mars bar from the goody bag, and then the six of us that had headed over earlier in the morning went to Dave's for what has now become our regular post-Mablethorpe Marathon dinner.  I knew I wanted my body to recover quickly and tried to choose something well rounded which included meat.  (Quite unlike me when I eat out!)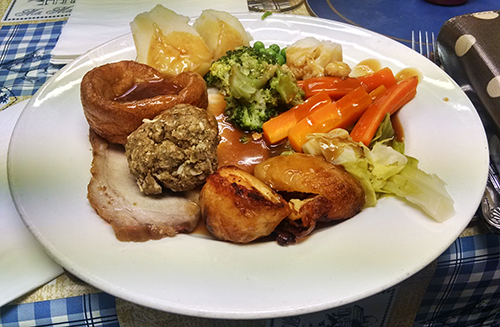 There was no way I could finish it though.  I ended up leaving the majority of the meat, and some of the potatoes.  Managed all my veg and the stuffing though, and got through my chocolate ice cream milkshake very quickly whilst I was waiting for the food to arrive!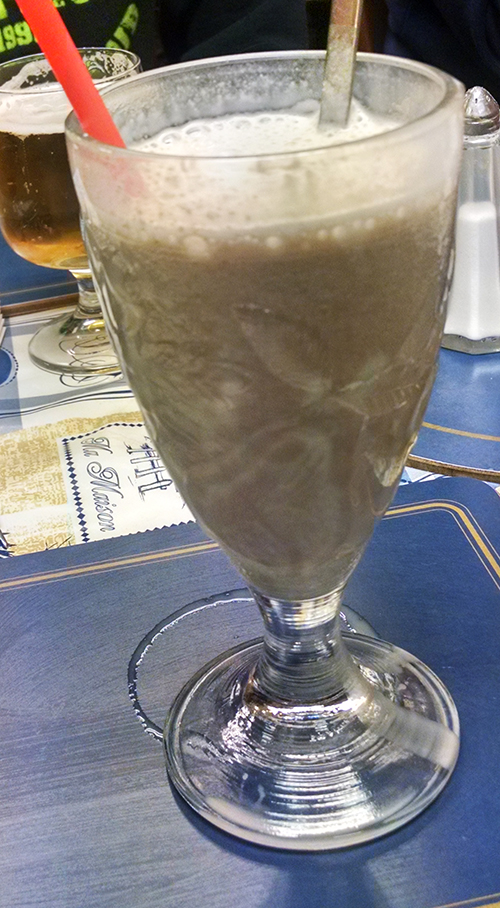 I am so proud of my pacing for the first eighteen miles of the race.  (10:44, 10:55, 10:40, 10:59, 10:48, 11:54, 10:47, 10:48, 10:47, 10:59, 10:39, 10:49, 10:48, 10:56, 11:00, 10:55, 10:58)  I'm not sure that I have ever been so consistent before, and found it so frustrating that I then lost it from this point due to my period pain headache and sickness.  I never actually was sick, despite heaving and having to walk it out over 50m or so a couple of times.  I feel I would have been though, had I continued running at the pace I was at.  When I crossed the finish line one of the other runners from my club said to me that she thought I would come in at around 4h 30m for my marathon time, my running had been going that well recently.  Although I didn't expect a time as quick as that, I had hoped for something that saw me cross the finish line with quite a bit of time to spare before the 5h mark.  It just wasn't meant to be I guess.
I felt so emotionally numb after the race.  What to do now?  I was so sure that I was going to achieve my target had my ankle recovered that I hadn't even made a backup plan in case I didn't.  I didn't post anything on social media when I got home and actually turned the internet off on my phone for a little so that I could have time to think about what had happened.  When I turned it back on again though, I had received so many messages from friends and fellow club runners asking how I got on that I posted a general statement on Facebook saying that I hadn't had the race I was hoping for but that I had ticked another one off.  At the end of the day I still got a course PB at least!  I felt like I had let a lot of people down, which is silly really, as I run for me, no one else.  I just felt like people had put a lot of time and effort into helping me, running with me, wishing me luck, and I hadn't met their expectations of what I was capable of achieving.
On Monday my thighs were pretty sore, especially when heading down the stairs.  I mentioned in my race recap, but for the first time ever my thighs really began to ache during a race.  I took it as a good sign though.  I heard you're supposed to ache during marathons and I never have before, so perhaps I have run previous marathons too slowly or burnt out too quickly, when I often seem to get a sharp pain in my chest that I cannot run through.
I was hoping to go for a little run on Tuesday evening, but due to my sore thighs I was sensible and left it another day, using Monday and Tuesday evenings to head out on an easy walk in the evening and phone Dan for a catchup instead.  On Wednesday evening I headed off on a 7 mile trail run with a friend for my first post-marathon run.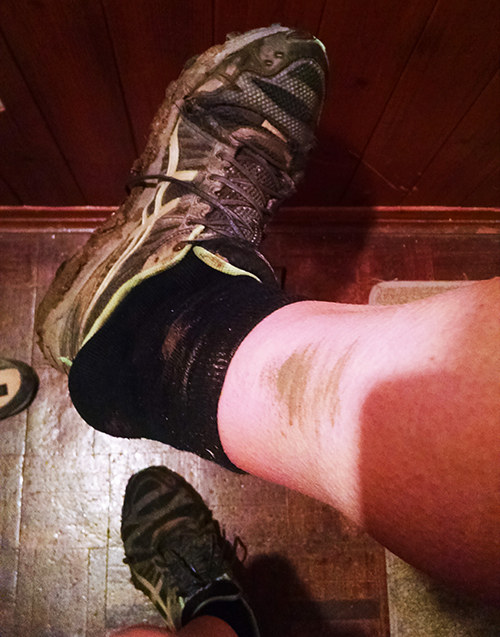 It appears that the mud has returned!  We ran at a chatty pace and my legs were fine covering the distance through the mud and rough terrain.  It felt good to get my trainers back on and head out again.  I'd felt rather cooped up since Sunday, despite getting out for a few walks.  It has also made me super excited about the upcoming cross-country season as well!
So what else do I have coming up?
I'm running the Tring 15k this weekend.
At the moment I am the female lead for the club trail series.  (To be part of the series you must enter at least six of the fourteen targeted trail races. Points totals are done on a sliding scale with the club winner of each race getting one point.  Results from the best 6 out of the 14 races will be totalled and points are added to determine the overall winner.)  There are two races left in the series, although the majority of us will miss the last one as we shall be in Gower instead.  I'm pretty sure I won't win it, as I know a friend is also planning on running this weekend and she is much quicker than me so she will just pip me to the post!  I don't intend on 'racing' Tring this close to the back of my marathon, so it should be a nice stretch of my legs instead.
Wellingborough Cross-country – 24th October
I'm really excited about being able to make our home cross-country this year.  Our event is arguably the best of the Three Counties XC series as it contains stream crossings…four of them in fact!  I've never been able to run it in the past – I volunteered as a marshal the first year I was a member, and it has clashed with Dusk 'til Dawn the past two years.
Dusk 'til Dawn 50m – 31st October (also my birthday!)
Attempt number three for one of the toughest races (but most fun!) I've ever taken part in.  (Recap one * Recap two)  There are four of us taking part again this year.  Initially we each intended on running our own race but after running with Tom on Wednesday night, I think the two of us have decided to start together and see how the race pans out for us.  Tom is a quicker runner than me, although suffering with a long term injury.  I have the advantage of knowing the course and am much better at navigating!
Gower marathon – 14th November
Another race that won't be raced.  Gower is all about the social side of running!  I think there are about 30 of us headed to Gower again this year for the weekend to take part in the 10k/half marathon/marathon/ultra distances.  There's a good chance a batch of us marathon runners will all set off together again.  Running is much more fun with friends!  
Another unnamed marathon
…although if you follow me on Twitter/Instagram you might have caught which marathon it was before I decided to keep it secret until race day.  I was so close on Sunday and had trained so hard in the build up to race day that I really wanted to capitalise on my fitness whilst it was still there and bank that 4:xx:xx marathon.  I came home from the race and searched for other local marathons immediately, entering one the next day.  Had I thought longer about it I might not have entered.  I think initially, after running MK marathon in May and missing the sub 5h mark by just 28 seconds I was in the same boat – I searched immediately for other marathons that I could target, and it was only because none fitted in my free weekends that I decided to hold off until Autumn.  This time, one has fitted though.  I will post a recap following the race, but am not sure I want to share which one it is yet, to remove the pressure on race day.  Perhaps I was too quick to enter another, as who knows if my legs will be ready to race another marathon just yet.  I plan on some low mileage weeks beforehand though, to give them a chance of being nice and fresh come race day.
Following the races listed above I aim to take a complete break from racing for a little while.  I might run the odd parkrun or cross-country race but those are never more than 4-5 miles.  My body welcomed the break in August following the Grim Reaper, and I don't want to push it too hard that it breaks!  I would miss running too much!
I have a day off work today, as it was our Open Evening last night and all teachers and staff have been rewarded with a day to recover.  (I was in school from 7am-9pm, with a 45min commute each way and then still brought work home!)  The hardest part is putting a face on all day long – first teaching students solidly all morning, followed by looking after six of my year 7 form who helped in the Computing department in the evening, whilst having conversations with parents of potential future students of the school.  It's very draining being friendly and professional all day!  I fully intended on having a lay in this morning (lasted until 6:15am!) I will potter about the house a little though, hopefully catch up on lots of blogs, make time for an easy run and then may head into town to see if I can find some new Winter dresses for work.  Nice to have a three day weekend!
(Sorry for the longest post ever!)