This time last year I had just run my first trail race. A year later and I've been ticking off loads more to add to my list!
On Sunday I ran the Tring Ridgeway 15k Run with a large number from my running club. As I explained in Monday's post, I have already run enough races to count for our club trail running league (you must have run at least 6 of the 14 listed races) but I wanted to better one of my placings and improve my overall score for the league (without pushing too hard, as I did run a marathon last weekend!)
I travelled down with two other runners from my club and we arrived with plenty time for a loo visit, to collect numbers and pose for a group photo.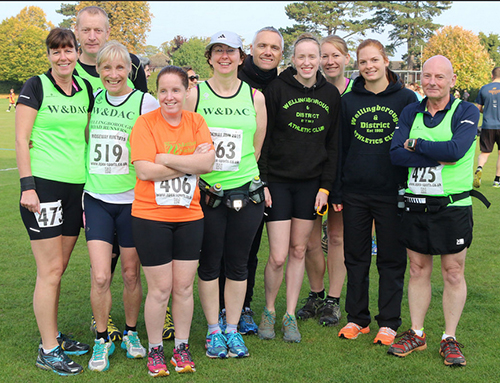 One of our runners went on to finish as third female for the race.
The start of the race was a 15 minute walk away – out of the cricket club grounds and along a few small sideroads before we all congregated at the bottom of a quiet country lane, which later turned into a  concrete farm track.
I stood on the start line chatting with a friend until she pointed out that we probably should have started our watches as the runners close to the front appeared to be walking ahead. Had the race started? Or were the runners just shuffling forward closer to the line ready for the gun? Turns out the race had started, we just weren't aware and a few minutes later we were walking along as well. Walking, not running, as there was no space for that for quite a while!
Despite not intending on 'racing' the race I was a little annoyed at myself for having started so far back in the pack. Especially so when it became clear that no more than three people could run abreast from the start for the first mile and a half. I dodged round people where I could, but in the end had to settle with the fact that I wouldn't be moving anywhere very fast for a while and my stride became rather choppy.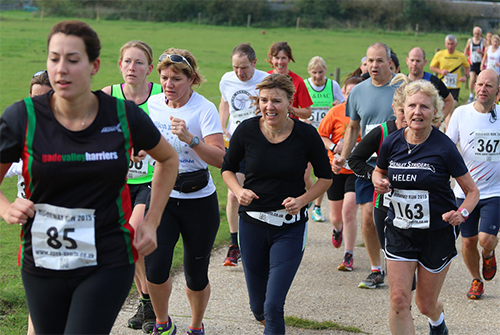 (You can see how crowded it was in the beginning – in the photo here we are probably about a mile and a half into the race – and there were only 564 runners in total.)
After the first mile and a half we came out onto a road. The marshals were directing us up onto the verge the other side which would only hold one runner at a time.  The verge then ran alongside the road for 200m or so. The road was quite wide though and here I decided (along with several other runners) that I could use the road as a way to a) stretch out my legs a little, and b) overtake some of the runners who were running a little slower than I had intended on running. I probably overtook 30+ people along this short stretch before slotting back on to the grass verge which then veered sharply away from the road and alongside a field.
There were massive holdups here and we even came to a standstill a couple of times as the path struggled to accommodate the huge influx of runners that had suddenly tried to run it all at the same time. There were lots of (incredibly slow) walking stretches along here and my heart rate dropped quite low, right down to 111bpm as we stop-started along the route. For the rest of the course, my heart rate was around the 165bpm mark, so noticeably different!
My game plan had been to remain consistent and to walk the hills, rather than run them. Although my thighs no longer ache after last weekend, I had put them through a marathon just a week earlier and during the marathon they had screamed to me that they were working hard, so I didn't want to overdo anything on a race that wasn't a goal race. I had studied the course profile beforehand and knew that the main hill was at mile three, with a slightly smaller hill around the six mile mark. There were a couple of steep, but not as significant hills along the way, and I ran these, mainly to get past all of the walkers and find my place within the pack. I did powerwalk up the steep hill at mile three though, still overtaking several runners along the way.
The views were pretty, and I did get to check them out at several locations, despite spending a lot of time looking at where I placed my feet. I wasn't ready to go over on my ankle again just yet! The course was nearby to a couple of the races that I have already run this year – Ashridge 16 in March and Dunstable Downs 20m the other week. There were a couple of the sections of course that I recognised from those races. A little after mile three we ran through the start line of the Ashridge race where I grabbed a cup of water for a few sips.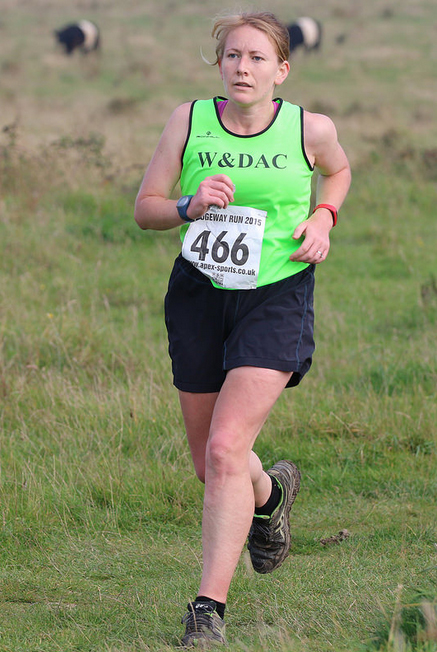 I had almost run out of tried and tested gels. (I tend to run with MaxiFuel Mixed Berry gels and have done so for a couple of years) Despite having a drawer full of various other gel samples they are all samples that I have never tested during runs and don't know for certain that they suit me as a runner. I wouldn't normally take a gel for a 15k race distance, but with an upcoming marathon I knew it was necessary to test out which other gels I could get on with and planned to take one at mile 6, just before the water station. I knew exactly which gel I was going to try – the Gu Salted caramel gel. This gel has been sat in my stash for a little while now. It tried to tempt me to take it along for Mablethorpe Marathon last week, but with my sensible head on (nothing new on race day!) I resisted the urge to remove it from my drawer.
As I approached the water station I ripped the top from the gel and squeezed the whole lot into my mouth.
AMAZING! It really wasn't what I expected it to taste like at all! In my past experience, if gels/bars are flavoured, they tend to be rather a weak tasting superficial flavour, but not this one! It was pure salted caramel sauce. Delicious, and a nice kick!

(Batch immediately ordered ready for the marathon upon arrival home.)  I swigged back some water and then began the climb up the hill that immediately followed.  We all walked it, although I power walked to the top and overtook a few more people here.  You can see me in my green vest about halfway up the hill.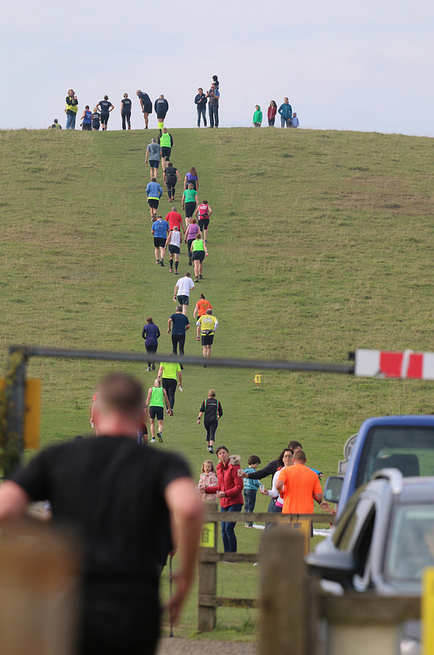 Most of the rest of the course was either downhill or flat after this point, although a lot of the downhill sections were rather technical.  I didn't run the downhill sections as fast as I would have done normally, being slightly wary of my recently recovered ankle.  My ankle feels OK again now and much stronger, but it's still in the stages where I know if I were to knock it again I would definitely feel it!
When we emerged onto the road I lost a couple of places again to runners faster than me on the flat but I stuck to my steady pace to see it through the last mile and a half.  As I reached the edge of the playing field, some club members were stood cheering me on, so I picked up the pace slightly to zoom past the two guys just ahead of me before reaching the line.
I'd been fairly consistent throughout, despite the hills: 10:21, 10:57, 10:54, 10:02, 10:15, 10:35, 11:11, 9:46, 10:11, Nubbin (0.42m) at 9:47mm pace.
For only £8 we were given a t-shirt and a chocolatey bar at the finish.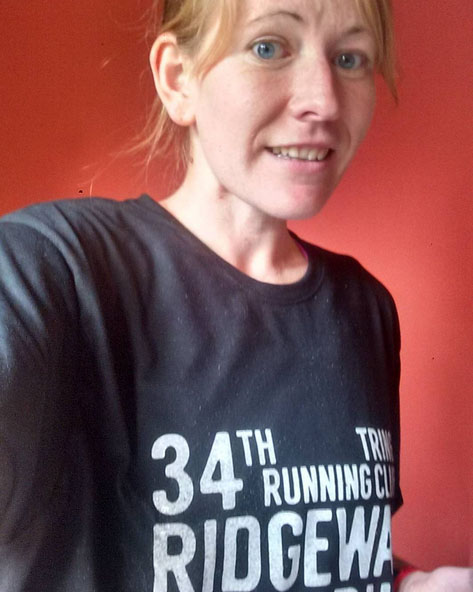 Good value, beautiful views, friendly marshals and a well organised race, with very good quality photos for all but I wasn't overly keen on all the hanging around for the first few miles of the race.
Garmin time: 1h 38 25s
Official time: 1h 38m 38s
Position: 465/564
What is your favourite gel?
Have there been any races or parts of races you really haven't enjoyed?