On Sunday I ran my tenth marathon.
Despite telling others that I had booked a tenth marathon there weren't very many people that knew I was actually running it last weekend.  Dan, My Mum and one friend from running club.  I'd only booked the race eleven days earlier, after finishing at Mablethorpe Marathon a couple of minutes outside of my goal.
After Mablethorpe I immediately began hunting to see if a race fitted in during the four week gap I had before I attempted Dusk 'til Dawn at the end of the month.  I had done a lot of training for Mablethorpe and didn't want to see it go to waste.  After some extensive searching, I established that Chelmsford marathon fell on the middle weekend between the two pre-planned races and that there were still places available for the day.  I immediately entered, before I could change my mind.  There were a couple of times over the past fortnight when I doubted my impromptu decision and wasn't sure I really wanted to run another marathon again so soon, but generally I knew that I was capable of the distance and that I would make it round, adding to my number of marathons run whether I PBd on the day or not.  At least this time, nobody had any expectations of me as they didn't know I was due to run it!
Dan initially wasn't going to come along, as Wolves (the football team) were playing on TV that day.  He changed his mind though and drove me over on race morning.  I left plenty of time before the race started which was lucky, as the main car park that we had been told to park in was not yet open.  We quickly established where the next nearest car parks were and parked up before navigating our way to the 'race hub' (finish line) where there were several stalls being set up and a long row of portaloos.
After a visit to the loo we began the walk to the race start which was about ten minutes away.  We were some of the first people to arrive at the start.  It was rather chilly at 8am and I was glad Dan had travelled up with me so that I could wear my hoodie and t-shirt over my race vest until the very last minute!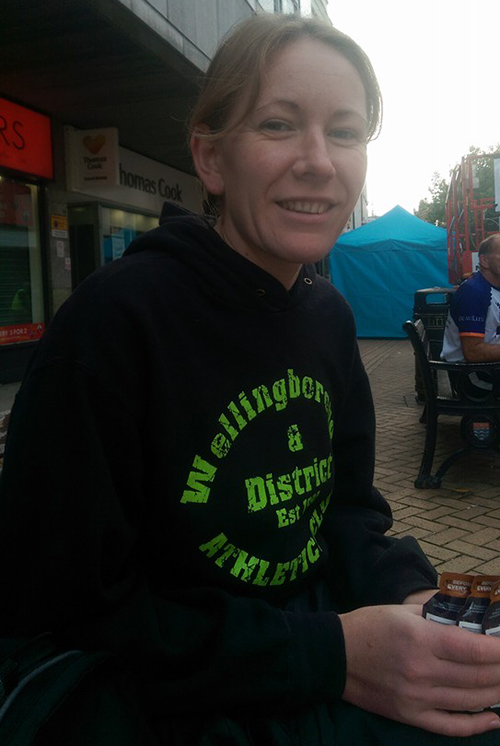 I kept to roughly the same plan as Mablethorpe – try to keep between 10:45-10:52mm pace for the first 10 miles, then 15, then play it by ear from there.  This time also keeping an eye on my heart rate, as I remembered to take my heart rate monitor out of my bag!  We had been told beforehand that the race would be starting in four waves at 9am, of which I would be in wave three.  I see waves as being separate starts, similar to at Milton Keynes Marathon earlier this year, when the gun went every minute, to allow the front runners to get a little space out on the course before the masses followed.  However, this didn't seem to be the case as we all seemed to start together at Chelmsford.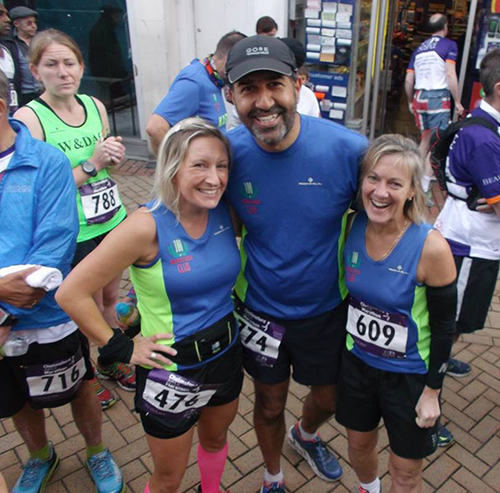 Not sure what I was doing in the background here, but I seemed to get in quite a few photographs with other runners on the start line!
The first mile obviously flew by.  I find it always does in any distance race!
What I didn't mention on the blog was that last Sunday at the Tring trail race I had felt like I needed to click my hip at the start of the race.  But then the race started and I couldn't get in the right position and move forward at the same time, so I just ran anyway, without clicking it.  By the end of the race my left hip/leg felt a little numb and after standing around waiting for the rest of the runners from our club to come in I found it rather uncomfortable (and slow!) to walk back to where the car was parked.  It did loosen up after five minutes or so of walking, but my hip played a part in keeping me away from my trainers on the Monday and Tuesday of last week.  Wednesday came and I laced up my trainers for a 7.8 mile trail run with the club.  My hip felt rather uncomfortable but I was never in any pain, otherwise I would have stopped and reassessed my goals.
I ran just one easy mile on Saturday to loosen my legs up, and my hip was not an issue.
One mile into the race on Sunday though, and I was aware that my hip was going to be an issue!
For a few miles I actually begun to think about the possibility of having to drop out of the race altogether.  Although never painful, the first few miles felt a little uncomfortable and the top area of my leg began to feel numb.  I noticed it most on sharp turns to the left where I felt a little off-balance.  I was undecided as to what I should do.  The first three miles had contained several twists and turns out along a housing estate and then the route turned back into the town centre where I heard Dan shout my name.  I looked up, smiled and waved and knew I would be carrying on.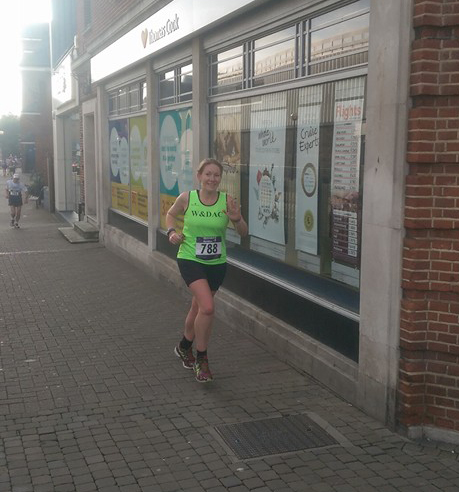 I decided to ignore the discomfort and hope it went away.  Probably not the best decision in the majority of cases, and I can't say that the discomfort ever went away, but when I thought less about it, I felt it less and that worked for me!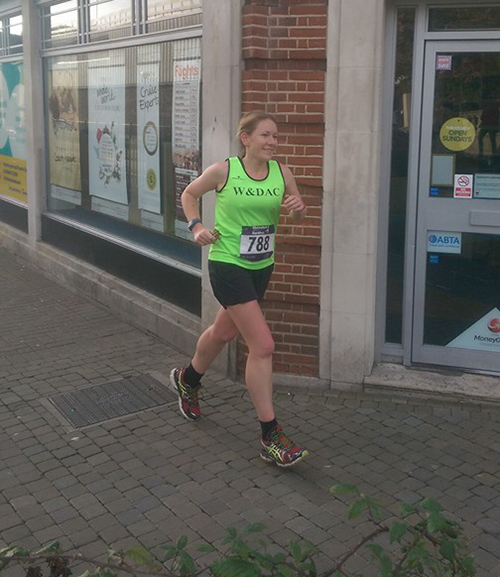 Mile 1: 10:38
Mile 2: 10:47
Mile 3: 10:43
After speaking to a friend about nutrition following Mablethorpe I decided that I probably don't take enough on board fuel-wise during road marathons.  I've tweaked my ultra nutrition to perfection over the past couple of years and have no issues gulping back chocolate milk and downing pizza whilst out on an ultra, but when it comes to a road marathon – where the aim is to run the whole way, I've been a little less enthusiastic about carrying round my sandwiches and wolfing real food down!  In the past I have tended to take two gels along with me on marathon day, having one about 6-7 miles into the marathon and then carrying the other right through to the finish with me, never taking it.  At Mablethorpe I did use both gels – I had a third of one each at miles 3,6 and 9.  Then a third of the other one at miles 12, 15 and 18.  I established that a third of a gel every three miles was probably not enough though and when I stocked up on sweets at mile 24 they gave me an almost instant boost to make it through to the finish, indicating that my normal intake had not been enough.  At Mablethorpe I also spoke to another runner from the club about gels.  She said that she had used to just take two, but now often she would use 5 or 6 as she felt that she needed more.
Last weekend at the Tring 15k, I had tested out a new-to-me gel.  The salted caramel Gu.  It was amazing.  It was so strong in flavour and actually tasty with it that I bought a box load which arrived during the week.  For the Chelmsford marathon I packed five.  Two in the back pocket of my shorts and I gripped onto another three tightly in my right hand.  Water stations were to be at miles 3,6,9,13,16,19,23 and 26 (not sure why there was a need for a water station at mile 26?!) so I decided to take a gel each at miles 6,9,19 and 23.  I would also split a gel between mile 13 and mile 16.  I managed to keep roughly to this plan, although didn't take my last gel, but half a peanut bar that was on offer at the checkpoint instead.
Mile 4: 10:41
Mile 5: 10:54
Mile 6: 10:54
At mile 6 a 100 marathon club runner trotted alongside me and started a conversation.  As I always do when running alongside runners from the 100 marathon club I asked how many marathons he had run (over 400)  He then went on to tell me that his fastest one had been run 11 years ago at the age of 64 and he completed it in a staggering 3h 9m!  Amazing!  As we chatted about his races, the two ladies infront turned around and joined in.  The pace had picked up a little too much for my liking, so I let the three of them continue the conversation as they glided on ahead, although by mile 10 I had overtaken all three and did not see them again.
The course was a lovely one.  It was nice and 'undulating' – the definition runners use for a course which is not pancake flat!  I much prefer an undulating course to a flat one as it breaks things up a bit!

After the first three miles of heading out of the town and coming back past the start again we headed along a tarmacked track along fields out into the countryside and then along some quiet country lanes.
The marshals were superb the entire race and so cheery and helpful at every checkpoint.
Mile 7: 10:50
Mile 8: 10:43
Mile 9: 10:47
Mile 10: 10:47
Mile 11: 11:14
I had a slight wobble at mile 11 (only for a few seconds!) when I realised how slow my mile had been compared to all of my others.  This mile had contained the first proper hill that dragged though and I was yet to slow to a walk.  I let it pass, although still had no idea how I was going to feel in the later stages of the race.
Mile 12: 10:57
Mile 13: 10:41
Mile 14: 11:00
Mile 15: 11:19
Mile 16: 12:03
Mile 16 contained a proper 'steep' climb and I decided to use the climb to have my gel, take on some more fluid and save my energy by walking the short distance, before running again once I reached the top.
Mile 17: 11:07
Mile 18: 11:32
Mile 19: 11:27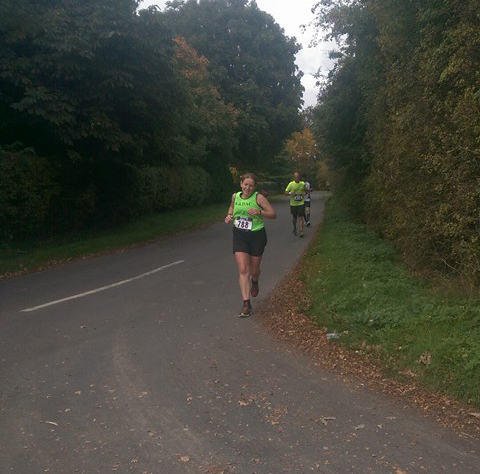 Dan had planned on getting out on the course to see me at around mile 19.  I had roughly worked out that he needed to be there by 12:30 to ensure that he had time to park up, get organised and make sure he was out on the course to see me as I came by.  As I approached the mile 19 marker I suddenly realised that there was a good chance I would miss him.  I passed through at 12:25 and hoped that he wouldn't arrive just after I had, only to stand around worrying that I hadn't yet come through!  Luckily, he popped out just before me round the next corner and ran alongside me for a few hundred steps whilst I reapplied Vaseline under my arms so that my vest no longer rubbed.  I told him that my hip had gone, but that I was running strong and was well on target for a sub 5 marathon by this point, although didn't want to jinx things!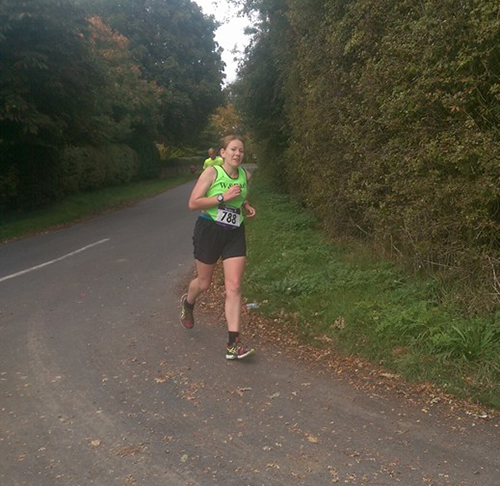 I was passing a lot of other runners by this point.  So many of them were walking.  I was terrified of burning out and with a few steady inclines coming up I made the decision to power walk any of the tougher hills to try and prevent this from happening and run the rest of the course.  This was a big decision to make, as I was worried that if I scaled things back a little my hip would go completely and I wouldn't be able to break back into a run.  I didn't feel tired, my legs weren't aching like they had done at Mablethorpe and I wasn't feeling hungry or weak by this point.  By mile 19-20 though I was so close to a sub 5 marathon, and having already had several failed attempts at achieving my goal, decided I would be happy with coming in at a more conservative, but stronger time, still remaining at a sub 5.
Mile 20: 11:41
Mile 21: 11:59
Mile 22: 11:26
Mile 23: 11:57
There was supposed to be a water station at mile 23 but it never came.  Halfway to mile 24 was a lone marshal, who luckily let me nab one of the water bottles she held as I was feeling rather thirsty by this point again.
Mile 24: 11:57
Mile 25: 12:44
It didn't feel as though I had slowed down this much, but I obviously had.  I think once you walk one time, you either end up walking loads or can't judge your pace properly afterwards!
Mile 26: 11:47
As I neared the park containing the finish I looked up to catch sight of the 26 mile marker.  I instantly picked up my pace and automatically beamed, realising that my calculations were in fact correct and that I was going to finally PB at the marathon distance, my mad grin seemed to amuse a couple of people walking past me in the other direction.  As I turned into the finish funnel I picked the pace up, which the supporters either side of the finish seemed to enjoy, as I got a loud cheer for my final 200 metres!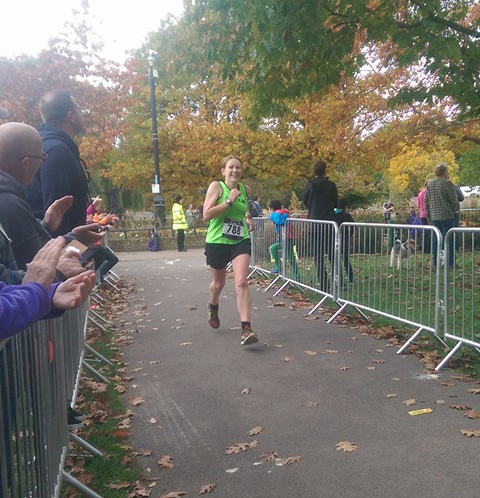 I couldn't see Dan, although he managed to take several pictures of me here.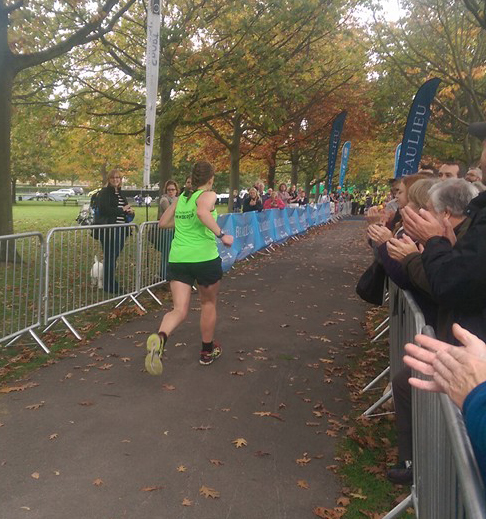 All I could do was grin more than I have ever grinned before!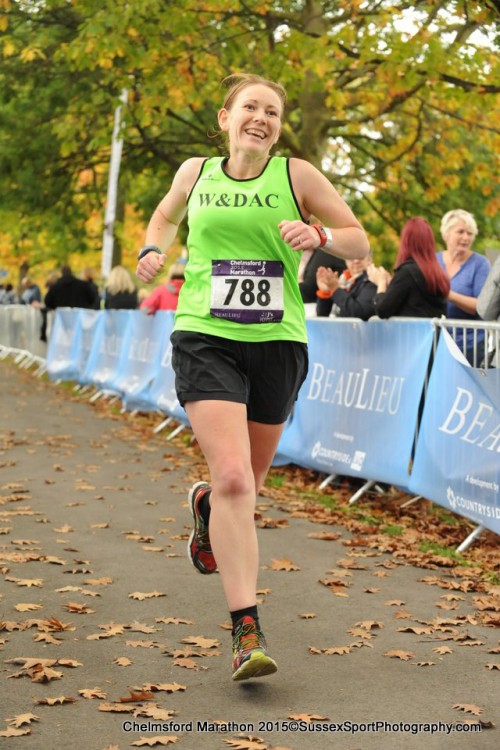 (First race photo I've ever bought!)  The rest of my race photos can be found here.
Nubbin: 10:19mm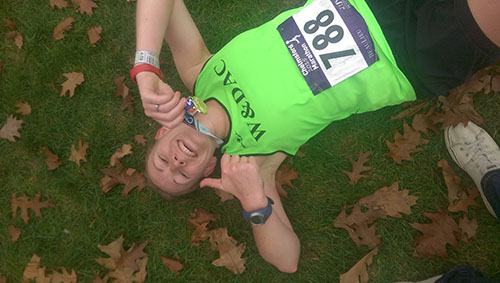 PB achieved.  Sub 5 achieved.  Comfortable race achieved.
Chip time: 4:54:08
Gun time: 4:55:18
Position: 486/592
I know it's not speedy compared to many people, and I'm sure that I am capable of much faster, but on Sunday I was so happy to cross the line with that time!