A little while back, my Garmin Fenix turned itself off…only to never come back on again!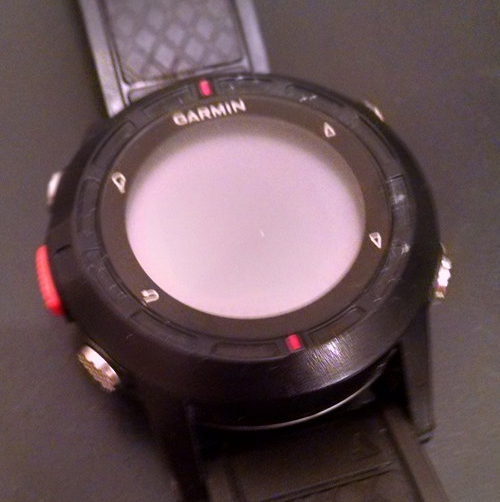 This happened just before my goal race – Mablethorpe Marathon!
Luckily, I had passed down my old Garmin 405 to Dan when I won the competition for the Garmin Fenix back in 2013, so I tried a couple of little tester runs using Dan's Garmin before race day, just so I could reacclimatise myself with the controls as he luckily let me borrow it for my marathon.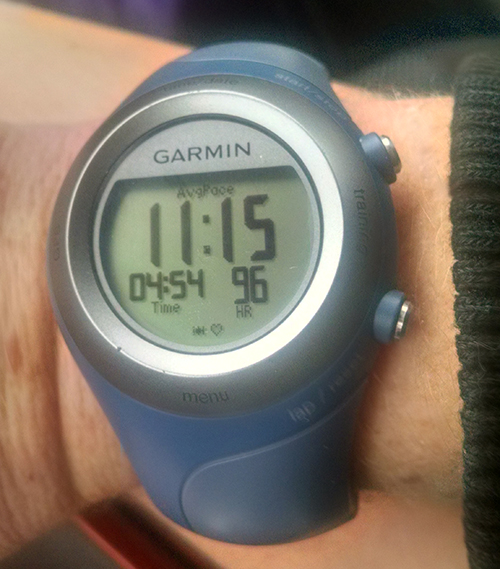 Because I had gotten on so well with the watch at Mablethorpe, I was in no rush to replace it before my marathon attempt at Chelmsford last weekend, and the watch helped pace me to a PB.
I knew I would need to replace it at some point though.  The 405 seems to have about 7 hours battery life, – less if I run using my heart rate monitor.  Several of the events I enter last longer than that and I am a big data geek – I want to see all of my run splits.  What use is it if your watch dies a few miles before the finish?!  Also, it wouldn't be fair to use Dan's Garmin for parkruns that he also wanted to come along to.
I asked around for watch recommendations and the one that seemed to come up trumps most often was the Garmin 310XT.  Despite appearing quite big and bulky I was assured that I wouldn't notice the size of the watch and that it would be capable of storing data for all of the areas I was interested in and wanted a display of on my arm.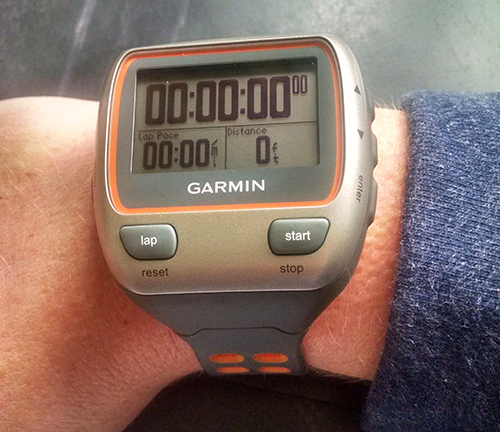 Dan bought me the Garmin as a birthday present and gave it to me a few days early last night, so that I might test it out during the week, ready for the Dusk 'til Dawn overnight ultra next weekend.
I headed to parkrun this morning with it strapped to my arm and a rough idea of how to start and stop it.
Although having toyed with the idea of heading back to Norfolk this weekend and fitting in some parkrun tourism at either Kings Lynn or one of the Norwich courses I was absolutely exhausted after a gruelling final week before the half term holidays and in need of the extra sleep.  Instead, I woke up naturally a little after 7am and headed over to my 'local' Northampton parkrun.
When I arrived I realised just how much I could feel the effects of the 100 squat challenge our coach had pushed us through on Thursday evening!  On Thursday at club we had run 5 miles along the streets of Wellingborough, stopping every half mile to complete a set of 10 squats in a variety of styles.  The running inbetween each set of squats ended up being quite pacey – often only slightly slower than 8mm.  I felt like I was running strong.  By this morning my inner thighs were a little achy from all the squats though!  I had arrived 15 minutes before the start so went on a circular walk to loosen my legs up a little before arriving on the start line ready for briefing.
It's not often I run parkrun on my own anymore – I usually end up pacing a friend or running and chatting with friends.  I'd like to get back into the habit of using Saturday mornings as a threshold run more often, as I think this played a part in helping my times drop at the start of the year.
I didn't intend on running 'all out' at parkrun this morning as I had just run the marathon last week, although my legs do feel recovered from that already.  I did intend on maintaining a consistent pace though, and having not yet set up my heart rate monitor with my new Garmin I would be running on feel alone, something I haven't done by choice over shorter distances for quite a while.
I glanced down after about 1/2-3/4 of a mile into the run to see '8:31′ clearly displayed on the front of the watch.  I was a little confused how my running had slowed so much that I was only running 3/4 of a mile in 8m 31s, and it wasn't until the watch beeped to signal one mile complete that I glanced down and realised that it wasn't displaying overall time, but rather average pace!  That made a difference!  Whoops!  I completed the first mile in 8:31, and the second in 8:35.  My third mile was in 8:47 and then I crossed the line to finish in 27:09 watch time, which was also confirmed by the timekeeper who was shouting out times as runners crossed the line.
Official time: 27:09
Position: 146/310
Gender position: 26/126
Age category position: 5/14
27:09 is my third fastest parkrun time (26:55/26:37 are my fastest two) and I hadn't intended on running quite so fast today, but I'll take that, six days post-marathon!
For the first time ever I think, there was no queue to get barcodes scanned, and because it was so cold and wet I decided to head back to the car and stick the heating on full for the drive home.
The trees were so pretty out on the course today and I wished I had taken my camera for some photos.  I shall have to get out this week now that I can see daylight hours again with my week off!
Unfortunately, although I had managed to record my run correctly on the Garmin, I ended up resetting to factory settings whilst trying to upload the run to Garmin Connect, so I lost all my data from this morning.  

 Will have to take a look at that before my next race!
I'd also like to say a huge thank you for all the lovely well done messages I received on my last post and via Twitter/Instagram.  I'm still on a high from last weekend, and have to keep reminding myself that I finally brought my time down under my target.  

 I have Dusk 'til Dawn next weekend and the EnduranceLife Gower break/marathon booked in for the coming weeks but other than that I'm looking forward to joining in with the cross-country season and heading out on some fun runs!
If you have a Garmin, which one do you have?
Have you noticed the trees changing colours where you live?