The past fortnight has been a busy one…I feel like I spend my life saying that. It seems that every time I meet up with friends, the conversation always goes the same.
"Hey, how have you been? I've not seen you forever!"
"I've been OK.  Super busy though."
…Is it just me?!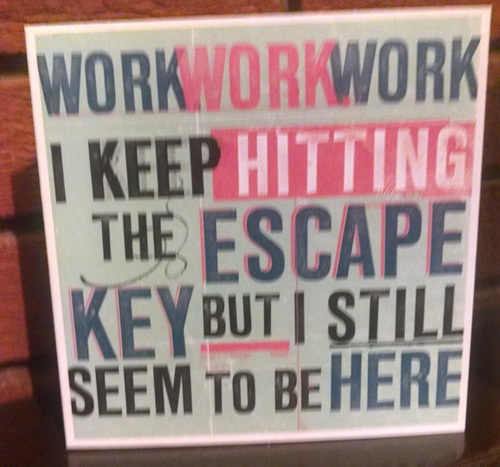 (One of my birthday cards from last week!)
It doesn't help that it is so dark now the clocks have changed either.  I leave for work in the dark and get home from work in the dark.  What does the outside world look like again?…!
Last week was the half term holiday and a week off from school. Unfortunately, with more than 220 GCSE / A-level students this year, including 170 year 11s, this meant that my week remained rather busy. Although I might not have been in school last week, I brought a large number of folders home from school for marking.  As a Computing teacher I only see students once each week, meaning that during each five day working week I see more than 500 students coming through my classroom doors. I'm afraid this means I don't know all of my students' names yet, and until last week it definitely meant that I hadn't marked all of their folders.
I needed to catch up with my marking though and so half term was when I had set aside some time to do just that.  It was convenient that over the holiday the year 11 reports were also due.  Therefore, along with marking folders of coursework, I also wrote out 170 reports for students. I do know the names of all the students in my GCSE classes at least, it's just the lower year groups I haven't quite mastered yet!
I wanted to give myself an enjoyable start to the half term break, even if the rest of the week ended up being rather work-heavy, so I headed to parkrun on the Saturday and ran the home cross-country on the Sunday morning before kicking off with my marking the following day.
On Monday I spent the day organising all of the folders; putting student work in order, naming work, and adding candidate numbers where they were missing. Tuesday and Wednesday were spent sorting through and marking each of the folders in the pile that had accumulated in my office back at home.  Then on Thursday I managed to get the majority of reports written.
Where did my week off go?!
I did slot in a break on Thursday evening though, where I joined five friends to make a team for a Friends (the TV show) themed quiz night.  Pub quizzes I regularly come last in, but a Friends-themed quiz?…I owned all Friends videos as a teenager and was looking forward to the quiz for a while!  The six of us headed to Peterborough, where the quiz was held and joined 39 other teams for the charity quiz.  There are a couple of 'Monica' characters within our friendship group, so we had been throwing questions out in a group Facebook chat for weeks in the build up to the event, determined to win on the day!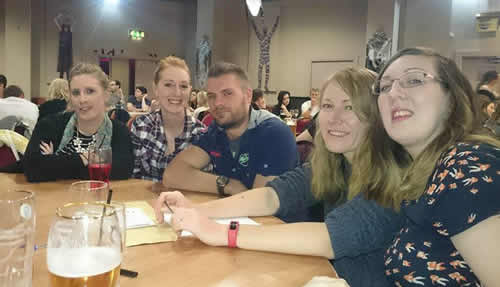 Unfortunately we didn't win.  Although we were one of the top scoring teams on the night, we were just pipped to the post when it came to prizes.  Each team donated a raffle prize and I came away with a bottle of wine from the raffle though.  Winner!
Although I did complete a little work on Friday morning, my birthday was the following day and so just before lunchtime last Friday, Dan and I headed to a little village in the Peak District, where we met my parents and their dog, Blue, at a little cottage that they had booked out for the week. It was my birthday on the Saturday and my third attempt at running the Dusk 'til Dawn 50m race. I'll review this in a separate post when I get a chance as regular readers will know just how long my race recaps can become!  😛
On Sunday afternoon when Dan and I returned home following the race we spent some time removing the final wall of wallpaper in the last upstairs bedroom, throwing loads of washing into the machine and giving the house a tidy, ready for another full working week back at school.
Currently, I feel guilty for not marking each of my student folders every week. I feel guilty for not knowing all of the student names, I feel guilty for not volunteering my name forward for any extra responsibility tasks within my department, and for not spending as much time with the non-naughty children, the kids that actually need or deserve my time each lesson.
Despite struggling to fit everything into each day just lately I am really enjoying my job at the moment.  It is so satisfying teaching students how to complete tasks using the computers, especially so when it is something they are really interested in (creating mobile phone apps or video editing), or when they are working towards qualifications in the higher years.  I have an optional class of year 10, who are mainly lower ability students.  Because they are a class of students who have chosen ICT as an optional subject I have just 17 students in the group, who I see three times each week.  This has helped me to build up a really positive relationship with the class, and and I love overhearing them telling teachers or other students in the corridor about the high grades they have worked hard for in my subject.
I also do a lot of the IT based work behind the scenes for my running club – updating the website, adding race results, creating graphics for upcoming events and setting up and resetting user accounts amongst other things.  I try not to spend more than 5-6 hours a week on club admin stuff, although some weeks it can get a little out of hand.  Having so many members is great, targeting certain races as 'club races' is great in theory – until it comes to entering all of their results each Monday evening!  This week I spent three hours on Monday evening alone catching up with club admin stuff.  Coming up later this month I shall be creating the club 'Runner of the Year' videos.  A task which usually takes me in the region of 30 hours.  I absolutely love creating the videos, and whilst I've considered giving up my committee role before, I wouldn't want to pass over my video making role!
Because I have been so busy with club stuff, marking and school work just lately, it has also meant that I haven't had much time for blogging or reading blogs and my absence has made me realise just how much I really miss it.  I feel so behind with things!  Add to my guilty list the following; not responding to blog comments, being slow to blog about my ultra attempt last weekend, not keeping up with posts from other bloggers…
Healthy eating has also dropped down my priority list over the past few weeks.  There were a few days I forgot about breakfast and lunch completely before the holiday, and dinner has quickly gone from being carefully planned out a week in advance and organised in the mornings to being something I raid the cupboards for when I realise we haven't eaten that night!  I feel guilty when I don't home-cook our dinners and on days when I haven't organised myself enough in advance to ensure we are eating a wide variety of fruit and vegetables.  I feel guilty when the washing is left until the weekend and the floor is left unhoovered, or I miss a night of watering the plants in the greenhouse.
Bella was very sulky last Friday morning – she knew that we were going away and sat very quietly up on the bedroom windowsill, refusing to move and silently watching us drive away from the house from her vantage point looking out onto the road.  I had arranged for a friend to drop in and feed her on the Saturday whilst we were away and worried that she would pine and be off her food.  I needn't have worried though, as all of her food had been eaten when we returned home and she threw herself at the front room window – her little tail vibrating so fast – something she has always done when we return home after a day away.  Her little way of showing us just how excited she is to see us!
She promptly fell asleep on my lap and stayed flat out until I moved her!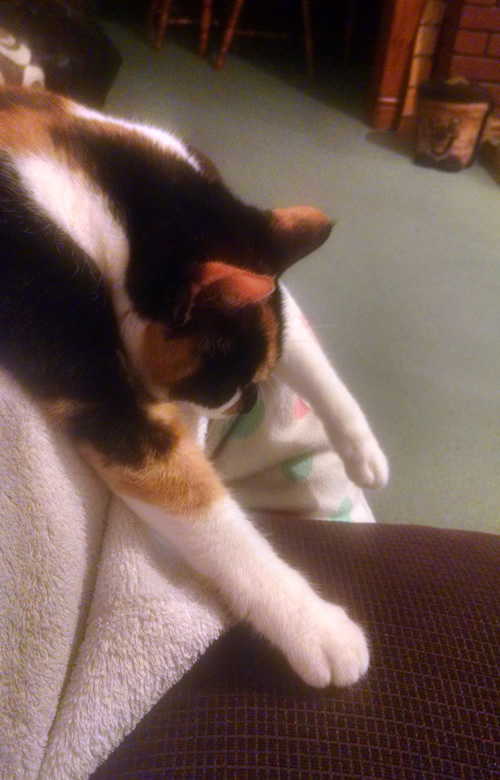 I felt guilty for leaving her, and for all of the times I ignored her whilst trying to get my work caught up during the holiday.
One of my year 13 students today was telling me that I just didn't understand how hard things were as a seventeen year old.  I'm sure I felt the same at seventeen, but the pressures of being a decade older are so much more!  One of my optional year 10 students earlier couldn't believe I'd marked 500 folders over the holidays, and announced that he never intended on becoming a teacher if that is what you had to spend your holidays doing!
I'm hoping that things will start to calm down again until Christmas now that my batch marking session and largest set of reports are over.  I miss writing, and the blogging world in general…
Have you ever been to a themed quiz?
What do you find yourself feeling guilty for?
How do you manage to fit blogging in when times get busy?