Last Saturday was my birthday and I found myself over in Buxton for attempt number three of the Dusk 'til Dawn 50 mile ultra. What weirdo decides to celebrate their birthday evening by attempting to run a 50 mile ultra with over 9,000ft of elevation?…this wierdo does!
I first attempted Dusk 'til Dawn back in 2013 after winning my entry through a competition in Women's Running magazine to take place in their 'Operation Ultra' series. I ran somewhere in the region of 35-40 miles of the course that year, but when the fog descended I got lost and ended up having to pull before the final checkpoint. You can read my race recap here.
I went back for another go last year with three friends from my running club. The mistake we made was to all run together, which slowed us down, eventually seeing us pulled from the course at the mile 25 checkpoint.
The Dusk 'til Dawn course is a toughie…


A few hills thrown in there…made all the worse when you check to the left of the elevation table to see just how many feet you climb in each hill!
There were four runners from my club running the race again this year.  Tom and I had both run together last year, then there was Gary, our club trail co-ordinator, and Ben.
Because Dan and I spent Friday evening staying over at the cottage my parents were in for the week, we arranged to meet the other three for lunch and kit checks once they had travelled up from Wellingborough on Saturday lunchtime.  The text I received that morning said that they would be leaving about 1pm, so imagine my surprise when I received a text at 1:20pm to say they were just 5 minutes away!  Cue a quick guzzle of my drink and a mad rush around the cottage to ensure I had everything for the race!  They had meant that they would be arriving around 1pm, not leaving!  Whoops!  Luckily, after a slightly lazy morning, my first priority had been to pack my kit bag and line up my bits ready for the race so most of my stuff was already organised and ready to go.
The four of us decided to head to the kit check first of all and were the first of a long line of participants to dump everything from our neatly packed bags out onto the tables to ensure that we had everything from the required list.  There had been talk about the first 50 people to arrive receiving a free bag, although we never saw these and were too polite to ask!
After we all successfully passed the kit check we piled into Gary's car and headed to the first pub we could find, where our post-race meals were devoured.  I went for a ham sandwich with side salad, and stole Dan's gherkin as an extra side.  The boys had been lovely and brought me up a surprise cake – singing to me in the pub after my meal which was really nice.  

Once we arrived back at the school where the kit check had taken place, it was time to reload our bags and make our final decisions over shoes.  We had quite a variety between us!  I think it probably took us a full hour to decide on shoes, load up our food, add race numbers and clip cards to our gear, and check we hadn't left anything behind!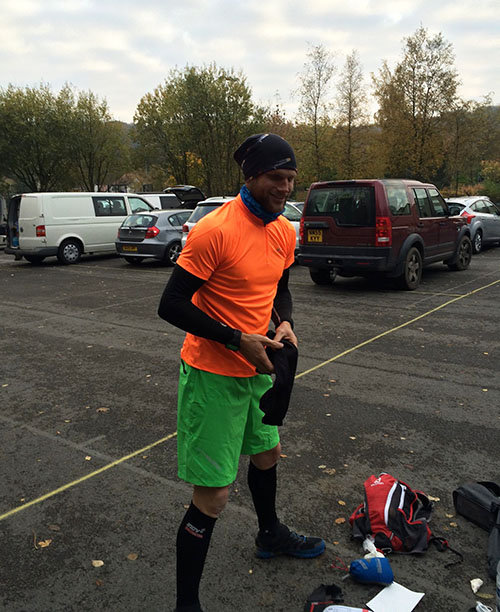 There was a quick briefing when everyone congregated in the hall, although the main race briefing had been sent out via YouTube the week beforehand.
Our little group appeared to be the first out to the start line and so we snapped a couple of pictures before the off…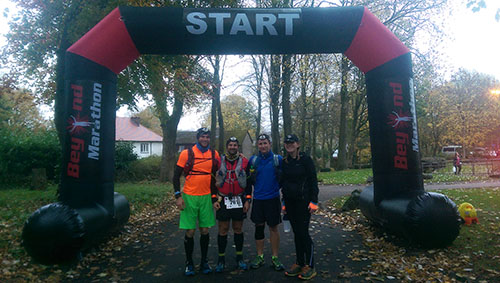 It was hard to get any good phone shots as the light had already started to fade by this point…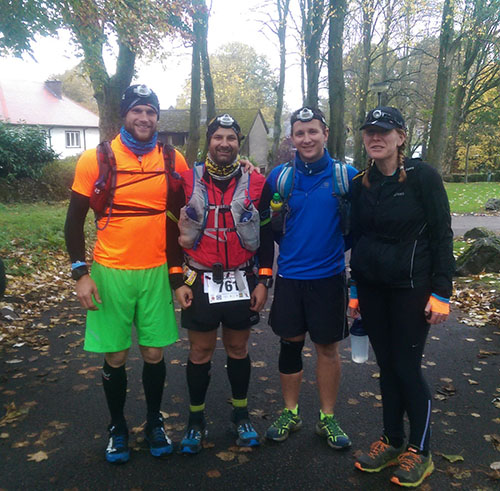 I had lots of little ziplock bags of food stuffed into the front pockets of my jacket, making me look pretty bulgy here!
The race started dead on time at 4:47pm, just as dusk had begun to set in.  Tom and I set off at a fairly brisk pace – our first mile coming in at sub 10mm pace, which included stopping to cross over a busy road.  My parents had missed seeing us off on the start line, but we caught sight of them just after we turned at the top of the first road.  They had mentioned that they were hoping to see us at the start, although they actually ended up seeing us at several points out on the course as well.
Tom and I had discussed our game plan beforehand and the aim was to run at every chance we could – and keep moving forward at all times, no matter how tough the terrain!
Mile 1: 9:58
Mile 2: 15:07
Mile 3: 11:51
Mile 4: 13:15
Mile 5: 11:52
Although the hills were tough, they didn't feel as tough as they had done the year before.  Tom and I overtook a lot of runners very early on in the course.  Usually I worry about starting out too fast and burning out, but it was necessary to have different race tactics for Dusk 'til Dawn, so we went out hard from the very beginning instead.
The first mile was relatively fast, and all on road.  It was still bright enough that we didn't need headtorches on for the first couple of miles.  As we headed off-road we began a climb up a smallish hill along a rutted and stony track.  It wasn't until here that I turned my headtorch on to enable me to see clearer.  We were treated to a beautiful sunset as we reached the first mini peak.  I wished I had my camera on me, or that my phone would take semi-decent pictures in poor lighting.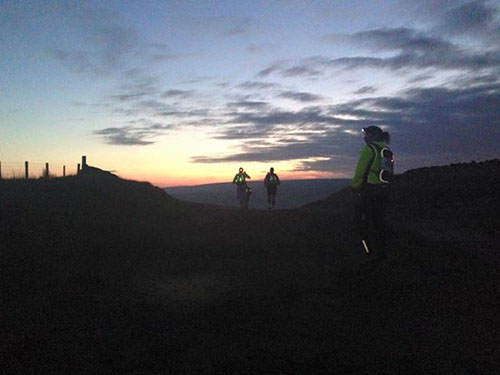 I found this above picture on the Beyond Marathon Facebook page of the moment we reached the first peak, but the photo doesn't do the moment justice at all.  It really was breathtaking.
We had a perfect night weather-wise for the event to be fair.  There was no fog, which had plagued the event in previous years, and the weather was still so warm.  I was wearing a very thin top, with a t-shirt on top and my running jacket over that, but I was way too warm from very early on.
Phil, who I had run some of the course with in 2013 passed Tom and I about 3 miles into the event, just before the Cat & Fiddle pub where we had been pulled the previous year.  Apparently Phil then went on to get lost for a little while here, which confused me as he then later passed us again!  As the pub was so early on into the course this year, it was not a checkpoint and so we continued past, Tom now in uncharted territory.
This year was the first year that a half marathon and a marathon event had been put on alongside the ultra race and there weren't many stretches where we couldn't see a string of headtorches disappearing off into the distance ahead of us or behind.
It was nice to run across the top of Shining Tor this year, with plenty of other headtorches to assure me that we were going the correct way!  I had last run it in 2013, along with another runner and the fog had been so low and thick that we could barely see each other.  The wind so fast and loud that we were having to shout out to be heard.  That wasn't the case at all this year, and Tom and I easily chatted away whilst running the peak.  There were a large group of runners just behind us here, and as the slabs had large gullies in every so often I would shout out "Jump!", which Tom would echo behind and so on and so on as each runner leapt over the little obstacles!
The first checkpoint was as we came off onto the road again.  (About 6.5 miles)  I expected Dan to be here, but he wasn't so I guessed he had decided to head off and watch the football on TV instead!  We refilled our drinks bottles, grabbed some brownies and continued along the way, leaving a large number of runners still at the checkpoint.  I didn't want to hang around and get cold, or risk losing vital minutes that we might need to make the cut-offs later on.
A couple of miles later we climbed a steep section of trail, which came out onto a sharp bend of a road at the top.  Here, a road marshal was taking our numbers and ensuring that we crossed the road safely.  As Tom and I reached the opposite side of the road I heard someone shout my name, and looked back to see Dan and my parents there to cheer us on.  We exchanged words briefly before Tom and I continued up the steep section now on the other side of the road.
Mile 6: 13:31
Mile 7: 14:33
Mile 8: 13:57
A couple of miles further in and we reached the first self-clip checkpoint, where there seemed to be a pileup of five or six other runners.  A steep downhill section followed immediately afterwards and we ran almost alongside this group for a little while.
The week leading up to the race had seen lots of heavy rainfall and even though it wasn't raining on the night, the grass was still very slippery and large puddles had formed along lots of sections of the route.  My downhill running has really improved this year, but I struggled to trust my feet to really go along several sections of the grassy track, knowing that if my trainers didn't grip I would be sliding downhill quite a way on my bum!  It was along the next section of track where I was so busy watching my footing that I didn't see the upcoming branch at head height.  I whacked my forehead on it really hard, leaving me with a sharp pain which didn't dull for quite some time.  It also knocked my headtorch out, and I continued to have a few problems with it for the remainder of the race.  The headtorch then began a pattern of flashing several times, before slowly fading and switching off completely.  A few minutes later I would always be able to switch it on again for a while before the pattern would begin all over again!  I was playing with my headtorch when I misjudged how deep a muddy puddle was and ended up going in up to my knee!  The thick mud held me there and I couldn't pull my leg back out in time to match the rest of my body moving forwards.  I fell forwards onto my hands, and Tom who had been right behind me, couldn't stop in time and promptly fell over the top of me, much to the amusement of the guy following us at the time!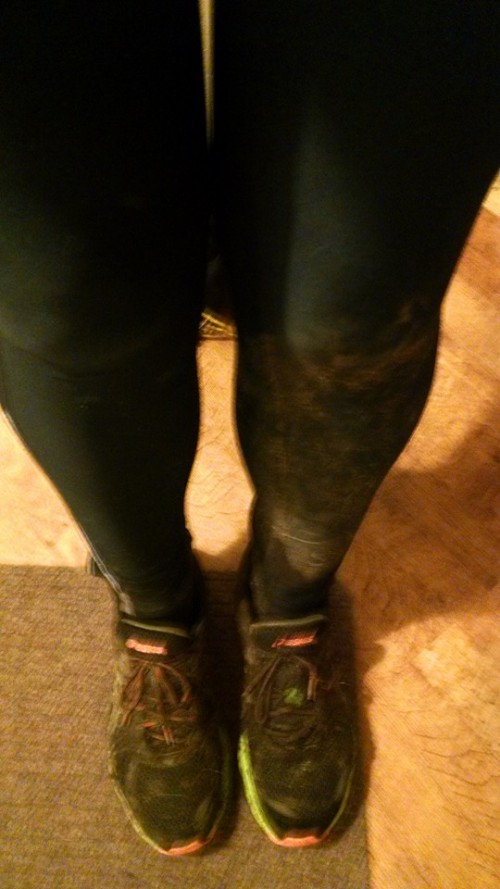 That was an eventful mile!
Mile 9: 12:19
Mile 10: 14:18
Mile 11: 17:38
Mile 12: 17:18
Mile 13: 16:39
Early on, we had worked out that to beat the Sweeper who would be running at 3.55mph we needed to run an average of just under 17 minute miles for the whole distance.  It sounds incredibly slow and easy, but factor in the wet and rocky terrain, the steep hills, the fact that we were running at night and that we were self navigating, and you get a better idea of how tough 17 minute miles can be!  We had been running well time-wise so when things started to get tough as we hit a few steeper hills around mile 11/12, we weren't too concerned, as we had already banked a bit of time, and we were only just over the 17minute mile pace still.
We saw my parents and Dan again, just before the next checkpoint at 13.5 miles and they said that Gary and Ben were 15 minutes or so ahead.  The checkpoint was a welcome one and we stopped for maybe a minute here, to give us time to refuel and top up our bottles.  There were still plenty of other runners around us and I asked how far we were ahead of the cut-point now.  I was reassured when they immediately told us that we were a long way ahead of the cut-offs, and had a good 30 minutes or more to spare still.  Still not wanting to hang around though, we pushed on.  I took on a few of my pretzels and was aware that I needed to eat a bit more than I had been, so knocked back a gel as well to try and get some extra energy in.
Minutes later we were heading up a steep road climb when we heard a familiar voice in the distance.  It was Gary.  He wasn't feeling it and had decided to pull, which was a real shame.  Tom asked if I could switch headtorches, as I still hadn't dared spend the time to check the batteries on my torch, and had been running with a handheld for the past few miles instead.  I had fully intended on switching out the batteries later on when we were over the worst of the hills and I had a little more time to spare, but as Gary had one going it made sense to continue with his from now.
The next section was really tough.  I looked up at one point and pointed out to Tom how high the headtorches were up in the sky ahead of us.  He thought the lights had been planes!

We climbed somewhere in the region of 900ft over a mile at mile 15 and then even tougher was the next hill at Mount Famine where we climbed a further 700ft over another mile.  We were both finding it difficult to catch our breath so for the first time we paused at the top for several minutes, where we altered our layers and grabbed some food.  I removed my t-shirt, with the intention of just running in my thin long sleeved top and showerproof jacket.  Rather disgustingly, the t-shirt I removed was absolutely dripping with sweat and was so heavy because of it.
Mile 14: 12:46
Mile 15: 25:57
Mile 16: 20:14
Mile 17: 23:15
Mile 18: 24:05
It was here that a couple of runners passed us, including Phil, who looked to still be running well and on target.  Tom and I reorganised our bags and continued back on our way.  Although the previous few miles had been tough, we weren't overly concerned as our average pace was still showing at 15:xx and we knew we would be able to make up some time later in the race.  We were both still feeling strong and well-fuelled, high in spirits.
Mile 19: 13:45
Mile 20: 19:41
As we approached the next checkpoint I could see my parents and Dan stood to the side of the aid station.  I smiled in their direction and began to pull out my wrist tracker ready to be scanned by the marshal now walking towards us.
He put his hand out towards us and said "I'm going to have to stop you here guys.  You will not be allowed to continue."  We were so confused.  We had never seen the sweeper who should have been running at the cut-off pace and warning people when they were moving too slowly.  When we questioned this, we were told that the sweeper had set off late so was running behind the pace he should be at.  I pointed out that we were still running at a 15:00xx minute mile average pace and we were simply told that the checkpoint had now closed, that the only way we could continue would be to do so without aid stations.  Tom turned to me to see if I would be up for doing this.  (Obviously!)  To which we were then told we would not be allowed to do this!
I was a few minutes before turning my watch off, as I still couldn't quite believe we were going to be pulled from the event.
Nubbin (0.62m): 10:41 – including time spent waiting to see if we were going to be allowed to continue.
Whilst we were stood around trying to work out what to do, two runners who we had overtaken a couple of miles back came into the aid station and were also greeted with the same message.  They advised the marshals that they had just spoken to Richard, the Race Organiser, and he had said that they may continue with the marathon course.  The marshals were going to let them continue to do so until Tom and I piped up to point out that if they were going to be allowed to continue, then so should we be!  Unfortunately, the result was that we were then all pulled and my parents drove us back to race HQ where we met up for a debrief with Gary.  In the car on the way back to HQ I checked our watches and the course pack.  The checkpoint we had been pulled at was marked as being 19 miles, when it was actually closer to 21 miles.  Tom and I hadn't gone off course once, and with tracks often only wide enough for one person at a time, I'm not sure how we could have run nearly an extra two miles by this checkpoint.  The timings of the cut-offs were out.  The '19 mile' checkpoint, checkpoint number 7 was due to be closed at 10:10pm, and we arrived literally only a few minutes after this, the first to not be allowed to continue at this point.  What was also frustrating was that the race briefing that was sent out the following day mentioned how several runners had been forced to retire at checkpoint 7, but they had all received a half-marathon medal for their troubles.  We never saw one of these!  

 I'm not sure that I would have wanted it anyway, even if it had been offered to us, as I had set out to run the ultra, but it would have been nice to have if others had received them for being pulled after us!
Ben was still going strong, and ended up finishing 18th in 11:48:28.  For someone who ran the Shires and Spires 35m ultra earlier this year in just over 5 hours, it gives you an idea of just how tough the Dusk 'til Dawn course is!
Tom wants to head back for a third attempt next year, but I think I would be silly to enter again.  Instead, what I think I would like to do is run the course unaided next year so that I can finish the 50 miles and put it to rest.  I know I am more than capable of completing the 50 mile distance, having done so on more than one occasion in the past, and I know that I am mentally and physically strong enough to cope with the demands of the terrain out there.  It's just frustrating that I never got to complete it and achieve a medal!
I do love the concept of this race, and the Beyond Marathon events seem to be very well organised, with all runners looked after.  All of their events look fun, yet challenging.  Perhaps I should see what other events are on offer next year and try something different.
If you were me, would you head back for a fourth attempt on the Dusk 'til Dawn course, or have a go at running it yourself instead?