It's been a little while.  Sorry for my absence from the blog.  I have a lot to write about and a lot to catch up on, and I'm hoping to do just that this weekend.  I'll start by telling you about my most recent parkrun tourism trip…
Not last Saturday
, but the one before that (7th November),
Laura
and I headed off to Daventry for a bit of parkrun tourism. Daventry was the sixth parkrun course I've run, and was parkrun number 36 in total.
My usual parkrun courses are all a good thirty minutes away and Daventry showed as being 50 minutes away when I punched the postcode into the satnav.
After a week of
5am
get ups, I had decided to set my alarm for
7:20am
 on Saturday morning so it ended up being quite a rush getting round, ready for leaving by 
7:45am
. I did it though…Only to discover that there were just 60 miles of petrol left in the tank of my car. I always do this…Leave buying petrol until the last minute and then not factoring in the time to purchase any on the way! Luckily I arrived with 10 miles to spare and there was a petrol station within sight of where I parked.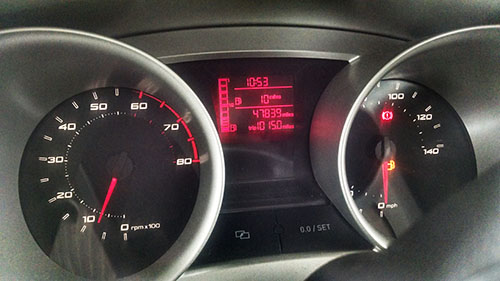 It was absolutely tipping it down when I arrived. I'd had my windscreen wipers going on full blast and after getting out of the car to change my trainers, I was soaked through within seconds. I'd arrived wearing road shoes, unsure of the terrain we would be running on.  I knew trail shoes would be a better option when I glanced up to see the muddy field in front of the car park where the finish funnel was being constructed though.
The reason we had decided to head to Daventry
on Saturday
was due to the first birthday celebrations that were taking place. Fancy dress and slotting in some parkrun tourism is high on the agenda this year and we both really enjoyed the
Corby's first birthday parkrun
 back in September.  The Daventry event was a black tie do and so there were plenty of runners in dresses and suits, slipping around in the rain. This included Laura, who arrived fully dressed up, including wearing accessories of a necklace and also clutching tightly onto a handbag, which she used to carry her parkrun barcode around in!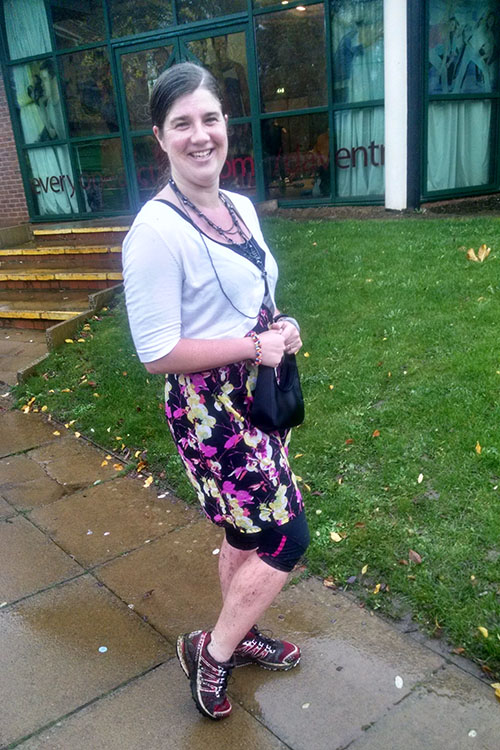 (Laura in her get-up post-race!)
There were some fab outfits, and despite the rain, loads of people were wearing dresses, full on suits, or like one guy who zoomed by me early into the race, wearing a suit jacket and dickie bow with running shorts on his bottom half!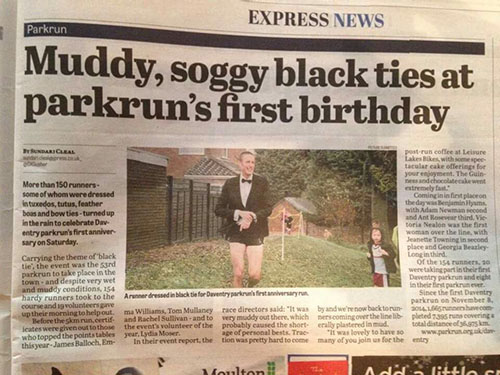 I bailed out of the fancy dress at the last minute, despite Dan intending on pulling out his tux tie for me the evening before. Waking up late, not feeling great, the horrific weather and the mad rush as I realised that the parkrun was actually 50 minutes away and I had limited petrol were all contributing factors to this decision. I felt a bit bad texting Laura to say I was just in regular running kit, but I think she let me off in the end!
When I arrived I was desperate for the toilet. I don't think the noisy rain had helped. The rain, along with downing a pint of water just before leaving the house an hour earlier, meant that by the time I had changed my trainers, found Laura and asked where the toilets were,  it was
8:55, I was desperate for the loo 
and with no time to make it to the toilets and back before the start. Damn!
Not knowing the course, we lined up at the back and chatted to the other runners around us. I decided to keep my hoodie on as it was still really raining. It wasn't cold though and I instantly regretted it when we started running.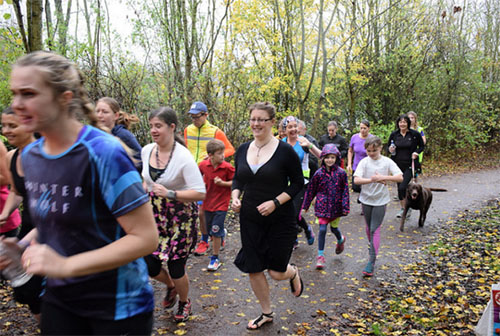 Although Laura had done her research and declared the route off-road, we weren't sure if the course consisted of multiple laps or just the one lap.  We began on a pathway, gradually picking off other runners in front of us.  It was a proper Autumn day out there, with leaves on the ground everywhere you looked.  The heavy rain meant lots of mud to either side of the path, and there was a brief bottleneck near the beginning as runners slowed down to head through a water-logged gate one-by-one.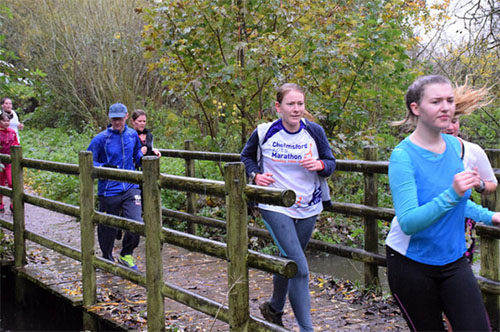 I really didn't have a great run and realised early on that if you need the toilet before a run, it's probably better to go, rather than to try and run with a short stride and ignore the sound of rushing water under the bridges you run across!
I hadn't planned on a quick one, which was good, as it definitely wasn't!  Laura and I chatted away for the first couple of miles, but I was even struggling with that towards the end.  I just wasn't having a good day!  The course was just one lap in the end, and I really enjoyed the route.  One to go back for again for sure.
Mile 1: 10:46
Mile 2: 9:32
Mile 3: 10:22
Nubbin: 8:51mm pace
I removed my jacket and carried it after about a mile.  It was too warm and faffy to be wearing it AND run.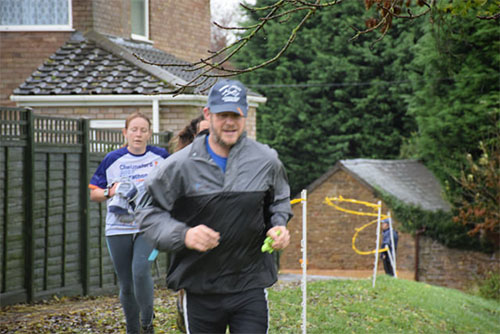 I told Laura to push ahead near to the end so she went off and left me for the last little bit.  I did the best sprint finish I could muster whilst needing a wee, and as soon as I crossed the finish line I thrust my barcode into Laura's hand for her to scan so that I could nip off and find the loo!
Official time: 30:54
Position: 94/154
Gender position: 21/67
Category position: 4/7
A few minutes later, and with an empty bladder once more, Laura and I made our way to the post-parkrun cafe for cake and hot chocolate.
I did point out to Laura that it was looking like we were becoming the parkrun crashers – going from birthday parkrun to birthday parkrun and enjoying the birthday cake!  And it was good cake…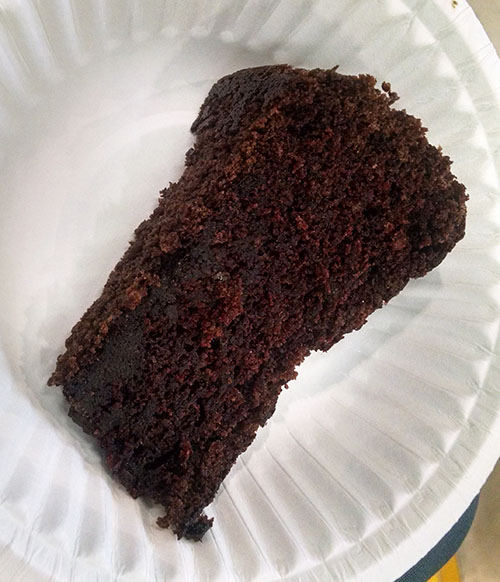 Although not normally a Guinness fan, there was something about the density of the Guinness cake that appealed to me and I did not leave disappointed following a slice of this!
Laura and I stuck around for a long gossip after the run, and one of the main organisers came to chat to us about where we were from and ask if we had enjoyed our first experience of Daventry parkrun, which was really nice.  I do love the smaller events like this.  Parkrun is such a friendly community!
Do you chat to parkrun tourists at your event?  Our local event, Northampton, is so large I wouldn't know who was a regular and who wasn't.