A few weeks back, I was contacted to see if I would be willing to take part in a campaign run by SimplyHealth called 'Cook Your Way to a Healthy Smile'.  Having been told off by my dentist earlier in the year for eating all things bad for my teeth and for pulling my wisdom teeth out finally, I eagerly responded, saying that I would be happy to take part in the campaign.
I was sent a box of organic produce from Abel & Cole and asked to come up with a meal from the contents.  The items I received in my box are known for being superfoods for teeth and I was keen to whip up a dish using them.
Firstly, the delivery from Abel & Cole was fantastic.  When ordering, I commented that I would not be available to take deliveries between the hours of 6:20am-6pm on weekdays due to work, so would leave a large plastic container along the side of my house which the delivery could be placed inside for safe keeping until I returned in the evening.  The delivery rocked up a few minutes before 6:20am one morning, so I was able to take it inside before work!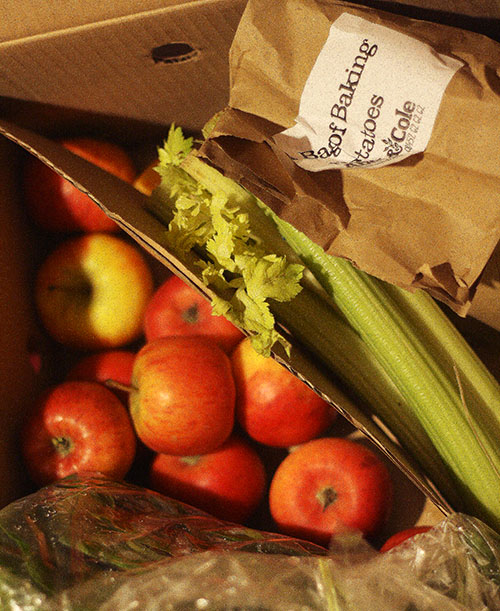 In the box I received a large bag of spinach, a pack of celery, some strong cheese, a carton of milk, a pack of sausages, one of chicken legs, walnuts, brazil nuts, some potatoes and dozens of good-to-eat apples.
For me, there is no better meal than a salad when it comes to eating healthily (or, not so healthily – I like to throw lots of items into my dish!) and quite often when I go out for a meal, it is a salad I choose.  Dan doesn't eat any salad items, so I tend to save eating them for lunches or when we go out for a meal at a restaurant.  Or, like in this occasion, when Dan has swanned off to football for the afternoon and I'm just cooking for one!
Ingredients:
* 1 chicken leg
* 1 large handful of spinach
* 1/2 stick of celery
* 1 small handful of walnuts
* 1 small block of cheese
* 1/2 an apple
* 1 potato
* a pinch of salt
* a sprinkling of pepper
* a blob of olive oil << is a 'blob' an official measurement?!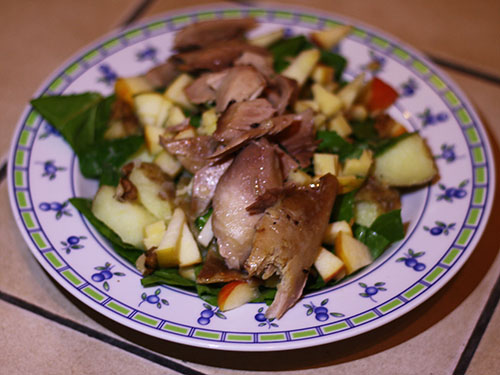 I rubbed the chicken leg in a little olive oil mixed with salt and pepper, before placing it in the oven on 200° for an hour.  Whilst the chicken was cooking, I scrubbed the potato, which I then cut into small, bite-sized chunks, ready to boil.  I left the skin on, as I like lots of texture in my meals.  I removed the stems from the spinach and cut the leaves into several pieces, throwing them into a large mixing bowl.  Once the potatoes were fully cooked I tossed them whilst still warm, along with the spinach in a little oil and salt, to taste.  At this time of year, I feel all salads should contain some warm elements!
The spinach and potato mixture lined the bottom of my dish, whilst I chopped the apples, celery and cheese into small cubes.  The walnuts were chopped into slightly smaller cubes, and then scattered over the top of my dish.  I removed the chicken from the bone once cooked and laid out over the top of my cheese, so that the cheese could get slightly melted.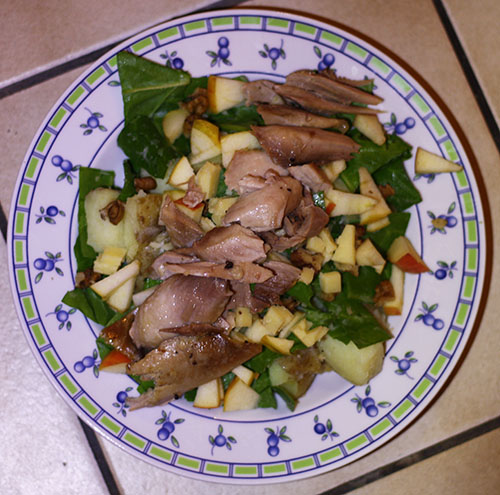 Ta-da!  Salad as I like it best – with lots of different items and lots of different textures!
Annoyingly I'm never home in the daylight anymore, and I cannot take very good pictures in artificial light, but you get the jist of my meal.  There was enough left for snacking later on that evening too…!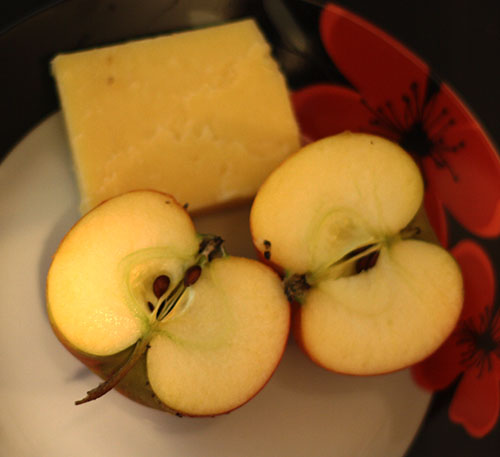 Apples with cheese used to be one of my favourite snacks when I was younger and it's one I hadn't had for a while.
The infographic below explains why the six foods are 'superfoods' when it comes to a healthy smile and why it can be a good idea to incorporate them into your meals.

**(Infographic from https://www.simplyhealth.co.uk/sh/pages/healthy-you/six-superfoods-for-your-smile)  I received a box of organic goodies from Abel & Cole in return for this post.
What are your favourite items to include in a salad?
What are your favourite healthy snacks?