Gower probably isn't a place you would normally think of when taking a break in November, but the weekend before last, twenty-nine members of my running club (or partners) headed down to Rhossili in Gower on the Friday, ready for the EnduranceLife races the following morning. We had two runners entered in the 10k event, seven in the half marathon, twelve in the marathon distance, three running the ultra and five just coming down for a good weekend!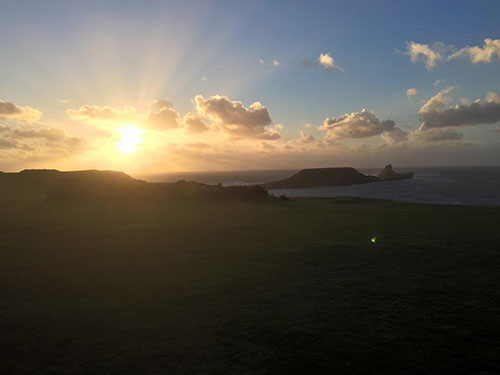 As has been the routine for the past few years, our club booked out three large cottages right by the start line of the race (although the start line had moved a little further up the road this year).  Working as a teacher, I couldn't get the Friday day off, like most others headed down had.  So, I set off from Wellingborough at 4pm with another couple who had also worked during the day.  Knackered, but ready for the five hour journey ahead of us.  I'd actually been up and working at 3am that morning, so might have had a little snooze during the drive over!
The houses we stay at are massive – we had fourteen people staying in our house, and there was still plenty of room.  Rooms had already been organised, but as I was the last to arrive I slept on the floor of a twin room with two others who had already nabbed the beds.  It didn't bother me though, – I was looking forward to spending the weekend running and hanging out with friends.
As I was headed over to Wellingborough for my lift on the Friday evening, I got a call from Gary, who had already travelled down during the day.  The EnduranceLife website was displaying the following message from the organisers…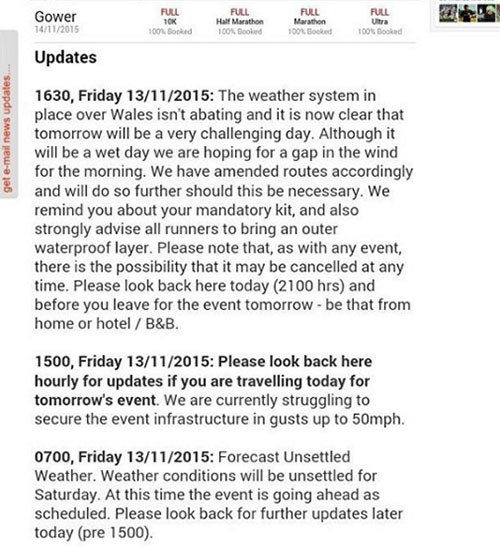 The guys already over in Gower had walked over to the race start where they were informed that there was a good chance the race might not go ahead due to the weather.  As we received this message back in Northamptonshire, the winds had already picked up and it was raining hard outside.  We decided to make our way over anyway.  If the race didn't go ahead, a run would still happen with so many from our club there and if it was unsafe to head out for far on our run, there was always the pub for entertainment!
The three of us met the other twenty-six at the pub around 9pm.  Absolutely exhausted following the long day at work and drive down.  Time for a quick drink (just water for me!) before heading back to settle into the cottages and get some kip ready for potentially racing the following morning.  Further updates on the site indicated that a clear decision had not yet been made as to whether the event was to be called off or not.
We all rose early the following morning.  Kev traipsed the 15 minute walk down to the race HQ to establish whether or not the event would be going ahead.  It would be, so suddenly our house was all systems go again!  Bottles were being filled, bags packed and layers added.  The wind sounded awful outside and the rain had been constant most of the night.  It was going to be muddy out there!
We left it quite late to go down and register, as standing around in a muddy field at stupid o'clock didn't really appeal to any of us that morning.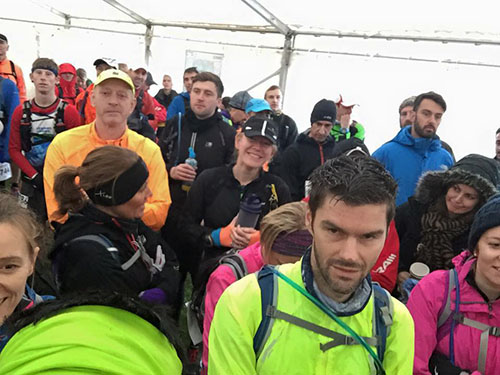 And it definitely got muddy…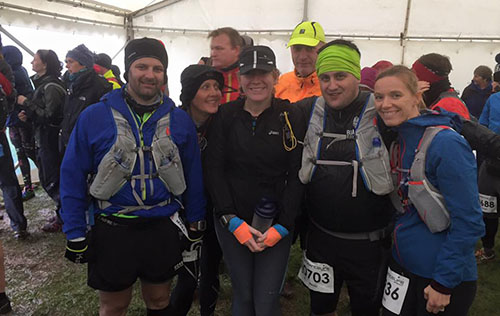 …you can see the mouth of the HQ tent to the left of the above photo, and this was still very early on in the day.  You can still see grass at this point!
The EnduranceLife registration always seems to be a smoothly run procedure, and we were quickly ushered along the line where we signed to say we would be responsible runners, to collect our numbers, timing chips, t-shirts and Clif bars.  There didn't seem to be any pens out to write on the reverse of our numbers, but I doubt anyone's fingers would have worked by this point anyway.  It was COLD!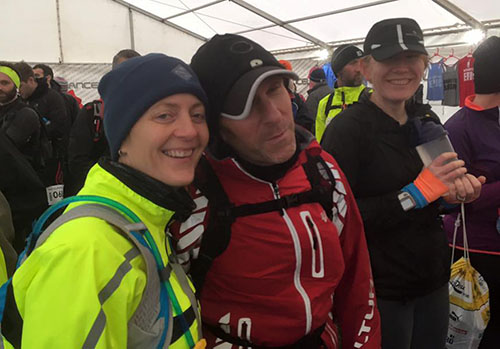 The ultra was about 15 minutes late setting off due to the extra safety notices in the race briefing.  Our race was next to begin and a little late getting going too.  We were told about how the race organisers might have to alter the course later on during the event so that we ran more road, and inland, rather than on the edge of the cliffs…no-one wanted to get blown off into the sea below!
Although we were shaking and shivering on the start line, I knew I would warm up quickly once the race began.  The wind was incredibly strong, but it really was not very cold at all.  Because the start of the race was at a slightly different point this year (I think there had been some issues with going through a farmer's field near the beginning of the course) it meant that we hit our first hill very early on.  I do not have an issue with hills at all, and am quite strong when it comes to taking big strides and powering up past other runners.  What goes up, must come back down again though and the first big downhill was notorious for falls and injuring runners.  So much so that we were told they had even placed the medical van at the bottom of the hill to deal with any issues more quickly!

As you run downhill, a stream joins the path and so the grassy track becomes very slippery.  Not one you want to lean forward and throw yourself into at all.  Especially when you factor in all of the rocks sticking up out of the hill face at the steepest section.  I picked my way down fairly gingerly, although picked up speed a little as I gained more confidence.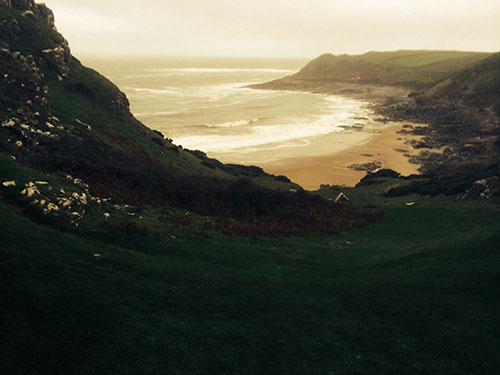 At one particular soggy point towards the bottom, I opened up my stride too much, slipped on the wet grass and managed to bounce down onto my knee and back up again.  Somehow I managed to use the forward momentum to keep going, but I now had a soggy, muddy leg!
I got a large stone in my shoe here, so once at the bottom I paused to remove it before trotting off again.  The next section was a long one across the beach.  I had hated all of the beach stretches during the marathon last year – too much of the same, and not being able to see off into the distance messes with my head and causes me to break down into a walk probably more than I need to.  Last year we had set off as a group of five, with the other five runners much faster than me, leading me to feel pressured and probably push harder than I should have done along this section.  This year though, I feel a much stronger runner and at the start I had purposefully said that I wasn't intending on running with anybody out on the course…that I wanted to run my own race, so the pressure was off.  That said, I ran most of the way either with, or just behind a group of three or more runners from our club.  But it was pressure free!
I ran the whole way comfortably across the beach.
The rise up off the beach was stunning.  The weather was so grey and bleak, that much later on good photos were impossible, so I'm glad that some runners from our club caught these images early on.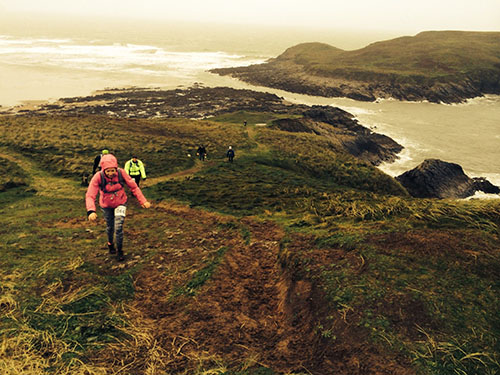 You can just about see me there, tagging along in the background carrying my water bottle!
The checkpoints had changed this year, with one being removed completely.  The guys on the first checkpoint had done a great job of placing plastic tubs on the side to shelter the food from the elements.  Rain was still coming down hard in a sideways motion here.  Because there was just me I was in and out of checkpoints very quickly, and would always bump into the group up ahead after going through.  As a larger group they took more time to get everyone through each checkpoint before continuing on their way again.
The worst part of the course was at mile 13.  Mile 13 was at the top of a tough hill that we had been climbing for what felt like forever.  As we reached the top, the wind was blowing me sideways, and I was holding onto my cap really tight, whilst still trying to move forwards.  The air all around seemed to be grey here, and I could see nothing further than a few meters to either side of me.  I passed a couple of ultra runners up here which I was surprised by, as they had been given at least a half hour head start on us.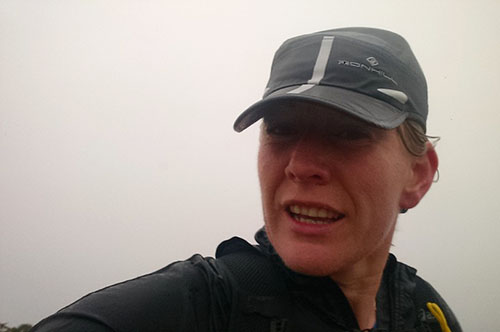 I took a picture, but it really does not show just how bad things were up there at the top!
Despite that though, there wasn't one point where I didn't enjoy the race.  I was soaked through by now, and covered in mud, but had been sensible, hadn't fallen and was still eating and drinking well.
Halfway!
I rushed through the next checkpoint, catching a glimpse of Kev, Emma and Jo walking just up ahead so I joined them for a while.  This was the point where Kev and I had hung back from the group last year.  We headed sharply down through a wooded area and arrived at the bottom with just us three ladies.  Where was Kev?  We waited a few moments, incase he had nipped off to the loo but when another couple of runners came past and hadn't seen any sign of him on the way through we got a little concerned and headed back up to look for him.  He soon bundled out of the bushes and joined us again though.  Just a loo stop!
The second beach was much worse than the first, and I walked a large portion of it.  The wind was full on blowing into our faces now and almost pushing us backwards as we power-walked across.  I could see the three ahead forming an 'elephant chain' to try and block some of the wind.  Kev, Jo and Emma had made up some distance running to the beach, but I gradually decreased the gap again as I pushed forward with my long walking strides as the wind forced us to break back into a walk.  I caught up with them just as we came off the beach and headed into the woods at the far side.
Then, came the steps from hell.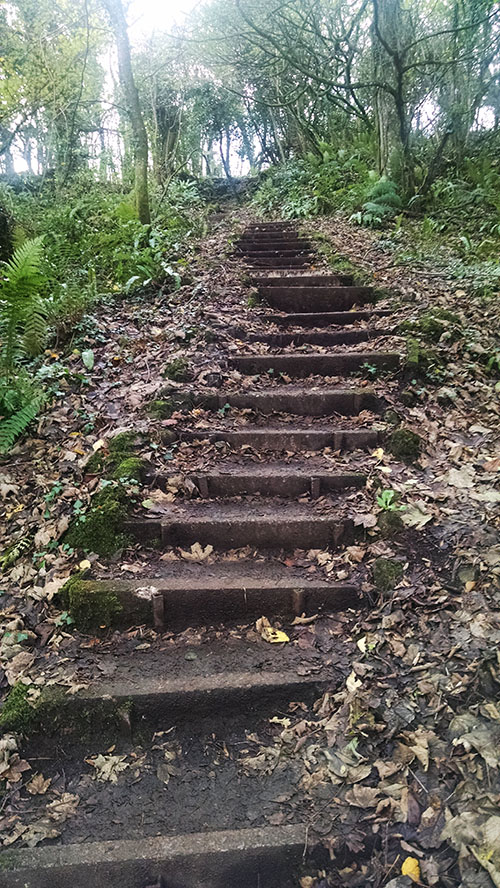 This photo was taken last year, when it was much less muddy!
They went on and on forever…up and down…and up again.
We were soon back up along the edge of the cliffs and the mud and the wind here was awful.  At one point, the course was diverted inland by a few hundred meters, as the track was too unsafe that close to the edge to be out running on.  Here, we headed briefly up a grassy-now-muddy track which was so, so deep in mud!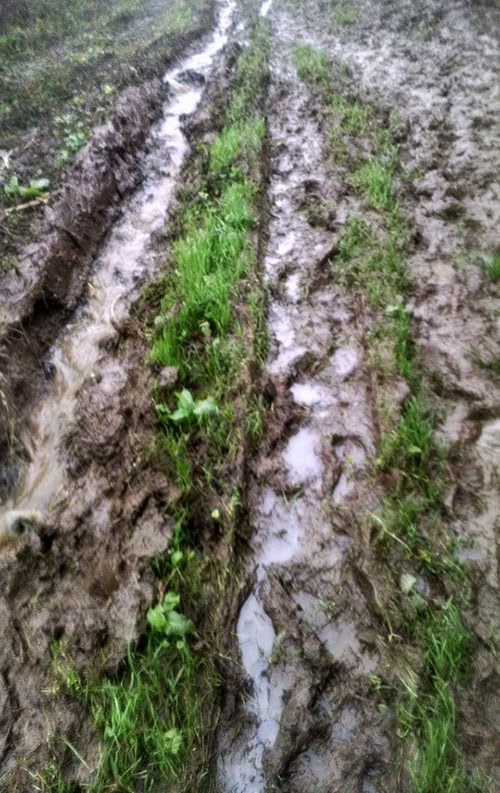 Turning back onto the main path again the wind hit and I was constantly fighting to stay upright on the narrow path.  I lost my cap completely at one point, and in my rush to catch it, slipped and dropped my water bottle in the mud.  Nothing for it but to wipe the mud on my already soggy, muddy tights and be thankful that it wasn't my cap in the mud.  That, at least, had managed to get swept up onto the high bank above.
Beach number three was stony and difficult to run on.  I ran where I could, but had lost sight of the others here.  It went by fairly quickly, although halfway along I hoped that I wasn't supposed to have turned off sooner, as I hadn't seen any signs for a while!
Luckily, at the far end of the beach was an EnduranceLife sign and so I climbed up off the rocks and onto the tarmac path, where I saw the next checkpoint on the side.  I unscrewed my bottle ready for filling when I realised that the marshal was pulling people here.  It was rather disappointing to find that at mile 21, just like two weeks earlier, I was being pulled from a longer distance race.  This time it wasn't due to cut-off times, but safety, and I understood completely.  Apparently, one runner had been blown over and broken her arm earlier into the course, and the wind had picked up a lot in the past hour.  Rather than reroute the course inland, the organisers had decided to pull everybody that was left out on the course and who had not yet made it to the final checkpoint.  I was directed to a minibus in a field up ahead, and here I found Emma, Kev and Jo who had also been pulled just minutes before.  We were soon joined by Tracey and half an hour later, Ian and Mandy also joined the growing numbers stood outside the van.
Because it was a van, not a minibus, there were no seats!  As warm as we had been whilst out on the course running, it was cold stood still in soggy kit.  We quickly began to shiver, and one of the other runners nipped off to find a key for the van.  Sat in the back of the van was not much better, and some of the smaller ladies took turns warming their hands in the cab.  I stuck it out in the back with the other members of our club.  Some of our club runners had thought ahead and had packed a little flask of whisky which they necked for warmth!
We were under the impression that the checkpoint marshal was waiting for just one more runner, and we would only be there for ten more minutes, but in actual fact we were there for closer to 80 minutes.  Every time the door slid open another runner that had been pulled would squeeze into the back of the van.  We were sat perched on boxes and crates and couldn't shut the door completely, as there were no lights in the back.
We were really shivering by now, although morale was still high and everybody was getting on well in the back of the van.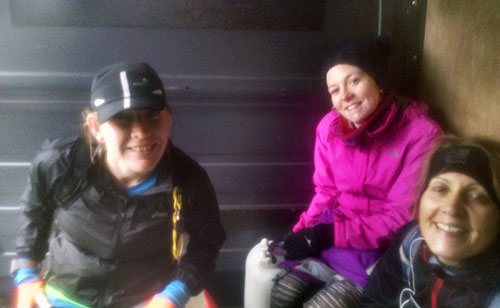 One guy kept checking on us to see if we were OK.  Just as the last two runners were bundled into the back of the van, he popped his head in again to say that he hoped we all liked chips…he'd been for a walk further up and found a chip shop, so bought twelve portions for us to share out amongst us all to try and keep warm!  What a lovely gesture.  It turned out that he wasn't a race organiser either, just another marathon runner like us who thought he would put the £20 emergency cash from his race kit to good use.  Hero of the day!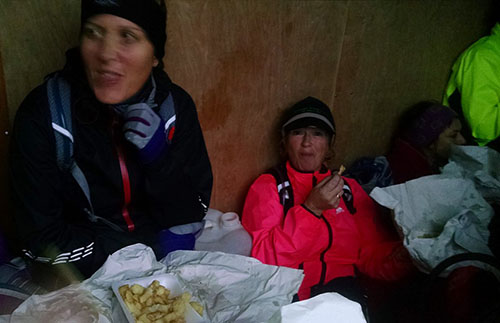 The Race Director arrived to check that we were all OK and shut the door on the van so that we could travel back to the finish line.  We were in pitch black and couldn't see to eat our chips!  Someone, I think Kev, suggested that we pull out our headtorches and shine them up at the ceiling to create light, so that is what we did…!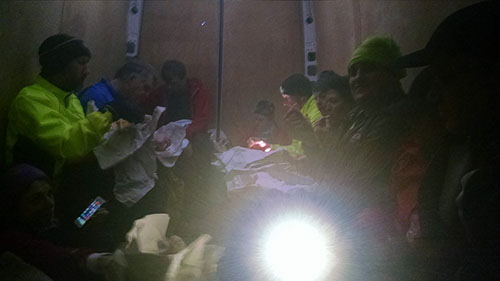 Happy runners!
Two of our three club ultra runners completed the course, running incredibly well in those conditions.  The third decided to drop down to marathon distance.  He finished along with the other five from our club entered for 26.2 (or 28miles as this race is!)  Our half and 10k runners had all completed their distances before the race was abandoned.
Once back at race HQ we were issued with more Clif bars and a medal.  I was a little frustrated when I received a medal – I didn't complete a marathon distance, so in my eyes, didn't deserve a medal!  Although I suppose the medal doesn't distinguish which distance I ran, and I definitely completed more than the half marathon distance on the day.
Hot drinks were handed round and we sheltered under the race HQ tent.  The shaking was uncontrollable now, with hot drinks being spilt everywhere and the wind had picked up as well.  We saw a couple of the marathon runners finish whilst we were there, and I worried for the remaining two marathon runners and one ultra runner from our club still out on the course.  We had to head back, as there was no way for us to get warm whilst still stood out where we were.  I was very relieved to hear that everybody was back safe and sound an hour later though.
Super long post.  I'm trying this new thing where I try and recap my races in just one post lately! 😛  I'm going to recap the weekend away later in the week though, as the Gower fun didn't end here!