Several weeks ago now I was asked if I would like to try a sample of products from the Cardiff Sports Nutrition website.  Since venturing out into the world as a running blogger, I seem to have developed a love for all nut butters.  It started out with peanut butter, – so easy to spread over toast and have alongside a cold glass of milk after getting back from a workout.  Then came the almond butter on bagels as a pre-race breakfast.  Now, I'm all about trying out ALL the nut butters!
I decided to opt for a sample of the All Natural Flavoured Coconut Butter in Vanilla Cupcake flavour.  (The title itself is a mouthful!)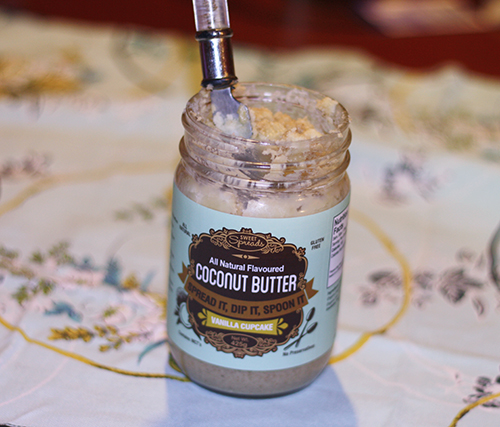 I'll be honest, when the jar arrived a few weeks ago I eagerly unscrewed the lid, dipped my finger inside and taste tested…before screwing my face up and wondering if it was supposed to taste the way it did…it caught me off-guard!
Work has been very busy the last few weeks and it wasn't until yesterday evening that I pulled the jar back out of the cupboard for another go.
This time I read the back of the label.
'Oil separation may occur.  Hardening is natural in cooler temperatures.  For a warm Sweet Sensation remove lid, microwave for 10-15 seconds and stir until smooth.'
I removed the lid and zapped the jar in the microwave for 25 seconds, before giving the butter a good mix with the knife.  Turns out, when I had dipped my finger in initially I had just scooped out a blob of hardened and settled coconut oil – not what I had been expecting at all!  The texture was much softer, smoother and super easy to spread on slices of bread after heating through first.  The mix of coconut and vanilla cupcake flavours were much more balanced too!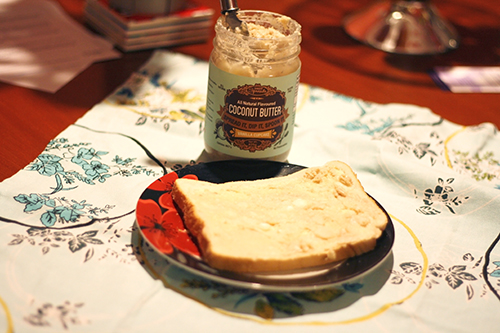 I feel marginally less guilty about eating the vanilla cupcake spread on top of a slice of bread and butter than I do eating vanilla cupcake mixture from a bowl.  Lets be honest…we've all done dipped our finger in after a baking session! 😉
The mixture is gluten free, contains no preservatives, and has a manageable-sized list of recognisable ingredients on the back of the jar.  (Organic Unsweetened Coconut Shreds, Raw Pecans, Organic Evaporated Cane Sugar, All Natural Puyre Vanilla Extract, Organic Extra Virgin Coconut Oil, Natural Sea Salt and Vitamin E.)
It made a great pre-run snack between lunch and dinner yesterday evening and I can tell it's going to feature again in the near future!
What is your favourite type of nut butter?
Do you ever re-try a product that you weren't sure of?