The main reason so many of my running club traveled to Gower a fortnight ago was of course because of the races taking place, but we also used the time away to make the most of a fun, social weekend away!
After the race on Saturday we all took it in turns to shower before relaxing with some beers infront of the TV.  There was a curry ordered for us all which was meant to arrive at 7:30, but actually ended up arriving closer to 9pm.  It was a fun, but mad rush to find seats, plates and cutlery in the big house with so many of us there.  It reminded me a little of the pre-holiday pizza delivery in Home Alone!  After everyone was fed and had drank enough to celebrate, we scampered off to our separate houses where we relaxed before an early night.  Running in those conditions had been pretty tough!
The following morning I managed a little lay-in.  Until about 7:45am I think.  The lay-in was magic after a fortnight of pre 5am get-ups for work!  After some toast and showers a large group of us braved the wind to head over to explore the famous Worm's Head.  Ian had hoped to get across whilst the tide was out to take some photos.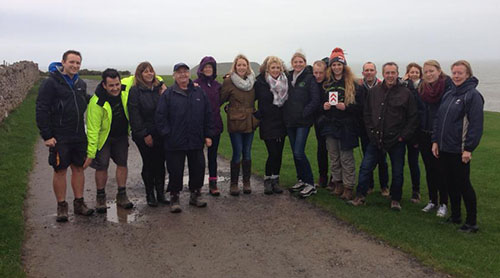 We arrived at about 10:30, the sign informing us that crossing could not happen until 11:30 that morning.  We made the decision to turn back around and head onto the beach further around, where we were joined by more from our club.
Together, we moved rocks we found on the beach to draw out our club name on the sand.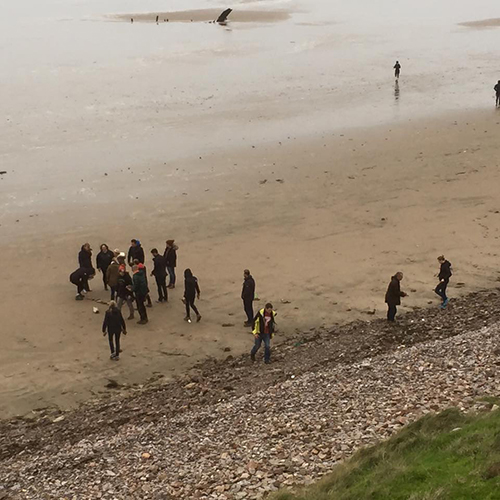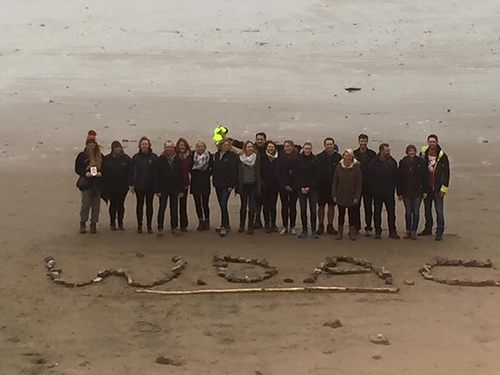 Some of the runners headed down to test their toes in the water's edge.  Another runner found a ball and someone else a large stick which they attempted to use as a bat!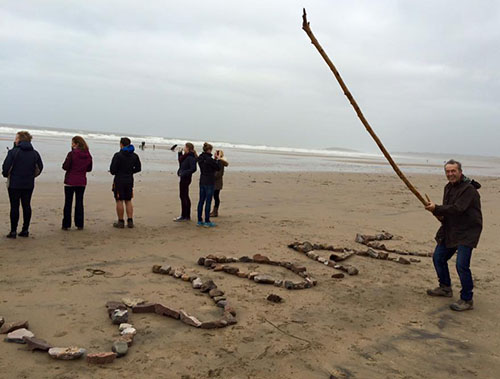 After a quick stop for hot drinks (milkshake for me!) at the local cafe we headed back to the edge of Worm's Head with the aim of making our way over to the very end.
Now, I wasn't wearing the best footwear for the walk across.  When we'd left that morning I had been told that the walk we were headed on would be along roads and onto the beach – not climbing across slippery rocks that had been under the sea less than an hour earlier!  I'd thought about heading back to change into something more appropriate whilst the others headed to the cafe, but a) I really wanted a milkshake and b) I wasn't sure I would have time to return to the house, change my footwear and get back again before they headed across the ridge.
So Converse it was then!  Converse have done me well in the past though.  In 2012 I took a group of year 11s on a school trip to Malawi.  My suitcase ended up not arriving until two weeks into the trip, so for the first two weeks I had to cope with wearing the same two sets of clothes and just my Converse for all activities – including a hike up a very rocky mountain!
I think there about fifteen of us that set off along the wet rock pools that had formed.  I found it easier to keep moving at all times…before my feet had a chance to slip!  Amazingly I didn't fall once and my feet remained dry (no idea how that happened!)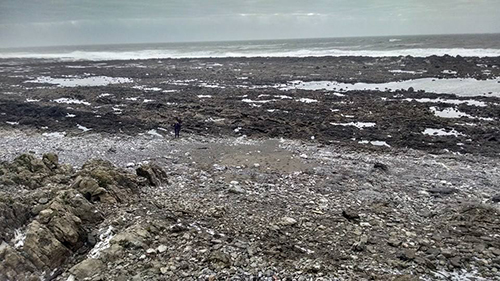 We lost five or six people at the bottom of the first steep climbing section who decided not to continue on which was a shame.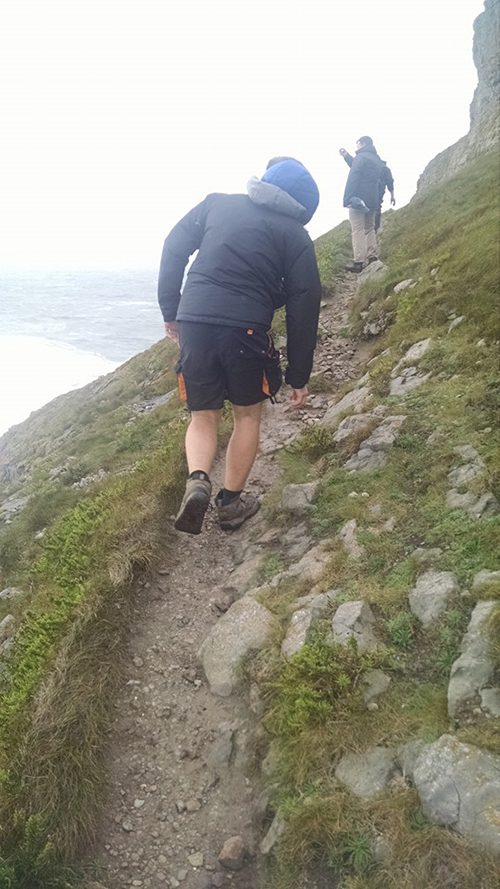 Especially when we reached the top and realised that there were a huge pod (had to look that up!) of seals down on the rocks below us.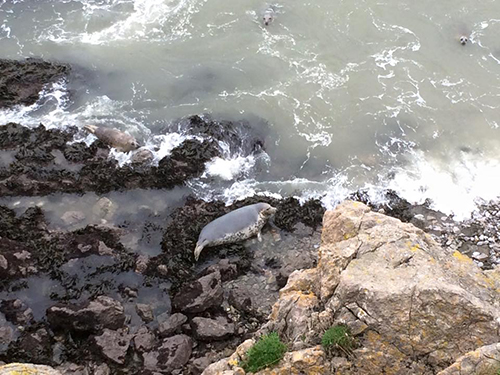 We posed for some photos before beginning along the next section, thinking that we didn't have much further to go now.  We'd already been out on the rocks for some time by this point.
Turns out, as we begun to head back down almost back to sea height again, we realised we were still a lot further away than we thought!  We cut down to just five of us here, and then I turned around and there were only two!  Tom, who I ran Dusk 'til Dawn with at the end of October, and Me.  Both outdoorsy people, we decided to carry on anyway, rather than head back for an afternoon of TV, which we later found out the others had done.
Tom very much led the way and chose the route across.  I continued to speed-hop my way across the rocks behind, tricking my legs into believing they could remain stable on the slippery rocks!  There was lots of white splats along the rocks around us – too large to be seagull poo and it confused me for a little while.  At one point we passed through a huge valley of rocks and large chunks of foam from the rough sea were being blown along the ridge.  Mystery solved!  It was like being in our own private foam party.  I got splatted right in the face!
We saw several more seals on the way round, and once more we climbed up high thinking we were coming to the end, only to discover that the journey was not yet over!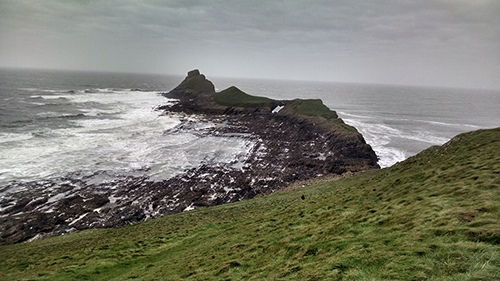 There were lots of really beautiful sights on the way though.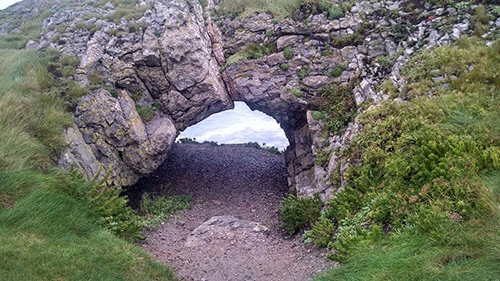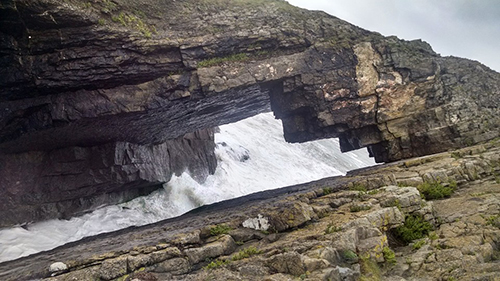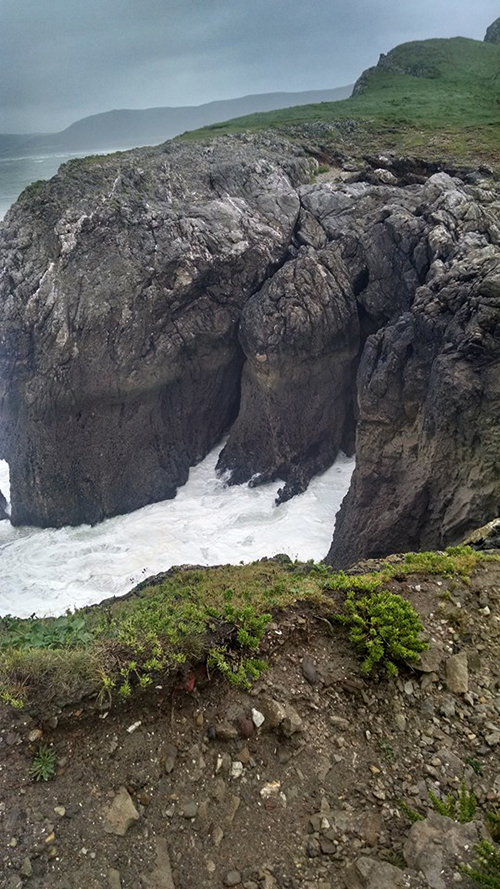 It was super windy as we got closer to the end.  You had to be careful not to get blown across the rocks in a number of places.  The final climb was quite tough, and once we reached the far end it was almost impossible to stand up fully as the wind was so strong!  After phoning the others to say that we had made it, we took a photo at the top.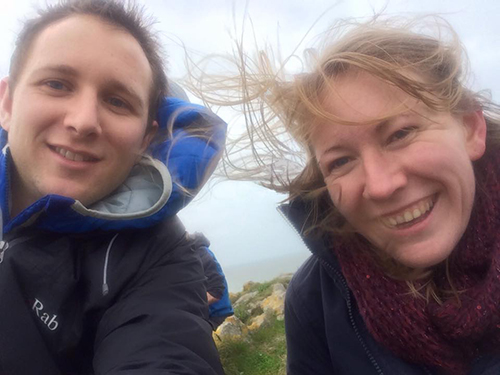 …although then realised that we could have been anywhere from that photo, so asked the group next to us if they would take a shot.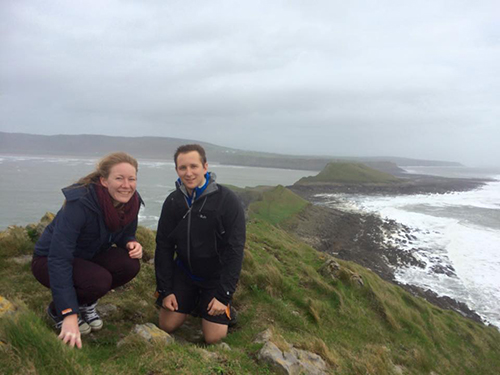 I was amazed how many other people there were out there actually.  Loads of people were out on the Sunday lunchtime to attempt the climb over to the end of Worm's Head.  Most of them wearing more appropriate footwear than me!  😛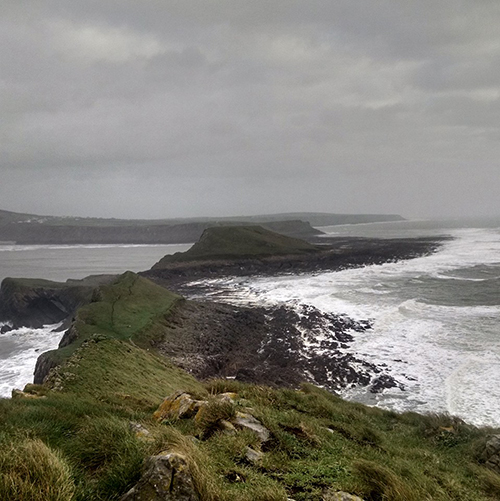 Perhaps it wasn't the best idea to head out to the point the day after a race in the same area was stopped due to the incredibly high winds!
The walk back seemed like it went by much quicker, even though the wind had picked up even more by now.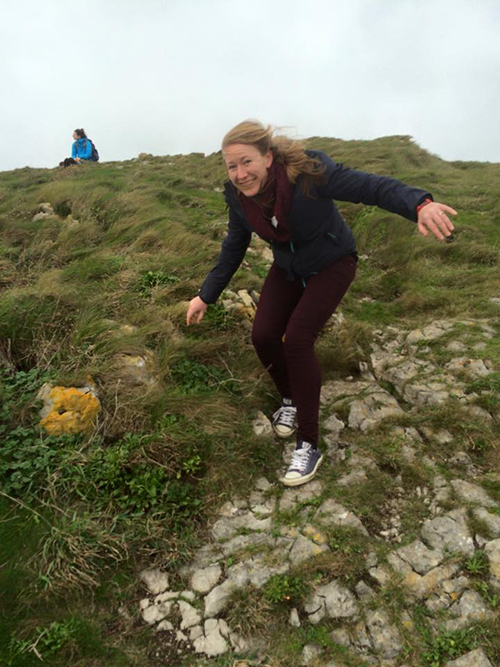 The wind was so annoying because it wasn't even that cold.  I was so warm in my thick coat, and my scarf kept blowing out across my face.  Although the light was starting to fade by now, we could still see where we were heading and we found our way to the pub 90 minutes later for a late dinner with the others.
The three cottages we stayed at for the weekend were perfect.  They were very large, and it meant that you could flit between cottages, rooms and the people you saw over the weekend.  Even though organising a cooked breakfast was rather manic on the final morning, it was a fantastic weekend and I'm already looking forward to the next social running club weekend away!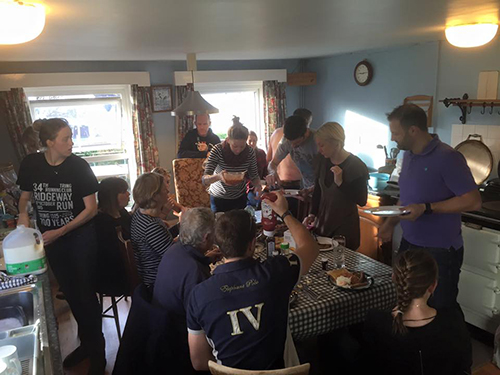 Have you ever been on any social trips with your running club?
Do you enjoy walks at the weekend?