Over the past few weeks my running pattern hasn't had a huge amount of structure.  Since the Dusk 'til Dawn race I've pretty much just run when I've wanted and gone out for as long as I've felt like running for.  I followed a personalised plan for my Autumn marathon (until the final week before the race when I went over on my ankle!) and this worked really well in helping me to achieve a brand new marathon PB, but since then my body has needed a little break from the structure and to have time to enjoy running because I want to, not because I feel I have to.
With things at work being so busy just lately, the lack of a plan has also helped me to relax a little, knowing that if I couldn't make a run one evening and instead had to work late, it wouldn't affect my long term goal.
Most of my runs just lately have been somewhere between 5-6 miles and either run at an easy pace or out with others on a running club night.  I've gone from running five days a week, down to three or four.  But, over the craziness of the last few weeks I think that was exactly what my overworked body needed!
I've still been throwing in a few longer runs at the weekends.  I did run 21 miles of Gower marathon three weeks ago, and then the following weekend I headed out with ten from my running club on a muddy seventeen mile trail run to nearby village, Harrold.  In the past I have occasionally felt a little pressured to run faster than I am capable of to keep up with others on the trail runs.  Somehow, I am still running strongly at the moment and, with the mix of abilities in runners there that weekend, this didn't become an issue.  I really enjoyed the run.  This was despite getting lost and ending up crawling under a barbed-wire fence to escape to the footpath the other side!

…I knew my volunteering to list results on the club website would come in handy one day!  I'd also like to add that I have pictures of Kev commando-crawling under the same fence.  I'm saving those in case I need them for blackmail in the future! 😉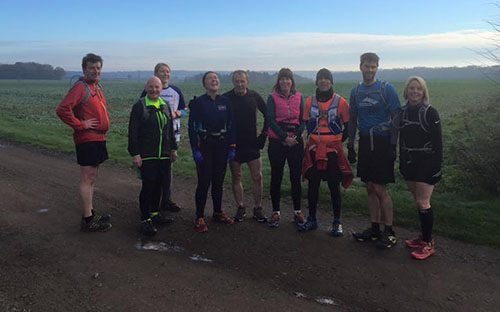 Last weekend I had fun running the cross-country event, instead of heading out on a long run.  I really, really enjoyed pushing myself offroad in the mud for the shorter distance and had a really good race.  This weekend I was back trail running again.  Seven miles run at night along the river on Wednesday evening and then along with five other club runners we headed out from my town on Sunday morning for a further ten trail miles.
Although the route on Sunday was listed as 'my route' by Kev, I wasn't aware I was supposed to be leading and he took us along a wrong turn, resulting in us ending up in the middle of a cabbage field with no idea which way the footpath had been trying to send us!  After some back tracking I led us out onto the road and we ran a mile of road until we returned back onto the footpaths again.
This picture is actually from the seventeen mile run, but imagine this image (Kev pointing in one direction and the rest of us looking rather sceptical) during most of our trail runs! 😛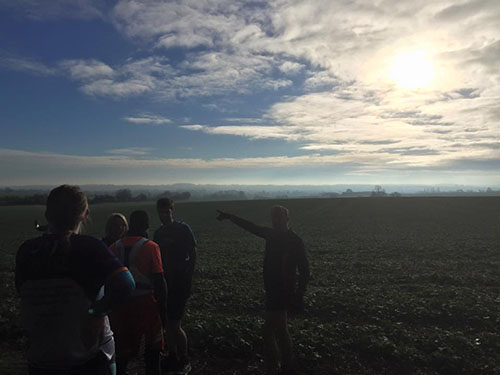 I headed to Northampton parkrun on Saturday.  I actually only made it to parkrun once in November due to other commitments, which was a shame.  I should be able to get there most weeks in December though, which I'm glad of, as it was missed!
I had planned to see a friend there at the weekend who I often run alongside, but this week I wanted to run the parkrun hard and concentrate on my form.  My friend is currently pregnant, and had written 'I.C.E. – 11 weeks pregnant' on the back of her hand, which I thought was a very good idea.  We spoke briefly before setting off, which happened very quickly and before I was really ready!  Normally there is some sort of a notice from the Race Director before starting the run, but this week it simply seemed to be 'Are you ready?  GO!'
I set off fairly swiftly.  I didn't think I would stand much of a chance of a PB due to the strong wind that was blowing in what seemed every direction across the racecourse.  I'd jogged a mile as a warmup before reaching the start line and when I had turned into the wind it was very tough!  Despite not aiming for a PB I hoped for a sub 27 minute time.  I've only ever gone under twice before.  One was the very first parkrun that I ever ran (26:55) and the other, set back in the Summer was when I set my current PB (26:37).  Several times I've only been a few seconds over the 27 minute mark, but I am itching to get quicker.
I've been lazy and I haven't yet synced my heart rate monitor to my new Garmin.  In fact, I think I accidentally synced my watch to a stranger's HRM at the first cross-country of the season and I haven't had a chance to sort it out since!  I've been running on feel lately, and my perception of the effort I am putting in is now so much better than it ever was before I began running to heart rate.  I felt like I ran the 5k feeling comfortably uncomfortable, which is just how I should be feeling over that distance!
The first mile went by in 8m 23s.  To achieve a new PB I would need to run at 8m 35s pace throughout the distance but I still was rather sceptical of achieving a quick time at this point.  So far, the wind hadn't really hit us.  Instead, it just pushed at us from the sides.  We caught the wind a little in mile two, but I still achieved a 8m 35s average pace over the mile.  OK, maybe the sub 27m/new PB was on the cards for the day!  I turned the corner onto the back straight for the second time (Northampton parkrun is a 1.5 lap course) just after the two mile point and the wind really hit me, along with everyone else – full on in the face.  There were some walkers out on the path literally getting swept off their feet and blown towards us as all the runners trying to complete their final mile appeared to have been pushed almost to a standstill!  I watched the pace numbers on my watch slide from 8:15s down to 9:15s and then 9:55 before I turned the top corner and received a little shelter from the wind again.  I clawed back some of the slower part of the mile, to finish mile 3 in 9:03, and then go on to run the nubbin (0.15m) at 7:36mm pace.
I put a real sprint on for the finish, and when the guy just ahead of me realised what I was doing, he also picked up the pace.  It was an exhilarating end to a very blustery run!
Garmin time: 27:10
Official time: 27:12
Position: 112/208
Gender position: 9/64
Age category: 1/5
Not quite under 27 minutes, but I was happy with my performance given the conditions out there, and very happy with 9th lady in a field of 64!  I jogged back to run in with my friend.
Over the past few weeks I've tried to concentrate on my cadence when running.  I have a long, but steady stride and if I could only pick up the speed of this stride, I am sure that I could go faster.  Faster obviously isn't everything, but faster could mean the difference between reaching checkpoints before cut-off times, and not making those cut-offs when I'm running long distance races.  My head is strong, my body is fairly strong.  It would be a shame if my legs just didn't turn over quick enough to let me run the longer distances that I want them to be able to.
I've been really indecisive about my targets for next year.  Lots of people have asked me over the past couple of months what races I have booked in.  But there are none (apart from Cakeathon in August, and my first fell race in March).  I don't have an aim or a goal, and I have felt a little directionless.  Eventually, I want to run a 100miler, but I have spoken before about not being fast enough for this yet.  If I was to run that distance now, I would worry about making the cut-offs in time, resulting in not enjoying the event due to the pressure.  I need to have a little more confidence that I can pick the pace up when required.  That is the main reason why I have settled on targeting a new 5k PB time over the next couple of months.
That is something I would never have thought I would find myself saying.  It has only really been this year that I have enjoyed the buzz of 'racing' the 5k distance.  Before this year, I felt too pressured to perform within a short space of time.  5ks stressed me out!  Give me a marathon any day!
I'm not sure what time goal I should set myself for the distance.  I don't want to only aim for a few seconds quicker than my current PB, and then go ahead to achieve the goal next weekend with a fluke good run!  Perhaps I should aim for 26minutes?  That is a 8:23mm pace, and the pace I maintained for the first mile of the 5k at the weekend.  Any thoughts?
Have you ever readjusted your goals completely before?  How did you find stepping away from your comfort zone?
Have you set any goals for 2016?