The weekend before last, Dan and I headed back to Norfolk on Friday night.  One of my best friends, Hollie, is pregnant with her second child and was holding a baby shower back in my hometown.
As Dan wasn't invited, he headed out with another friend for a day of bowling and snooker, whilst I met the other girls at 9:30am at The Clay Barn, in Brisley.
Hollie is a big fan of The Clay Barn, and not only did we head there for her first baby shower four years ago, but she regularly takes her son there for all of the events that the put on throughout the year.
We were there for just short of three hours in the morning, and during that time we could choose as many of the pieces of pottery from around the room as we liked to take with us back to the main table where we could paint them.  It really is a treasure trove in the barn – there are cupboards filled with pottery, just ready to be painted and brought to life.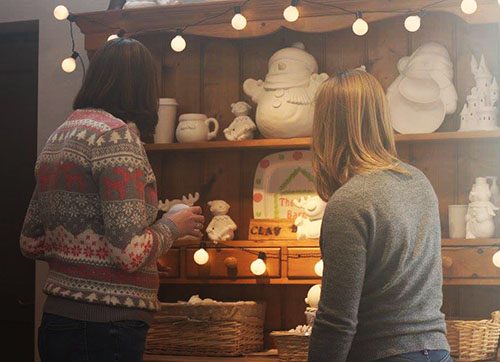 When I attended Hollie's last baby shower I had just recently moved into my first house, which had been without a house sign, so I decided to paint a personalised one for the front of the house.  Having recently moved again, I was planning to do something similar this time.
When we arrived, alongside the pottery we were told that we would also be able to have a go at glass fusion.  The example glass fusion pieces looked really good and so I decided to have a go at making some glass decorations for our Christmas tree instead.  In our old house we didn't have a lot of room for a tree, but the lounge in our new house is much bigger and I'm so excited to be getting a real tree for the first time since leaving home this Christmas!
The lady from the barn showed us all how to score and cut the glass to the shapes that we wanted and how to consider layering the glass so that the glass would blend together once heated.  A couple of the other girls made an entire set of four Christmas coasters, which came out really well.  It was all about the Christmas decorations for me though, and I decided to follow a photograph of a glass penguin decoration that had been made previously to help me to create my own.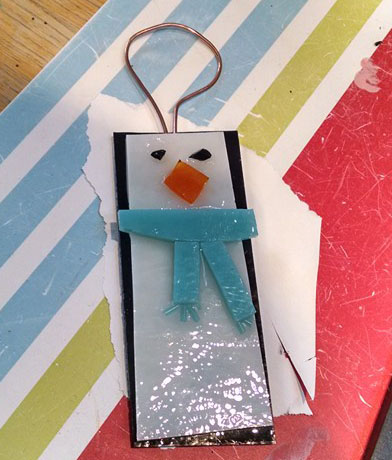 I was pretty happy with how it came out!  You needed to be quite strong to break the glass with the tools, and despite not believing that I have particularly strong muscles in my arms/upper body, clearly my friends don't either, because I became the 'cutter' for a few people in the group!
The different types of glass had misleading names – confetti, spaghetti, sprinkles…luckily we resisted eating or throwing any of them…might not have had such a good day had we done so!  Because we had to keep putting our hands into the pots of glass off-cuts, we were strongly advised to wear gloves, which protected our hands from the sharp edges.  Why is it that when you're told not to touch your face, that all you can think about is how much you need to itch your face?!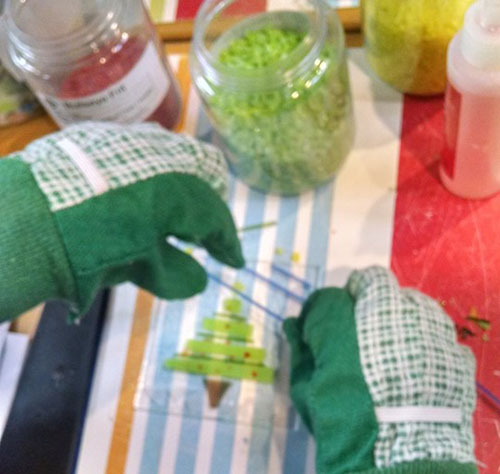 After finishing my penguin decoration, I bent some wire between the layers, so that I could use this to hang the decoration on the tree.  Everyone else was still painting/glass making so I decided to try and sketch out a design for a similar Santa decoration to hang from the tree.  Seeing as this one was designed all by myself, I'm quite happy with how it turned out!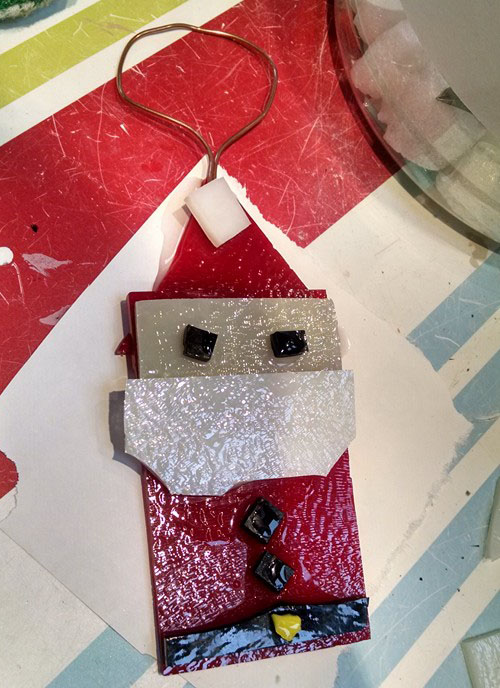 As well as painting and glassmaking, the lady at the barn had organised some traditional baby shower games for us, such as guessing how big Hollie's bump was (I guessed about an inch too large – sorry Hol!), smell the nappy and refraining from using the word 'baby' whilst we were there, otherwise we had to put a donation into the duck money box that we all decorated for the baby.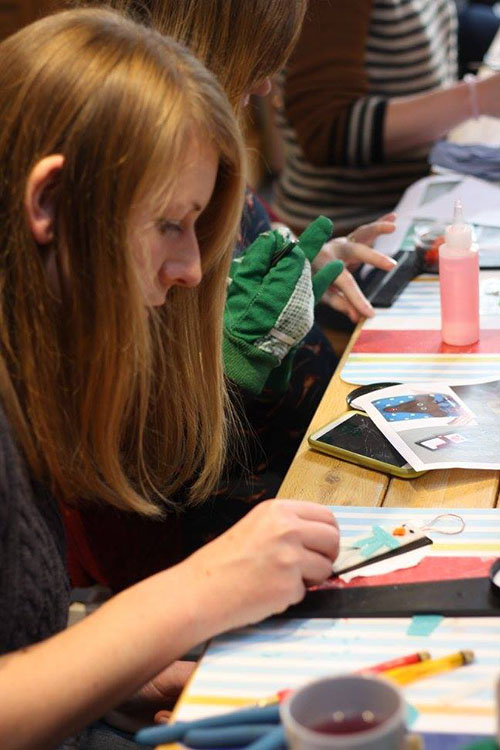 Some of the others painted and made some fantastic pieces, mainly focusing on a Christmas theme!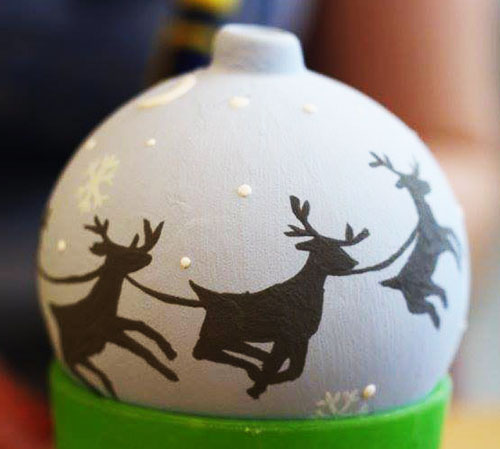 We then made our way to Q's in Fakenham for dinner (this is also where we went on my hen do last year) where I enjoyed a goat's cheese salad for lunch.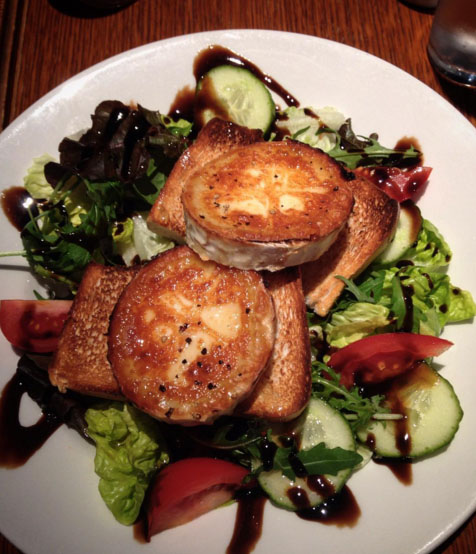 I had only ordered the starter portion, but as we had pre-ordered, Hollie had assumed that I'd wanted the main dish when she rang the orders through.  It was massive.  So massive in fact, that I had no room left for dessert.  It was worth it though for this beauty!
More games followed back at Hol's house.  Because her baby is due so close to Christmas, she has already gotten super organised and had her tree up with presents underneath.  I must admit, it was the first time this year that I started to feel a little Christmassy!
Have you been to a baby shower before?  If so, what games have you played?
Have you ever tried glass fusion?
Are you a crafty person?