I was really looking forward to my run on Wednesday night this week.  I hadn't managed to get through my workload from school in time to make it to running club on the Tuesday evening, and it was the sixth form parents evening the following evening, so I knew that I would not be able to make club on the Thursday night either.
Some people believe teaching is a very social profession but in actual fact, it is rare to get interaction with other adults, especially in the lead up to the end of term.  My before school, break and lunchtimes as well as after school is filled with kids catching up with work in my classroom.  By the time I get home in the evenings I'm desperate for some adult interaction!  Running and chatting were on the agenda for Wednesday evening and I was looking forward to not being sat in front of the computer and not having to watch what I said in front of impressionable children!
The route was from a location I'd not run from before, although was listed as being on an Industrial Estate that I have run along many times previously.  I didn't worry about searching for the exact location before leaving home as the Industrial Estate is not too large, and there are lots of trail runners in our group whose cars I knew I would recognise along the side of the road.  Although late back from work, I managed to get organised and leave by 6:30pm to make my way to Wellingborough (usually a 20 min journey max).
I arrived at Finedon road Industrial Estate with ten minutes to spare, I slowly circled the mile loop once in my car, head moving from side to side on the lookout for other runners or their cars.  I saw none and no-one.  I circled the loop a little quicker the second time, before stopping and trying to call Gary, who was leading the run that evening.  No answer.  I rang Dan, who was at home ill and he managed to direct me from GoogleMaps over the phone.  He sent me off the main estate and up a side road where the others had parked.
The time was 7:02 and there were no runners, only cars belonging to runners.  They had already left before I arrived.  

I decided to head out anyway and try and find the route that the others had taken.  I knew I must only be a few minutes behind them, and to meet in such an obscure place I knew that a trail must be very nearby. I also knew that my headtorch light had been fading badly during the previous run I had been out on, so before leaving home that evening I had thrown into my car a bag of batteries, my headtorch and a small handtorch.  I hadn't been able to open the battery case on my headtorch, so had planned on asking one of the guys to help me once I arrived.  In the hurry to rush after the others, I decided to grab my handtorch instead (after testing that it worked first).
Luckily, I spotted a trail opposite from the car park they had used and followed it.  At high pace, as I wanted to catch up with the others sooner rather than later!  The path was quite twisty and turny, but only wide enough for one person at a time and with no turn offs.  It crossed over the railway track and then ran parallel to the tracks for the first mile and a bit.  I couldn't see the other runners but there was nowhere to turn off so I carried on.  After about a mile the track came out onto a road.  I debated whether or not to turn back, but I really wanted to run.  I recognised the road I'd come out on and found a trail coming off it.  My handtorch started to flicker a little at this point, but in the very far distance at the end of the field I could see a line of headtorch lights bobbing away attached to runners!  I picked the pace up further and tried to keep an eye on where the runners were headed, whilst also keeping an eye on the muddy terrain with a fading headtorch!
I got to the far end of the field and turned back on myself, where I had seen the guys head.  Here, I had a choice of three different paths to take.  I decided to try and head left first of all.  I had no luck.  The path eventually became unrunnable with high crops.  I couldn't see any footprints in the relatively fresh mud so turned back and instead tried path #2.  This one looked to be heading out towards a road but as I neared a farm I realised that the road did not appear to be accessible from the farm track and a dog started barking and going ballistic at me.  I hadn't heard the dog before, so assumed that the others had not been that way.  Path #3 it was!  By this point I knew that I stood no chance of catching the others up so the aim was to follow the third path until I came out onto a road which I could follow back to the car.  My headtorch was still working, but the light had faded badly by now and there was a good chance it was going to cut out at some point!  I didn't want that point to be whilst I was out in the middle of nowhere on a rutty trail!
My flyby on Strava shows me stalking the other runners for the first few miles, before almost bumping into them at mile 4 as they got lost and retraced their steps.
I ended up back at the cars just after they had arrived back, so we managed to compare our runs!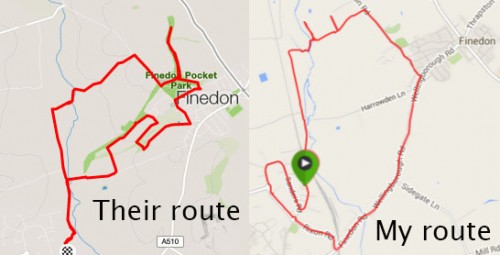 I ended up running an extra mile to make 7.33miles.
I feel quite safe running on my own at night.  I came from the country before moving to a uni town where everybody knew everybody else.  Perhaps growing up in the country I had less to fear?!  You do hear horror stories all the time, but I didn't see a single other person out that night until returning back from my run.  If I couldn't run on my own I would never have started running in the first place.  I was well lit up in my reflective gear along the road and had my phone with me, should something have happened.  It wasn't until I returned back and some of the other runners exclaimed that I shouldn't have headed out on my own that I really stopped to think about it.
Do you feel safe running/heading out on your own at night?