Last Friday was our club Christmas do and presentation evening, this year held at a new venue.
Although I'm usually not too bad navigating by foot, ask anyone and they will tell you how hopeless I am when it comes to navigating whilst driving.  I'm forever missing turnings, going the wrong way along motorways and generally getting into arguments with the sat-nav.  Missing the group trail run last Wednesday was just one example of my poor track record!
After a 40 minute journey to the venue which was just eleven miles away(!) I arrived clutching the Runner of the Year (ROTY) nomination videos, rather flustered and ready for a drink!  Unfortunately, as it was also Dan's Christmas work night out that night, I had promised that I would remain sober and leave my party a little early so that I could make the (genuine) hour drive to Cambridge to collect him in the early hours of the following morning.  J20s it was for me!
The evening involves Christmas dinner with running friends (really difficult to recognise some people out of their usual lycra attire and with their hair not scraped back off their face!), a presentation for all the awards issued to members, lots of dancing, alcohol, and for some, a trip out into town afterwards.
The first awards issued were the group ROTY awards.  Our club has six groups, ranked by speed.  I am currently running with Group 4 – an accomplishment I am really proud to say that I have achieved for all of 2015, having moved up just before last New Year.  I have moved up twice in the past, but had always ended up having to move back down into Group 5.  This year though, something has worked.  I must have gotten quicker (a few PBs to prove it!) and I have now been running in Group 4 for a full twelve months.  Last year I won the Group 5 ROTY award, something I really did not expect at all.  This year, I won the Group 4 ROTY award!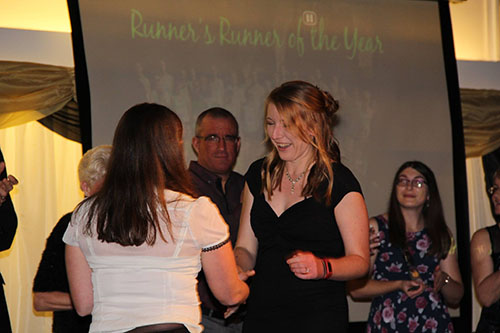 I really like this picture, as I did not expect to win at all and you can see the look of surprise on my face!  My previous coach who had awarded the Group 5 ROTY award to me last year is in the background here too.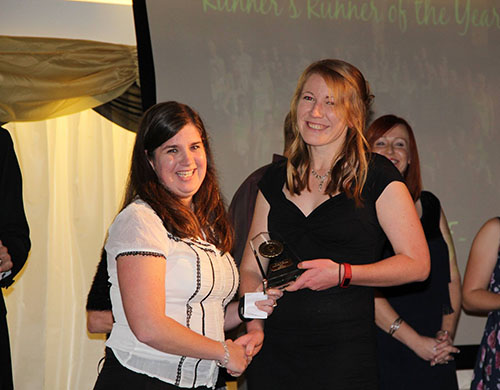 A running club party is one of the few parties where I don't feel as though I am being judged for wearing my vivofit!
Several people joked afterwards that having won the Group 5 award last year, followed by the Group 4 award this year I should be targeting Group 3 by Christmas 2016!  With entry requirements to run with Group 3 set at a 51 minute 10k time, I think I'm a little way off just yet! 😉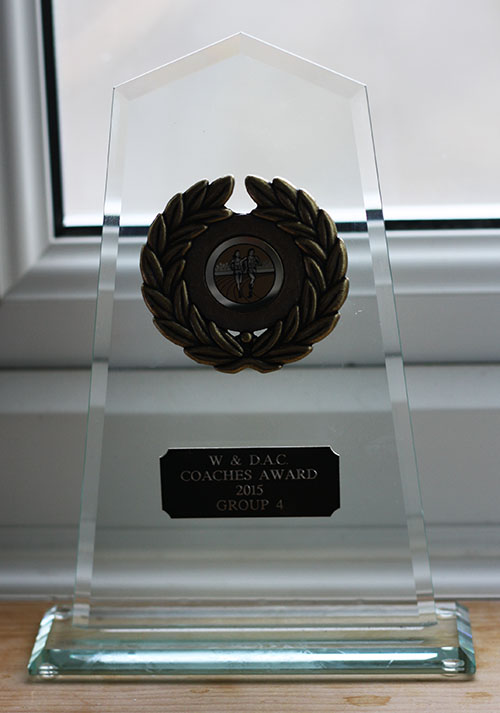 After the group awards, triathlete awards and club championship awards were issued, I played the nomination videos for the Runners' Runner of the Year award.  Each year since sitting on the committee in one of the web admin positions, I have put together videos for the nominations.  Putting together the video takes many hours, but it is so, so lovely to see the many fantastic goals that members of our running club achieve throughout the year and it is then so nice to be able to share these nominations (anonymously) with the other club members.  For each runner that has been nominated, I choose a nomination quote to add to images/videos of them for the ROTY video.  The following morning I then email all of the received nominations to the relevant runner so that they may know all of the lovely things that have been said about them.  The videos have always gone down well.  Here are this year's videos…
Male…
…and Female…
I received several nominations this year and I was really touched to read all of them.
* Mary has smashed nearly all of her PBs this year as well as achieving her goal of a sub 5 marathon. She has also completed a number of ultras in between! Go Mary!
* 
Did some fantastic distances (Grim70) and got a sub 5 marathon time. Well done.
* Mary has achieved a lot in 2015 including her goal of a sub-5 hour marathon and a number of ultra runs. Mary is always very modest about her achievements and ability.
* This year she set her targets changed her training and gain the PBs she aimed to achieve. Always works hard as a runner but puts in so much more time and effort for the club that many are unaware of.
* Mary has had a fantastic year achieving PBs at all distances she has raced from 5km to 70 miles! She also achieved her long term goal of getting under 5 hrs for the marathon. I am sure she will one day get her goal of a 100 miles as she is so driven! So next goal sub
4:45
marathon?!?
* For her continuous improvement throughout the year. And her face at the end of the Shires and Spires.
* Very determined lady.
* M
any personal bests (time and distance) smashed.
* Mary has achieved some amazing PBs this year. Her determination is inspirational and she offers great support to others too.
So many people I spoke to in the build up to the award giving were struggling to decide on their nominations.  Not only do we have some fantastic speedy runners who have achieved some fantastic times and improved PBs by miles, but we also have a runner who had a heart attack on his very first club run and has since returned, running regularly with the club and having now entered his first marathon.  We have a coach who was diagnosed with a brain tumour early this year but has remained strong and continued coaching and entering races.  Every person that was nominated has worked incredibly hard and been inspirational this year.
Kev (who I often run with) won the Male ROTY award.  In June, he encouraged and helped more than 35 runners to enter and get round the Shires and Spires 35m race – giving confidence to what for many, was their first ultramarathon.  Kelly won the Female ROTY award.  She has literally won or places in every race she has entered and has had a fantastic year, achieving PBs in many race distances.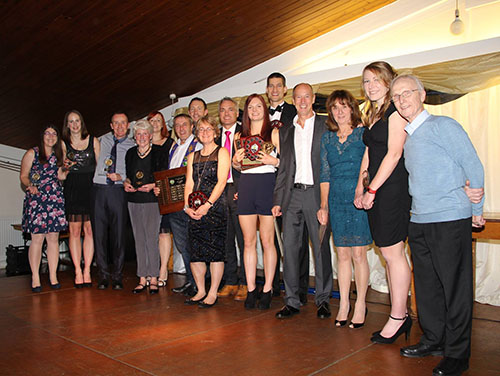 I know I'm biased, but I do believe W&DAC is the very best running club!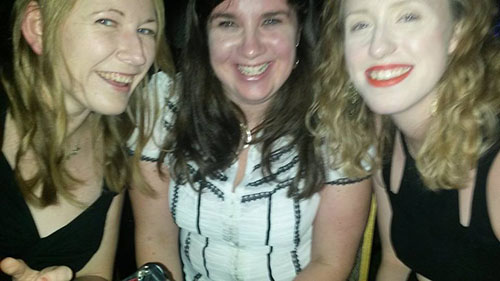 Does your running club hold an awards ceremony?
Who are the most inspirational runners you know?