On Saturday I made my way to Northampton parkrun.  I hadn't felt that great for a few days (most likely the mad rush of the final days at work) but decided to push it a little at parkrun and see how I got on following my announcement of aiming to up my parkrun game in 2016.  There was quite a good turn out from WDAC as one of our runners, Mark, was running his 100th parkrun.  Olney Runners also had a spectacular turnout – matching our 18 runners, despite coming from much further away.
The runners were set off and my legs just ran.  They're getting good at this whole quicker-turnover thing if I do say so myself!  In fact, it wasn't until several minutes later when I saw a guy a couple of groups above me at club come past that I glanced down at my watch and realised that I was heading for a sub 8minute mile for my first mile!  Knowing I would never last at this I pulled things back slightly and clocked an 8:08 for mile one.  Still much faster than I had ever run a parkrun mile before!  I decided to try and pace the second mile a little more sensibly, and aimed for somewhere just under PB pace (8:35mm) – ticking off mile 2 in 8:30.  Here, even though I was on target for a big PB, I decided to pull things right back.  I was feeling fine, still running strong, still breathing OK, still counting to 100 over and over again(!)…  I did feel incredibly warm though and I didn't want to destroy myself for cross-country the following day so I made the decision to scale things back, walk for a few moments to regather myself and then slow right down.  I should have carried on.  It is very unlike me to 'give up' and I was annoyed when I reached the end that I hadn't pushed on for the final mile to see what I could have done.  I finished mile three in 9:23, with the final nubbin (0.16m) run at 8:03 pace.

Once I had crossed the line I sat on the floor for a few moments.  I was happy with my performance for the first couple of miles, but at the same time annoyed at myself for making the decision to slow down during the last mile.  When I eventually picked myself up off the floor to head over and chat to some of the others I decided that the big positive was that I had been well on target for a new PB for the first two miles, and even for my target of a sub 26 minute parkrun.  Obviously there is no way to tell how much I would have naturally tired over the final mile but I think I still would have stood a good chance of achieving a new PB at least.  If I can take the pace from my first two miles and push it for slightly longer each time in the coming weeks, I should have a good shot at reaching my goal.
I couldn't believe how warm it was on Saturday morning.  I wore tights but wished I'd run in shorts.  How is it only a few days until Christmas?!  The weather is telling a different story!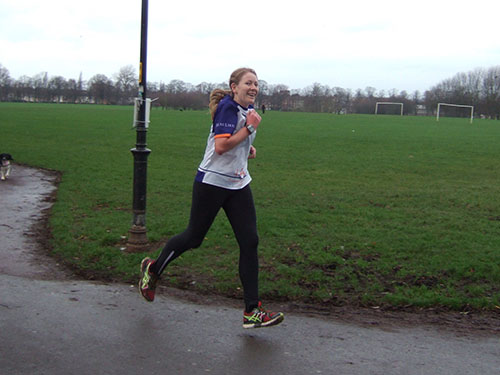 This is me just before starting the final mile.  My shoulders are rather hunched, but my stride is still quite long here, despite having a much faster turnover rate.
Garmin time: 27:19
Official time: 27:20
Position: 160/305
Gender position: 25/113
Age category position: 4/12
I have quite a few parkruns planned over the Christmas period:
* Christmas Day – Corby parkrun
* Boxing Day – Northampton parkrun
* New Year's Day – Huntingdon parkrun (9am) followed by Peterborough parkrun (10:30am)
* 2nd Jan – Bedford parkrun
Five planned in eight days!  Last year I ran three across the week (Sheringham, Northampton and Peterborough).  This year, all being well I hope to complete the five.
Are you planning on taking part in any of the extra parkruns over Christmas?