It really doesn't feel like Christmas is happening this Friday at all.  I think partly because I've not had much to do with purchasing Christmas presents this year, and have left all the shopping to Dan.  Mainly though I think the lack of feeling Christmassy is due to the weather!
How is it so warm by the 20th December that when we turned up for the fourth cross-country race of the Three Counties league, the majority of our club were kitted out in vests and shorts?! (With the odd Santa hat here and there to remind ourselves that it was actually Christmas time!)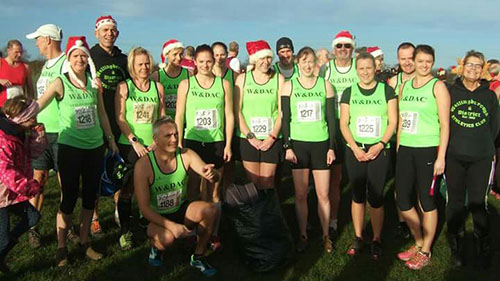 I have pictures from the fourth event a few years back when it snowed the entire race…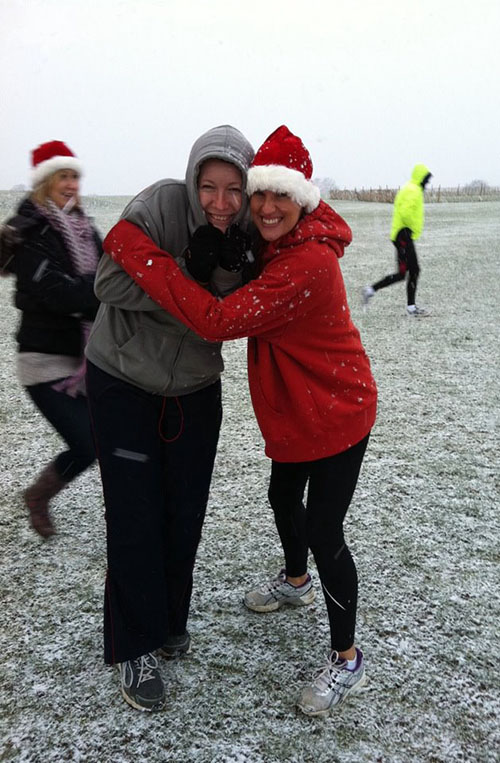 …that wasn't the case on Sunday though!
In fact, when I got out at the petrol station wearing just my vest and shorts at 8:30am a bunch of bikers dressed in full Santa outfits said they knew they had gotten the date wrong for their Santa ride!  'When was Christmas supposed to be again'?!
There wasn't a huge turnout from our club at the Letchworth event.  The weekend before Christmas is always a tricky one for numbers, as so many runners have family commitments, or are away/fitting in last minute shopping.  This is the event furthest from our hometown as well, taking nearly an hour to get there.  There was still plenty of people to score for our team though.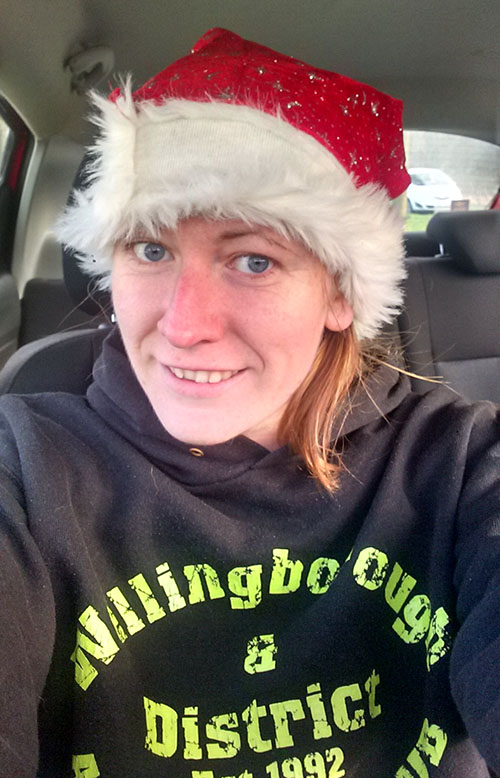 The course itself is five and a half miles long and like many of the other events in the series,- mainly run along wide verges at the edge of fields or along farm tracks.  It is essentially an out and back course, although it loops around a large field at the far end of the out and back so you are not turning directly back on yourself.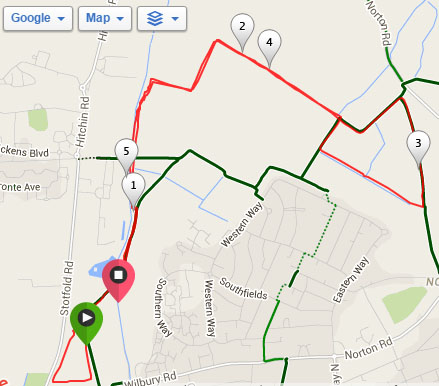 I was running strong from the start of the race and had placed myself just behind another runner from our club who is faster than me.  I was hoping to hold on to her pace for as long as possible, to give me a focus.  I knew that I did at least have a few years of regular off-road running under my belt to give me an advantage over some.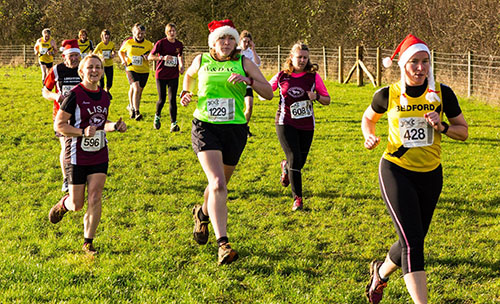 I am not a fan of this picture.  I think it looks like I have been photoshopped on – a giant compared to everyone around me!  My shoulders are too hunched up again as well.  No wonder the top of my back is always stiff after a run.
Even though we hadn't had a huge amount of rain just lately, it seemed that there were large areas of mud out on the course.  There wasn't any of the thick mud that clogs up the bottom of your shoes, but plenty of puddles and slippery mud at every turn.  Several times I splashed through puddles, overtaking other runners as they cautiously stepped around the edges of the track.
About a mile and a half in to the race you head through a small wood.  Just before reaching the wood the track narrows to single file.  Coming from wide grass verges there then isn't a lot of space between the person in front, you, and the person behind.  Not my favourite when it comes to running, as I hate having a choppy stride.  From running the race the previous year, I knew there was a small ditch coming up when inside the wood and from a distance I could see the marshal placed there to warn runners of the obstacle coming up.  The ditch is no more than a foot deep and doesn't contain water.  It is probably two strides across before you jump back out again.  For some reason this year the club had decided to fill the ditch with twigs and sticks.  Twigs and sticks which pointed from the direction we were running from to the other side of the ditch.  Several runners slowed to tackle the obstacle but I would rather push on and keep going.  The guy in front took his second step in the ditch just as I was jumping down.  His step meant that the twigs and sticks (none of which were very thick) rose up at the front to meet the top of my trainer, digging into the front of my toes and tripping me up.
I barrel-rolled into the ditch, instantly picking myself up and continuing with the race.  A guy from Stopsley Striders who was just behind had offered me his hand, but I was up again before he'd fully extended his reach.  He checked I was OK and I was fine, – just annoyed that I'd lost a couple of places from my fall, and my marker from the club was getting away!
The rest of the race went by without incident.  My splits were: 8:44, 9:42, 9:53, 10:06, 9:29, 9:36 pace (over the final nubbin of 0.46m).  A huge improvement on the previous year when my splits had been 9:22, 10:09, 10:54, 10:46, 10:05, 10:18 pace.
Despite knowing I wouldn't reach the woman ahead of me on the finish straight and there being no other females close behind, the support of the other WDAC club members on the finish line helped me to kick off for a sprint finish over the line.  Cross-country is scored on position, not time, but it's nice to finish on a high!
It wasn't until I crossed the finish line and received a lovely purple bag as reward for taking part in the 100th Three Counties Cross Country race that I looked down and realised how much mud I had picked up from my fall and that I was bleeding.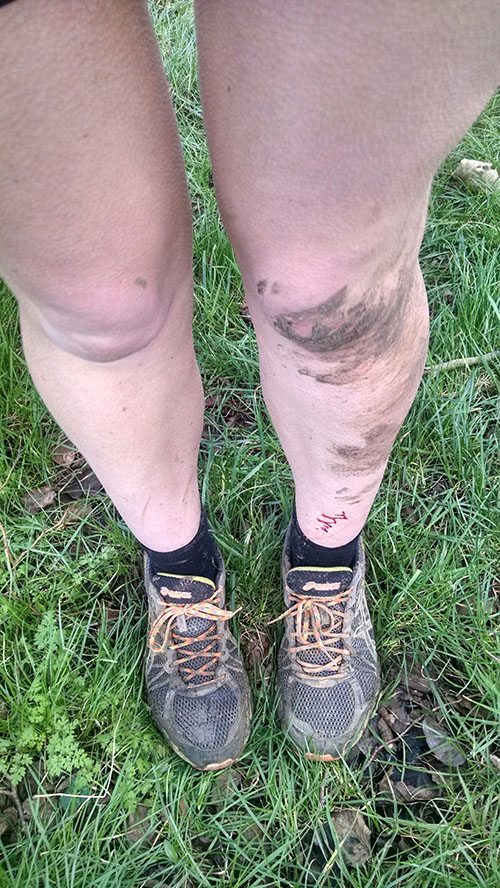 The perils of cross-country!  I've since discovered a lovely turquoise-coloured bruise on my left arm as well and was a little stiff yesterday, but no real damage done.
I stuck around for a roll and cake at the finish.  The event before Christmas always has Christmas-themed food so there was a great selection of salmon and cucumber, ham and mustard, turkey and cranberry rolls and then amongst the wide selection of cakes there were also some mince pies to be had.
Position: 313/376
Gender position: 88/137
If you fall when out on a run do you pick yourself up and carry on, or do you assess the situation before continuing?