I hope everyone had a lovely Christmas and enjoyed some time seeing friends and family this week.  As a teacher, I get a two week break from travelling in to work over the festive period.  (Not a two week break from work though!)
On Monday evening I headed out on a road run put on by the trail group.  The Monday night runs are advertised as being 'for the trail running group to be held on roads and paths', which always makes me smile…no trail at all!  I don't usually go along to the Monday night runs, as with club on Tuesday and Thursday evenings and (actual!) trail runs on a Wednesday, it means that I then have at least one evening at home during the week.  This week though, with no work to worry about I made it along.
The run finished at the pub on Monday evening for Christmas drinks and there was a fantastic turn out of more than twenty runners making their way along the streets of Higham Ferrers in the dark.  Top tip for getting reluctant runners out on dark and wet nights…throw in the possibility of a finish at the pub!
On Thursday morning it was our annual Christmas Eve run held at the local Irchester Country Park.  This very quickly became one of my favourite traditions after I first joined the club.  Each Christmas Eve in the morning, members of the club, along with partners and children meet at 9am for a few pre-Christmas-meal laps of the park.  The run/walk finishes at the visitor centre, which opens early especially for us, and the club pays for everybody to enjoy a bacon/sausage/veggie sausage roll and hot drink as a Christmas treat.
We don't split up into formal groups on this run.  Instead, it is a chance to have a nice, social run with groups of runners that you might not normally run with.  There tends to be one or two different groups headed out, then a walking/children group and also Kev's 'mud and mayhem' route, which is the one I have followed for the past few years.  Basically, he finds the muddiest, slipperiest tracks, followed by a few short, sharp runs up and down the gullies in the centre of the park to finish off.  Always fun!
A friend wanted to get six miles in on Thursday, so I headed to the park a little early so that we were able to get in 3 more consistent miles before the mayhem began.
There must have been about 20 of us, along with one child and a couple of dogs out in the mayhem group this year, and it was nice to catch up with a few people I'd not seen for a while whilst on the run.  I was surprised how little splashing of mud there was.  Didn't last though!
We actually passed one of the other groups looking very serious and speedy running in the opposite direction as we crossed one of the tracks.  Their group were checking Garmins and had perfect form.  Our group were having a giggle and more concerned about where the nearest muddy puddles were in case of splashing from others!
After a lap around the park we headed 'off-road'.  The whole route is off-road, but this section even more so and involves scrambling through bushes and over fences.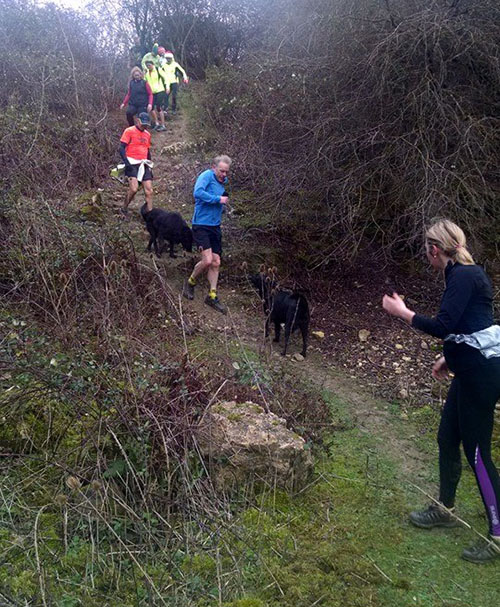 As we returned to the main trail a couple of runners broke away to head back for breakfast at the cafe, while the rest of us made our way over to the gullies.
There is a set of steps known as 'the gullies' at club.  The steps sharply climb up one of the steep hills and coaches like to take groups here for training sessions during the Summer when it is still light in the evenings.  Kev likes to mix things up a little and make up his own slightly more suicidal gully routes though…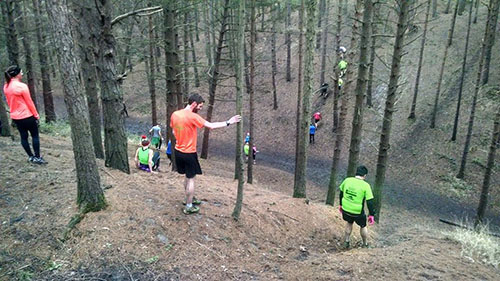 Some runners decided it was best to go down on their bums.  I managed to stay upright but I thought it best to bounce from tree to tree – breaking any falls I might have had!  The faster you run down, the easier it is to get back up the other side again!
Along with a couple of others I went for one last gully run, oblivious to the fact that everyone else had then headed back to the cafe.  As we made our way along to catch up with the others, one of the guys I was running with deliberately splashed through the puddle alongside me and another runner, soaking me completely.  A larger puddle was coming up though, and we made sure to pay him back!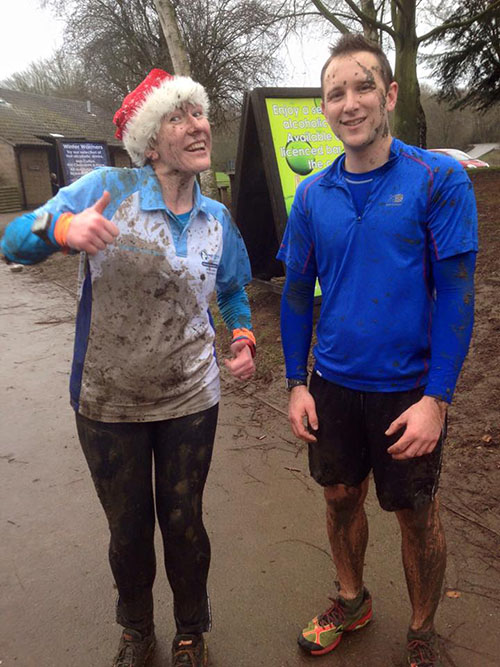 I was a little bit muddy by the time we reached the cafe a few minutes later!!!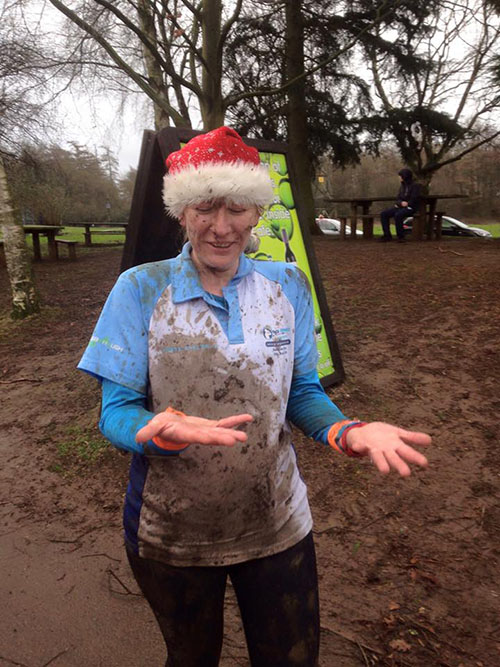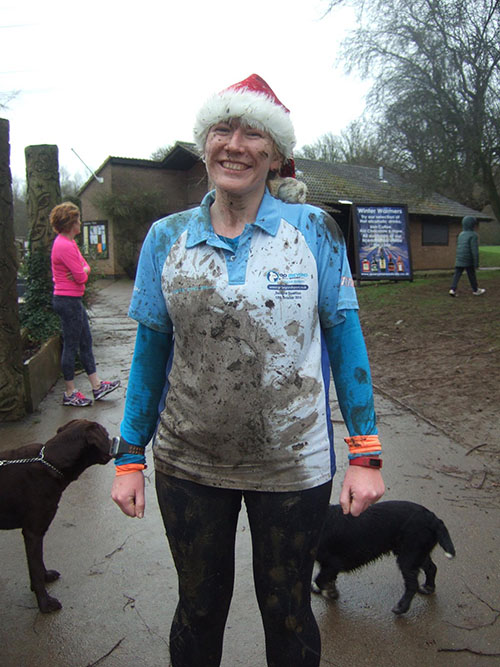 Similar pictures to last year's Christmas Eve run!
Horrific photos of me, but I am caked head to toe in mud, wearing several layers and sporting a Santa hat so I'm not sure what I expected! 😉
I had intended on heading to Tesco on the way home for a couple of last minute items for Christmas lunch the following day but ended up having to drive home, shower and then head back out afterwards again seeing as my top could have actually blended into the floor it was that mud-drenched!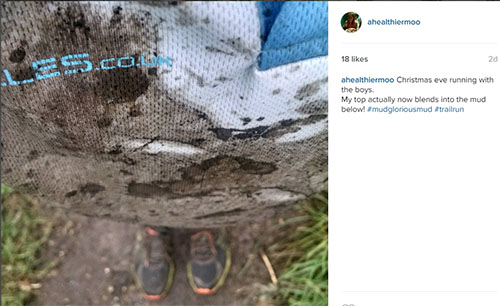 On Christmas morning, I headed over to Corby for the slightly later parkrun start time of 9:30am.
The Christmas elves had been and delivered a new barcode band for me to open that morning so I was all prepared – no scrambling around for a paper barcode for me!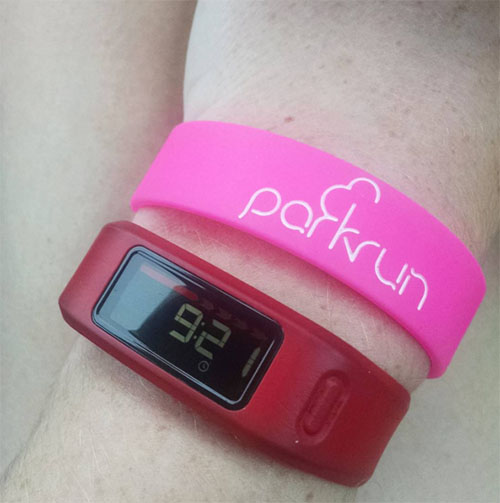 This was parkrun #1 of 5 this week so I wanted to take things fairly steady, (especially as I had drunk too much water before heading out and really needed the loo, with the toilets not opening up for Christmas day!)  Therefore, I opted to run round alongside another runner from my running club.  There were quite a few photos taken during the run and posted on the Corby parkrun Facebook page.  This is the best of a series of awful running shots of me!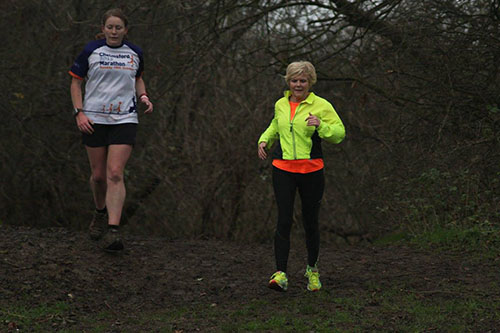 The organisers explained at the start that unfortunately the course markers had been shut away in storage and they did not have the key to be able to put them out.  Not an issue when your parkrun route runs alongside a wood…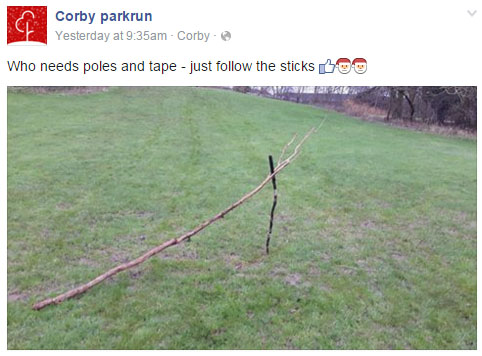 …the marshals did a great job of improvising!
I do absolutely adore the Corby parkrun.  The numbers are small, and the course is run mainly offroad, with a challenging steep (although short) hill which you run twice on the course.  The thing that hits you most about Corby parkrun though is it's fantastic community feel.  There are usually less than 100 runners there, and you are really made to feel part of the Corby parkrun club.  We were really surprised, and absolutely delighted to receive engraved Christmas Day medals at the finish line.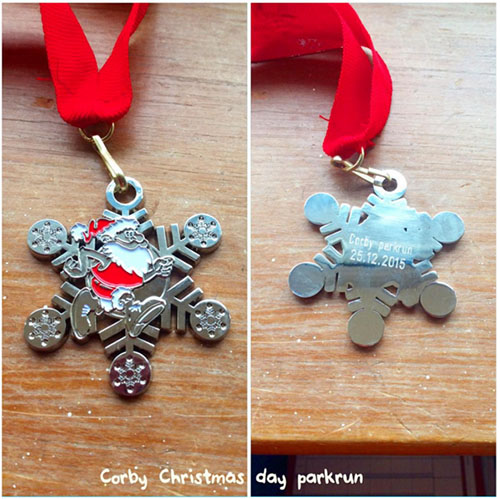 A lovely touch at the finish!
Garmin time: 29:29
Official time: 27:28
Position: 32/72
Gender position: 10/28
Age category position: 1/4
Did you run on Christmas day?
What are your favourite running traditions?