Last year I drew up a run down of my year month by month of all the fun and exciting things that I had been up to.  It was great fun to look back on and even though I haven't been quite so busy this year (no wedding or milestone birthdays!) I thought it would still be nice to look back on 2015.
These are my #2015bestnine as declared by Instagram.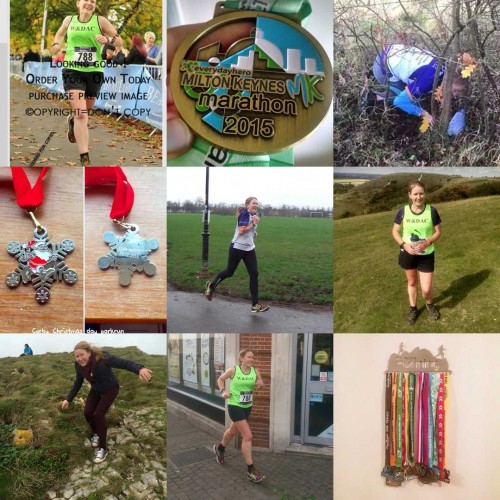 All running related!
Not everything was running related this year though.  I did move house, and attend several other events across the year too.  So here is my look back over the past year…
January 2015
I kicked off the year with a New Year's Day parkrun, but at the same time was in a world of pain having problems with my back.
I also started a new job teaching full time in a large secondary school in Cambridgeshire, having to set a 5:15am alarm daily for my get-ups.  (Can't believe I've now been getting up at this time for a full year!)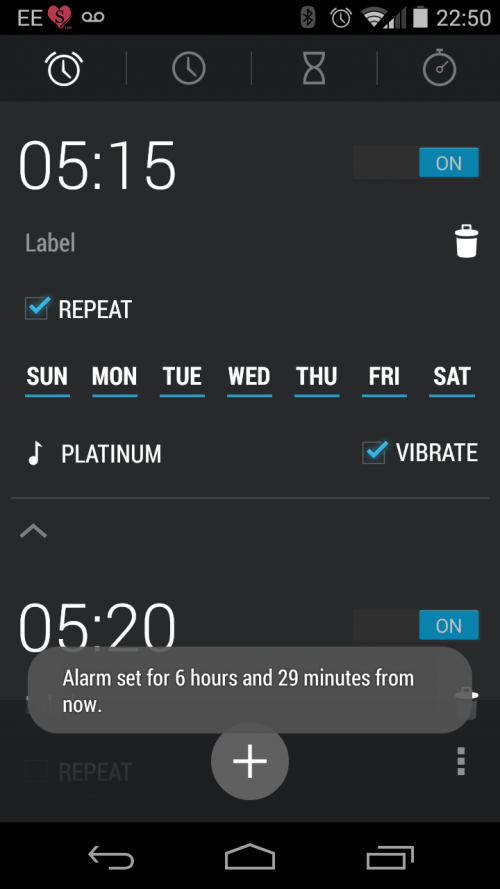 Along with several others from my running club I marshaled at the Country to Capital ultra, where I got to chat to lots of fab ultra runners and support them on their way through the third checkpoint out on the course.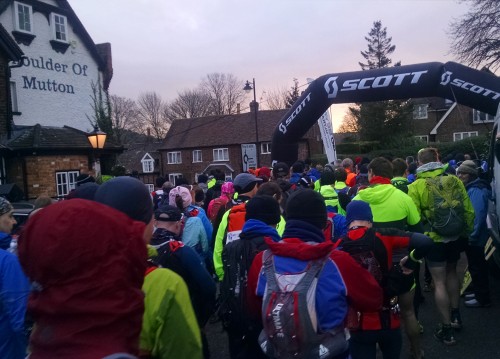 Having moved up to Group 4 at running club just before the New Year I was confident of beating my 2014 time at the Wellingborough Multi-terrain 10k mid-January and did so by a good couple of minutes.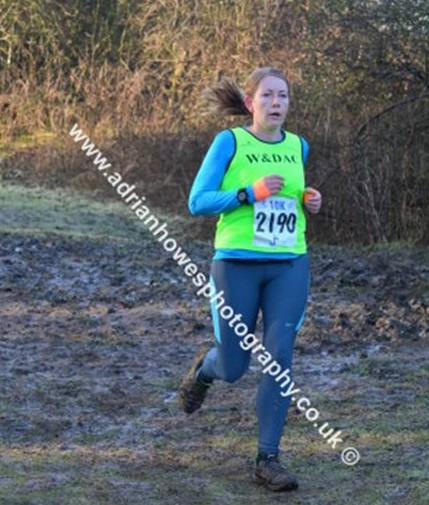 February 2015
I headed to South Devon for the weekend with a couple of guys from running club so that we could run the EnduranceLife coastal marathon, unfortunately on our journey home we realised we had made a mistake the previous day and had brought another runner's bag back with us!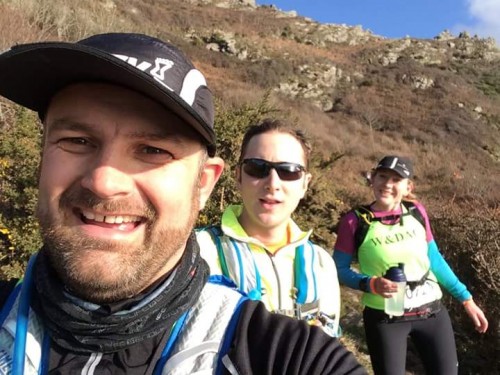 Dan and I started the hunt for a new house after deciding that we did indeed want to move, rather than extend our house, which had been the initial plan.  Our house then went up for sale.
I worked out just how much money I had spent on running the previous year and had a bit of a shock!
March 2015
I started to feel very run down by March.  My first blog post of the month didn't happen until 11 days in, which is very unlike me as I have loved writing on my little space on the internet.  Picking up the slack in my new job, whilst trying to carry on doing all of the things I had managed to fit into my day previously really wasn't working and my sleep and wellbeing really suffered, some nights I was getting barely more than 4 hours sleep and I was knackered.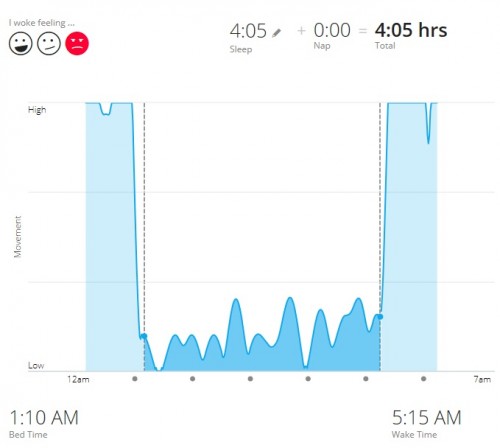 I still managed to slot a few races in though and ran the Ashridge Boundary 16m race with another runner from the club.  I really enjoyed the run, and it was a shame I was so ill at the end.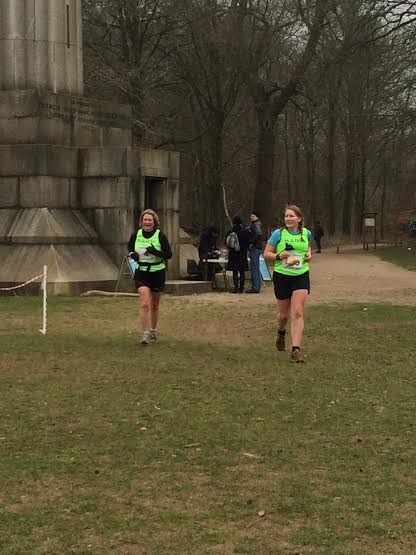 March was the month when one of my best friends from Uni, Vicki was having her hen do.  As one of the bridesmaids, I was helping organise and we had lots of fun with a scavenger hunt round Cambridge before heading to Jamie's for dinner, Lola Lo for cocktails and then back to Peterborough to watch Dirty Dancing in our own private cinema room the following day.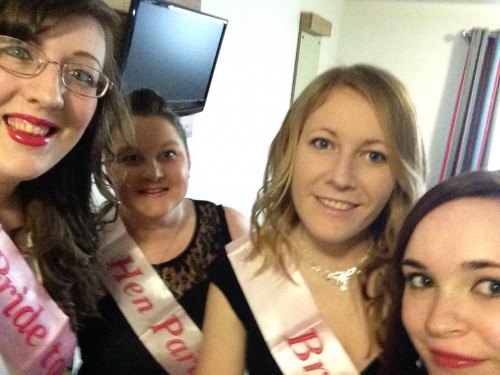 I broke my toe a few weeks before my upcoming goal marathon, following a fast sprint down the stairs where I slid into the front door.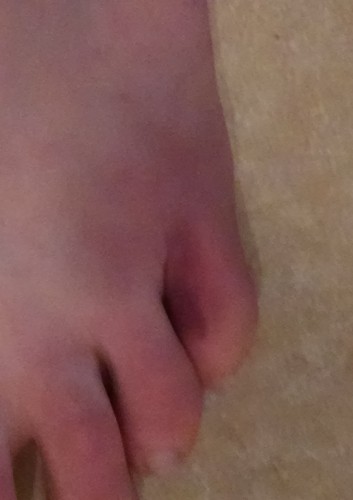 Within the same few days, Dan was kicked in the head at football, causing his face to swell and for him to be sent home from work suffering with concussion.  It wasn't all bad in that post though, we had an offer accepted on the house we liked and we also sold our house (to the person we were buying from!)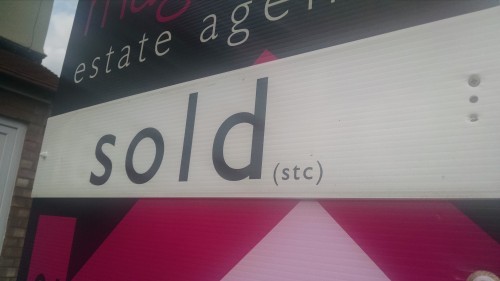 April 2015
Somehow (probably because I am stupid and incredibly stubborn!) I managed to run the Oakley 20, just ten days after breaking my toe.
A few days before her wedding, I treated Vicki to a spa morning where I also welcomed an all-over body massage.  Easter weekend was a busy one, with Vicki's wedding falling on the Saturday…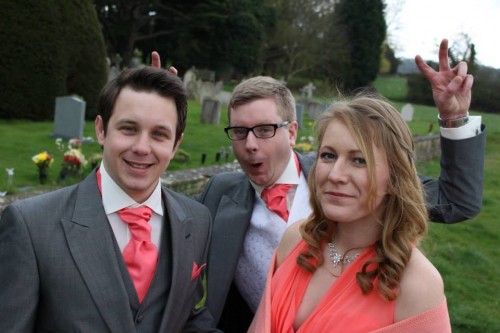 …and then on the Sunday, marshaling at the Go Beyond Delapre marathon, before heading out to support at the Stanwick 10k on the Monday morning.
I spent hours changing my name on everything (eight months after getting married!)
Having watched the London marathon on TV in 2013 and then running it in 2014 I was really looking forward to soaking up the atmosphere as a spectator in 2015.  I was hoping to get some good pictures, but it was so hard with cheering hands in the way all the time!  Loved it though.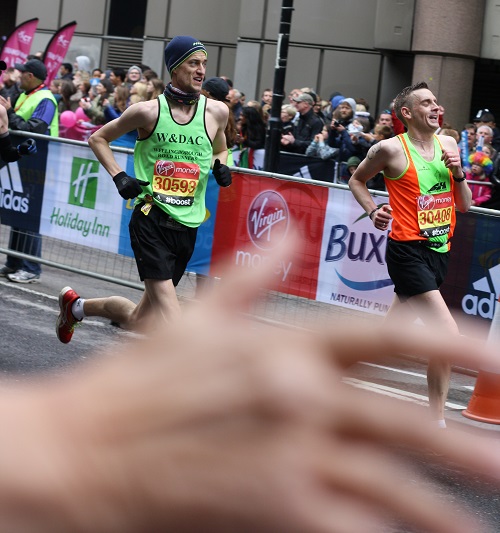 May 2015
Laura gave up some of her morning to help me run my eighth marathon – Milton Keynes.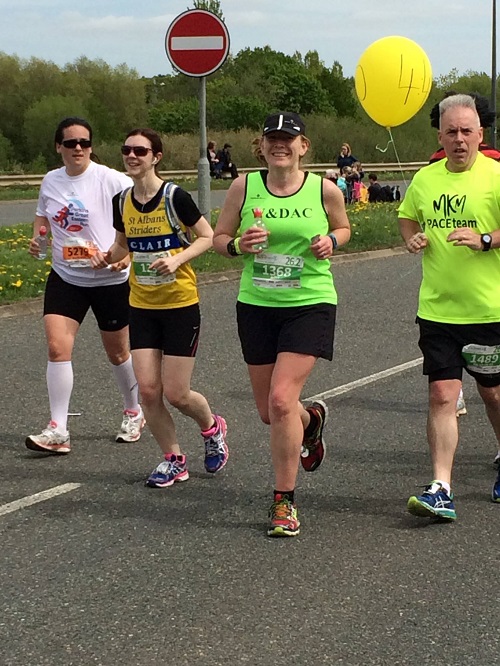 I got a new PB, but my time was seconds over the target of a sub five hour marathon.  Ultimately I was rather disappointed and immediately headed online to search out another marathon.
A few weeks later I ran the Waendel Walk with a large group of other runners from club.  A lovely event which you can participate in at any point over the weekend.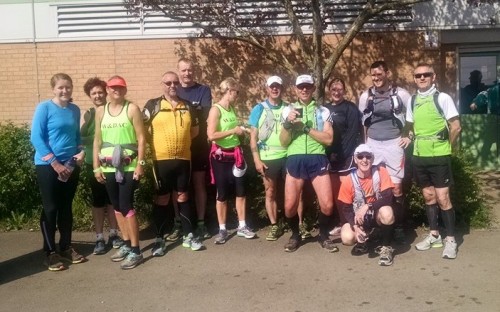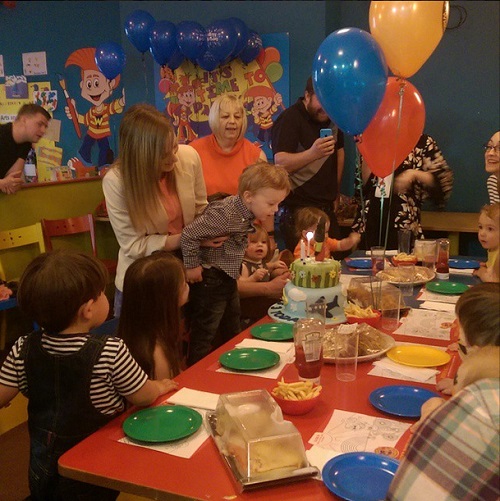 I led my first trail run where 25 runners and a dog turned up to join in.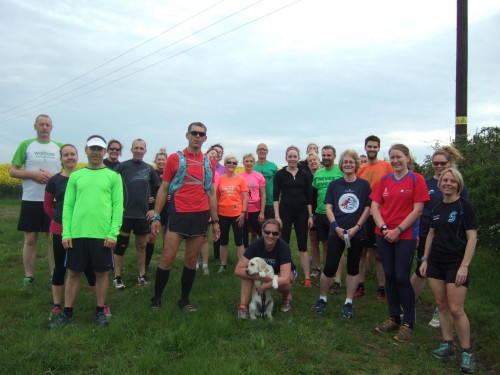 I achieved a new 5 mile PB at the Blisworth 5.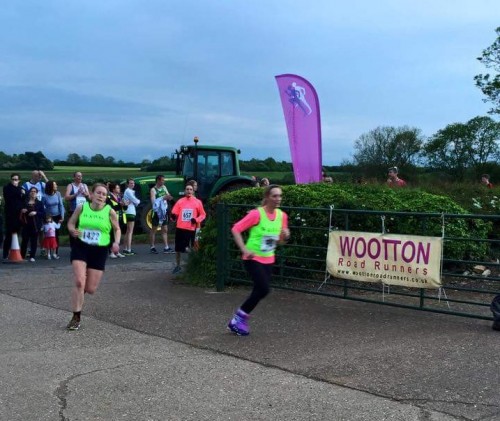 I had another stressful week at work, where I also put together a program for the Track and Field Championships, keeping me up until 3:30am.  Due to move into our new house the following week, it was at this point that we were also told there was a possibility this would no longer happen, adding to the stress!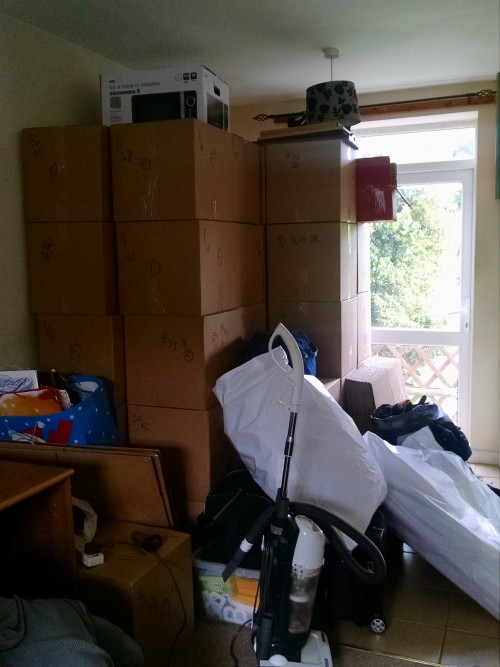 Dan and I managed to get away for a few days to Manchester, which helped a little and here we managed to fit in several cocktails and went to see Foo Fighters in the rain.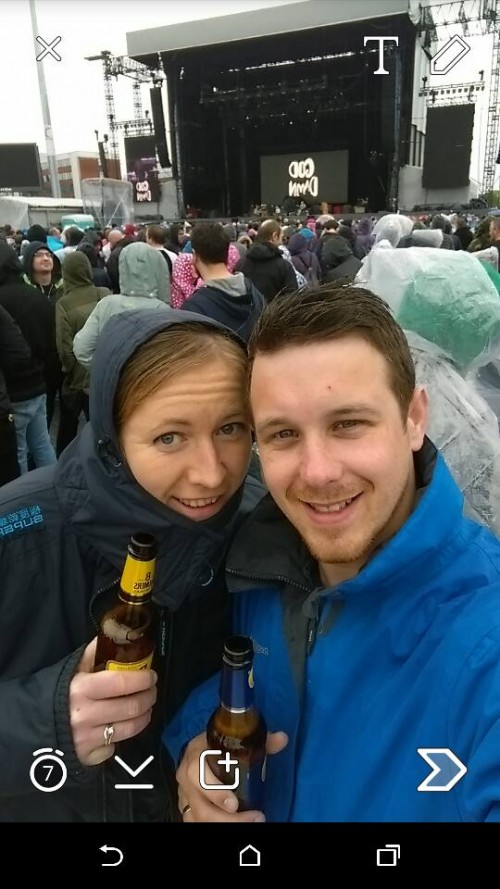 June 2015
I kicked off June with a fantastic run at Shires and Spires 35, taking off a large chunk of time from my previous 35 mile PB.  Third time's a charm!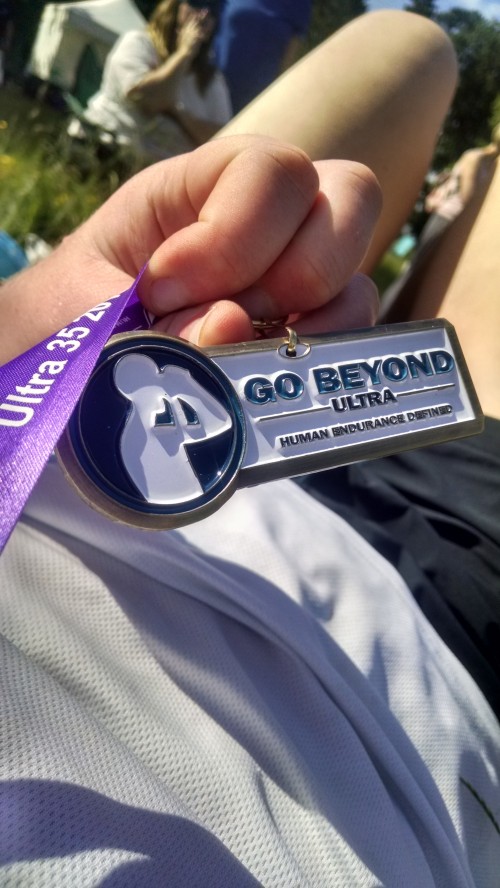 We had a rather eventful trail run one Wednesday evening when members of our trail running group had to make a formation to transport water from the river onto the bridge that had been set alight!
Dan spotted some free tennis sessions being given away, so we joined our friends Vick and Alex for a little competitive session on the court.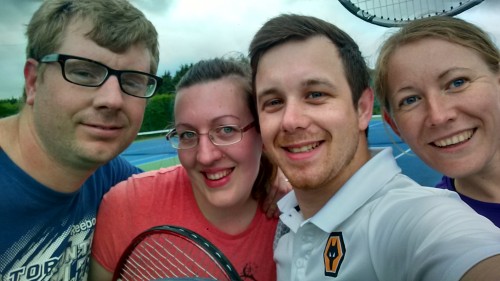 I got a wake up call from the dentist about my choices of food.
A race event I had wanted to run since joining the club, I ran the Colworth Marathon Challenge for the first time; 5 miles on Friday, 8.1 on the Saturday and a half marathon on the Sunday.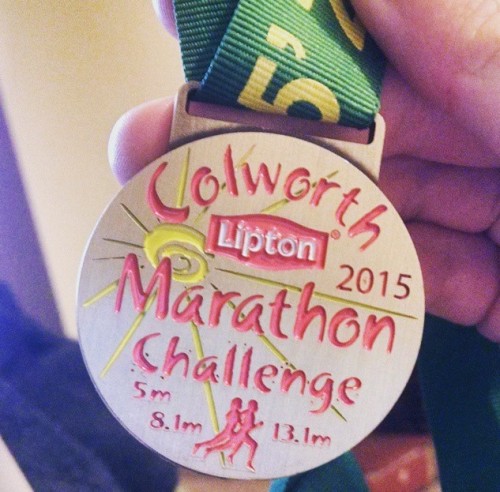 Despite being off-road I surprised myself with the times achieved for the first two days.  Then learnt a lot about pacing in the final day of the weekend!
On a lovely sunny Saturday I headed down to London to meet several bloggers whose blogs I had been reading for quite a while.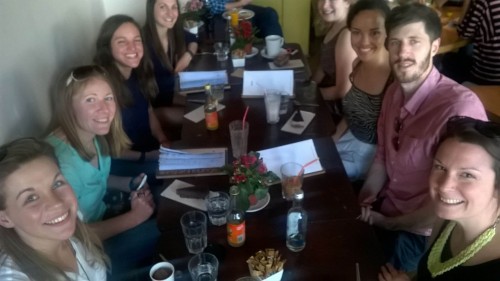 And the following day, I marshaled at the Coombe Abbey marathon.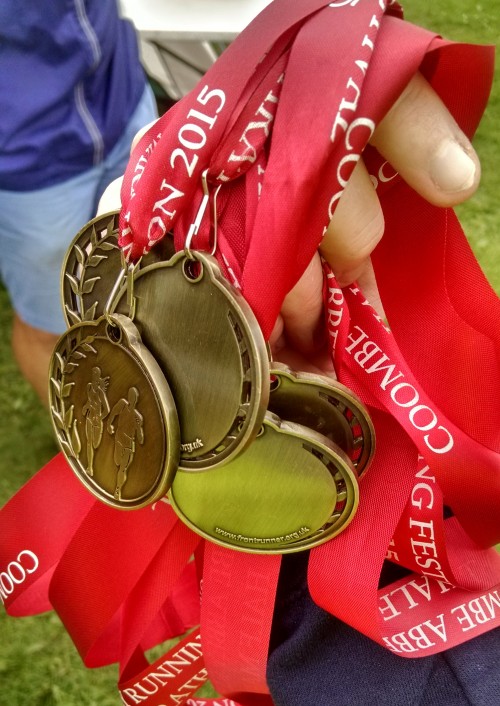 July 2015
July was the month of PBs, and I started by ticking off a new 10k PB at MK10k despite it being an incredible hot day – something which doesn't usually work in my favour.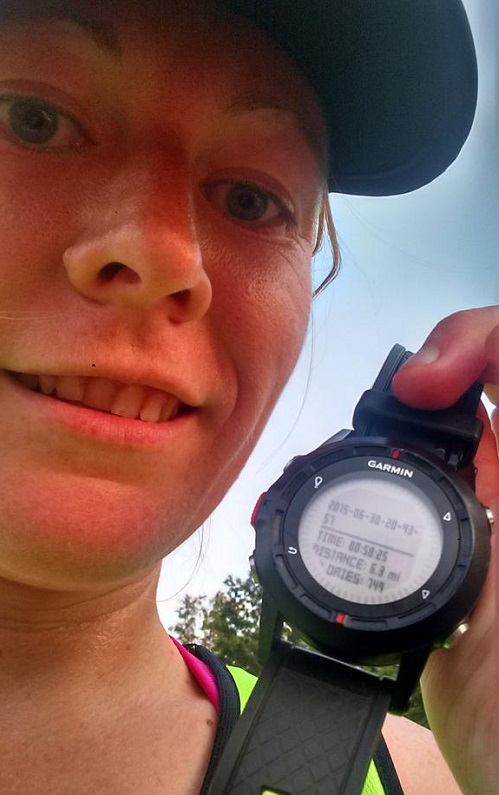 I met my adorable new form as year 6s.  Before promptly teaching them how to spell my name!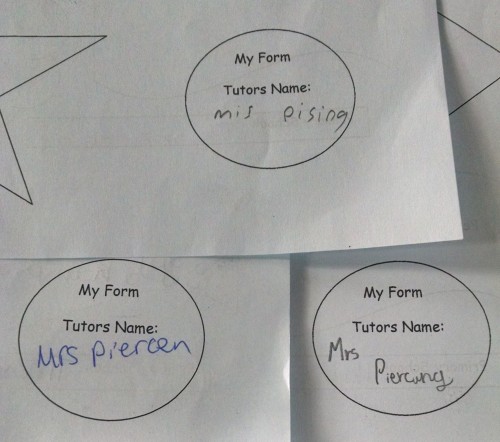 We finally moved house!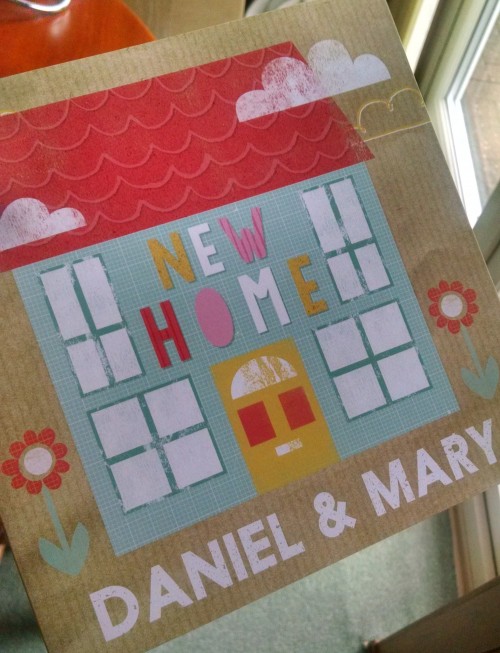 …having smashed my 5k PB just two days earlier, despite having lived surrounded by boxes for weeks on end!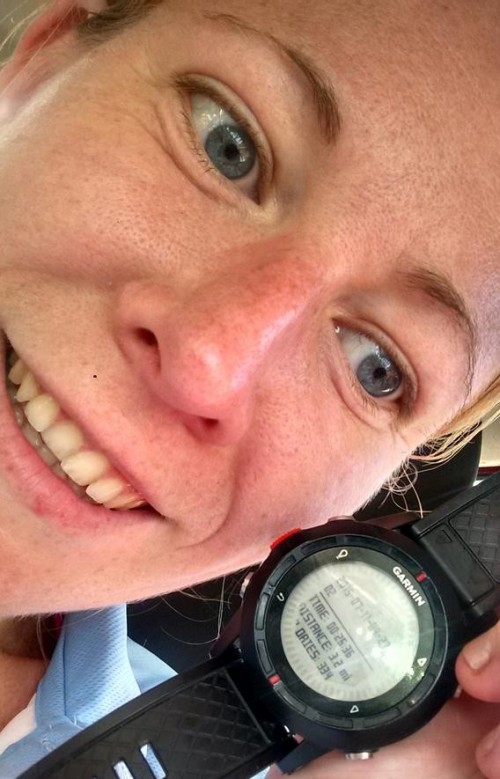 I took my second 5 mile PB of the year when I ran quicker at the Wellingborough 5 BBQ run.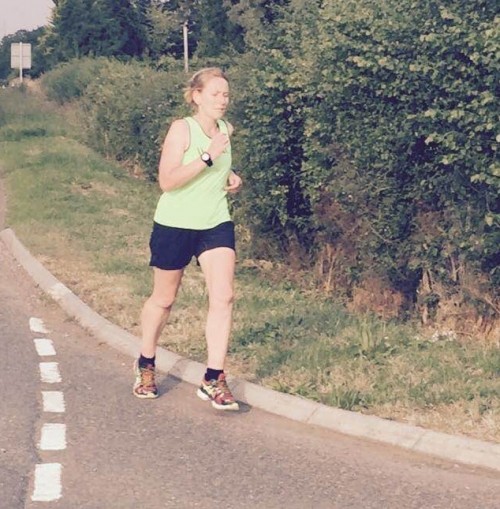 Then I marshaled at our club annual race, the Wellingborough 5 that weekend.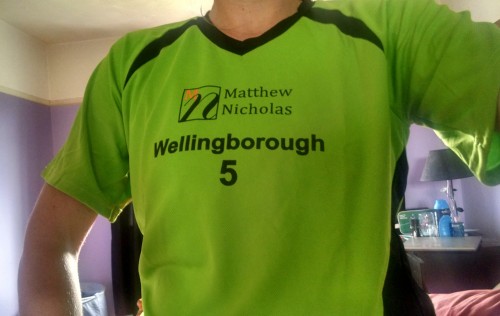 One evening I was roped into scoring at the EVAC Track and Field event in Corby.  (Most stressful night EVER!)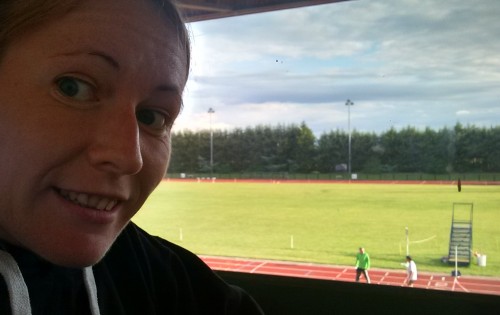 August 2015
My biggest achievement of the year was pacing the Grim Reaper 70m race event correctly, taking more than three hours off from my previous personal best and coming away with the third lady title.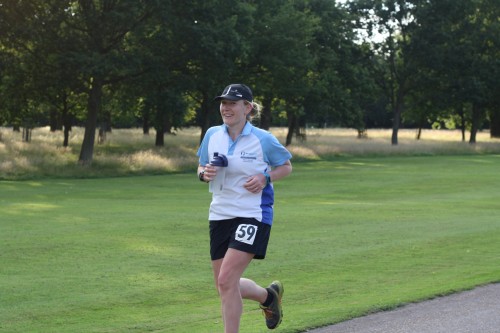 (If only my legs looked so toned still!)
Three days after completing the Grim, I headed down to London with a few other bloggers to take part in a countdown to the Olympics session at Fitness First.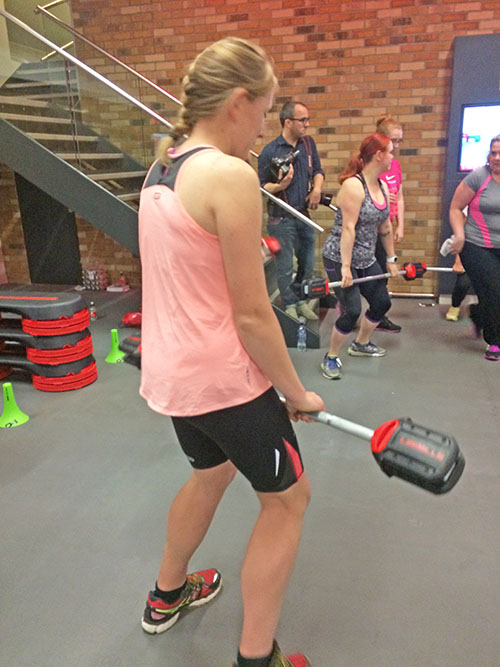 I helped a friend complete her first 10k distance.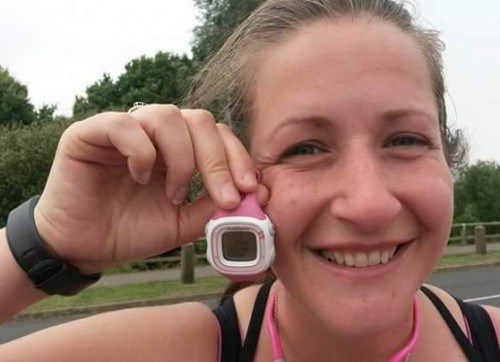 Dan took a couple of weeks off around our anniversary/his birthday and we rented a canoe!  (Not for the full two weeks obviously, that would be crazy!)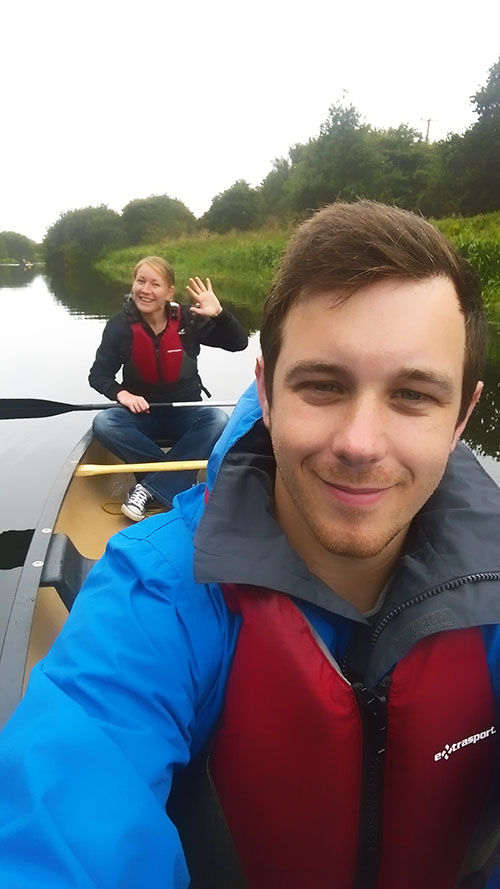 As part of his birthday present, I bought Dan an indoor skydiving session with AirKix in Milton Keynes, which looked like so much fun and is definitely something I now need to try!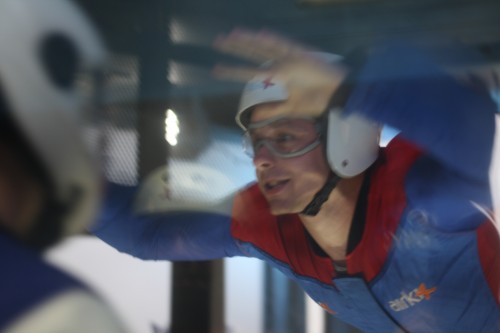 Most of the Summer holiday was spent working on our new house and I got very used to walking around with a paintbrush in my hand whilst we worked on the upstairs rooms!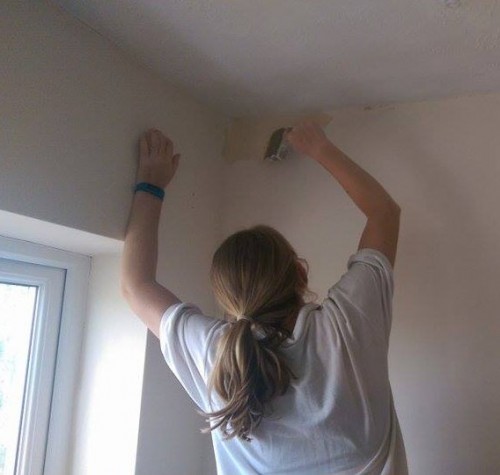 September 2015
I was sector lead at the Northampton Half Marathon and managed to rope Dan in to help on my section.  This year Go Beyond were aiming to enforce the No Headphones rule, but hundreds of runners went against the rules and it was a very frustrating task trying to marshal deaf runners.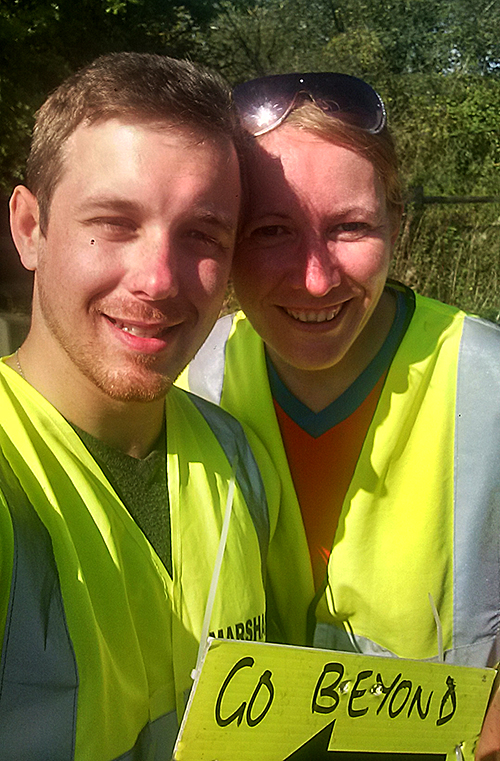 I raced quite a lot during the Autumn, including at Dunstable Downs 20m.
After reading some online reviews I finally decided to try the Hello Fresh subscription boxes and absolutely adored the meals I was sent.  Having a box of food sent out on a Monday definitely took some of the stress out of what to eat for the week!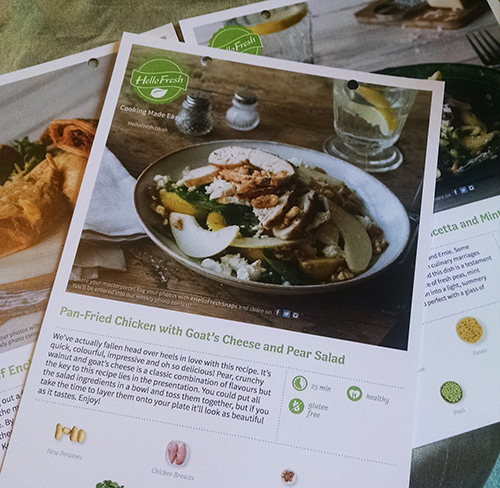 I headed to the first of many fancy dress parkruns with Laura.  This one was at Corby and Flinstones themed!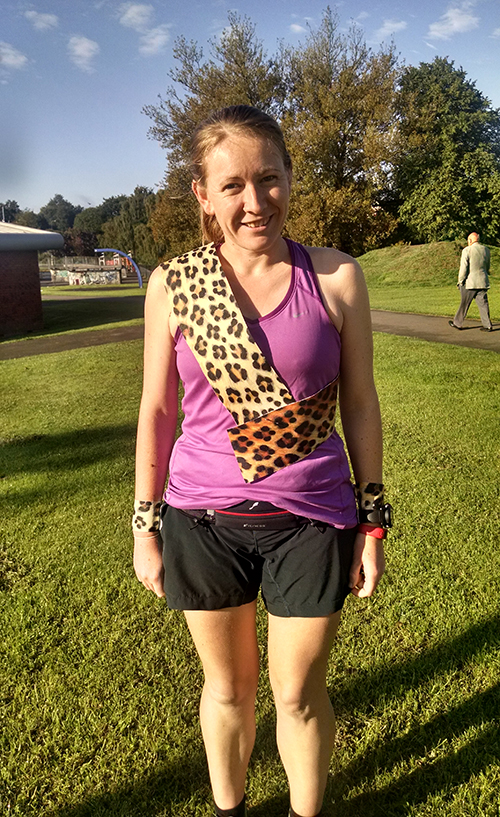 I had a really good run at Royston Harvest Trail half marathon, smashing my time from the previous year.
Ten days before another marathon attempt I fell over whilst on a trail run and twisted my ankle, so sure that I had dashed my chances of going sub 5 the following week.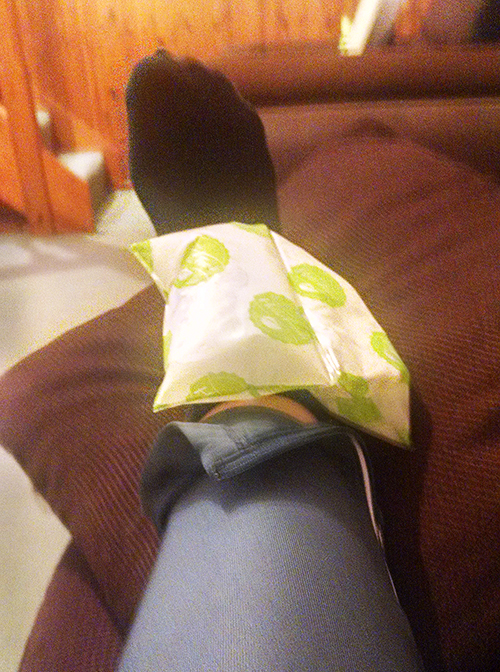 As part of my active recovery, Dan and I headed into Stanwick to check out the Scarecrow Festival one evening after work.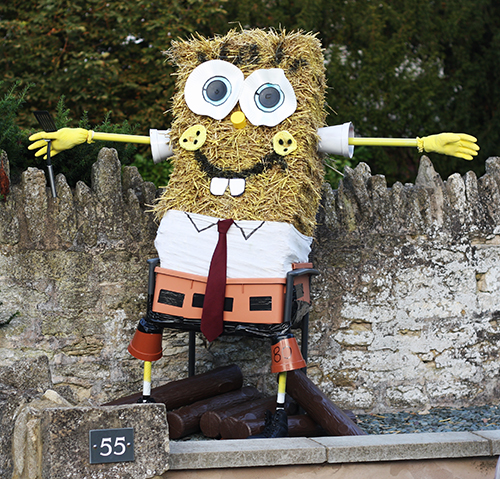 October 2015
October was one of my busiest running months and I raced quite a lot, starting with Mablethorpe Marathon – my goal race which just wasn't meant to be, coming in just over that five hour mark once again. There were five weekends in October and I went on to race five races!
Next up was Tring Ridgeway 15k and then at my tenth marathon attempt, which I had told just one other person about I finally went sub 5!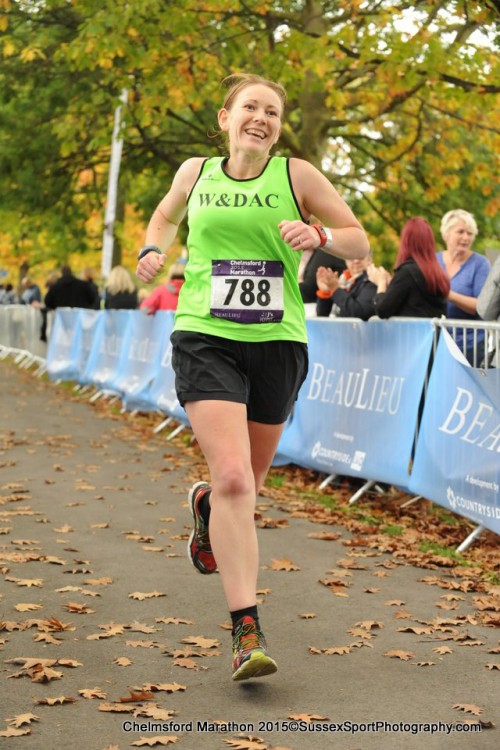 Loved the race photo so much that it was the first one I ever bought!
I was glad to be able to take part in the home cross-country race at the start of the half term holidays.  I have never been able to make it before, and it is arguably the toughest of the five courses in the series, as it contains four brook-crossings.  I loved it.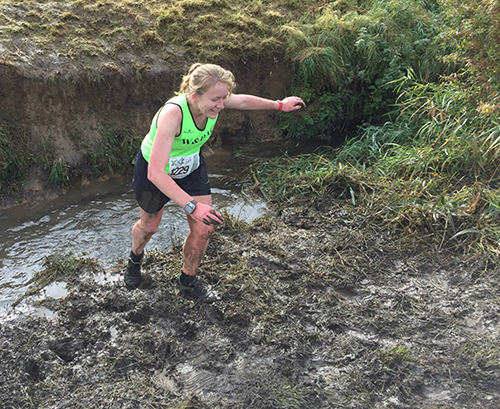 And then at the end of the month, on my birthday, I joined with three others from club to attempt the Dusk 'til Dawn 50m ultra.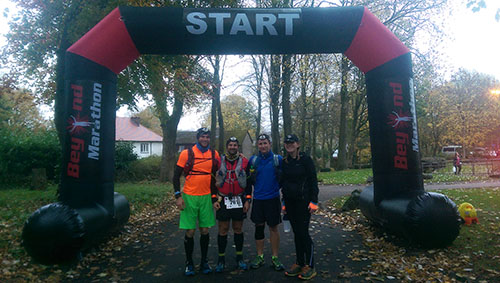 November 2015
The Gower weekend was firmly marked in my calendar for months beforehand, and it was rather frustrating to be pulled from the race due to the weather at mile 21, although it wasn't too much of a dampener on our fab weekend away.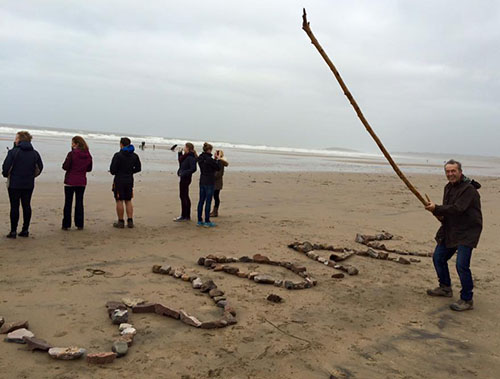 The day after the marathon we walked over to Worm's Head in horrific winds, but got some fantastic views and made friends with a few seals along the way!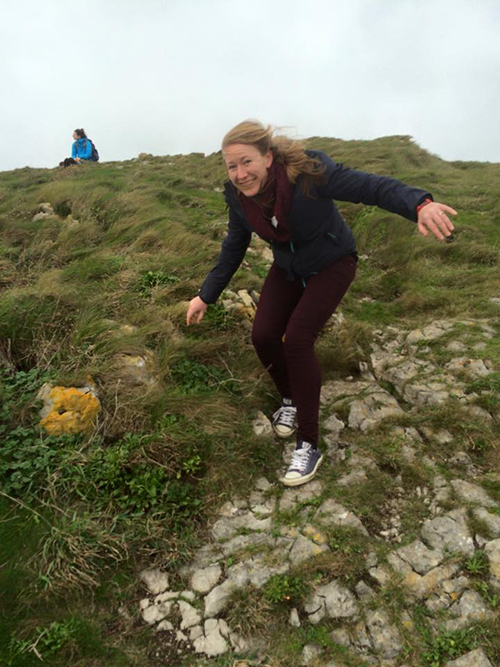 I also finally made it to the cow-slurry cross-country event, but we'd had such little rain, that the cow-slurry on the finishing straight barely made it past our ankles!
December 2015
I headed back to Norfolk for the weekend so that I could celebrate my friend Hollie's baby shower, where I created some glass decorations for our Christmas tree.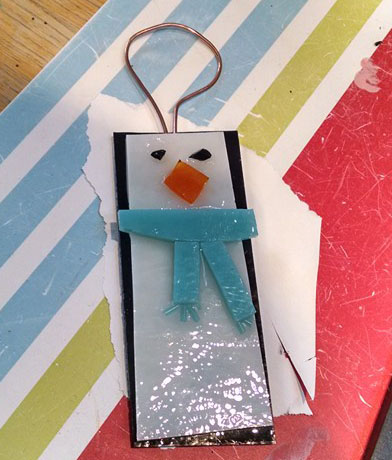 I was very shocked and honoured to receive the Group 4 Runner of the Year award at our Running Club presentation evening.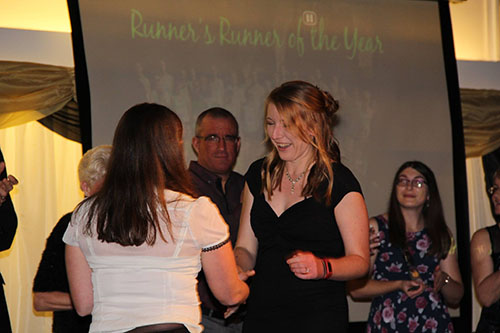 I fell over at the North Herts cross-country event, and it looked like the middle of Summer as we all ran in the sunshine in our vests, shorts and Santa hats!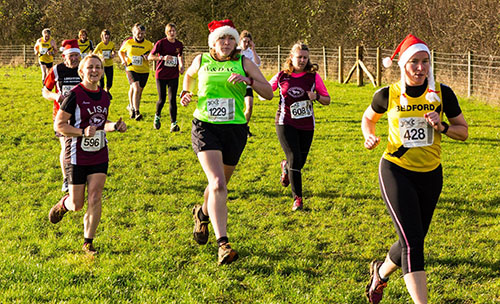 I ran parkrun on Christmas Day, Boxing Day and Dan and I hosted Christmas for the first time.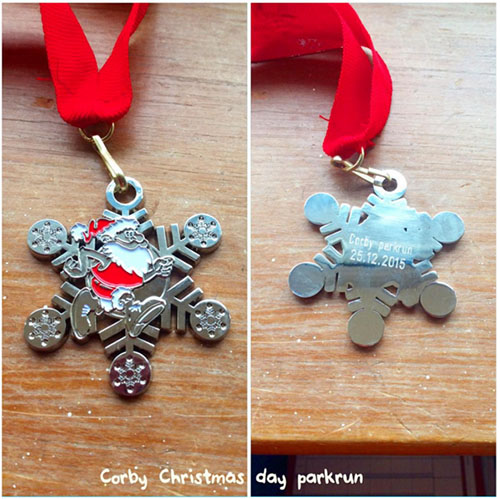 And that's my 2015!  It always amazes me when I look back how much I've done in a year.  Well, incredibly long post complete, I'm now off to build a gingerbread house whilst sipping from a mug of Baileys hot chocolate.  Happy New Year!
How was your 2015?
Are you celebrating this evening?