Happy New Year all!  I hope everyone enjoyed seeing the new year in.  We had a quiet one, with Baileys hot chocolates and the building of my first gingerbread house!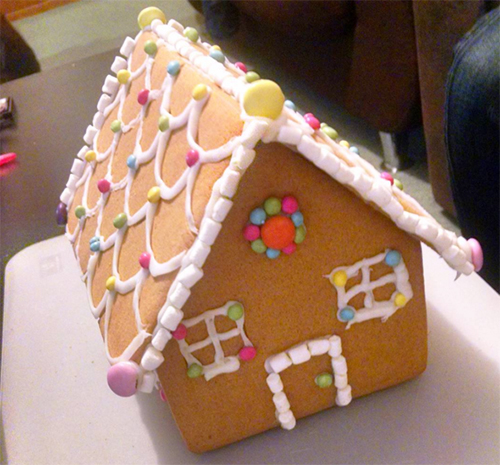 As many others have already done this week, I am using this post to check in and list my goals for 2016.
In 2015 my goals were:
To run a marathon starting with a 4.

Yep, no doubt about it, I ticked this one off the list with my 4:54:08 at Chelmsford in October.

Continue my long runs through the Winter and really focus on running them to heart rate.

Looking back, last Winter I headed out for a long run not only at the weekends, but also often for 10 miles on a Friday evening, which I believed helped to strengthen my legs for all of the races I put them through last year.  Running to heart rate helped me to learn more about my own ability and I now find it easier to judge my effort levels even when not wearing my heart rate monitor.

Start running some double day runs.

I didn't really do this.  At all!

Use parkrun to concentrate on getting in some tempo work and try and regain my ability to pace a short distance race.

I ran 24 parkruns this year on six different courses, (Northampton, Bedford, Peterborough, Corby, Daventry and Sheringham.) I also managed to smash my PB by 18 seconds in the Summer without ever intending to!

Keep moving throughout the day rather than find myself stuck at my desk for hours on end.

Lately I haven't been checking my step count as religiously as I was at the start of the year, but when I began my new job my steps automatically rose by about 3-4,000 per day without a whole lot of extra thought.  Especially at the start of the year I made a real point of hitting a minimum of 10,000 steps daily and have tried to focus on this again over the past month.

Complete core exercises regularly and some non-running exercise throughout the year.

I've been pretty rubbish about this one as well.  I did purchase a cross-trainer this year which I used when injured, and I have also been out on several long walks throughout the year, but core work has been pretty poor once again.
So, onto 2016.

In fact, before I get onto 2016, I have to let you know my goal for 2017.  You see, people have been asking me what races I have planned for 2016 for a while now and I haven't really been able to answer.  I just haven't booked any in.
Actually, as I was reading back through posts on New Year's Eve whilst putting together my lookback of 2015 I had a little smile to myself.  At the beginning of 2014 I was very adamant that anyone wanting to travel more than 50 miles by foot was completely crazy.  It sounded like such a long way, why would anyone do that?!
Then I started to run longer more and more often and before I knew what was happening, I had run 44 miles at the Conti Lightning Run and found myself entering the 70 mile Grim Reaper for that Summer.
70 miles sounded like an incredibly long way, and it definitely felt it that year.  When I crossed that finish line I was very much done!  Time to get married a few days later (brave move!), and take several weeks off from running over the Summer as I soaked up my wedding, honeymoon and fitting into my new role as a wife.  I was never going further than 70 miles.
Completing a 100 mile event has been in the back of my mind for a little while now, although I was adamant that I would not be fast enough to complete the distance based on my 21 hour time over 70 miles in 2014.
I'm easily swayed!  I knew I needed to improve my speed and learn more about me as a runner before going further, so last year I reluctantly settled to complete the 70 mile event again, but improve my speed.  I concentrated on nutrition and strategy and this time, despite still finding the event challenging, at the same time it felt relatively 'easy', like I could have gone on further and I came home as third lady, taking more than 3 hours off my time from the previous year.  I was so incredibly happy and proud that day.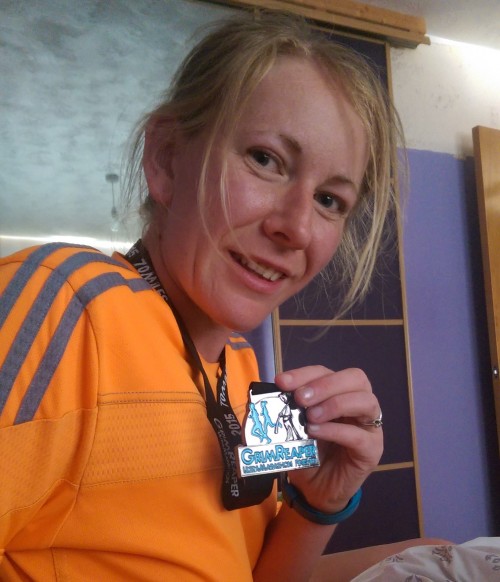 The last few months I have been speaking to people.  On twitter, on blogs, in real life.  Who has run 100 miles?  How did they find it?  Any advice?  What were different course terrains/elevation like?
In 2017 I want to run the South Downs Way 100.
How do I plan on getting there?  By setting the following targets for 2016…
Trying to fit some double days in during the week.

Although I get up at 5:15am for work, I don't do a huge amount of 'productive' stuff before 6am when the hot water kicks in and I can take a shower.  Yeah, I eat breakfast and might tidy up a little but I can eat breakfast in the car on the journey in to work and tidying up can happen in the evenings.  I don't plan on getting up any earlier, but if I can squeeze in a few 30 minute recovery runs in the morning, they might well wake me up a little better than catching up with Eastenders over breakfast does! 😉

Slotting in a mid-week/Friday night long run again.

Last year, Dan and I each had our own cars, so I found it easy to nip back on a Friday evening to join in with runs other club runners were headed on.  This year, it might mean that I end up running from work on a Friday evening whilst waiting for my lift home and just taking a few more books home to mark over the weekend instead.

Running a marathon/ultra distance at least once every 4-6 weeks.

And practising running on tired legs the following day.

Continuing to run at parkrun as often as possible.

The increased leg turnover I've adopted at parkrun has helped me to achieve a quicker easy-pace this year and anything which helps make things feel easier is a win with me!

Regular core work.

This is a must this year.
I am not going into this entirely blindly.  I have done my research on courses, and a few other members of my club also plan on being on the starting line in 2017.  I'm not so niave to think I will definitely be there on race day.  Lots of things can happen when you plan seventeen months into the future, but at the same time I don't want to put life on hold in case something crops up.  I need a goal.  If it doesn't happen at SDW100 in 2017, then the 100 miles will come at some point in the future and I would like to be ready for it!
Earlier this week I applied to be a marshal on the South Downs Way 100 course in June this year.  Working the course will allow me to speak to runners out there and become more familiar of the course before running it.
My first race of the year has now been booked.  I shall be running the Thames Trot 50 on February 6th.
As well as running, I have a few other goals for the year…
Purchase a second house.

This has been a long term goal of mine for quite a while now, to buy a second/third property to rent out and bring in an extra income.  I've slowly saved my pennies towards buying a second house and hopefully, early on this year this could become a reality.

Get into a more regular posting schedule on the blog.

I've found that writing on a Saturday afternoon after parkrun is a great time for me to sit down and write.  Dan is off at football and I feel I can sit back and look at the week.  Towards the end of 2015 I started to get into a more regular schedule and this is something I would like to continue.

Meal plan every week during term time.

I eat so much better when I plan out in advance what I am going to eat during the week and am much less inclined to impulse-buy, saving us money in the long run (and hopefully getting to goal #1 even quicker!)

Stay on top of housework.

I'm going to try and deep clean one room each weekend and get some general housework done each evening after work.  I don't understand how people can ever have pristine houses every day of the week.  Dan and I are both out at work for twelve hours a day and after factoring in the time it takes to cook dinner and exercise in the evening, housework is the last thing on my mind in the remaining hour of free time!  I'm going to try and make a real effort this year though.
So, I think I should probably stop there.  Five running goals, four non-running goals and an aim for 2017.
What are your goals for 2016?
Do you make any long term goals?