Last New Year's Eve I spotted that some of the nearby parkruns had altered their timings slightly for New Year's Day, in order to draw in more runners following what would potentially be a later night than normal for most the night before.
Dan and I were well on the way to midnight and a few drinks down before realising that we could in fact run the Huntingdon parkrun at 9am, followed by Peterborough an hour and a half later at 10:30am.  In the end we decided we had probably started to think about it too late on and that it would probably be best to just stick to the later run at Peterborough to see 2015 in.
The parkrun double remained in my head though, especially when I saw on Facebook later that day how many runners had managed to achieve both parkruns that morning.  (173!)
I posted a shout out on the club Facebook page early last week regarding this year's parkrun double event and a couple of people decided to join me on the adventure.
Huntingdon first up.
The start was easy enough to get to – not far from a school I taught at previously, and I had run round parts of the course without knowing on evening runs following work.  I had been warned that the route would be muddy, and it was!  The course starts on a large open area of grassland before narrowing down very quickly to run all on very narrow compacted walkways.  The grassland section was a free-for-all, and to be honest, we probably started too far back in the pack.  Once we made it onto the walkway along the river there was no opportunity for overtaking for a good couple of miles.
Mile 1: 10:20
Mile 2: 9:15
Mile 3: 9:07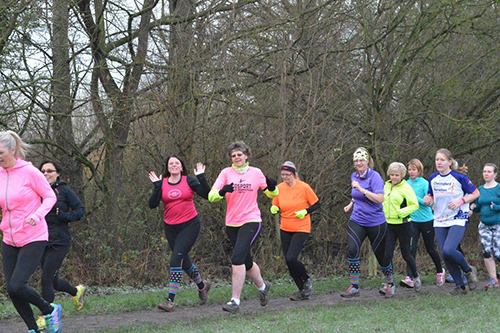 I'd worn my trail shoes for the run, also bringing along my road shoes to change into for parkrun number two!  It was pretty cold out, one of the colder mornings of the holidays, and I was glad I had decided to wear tights instead of shorts at the last minute, especially as we were running rather slowly compared to normal so I didn't warm up as quickly as I would perhaps have done usually.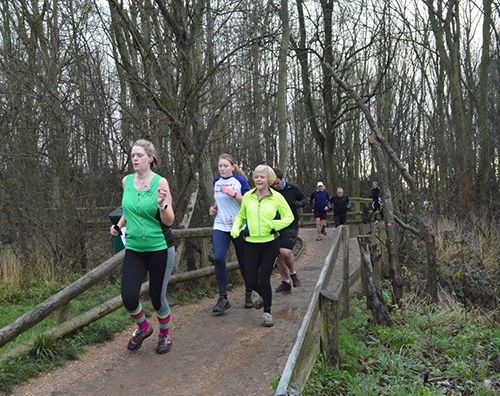 This photo was taken not long before the finish and you can see that the field had finally started to spread out a little.  The finish was across the flat grassy open area back by the start line again.  Here it was a free-for-all and we could pick up a little speed, picking off a few runners on our way to the finish line.  Would make for a great finish during the Summer months I am sure, but I heard a few people had slipped right over at the end as they came through the funnel, and there were the skid marks in the mud to prove it!
Nubbin (0.12m): 7:56mm pace
Garmin time: 29:37
Official time: 29:39
Position: 231/355
Gender position: 63/145
Age category position: 9/17
A quick change of shoes and adding of an extra layer before jumping in the car and following the stream of cars that also appeared to be Peterborough-bound for the parkrun double challenge.  The Huntingdon event had started slightly late, with the briefing not beginning until just after 9am, so several runners had been rather antsy to get to the finish and off in time.
We needn't have worried though, we were parked up at Ferry Meadows in Peterborough for round number two by 10:15am, still with plenty of time to spare.  The guys at Peterborough even held back the heading to the startline for a good five minutes or so until there was no longer a constant stream of cars coming through the car park gates, to allow all to arrive.  It was easy to tell who had run the double, even if trainers had been changed.  Legs, and in some cases, backs and faces were mud flecked!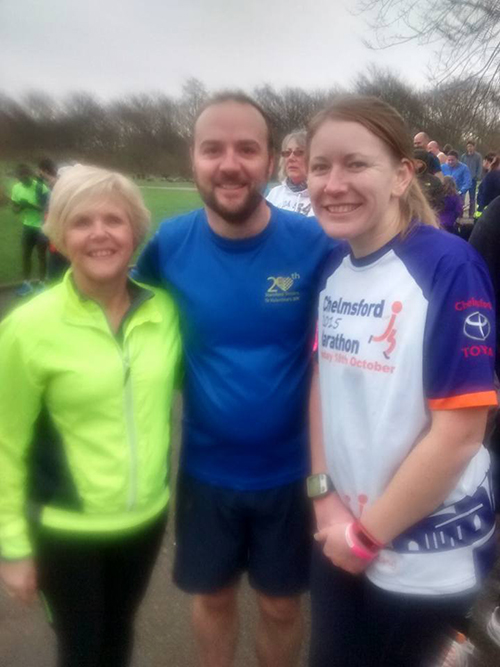 This is the only image from this post to not come from a parkrun Facebook page.  I am aware that none of the images of me from New Year's Day look particularly great.  I'll put it down to lack of sleep the night before!
Time for parkrun number two!
Although the start was still fairly congested it became easier to pass others earlier on than it had done at the Huntingdon course.  The paths here were wider, or had grass verges running alongside in several areas which we chose to run along to overtake others.
I've run the Peterborough course several times before so knew the route beforehand.  I absolutely hate the bridge that bounces up to meet your every step as you run across it!  It is a fairly flat course though, other than the slight hump to cross the bridge.
The course was fairly uneventful.  There were several runners out for their 50th parkrun on New Year's Day, sporting sashes telling us this.
Mile 1: 9:59
Mile 2: 8:56
Mile 3: 8:29
Nubbin (0.21m): 8:16mm pace.
My second Royal Flush Negative Split of the day!  (Each mile getting progressively quicker!)  My maximum heart rate on this course was 170bpm, a target I initially aimed at running my 5k parkruns at for 'race pace'.  Rather happy that my heart rate seems to have lowered, as despite running at 8:16 pace for the finish, my effort level never felt hard.  5k PB on the cards soon perhaps?!
Garmin time: 29:07
Official time: 29:18 (Not sure why this is so far out from my Garmin time, especially as I ran well over-course distance)
Position: 335/609
Gender position: 97/265
Age category position: 16/36
Number 41 and 42 parkruns, and parkrun numbers 3 and 4 for the week complete, with the fifth to come the following day.
Did you attempt the parkrun double on Friday?
How did you celebrate the New Year in?