There's something about me and entering races.
Last year I managed to break two toes before running Milton Keynes Marathon in the Spring, and then sprain my ankle the week before running Mablethorpe Marathon in the October.  I just entered my first race for 2016 the other day (cross-country and parkruns don't count) – The Thames Trot 50, one I have thought about running for a while now, having marshaled at the event back in 2014.  Seems that there have been an influx of entries from our club members over Christmas, and that number now includes me!
Then, on Wednesday morning I managed to break the little toe on my right foot.
This week has been such a shock to the system, returning to work and 5:15am starts again after two weeks off.  I am never a late sleeper – and was up before 7am most of the days over the holiday, but I'd gotten into the routine of being able to have 15 minute showers, or reading blogs on a daily basis and so scrambling around for spare minutes to ensure I'd organised lunch in the mornings this week was tough.  Add into that a change in marking policy and having to remark and prep work for this week after having started back meant that I had gotten barely any sleep on both Monday and Tuesday nights.
By Wednesday morning, as my alarm rang out at the slightly earlier get-up time of 4:20am for work I was knackered.  I scrabbled around on my bedside table to try and find my glasses, but couldn't.  Not wanting to wake Dan, I headed downstairs for breakfast without the glasses, failing to notice that the Christmas tree stand which we had left out the previous night ready to go up in the loft had slipped to the side in the dining room.  I walked straight through the stand, pulling my little toe on my right foot back and out of place, hard.
Instantly I thought "Well, I won't have to try and fit running into this manic week now as well!"  But then I immediately changed my mind and realised that I wasn't actually very happy with being injured again at all.  I enjoy running too much!  I didn't cry or strop or anything this time though.  Just got on with the day.  Guess I'm getting used to accepting that injury is a part of running, even when my injuries hardly ever seem to be running-induced!
Luckily, I appear to have only broken one toe this time rather than two, and have been sensible about not being on my feet for too long since Wednesday.  My toe has only slightly bruised so hopefully I'll be rewarded with a quicker recovery time this time round!  My limp has almost disappeared and I can comfortably get my boots on and off again now already.  When I broke my toes in April I immediately ran the 7 mile trail run I had been rushing to get to (although I was in a lot of pain I genuinely thought I had only stubbed my toes at the time!), ran a 10 mile trail run that weekend and then a 20 mile road race just 10 days after breaking my toes before finally giving in and taking a couple of weeks off completely!
Luckily I had scheduled in a drop down week for my training this week to correlate with my return to work, and although I hadn't planned on running zero miles, I banked several miles last week so can probably get away with having a week off.
Last week went as follows:
Monday: Easy 3 miles on my own keeping my heart rate below 150bpm.
Tuesday: 16 mile trail run with friends.
Wednesday: A long walk (about 7 miles) with Dan around Salcey forest.
Thursday: Rest.
Friday: 2x 5ks.  (Double parkrun day)
Saturday: Northampton parkrun, followed by a 16 mile trail run home again with friends.
Sunday: Bedford Harriers Letchworth XC 10k race.
I got my two long runs in for the week – 16 miles on Tuesday and then another 16 miles of trail immediately following the Saturday parkrun at the weekend.  Both runs with pretty much the same bunch of (clearly also quite crazy!) people.  Several of whom are also hoping to be toeing the start line at Thames Trot at the beginning of February.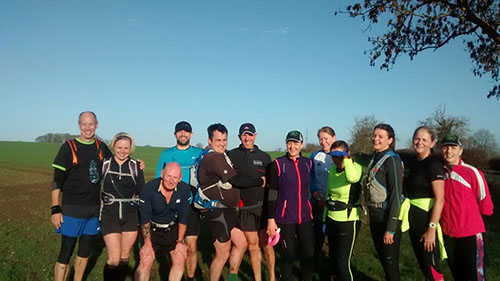 The plan for Tuesday was to drive over to our local country park in Harrold, where we had arranged to run a circular route back towards Wellingborough and then return to Harrold again for sausage baps and milk.  Incidentally though, it actually took thirty minutes for our glasses of milk to arrive after ordering them.  

The route was a nice one and I felt strong.  It was fairly mucky in places, but the rain didn't really hit Northamptonshire in full force until the following day so we didn't really run through a great deal of mud.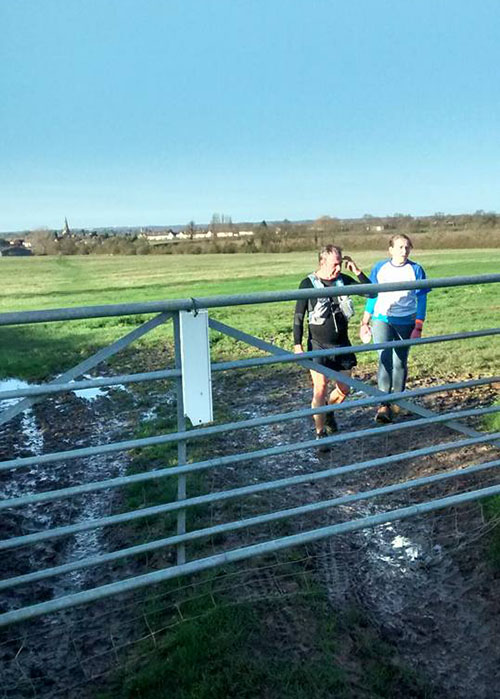 I bought Dan a Fitbit (at his request) for Christmas and he has been very conscious of his activity levels ever since strapping it to his wrist on Boxing Day.  We've made a real effort to go out for a walk each day since (other than Wednesday evening after the toe break!) to try and up the number of steps he takes in a day and give us both a bit of a break between being at work and working from home in the evening.
Last Wednesday we decided to spend our day off together exploring the trails at Salcey Forest.  It had rained a little heavier further South from us and there were patches of the paths that were rather mucky which we had to pick our way through.  It was also super windy, although that didn't stop us from deciding to check out the Treetop Trail.  Probably not the best day to do it as the trees all around us were blowing so hard I was convinced they were going to come down on top of us!
I took my rest day on Thursday, ready for what was to be a busy weekend; starting with the parkrun double on Friday. On Saturday a large group of us arranged to be dropped off at the Racecourse in Northampton at 8:30am, where the Northampton parkrun is held each week.  We made plans to slowly run the parkrun, with the intention of pushing our club up into second position for the parkrun club league (we succeeded) before strapping on our running vests and enjoying what was now super-slippery terrain on the run back to Irchester.
Great to see that WDAC finally sits in 2nd place in the @Northampparkrun club table! pic.twitter.com/WxxtX9mFfe

— WDAC (@wdacrunner) January 7, 2016
There were a few slips and falls early on, as the route we take starts out by following the river for quite a way and the heavy rain from the previous two days had seen the area become rather soggy!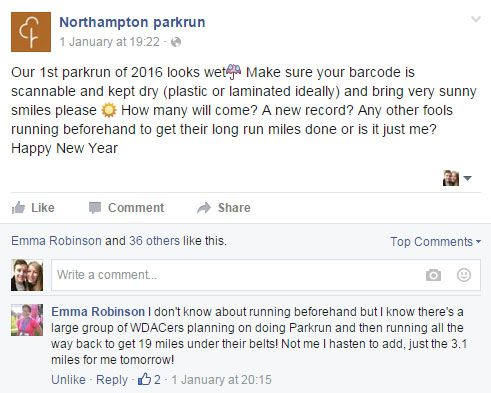 The parkrun itself was nice and comfortable though and in the end we didn't have any rain.  I had hoped to run parkrun at an easy pace, coming in somewhere around 30 minutes, with the aim to go more on feel than pace.  I spent most of the run looking around me and speaking to other parkrunners that were out for the day.  When I did glance down and spot that my pace was hovering just over 9mm I was really surprised.  I genuinely felt like I could hold a conversation at that pace and run for quite some time.  Had you told me a year ago that my 'easy' parkrun pace at my fifth parkrun of the week would be 9minute miles I would never have believed it!
Mile 1: 9:03
Mile 2: 9:21
Mile 3: 9:07
Nubbin (0.14m): 8:26mm pace
Garmin time: 28:40
Official time: 28:41
Position: 189/323
Gender position: 33/105
Age category position: 5/15
Our long run of nineteen miles actually ended up being split into three; the parkrun, 10 miles to a cafe where we stopped for sausage baps and another glass of milk(!) and then the remaining few miles home.  Some of this route was tough.  The rainfall had been heavy and we ran through several fields, collecting several inches of mud on the bottom of our shoes as we crossed!
This post is getting rather long so I shall recap the cross-country in a separate post now.  Spoiler: it was a mucky one!
Are you injury/accident prone?
Do you ever run home/to from parkrun to get in some extra miles?