…but not a very good one I'm afraid!
I had a look at the parkrun volunteering rota for Northampton on Friday morning.  I'd established by that point that I would leave parkrun alone last week to help my toe fully recover ready for my upcoming 50 mile race!  On the way into work I realised just how much better my toe felt than it had done though.  I had whacked on some large boots on Thursday evening and headed out for a walk around town before tea and this must have loosened things up a little.
When I was looking on the volunteering rota I was actually really checking to see if the tail runner position had already been filled.  At Northampton, the last runners often take more than 50 minutes, a speed that I felt I would be able to comfortably walk the distance in, perhaps jogging occasionally along at the back.  I still want my 50 parkrun t-shirt!
The tail runner position had already been filled, but they were after a timekeeper for the morning.  I headed to the Northampton parkrun Facebook page to volunteer my services, but somebody had beaten me to it.  

 The photographer role was still up for grabs though, so I decided to stick my name down for that instead.
Have volunteered to be photographer at parkrun this morning. Am possibly more nervous than when I run the event!

— Mary P (@ahealthiermoo) January 9, 2016
The rain poured down throughout the whole drive over to Northampton.  I left early – around 8am, hoping to find a parking spot at the Racecourse easily, but the car infront of me took the last one.  It was OK, I know where all of the parking spots on surrounding roads are.  Many a mad dash from car to start has taken place on a Saturday morning before!
I stood talking to other runners in the rain a little longer than I perhaps should have done before legging it over to my chosen spot on the other side of the park – halfway up the only hill on the course.  I managed to run okay in my boots, despite my broken toe!
I made it just in time before the lead runners came bombing past.  I had been really worried about the lack of light, as the sky was still very dark.  I was worried about missing anyone, cutting vital body parts out of the shots or producing sub standard photos.  I love heading to local races I'm not running in and taking photos of the runners on their way to the finish, but there is no pressure there as I never tell anyone I am going to show up beforehand.  Nobody expects me to be out taking photos or looks for the photos online after finishing the race, as most of the time they dodn't even realise I'm there on the side of the road.
I checked on the camera screen as best I could inbetween runners and the images appeared to be coming out OK thankfully, so I carried on snapping away from my vantage point near the top of the hill.  The rain came in stages, but I had my camera lens tucked inside a plastic bag, with a hole for the end of it to stick out.  Real professional, me! 😉
These guys were wearing a fabulous set of t-shirts!  Front and back!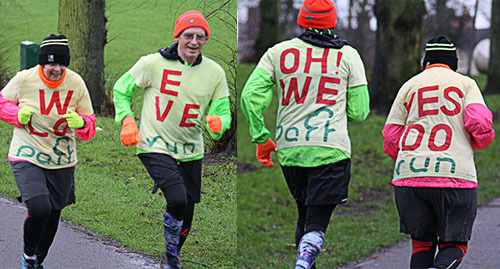 The Northampton parkrun course is run over one and a half laps of the Racecourse so I saw each of the runners twice.  There were a few sparser moments where runners were running with nobody else or very few people around them, and it gave me a chance to play with my shot setups a little, taking a few closeups.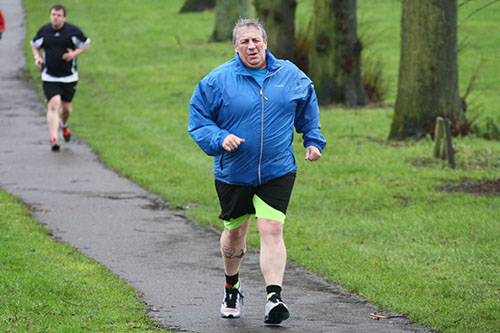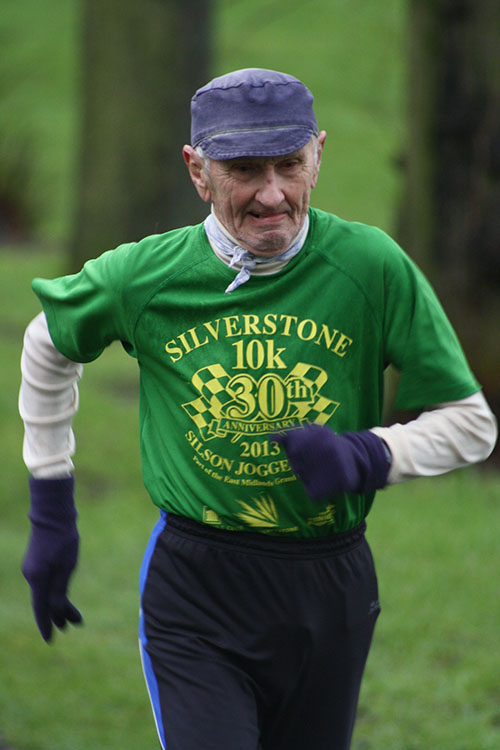 These didn't come out too badly.  Whenever I head to a race to take photos I tend to take shots of individuals, – runners from my running club.  I'm used to hunting out one person from within a group and focusing on taking many shots of that person as they run past.  At parkrun on Saturday I was desperately trying to ensure I got shots of everybody and unfortunately the quality of my photos paid the price for this.  See below as an example.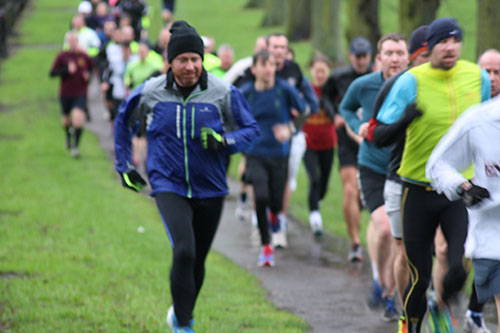 Blurry and unfocused.  I don't know if it was the light, the 300ml lens I had chosen to shoot with, not picking clear subjects, an unsteady, cold hand?  But I was so disappointed to look through the pictures when I returned home again.  I approved 93 out of over 300 photos for uploading.  Good job I took plenty to choose from to begin with!
If you have been reading my blog for any length of time at all you will have come to realise how much of a perfectionist I am and how I like everything I deliver to be absolutely perfect.  I felt rather embarrassed not to be delivering a complete set of photos to the parkrun RD later that day.  Completely irrational as it was something I had volunteered to do.  No-one made me take the photographs, and had I not volunteered to head over with my camera, they wouldn't have had any photos at all!
Northampton parkrun – Hi. I've got 93 photos so far. Shall I expect more to come?
Mary P – I took a couple of hundred photos but to be honest the light was pretty rubbish this morning and along with the rain they didn't make the best shots. I'll try editing some of the others now to see if I can improve them any and then add them to those in the dropbox. I'm rather annoyed at how they came out.

 Sorry.
Northampton parkrun – Sorry? For what exactly?

 Thanks for taking the photos in the first place!
Just let me know when you think you are finished and I will upload them. No rush, and don't overdo it. Remember, you won't get a bonus or anything. lol.


I know, the light can be pretty rubbish, I tend to struggle with it myself when I do it.
Thanks.
Mary P – Thanks. Just didn't want to let anyone down as lots of people seemed to play up for camera today!
Northampton parkrun – I know what you mean, I felt so guilty for every bad photo I had to throw away, but now I think they understand we are not professional photographers – I am certainly not, I assume you aren't either – and they are happy with whatever they get. Also, if you do it a few more times you will get better and better. I did anyway, learned a lot, yet it won't stop me messing it up every now and then. haha.

 Come and do it again next week, I'm sure you will be more pleased with the results! (especially if there is more light. ;))
We struggle to find a photographer more often than not, and the runners love the photos, but I can't do it next week as I am RD.
Mary Pearson – I've added another 39 images to the folder now, although I'm not very happy with the quality.


I can't make next week I'm afraid as I am marshaling at the Country 2 Capital race, but if I could come along to take some photos the week after I would be grateful. I have unfinished business now! I think I might be better off trying the start/finish line rather than trying to get everyone in at once from under the trees where there is no light.
Thank you for your kind words.
Northampton parkrun – That's the spirit!

 (Just how I felt after the first time haha)
Thanks for the photos, I've got a total of 132 now. I'll start uploading them in a few minutes.
Yep, finding the right location is important. I like it near the finish. Runners putting in that last bit of effort tend to make really good photos! I think I'm RD on that week too, so I'll probably see you on the 23rd!
And please, feel free to come any other week, it seems if I'm not doing it (and I can't always, even when I'm not RD) no one does, and the runners love the photos!
Thanks again.
Sometimes all it takes for me to relax and not stress over silly little things is a few kind words from somebody else.  I felt much better after a Facebook chat with the Race Director.
I happened to be on the Northampton parkrun Facebook page this evening and caught sight of all of the comments and likes my photos received…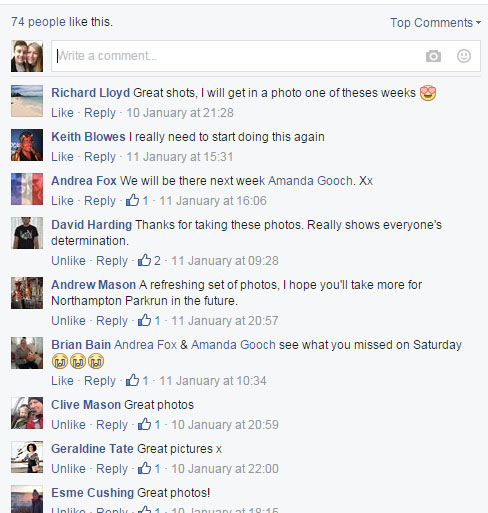 …and I relaxed even more.
The running community is a fabulous one.  The photos weren't my best, but I shall do better next time.  Reading the appreciative messages about the photos (from people who didn't know how much I had stressed!) on the parkrun page was very rewarding. In fact, it made me want to put myself through it all over again next weekend! 😉
I shall be back Northampton, and I will have worked on those photography skills!
Do you take many photos?
Any top photography tips you want to share with me?
Have you ever volunteered to take photos at an event before?
If you have volunteered at parkrun before, what is your favourite role?