Over the past few years I have worked at lots of Go Beyond race events.  Go Beyond put on a wide variety of events, from duathlons to 10ks to ultramarathons.  My absolute favourite of their events to work at though are the ultras.  There's something about the relaxed atmosphere at an ultra…Runners about to head out for 45 or more miles just casually chatting about other upcoming events and greeting other runners that they have met a handful of times already, always at previous similar events.  I often end up learning quite a bit following conversations with ultrarunners who are milling around the race HQ on race day.
Last Saturday I marshaled at the Go Beyond Country to Capital 45 mile race.  It meant a pretty early get up time of just after 4am, as I was due to pick up Laura and her fiancé in Northampton at 5:15am, ready for our 'shift' to begin on the race registration desk at the Shoulder of Mutton pub in Wendover by 6:30am.  It didn't take long before the first runners were headed our way to collect their race packs and we tried to get as many entrants as we could through the process before we were hit with the 'train runners'.  The train runners were those who had traveled down by train to the race start and were then herded to the event HQ by Race Director, Steve Adams in a long and orderly fashion just fifteen minutes before the race began.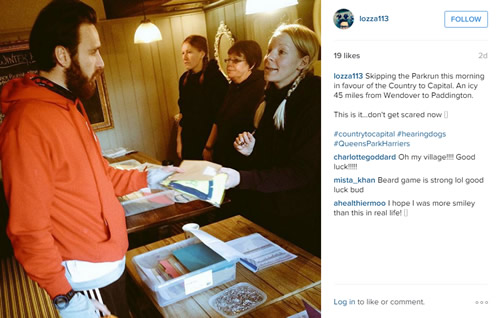 (Picture found on lozza113's Instagram.  I'd like to think I looked much jollier than this in real life though.  Someone please confirm!)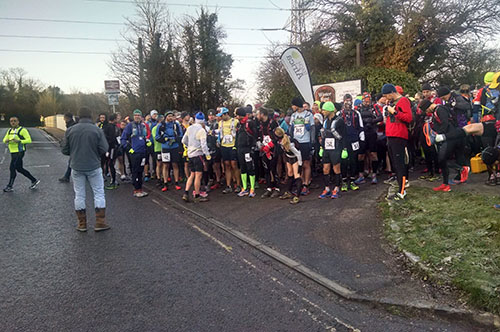 I do love the start of ultra events; runners stood around chatting and at ease – no psyching themselves up and stood in silence like before a 10k.  Most of the runners seem to already know each other from previous events, and I recognised quite a few of them dotted about at the weekend.  Some from events I have run or marshaled at, and some from Twitter and Instagram accounts.  It was nice to finally meet @UltraBoyRuns and @ChilternDiva amongst others, who both came over to chat before the start.  Steve counted down from 10 and then the runners set off.
The front runners sped down the hill outside the pub.  At the bottom of the road runners have to form a single file line to cross a gate, so it is first come, first served and a race to get there to beat the queues!  At the other extreme, some of the back runners walked down the hill and when Laura and I headed inside to clear up the mess left behind by 300 excitable ultrarunners, there were even a couple of runners sauntering out from the toilets, in no real rush to begin the race at all!
Once the pub was looking slightly more respectable again and there were no banana skins in sight, Laura, her fiancé Neil, and I headed to Checkpoint number two ready to set up our post.  It was fairly chilly until the sun came out so we made sure to wrap up warm and stay sat in the car for as long as absolutely possible before we had to get out and set up our station.  Our station was the one before the 'feeding station', so we just had a supply of Gu gels (I'm in love with these at the moment!), jelly babies and the famous Go Beyond fruit cake to hand out to runners.  And many, many bottles of water.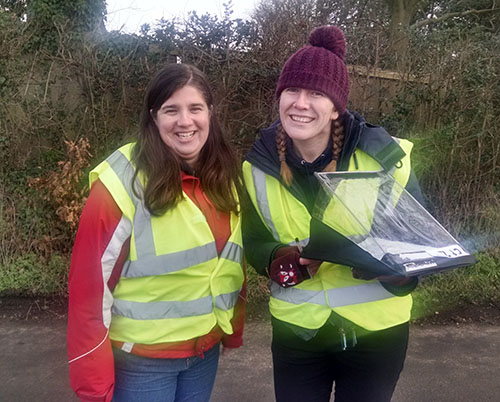 Alongside the three of us were two volunteers who lived nearby.  Neil worked with these two on the table itself – helping runners that stopped by for supplies.  Laura directed people towards the dibbing in stand, set up on the road a few metres before runners reached the supplies table.  As runners ran through, dibbing their chips into the tracking reader, she shouted their race numbers out to me, and I wrote them down alongside their time on my recording sheet.  Although not necessary for results, this process helps us to communicate between marshals at other checkpoints and ensure that we are aware if a runner loses their way or goes missing, potentially before we might otherwise have been alerted to this fact.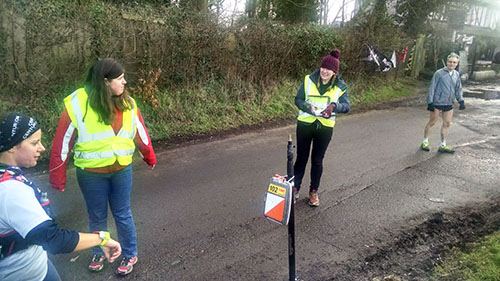 Before the front runner (James Elson from Centurion Running) made his way through our checkpoint we had received a call from the marshal on checkpoint one to let us know the time James had gone through their station, so we were able to prepare ourselves with an approximate arrival time of the front runners.
James Elson actually went on to win the 45 mile event in under five hours.  A time it took me ten attempts to break for a marathon – almost half the distance!
We also received a text when the marshals had broken down the first checkpoint.  The text contained the race numbers of the final few runners that had made their way through the first station so if again, if we were left waiting for just one or two runners, we would be able to potentially identify who they were much quicker.
By mile eighteen at an ultra event the runners have spaced out pretty well and other than the front pack of runners who come through at high speed, (usually without stopping) the rest of the runners trickle through and there is plenty of time to get organised.  For future reference though runners, please don't display your race number on your back.  It's hard to record when a batch of ten runners come through at once!  If you must pin it to your back (surely it's easier to pin to your front where you can see what you are doing?!) then please have it memorised to shout out to us as you pass!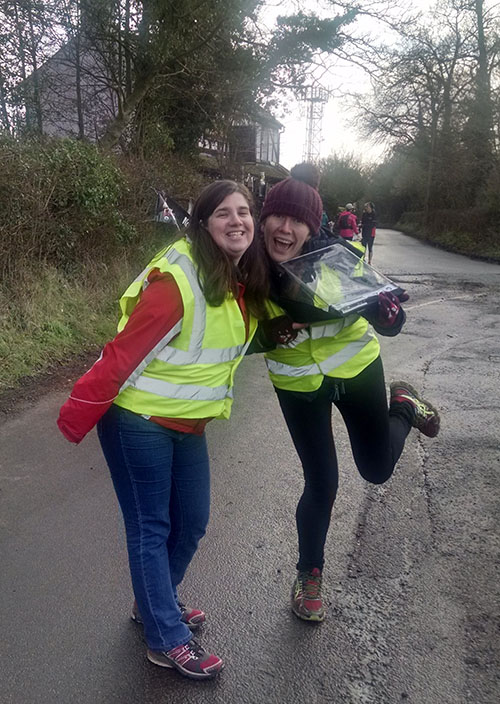 The last runner through our checkpoint came in long before the cutoff times, so we were able to pack up and clear down early.  John and Jo had already arrived with the Go Beyond van to collect our supplies, table and chip dibber, so then we were free to treat ourselves to a burger at the pub that so many of the supporters had already found their way to.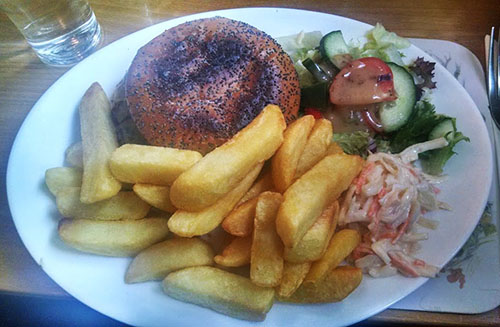 We had left Wendover by mid afternoon and so I was home in plenty of time for tea and to pack my bag ready for a nice snowy trail run the following day, but I'll blog about that in another post now…
On a completely separate matter, A Healthier Moo has been voted as one of the top five blogs in the 'running' category of the Trespass Blog Awards!
Voting is now down to the final five, and the blog in each category with the most votes will win their category, receive a Trespass Prize Pack and access to a range of offers and perks throughout the year so please vote for me!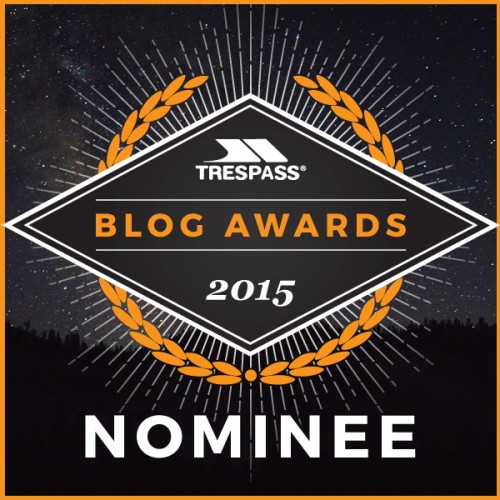 Due to a larger workload from school this term I haven't been able to be quite so active in the blogging community just lately, so it was lovely to receive an email last week informing me that I had been shortlisted for this award.
Are you an early morning riser at the weekend?
Do you prefer office work or working outdoors?