Yesterday morning I returned to Northampton parkrun as a photographer once more.
When I volunteered as photographer for the first time a fortnight ago, I was unhappy with my pictures, and vowed to return to do a better job.
I couldn't make parkrun last week, as I was marshaling the Country to Capital race on the Saturday morning down in Wendover.  Annoyingly I'm very close to claiming my 50th parkrun t-shirt and really wanted to tot some runs up in the early months of this year.  Taking photographs which I was satisfied with was a higher priority this week though!  Although I'm fairly satisfied with the raw photo on my camera this time round, annoyingly once the photos were compressed to be sent over, and then uploaded to Facebook (compressing ever further), the images were much less sharp than the copies I have at home.  Still a learning process, but I will get there!  It is so satisfying to know that on a Saturday afternoon runners are eagerly awaiting the pictures I have taken that morning though.
The attendance record for Northampton parkrun was smashed this weekend, with 410 runners taking part on Saturday morning.  The event usually sees numbers hitting somewhere around the early 300s.  There was also a new course record set this week by Paul Pollock, who ran an incredible 15 minutes and 13 seconds.  The new record set by Paul included a slightly longer distance, as he missed a turning and ended up running past a marshal to take a 100 metre detour in the first half of the course!
I knew the front runners were fast.  The Northampton course consists of one and a half laps, and after standing near to the start so that I could get a few pictures as the run began, I remained in a similar position to try and catch the front runners coming by for their second, slightly shorter lap.  It seemed to be only minutes before I was setting my camera up for the first batch of runners that came through.  There was a guy on a bike 'pacing' the runner in second place, and he shouted ahead to the leading male to 'turn left' as he approached the turn off.  I realised afterwards that this was because Paul had missed the turnoff earlier on.
I stood continuing to take photos of the runners coming through the first lap.  Again, it seemed to only be minutes before I saw the lead runners again, now lapping runners who would probably be about where I would be placing if I had chosen to run that day.  I've never been lapped on the Northampton parkrun course unless I have decided to pace or run with someone else.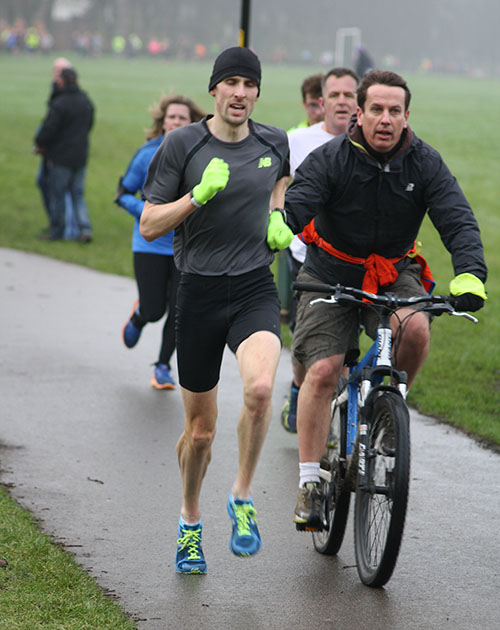 The guy in second position was Andrew Baddeley, the parkrun world record holder.  His 5k parkrun PB was set back in the Summer of 2012 with a time of 13:48!
Once the front runners had come through I rushed closer to the finish to try and capture as many finisher photos as I could as runners headed along the grass towards the finish funnel.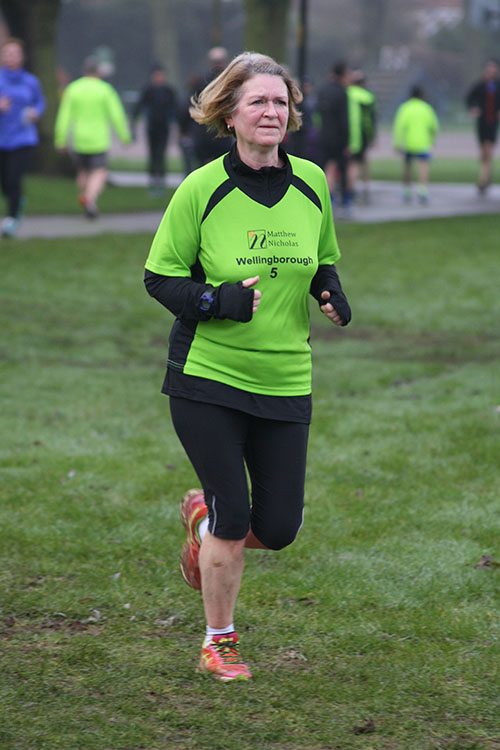 One guy came through in jeans, one child had gone back to drag his Mother over towards the finishing line and another poor kid lost his trainer on the finishing sprint, so nipped back for it before crossing the line.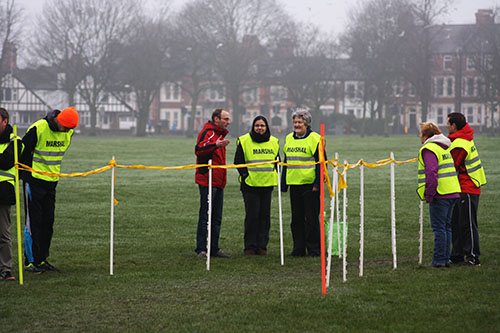 The marshals, as always, were brilliant, and were there until the very last runner had completed the run.
Last week, Northampton parkrun had just one volunteer by the Friday evening.  A panicked message was sent out on social media, and luckily, enough volunteers stepped up to ensure that the event could go ahead.  It's a shame that with so many runners there aren't always enough people willing to give up their time so that the events may continue though.
Next week I am headed back to Norfolk to meet my friend's new baby boy, so I shall be attending Sheringham parkrun once more.  The following week I will be running the Thames Trot 50 mile event down in London.  I couldn't remember if I had mentioned this on the blog before now though?  I haven't really spent a lot of time thinking about it just yet.  Give me another week…!
Looks like my 50 parkrun t-shirt is still a few weeks away…
What is the parkrun course record for your local course?