…If so I definitely had it this week.
It started last Friday afternoon with a really annoying cough.  No matter how much I coughed, I could still feel something in my throat, like there was something permanently lodged in there.  I headed out on a seven mile trail run with a friend in the evening, returning to a slow cooker casserole I'd popped in earlier in the day.  The run was fine, but I couldn't finish my meal at the table and had to keep taking breaks in between mouthfuls whilst lying down on the sofa.  Not the best of signs for a good weekend ahead, and we were due to head up North to Huddersfield to visit our friends Stew and Julie the following morning.
Upon waking on Saturday morning, the cough seemed to have worsened, so I forwent the easy run I had planned before leaving for our trip.  Dan offered to drive the three hour journey, and I took a couple of little snoozes in the passenger seat on the way up there.  (Life is great as passenger!)
The boys had planned to head off to watch the footy (Wolves were playing in Huddersfield last Saturday – the real reason we took our long-overdue trip last weekend!) and so Julie and I headed in to town to paint some pottery, a recent addiction Julie confessed to having!
Initially we had planned to head outdoors to a local nature walk place with our cameras, but as the weather was so poor (it literally rained for our entire visit!) an inside plan was made instead.  I wasn't prepared with an idea for painting, but luckily I could get some signal on my phone in the pottery shop, and turned to Pinterest for some inspiration, settling on painting a watermelon bowl for my breakfasts.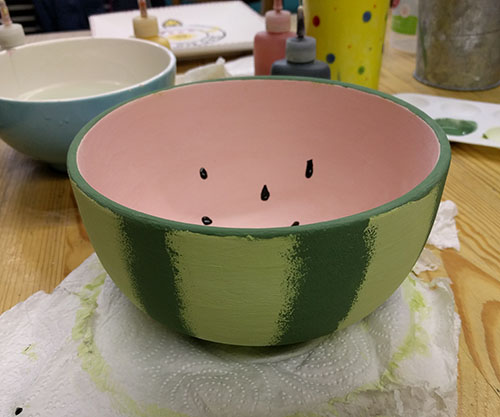 As Julie pointed out, I was all set then for future visits with an orange, kiwi, and every other type of fruit bowl still to be painted!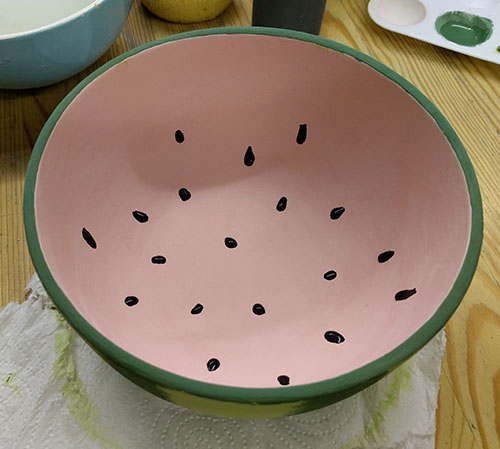 We headed out for dinner to a Mediterranean restaurant in the evening.  It's the first time I've been able to eat three courses in a very long while.  We all left feeling absolutely stuffed though, and I took no photos of the delicious food.  

 Bad blogger!
When I woke up on Sunday I was no longer able to talk.  I'd lost my voice completely.  

 It came back in patches throughout the day though.  Julie already had plans for the day, so Stew had planned a surprise activity for Dan and I, the only clue being that he 'hoped we weren't claustrophobic'!  Luckily, neither of us were, and we were perfectly comfortable travelling down into one of the local mines in the area.  I'm not sure I would have felt quite so comfortable had the activity been crawling through caves though!
Dan and I didn't arrive back to Northamptonshire until late so arranged for a takeaway to be delivered upon our arrival just after 7pm.  Once again though, I had to take small breaks between mouthfuls whilst lying on the sofa.  My energy was wiped and my cough was getting worse.  I dipped in and out of schoolwork whilst lying on the sofa, finally waking at 6am on Monday morning (still on the sofa!) once again with no voice, and feeling absolutely awful.  I didn't go into work and the day was spent dozing in-between episodes of Dexter on Netflix.  I was in a vicious cycle of not having enough energy to head to the kitchen and prepare any food, but food might have given me the energy boost which I needed to get by.
I was feeling marginally better by Tuesday, so made the decision to head back into school on Wednesday.  I was incredibly weak though, and could not stand for very long at all.  I only went back purely to try and build some strength up for parent's evening the following night, where I was in school from 7am until nearly 8pm!
I was very lucky as Bella has looked after me during the days this week, and Dan the nights.  Bella didn't leave my side and kept me entertained with a variety of random positions!
I didn't get any runs in though and eating was a selection of oven-food which Dan threw together for us after work each evening.  I managed to knock back quite a few cartons of orange juice for a Vitamin C hit though.  I'm still not 100%, but I did manage to slot in a parkrun yesterday and a very short, easy run this afternoon.  Being ill all week had really taken it out of me though and even though both runs were incredibly short, I was ready for them to be over by the time I arrived back home again.
My running just isn't going to plan so far this year!
When was the last time you had 'man flu'?!
What do you do to try and aid recovery when you are sick?