Last weekend (not the one just gone, but the one before that) I set out to run the Thames Trot 50m on the Saturday and then the Charnwood Hills fell race on the Sunday morning.  I had initially planned to run the Country to Capital ultra a month earlier, until friends persuaded me to enter the Thames Trot last minute instead.  In the mad booking process I completely forgot about Charnwood falling the following day.  I had just three races booked for 2016 and two of them fell a day after each other.  Whoops!
I didn't end up completing the Thames Trot, pulling after 20 miles at checkpoint 2, but I'll talk about that another day.  This did mean that my legs were still fairly fresh for 14.5 miles of fell running on the Sunday thankfully.  There were several obstacles to get over before ever crossing the start line at Charnwood though…
1. I'd offered to pick Steph up on the way.  I hadn't bothered to check out the route beforehand as it had been such a full on long day down for the Thames Trot the day before.  Instead, I threw my trusty(!) sat nav into the car with the hope that Steph had at least got the postcode ready for when I reached her.  She did, but the sat nav showed us nothing of the new A1-A14-M6 junction, sending us three times in the wrong direction and losing half an hour of pre-race time before we gave up on the loud voice completely.  Eventually we trusted our own navigational voices in our head and got there with a half hour before the gun was due to go off.  Enough time to pee and attach race numbers!
2. As we had arrived perhaps a little later than we had initially planned there were no safety pins left remaining on the front desk.  Steph rummaged around in her kit bag to discover four, which we split between us, but my number was never going to stay put…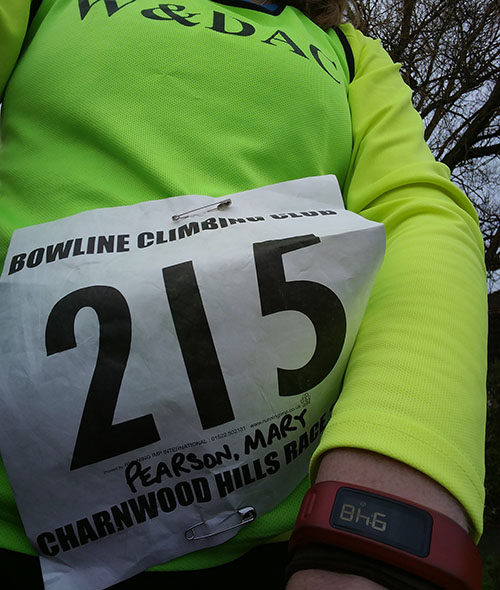 (Also, I never realised quite how wonky it had been at this point!)
Luckily, as we headed through the race HQ a second time, we spotted that the safety pin box had been replenished and we were no longer left to wonder whether our numbers would stay put with just a safety pin top and bottom!
3. Advertised as being just fourteen miles, I knew I wouldn't need my running vest with water and food supplies.  In fact, after arriving home somewhere in the region of 9:30pm the previous evening and being barely able to keep my eyes open, I had never cleared out my vest from the day before so instead, planned on topping up my water levels at each of the water stations and running vest free.  Having not read the race details since months earlier I didn't realise until Steph pointed out that there would be no water on the course at all!  Luckily I had taken on a fair bit of water before leaving that morning.
It was both mine and Steph's first crack at a fell race, having been persuaded to enter by Laura several months earlier.  Laura, unfortunately, was still injured.
The race was a fairly low key event, with just 307 runners in total.  All looked super speedy and serious at the start though.  I never worry about being last at races, but I did consider the fact that I would be coming in within the final few that day.
We kicked off with a lap of the school field before heading down a sharp bank and along a narrow muddy track.  The first few miles were fairly easy.  The course felt fairly flat, and I'm used to running offroad on my weekly runs anyway.
The first looooong drag hill began just after 2.5 miles into the race and lasted for the best part of a mile.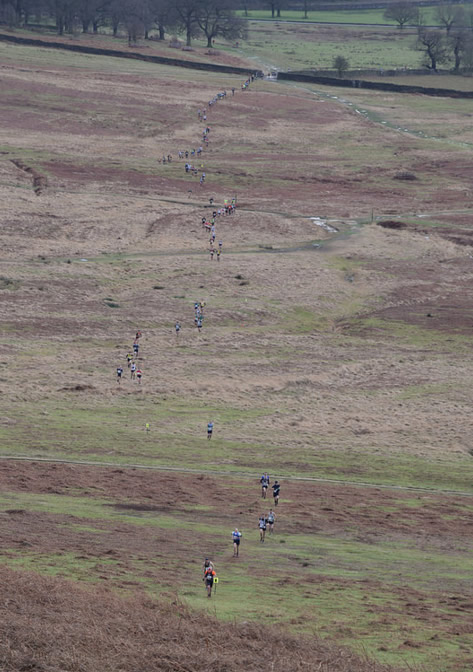 This picture doesn't really do the steepness of the hill justice, as it was very much an out-of-breath-walking climb!
We ran for a fair way up the hill before switching to a power walk, overtaking a couple of slightly slower walkers along the way.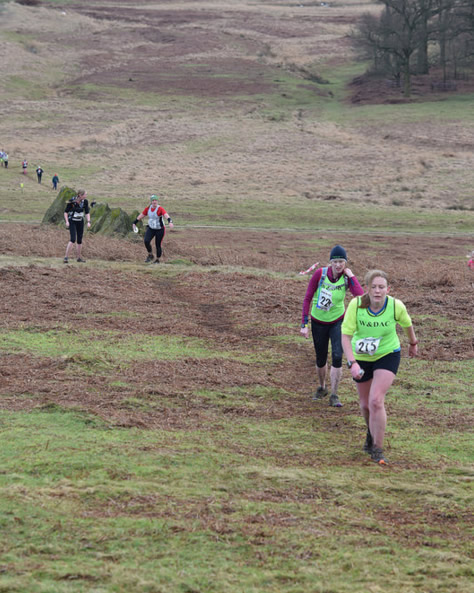 It was a tough climb at the very top, but no tougher than anything I have run before.  We enjoyed the downhill that followed and soon got back into a rhythm again.
Both Steph and I were very much in the mindset of enjoying the race, walking the steepest sections, running the flats and downhills and staying upright through the mud.  Some sections were much muddier than others, and as we were towards the back of the pack were probably much muddier for us by the time we got there than when the front runners had done so.
The final challenge was to leap back up the slippery, muddy bank onto the school playing field again and to run the final 200 metres down through the finish.
Mile splits: 11:35, 11:31, 13:11, 13:58, 12:03, 15:33, 12:47, 10:49, 11:39, 11:19, 17:52, 12:28, 13:37, 15:02, 8:34 (nubbin)
Position: 297/307
Official time: 3:12:03
In total, the race elevation gain was 1,388ft.

I would definitely run the race again.  It seems that the line between fell and trail running is rather blurry but if you want to give a fell race a try, I'd say this was a great beginner event to have a go at.  It filled up ridiculously quickly though.  As in, I'd forgotten that race entries were opening back in November and had nipped out for a post-work run.  I had lots of messages from both Laura and Steph on my return and rushed onto the website to see that all the places had been sold out.  I made it into first place on the reserve list though, and was offered a place earlier this year.
(All pictures taken from the Charnwood Hills race website.)
Have you ever tried any fell/trail races?