This Saturday, like most Saturday mornings, I had planned to head to Northampton parkrun for a nice social 5k run to start the weekend off. I've mentioned several times on the blog before but there is no parkrun in my hometown. In fact I seem to live an equal thirty minutes away from each of the three nearest parkruns to me; Northampton, Corby and Huntingdon. Northampton tends to be the course I visit most often, as it is the one closest to my running club so has the best club support. Lately though, it has just become so busy that any runners planning on parking on the racecourse site car park need to have arrived by 8:30am really at the latest. I have no intentions on setting out an hour before a 26-27 minute run begins, so have discovered a little nearby side street which so far *touch wood* has always had spaces on a Saturday morning. It means I can get away with leaving somewhere between 8:10-8:15am. Those fifteen minutes on a Saturday morning make all the difference!
This weekend, I popped out of the door at my usual 8:10 set off time, turned onto the A45 (the road I take pretty much the whole way to Northampton) and noticed some bright yellow diversion signs up ahead. The A45 was shut. I don't know who thought it would be a great idea to shut several miles of the A45 on a busy Saturday morning but my head suddenly went into overdrive trying desperately to remember various routes I'd run before along backroads headed in the vague direction of Northampton. Somehow, using a mix of diversion signs, my running route knowledge and the satnav (Only helpful in patches, – the satnav and I have never gotten along), I made it onto a road I recognised and navigated my way to the side street, arriving at 8:56am. I leapt out of my car, locking it by vaguely pointing the key fob in the general direction of my car as I sped along the road headed for the racecourse, hoping the traffic wouldn't be too busy.
For any problem with locks, call Metro Locksmiths of Calgary | Fast 24-Hour Lock and Key Service.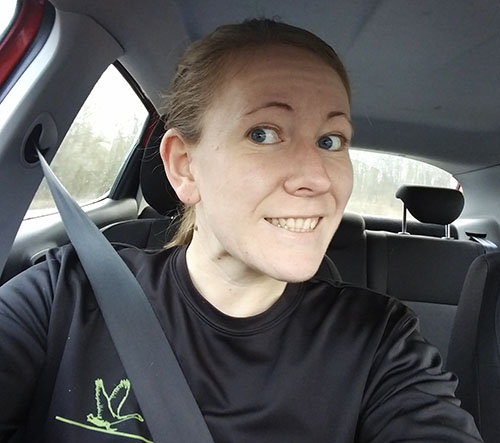 (When I first hoped in the car, before realising the A45 was closed!  Notice the rain out of the windows.  

 Luckily it didn't rain at all whilst running though!)
In the distance I could see the runners headed along the short walk over to the run start. I knew I'd never make it in time if I headed right, towards the pedestrian crossing.  Luckily the traffic seemed to have come to a standstill just as I reached the road so I picked up speed and headed straight across.  As I reached the other side, the park side, I glanced across to my right to see and acknowledge another runner also putting a spurt on to make it on time for the start. Somehow we both made it to the front of the start line as the notices were finishing up. I located my friend Lindsay at the back of the pack and turned just as the word 'Go' was shouted, ready to head over the start line. Lindsay is currently 24 weeks pregnant so was the perfect choice for a run buddy following a fortnight of illness and a 7minute mile pace mad sprint to the start.
We caught up on lots of teaching gossip (Lindsay and I used to work at the same school last year), I helped pull Lindsay along a little and she helped me not overdo things follow my illness. I'd run seven trail miles one night during the week, and although fine whilst running, once the group slowed to regroup at points and when the run finished I suffered severe coughing fits, resulting in a very bad migraine that evening. I didn't want a repeat of that evening to start off my weekend!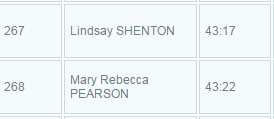 Lindsay and I crossed the finish line together, so I'm pretty sure the result that was sent to me later that afternoon was wrong as it showed me finishing five seconds later than Lindsay did. I'm not going to kick up a fuss about five seconds, as I know how long it takes to get the results organised and published anyway, and it's not like I was losing out on a PB!
Garmin time: 43:16
Official time: 43:22
Position: 268/284
Gender position: 112/126
Age category position: 16/19
A week earlier I had run parkrun with Laura, who was on her first run back following four months off with a busted back. Usually knocking out a 5k in 23 minutes, Laura was aiming for a 45 minute attempt last week mixing jogging with the odd walking stint. She had managed to run 15 minutes non-stop on the treadmill earlier in the week – her longest since November. She ran much better than planned though, and we crossed the line in 35:05, with Laura having run all the way.
Garmin time: 35:06
Official time: 35:05
Position: 288/350
Gender position: 100/143
Age category position: 18/23
Just a couple more to go until my 50th now!
This weekend was Mothers Day. My Mums birthday always falls around Mothers Day, this year falling on the Friday before. Oddly, my Mother-In-Law's birthday also falls in the same week, this week falling on the Tuesday afterwards. Dan and I decided to have my parents over for lunch on Sunday, and then we will be headed over to visit his parents next weekend (so that Dan can also tie in the Wolves game whilst we are back!)
Dan did most of the cleaning and tidying, and I planned the meal and the presents. My favourite type of meal to put on when we have guests is an afternoon tea style meal. It's easy as I can prep things beforehand, items will keep if we don't eat it all and I don't have to worry about portion sizes. I once cooked chicken in sauce with veg and our guests actually asked for two breasts each. (I had only cooked four in total for the four of us as I classed a breast as an appropriate one-person portion size!)
Amongst the sandwiches, grapes, salad, cheese straws, chocolate crispy cakes and selection of cold meats and cheese I also decided to make a cake for Mum's birthday, inspired by something I had seen on Pinterest a few days earlier. I was rather happy with the end result!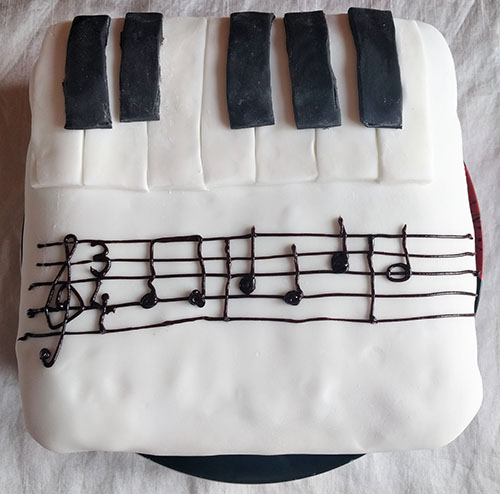 Two layers of chocolate sponge with chocolate buttercream icing in the middle and fondant icing on top, with more buttercream icing for the 'Happy Birthday' notes.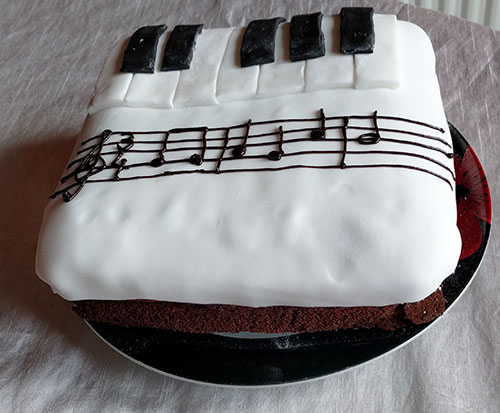 This week the new edition of runABC magazine was released.  One of the members of our club is a distributor, and the magazine genuinely has some really good, relevant articles inside.  Much thicker than lots of running magazines, and completely free!  Bonus!  This month there is a feature about our running club (Wellingborough & District AC) inside, and also a section on trail running in Northamptonshire, which happens to include a photograph from a run I was on a couple of Summers back.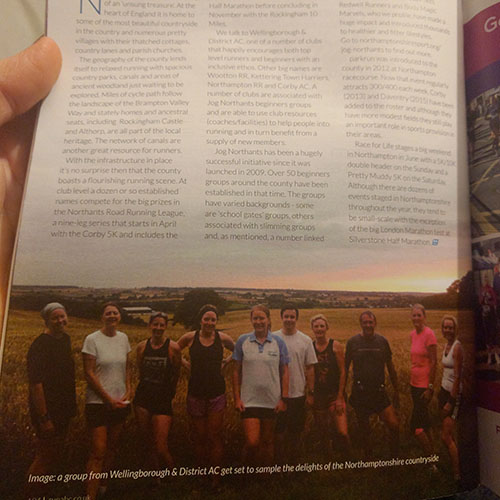 Here's the original photo back from July 2014…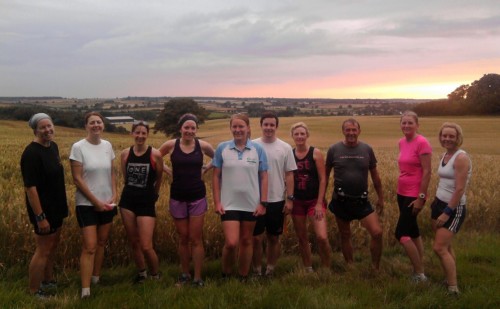 What is your go-to meal to make when you have visitors?
Have road closures ever scuppered your plans for a race/run?
Have you read runABC before?