I'm going to start off by talking about the weather, as it has caused quite a few issues this week.
Like several parts of the UK, East Northants/Cambridgeshire was hit with constant rain all day and all night on Wednesday, resulting in severe flooding in some areas of the county by Thursday morning.  My usual 45 minute journey to work ended up taking two hours on Thursday.  Being stuck in a car on the A14 is not my favourite way to pass the time first thing in the morning!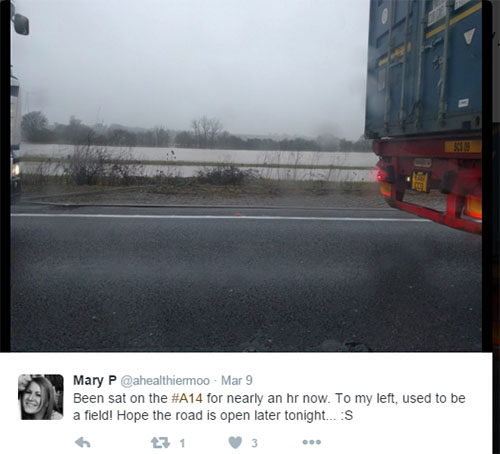 Luckily, I'm on top of my workload at the moment, and all my lessons for the day had already been prepped, otherwise I would have been rather stressed!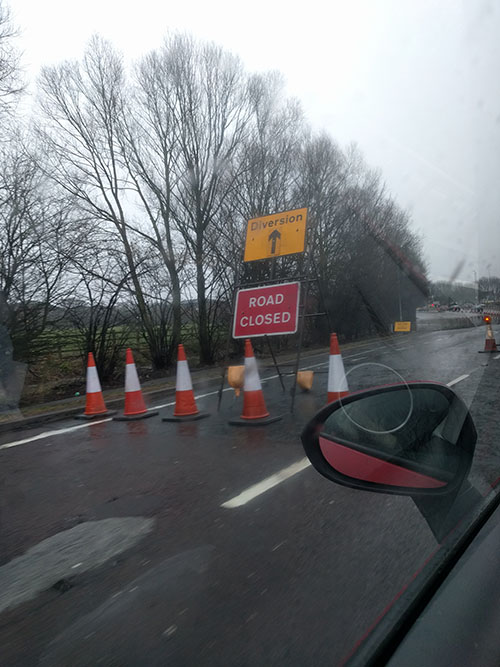 The left hand lane of the dual carriage was closed in several areas of the A14, due to the bad flooding and so traffic was moving incredibly slowly.  Several of the adjoining side roads and alternative routes we might otherwise have taken were closed altogether due to the excess rain that had fallen, making roads impassable.  It wasn't until I had nearly reached school that I realised that the westbound side of the carriageway contained no cars at all and was in fact, shut completely.  That afternoon, I had a hospital appointment booked for 3:30pm.  As Dan and I share a car, I had put in a cover request for the last 30 minutes of my final lesson of the day, and had booked a car rental, with the car rental place due to pick me up from school at 2:30pm, to finish collecting and signing paperwork by 2:45, for the 45 minute journey back again.  When I finally arrived at school, I hurriedly checked the BBC traffic website to discover that the B-road diversion cars were being sent on was in fact a 90 minute journey on a normal day, never mind when every single car, bus and lorry was being told to head in that direction!  Luckily, school had accidentally covered my entire final lesson, instead of only half of it and I was able to move my rental car slot forward by half an hour.  They rushed through the paperwork and by the time I set off, there was barely anything on the road, so I made it in time.  Heading back for parent's evening following my appointment was a different story though, and the journey took me another hour and a half!  I spent a lot of time stuck in the car on Thursday!
Somebody posted this picture on Facebook of the park where our cross-country event is run in the October half term.  The route sees you jump this brook four times, but I wouldn't fancy jumping it at the moment!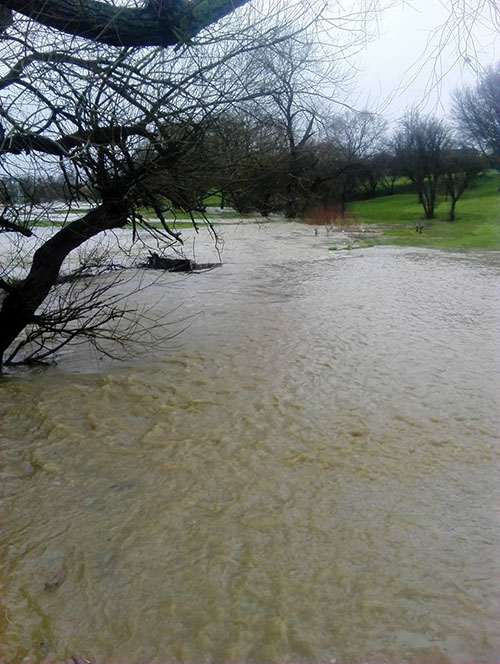 Dan and I were all ready for Friday morning to be a repeat performance of our horrific journey from the day before, but in actual fact the roads were much clearer, despite the fog having settled on the Cambridgeshire border!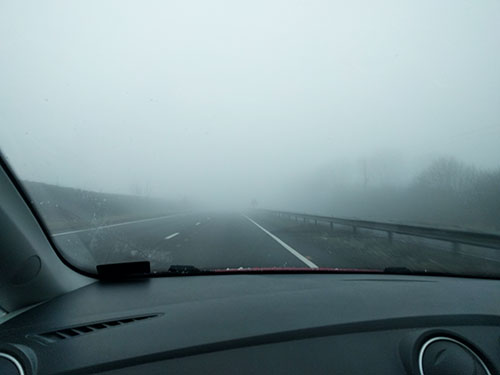 I guess after the previous day everyone had taken Friday off to work at home.  The roads are never this clear!
I went for a little walk after work though, along a route I sometimes run down.  I'm not sure I'm going to be heading through this field any time soon…!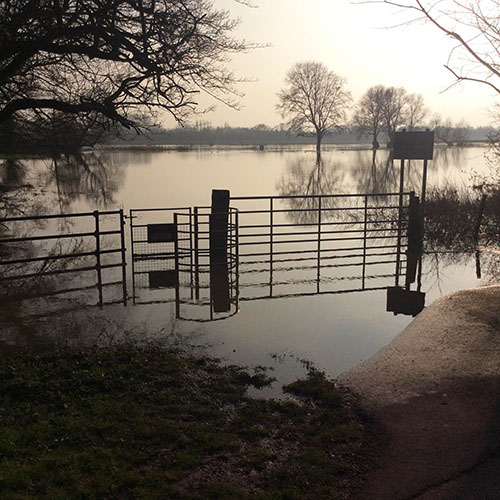 This morning I headed over for another Northampton parkrun.  I'm only a couple away from my 50 now, and had agreed to run another with Laura, who is returning from a back injury.  After my disastrous journey last week, I made sure to leave a little earlier, at 8:05am, – only to discover the A45 was shut yet again this weekend!  The fog was yet to clear and the roads were super busy.  I was never going to make it in time.  I turned into my magic side-street that has never let me down for parking before, but there were no spaces left!  By the time I had found another parking space the clock had already turned to 9:01am and I knew there was no way I would make the start in time.  I jogged down to cross the road before putting a spurt on once I reached the other side, with my average pace beginning with a 7:xx.  It took a while before my Garmin even kicked in.  Does fog affect finding satellites?  Everyone had been set off for at least a good 5 minutes by the time I arrived, and it wasn't until a way after turning the first corner before I finally passed the tail runner.  Realising I should easily catch up with Laura and find my pace then, I settled into an 8:30ish pace, quickly passing large numbers of runners and eventually reaching Laura about a mile and a half into the route.  I could then let myself slow down to slightly faster than 11 min mile pace and get an overdue catch up in along with my run!
I had already decided that I wasn't going to cross the line and take a token.  Although I am desperate to get my 50 parkruns in, and I did run the full distance, it would annoy me that I hadn't set off at the same time as the others, so the stats wouldn't be right and I didn't feel that I could count it.  Stupid A14!
Laura was aiming for a sub 35min parkrun to beat her time from a fortnight ago.  She smashed it, finishing in 33:43 so her next target will now be sub 33 minutes.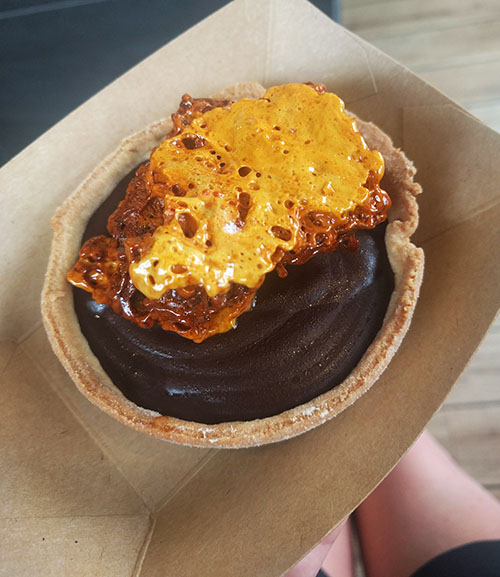 Over a Magee's (hot chocolate and salted caramel tart for me!) I agreed to run the MK 5k race on the Bank Holiday Sunday in May, followed by the half marathon on the Monday with Laura.  I have run the MK marathon three out of the last four years it has been going for, but it is not on my radar for this year.  However, when I discovered that there is an awesome cow medal up for grabs if you run both the 5k on the Sunday and the half or full marathon the following day…and then I realised that Dan is away that week on a stag do, I decided to also get myself a cool medal!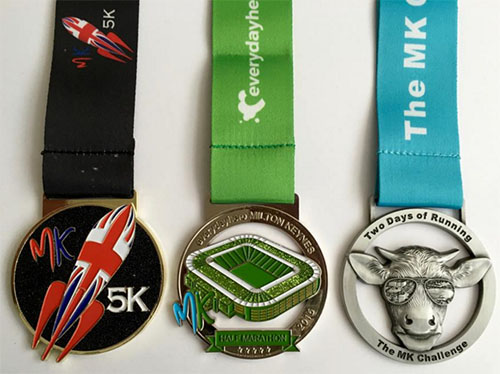 I plan on running the 5k on my own, but will run the half marathon round with Laura on the day, returning the favour from when she ran the last half of the marathon with me last May.
Have you ever entered a race for the medal?
Did the weather cause you any issues this week?