I finally feel like I've started to regain my fitness levels following the really bad batch of flu I had mid-February.  As someone that rarely gets sick and is used to powering through when beginning to feel a little run down, it was such a surreal situation for me to have to call in sick to work for two days in a row.  In fact I had lost my voice almost completely and had been up half of the Sunday night so when I called in to work on the Monday morning somewhere around 5-6am in the morning I struggled to croak out to the school answer phone that it was 'Mary Moore' and that I wouldn't be in that day but would email across cover for my lessons now.  I was finding it really difficult to get much sound out and it wasn't until I was about to end the phone call that I realised in my ill and half-with-it state that I had given my maiden name instead of my married name, despite having been married for eighteen months now.  When I headed back into work on the Wednesday the cover office told me that they had barely been able to make out my voicemail message but had heard the name at the start so sent cover for a teacher called Miss Moore  (in a different department) instead!  Whoops!
Anyway, despite having been back for three full weeks now my energy levels have struggled to return and I was left feeing pretty run down.  My cough was so bad for the first fortnight that the one or two runs I did head out on were followed by severe coughing fits so bad that I had to head straight to bed on my return home as I gave myself such a bad headache from coughing.  There have been several nights when I've been in bed by 9-9:30pm and my usual 4:15am alarm has been swapped to 5:30am so all school work has been completed in the evening instead of some getting crossed off before school begins.  I haven't had the energy to fit in many runs or felt creative enough to get much writing in either and I've struggled to concentrate to read much online at all.  

Like I said though, I'm finally beginning to feel more on top of things again.  It has been nice to tick off a few more parkruns over the past couple of weeks and not have the pressure of time at them, knowing that I wasn't 100%.
Last week I decided to head to Peterborough parkrun for a change.  I needed to nip into Peterborough to see a friend whose birthday it had been during the week and really didn't fancy a third week in a row of getting stuck in roadworks on the way to the Northampton parkrun.
It's been a while since I have been to the Peterborough parkrun and for the first time they were operating a new charge to park at Ferry Meadows – the parkrun venue.  The parkrun team had done a good job of negotiating a discount for parkrunners with the car park team but it was still a bit off-putting to have to pay for parking at a parkrun, although I can understand why it is necessary in some places.  Still, I would prefer if the money, or some of the money went to maintaining parkrun.  The Race Director made sure to explain how runners could access the discounted prices by entering a parkrun discount code when paying for the parking at the end of the run and it ended up costing runners just £1 to park in the car park that day.
We headed down to the start of the run on time and I moved myself closer to the back than I would normally place myself, aware that having been ill for so long my times would not be up to my usual standard.  When we began though it actually took 22 seconds for me to cross the start line!  Even after I crossed the line the route was so tightly packed of runners that I struggled to get past anyone or extend my usually quite long stride.
It took until my second lap of the park before I felt I could really stretch my legs out a little.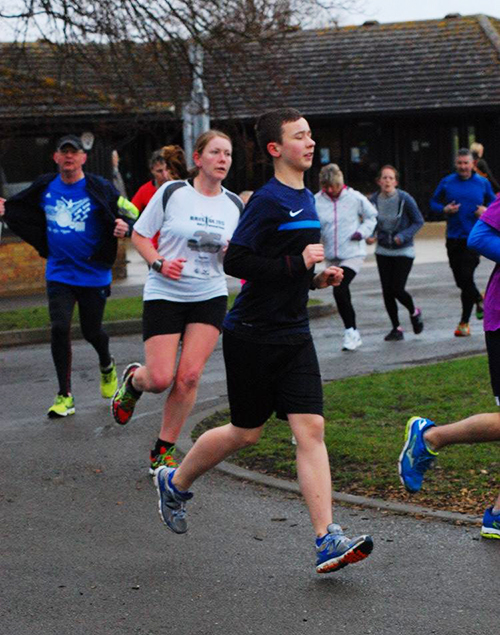 And even then it was still fairly crowded.  The second lap went by marginally faster, probably because I wasn't having to force such a choppy stride and dodge in and out of other runners as much as I had been.
When I headed up the slight incline that leads through to the finish funnel I decided to push it a bit and gave a sprint finish, but my lungs, head and chest regretted it as soon as I crossed the line.  The hard finish caused me to cough violently making both my head and chest pound for several minutes before calming down.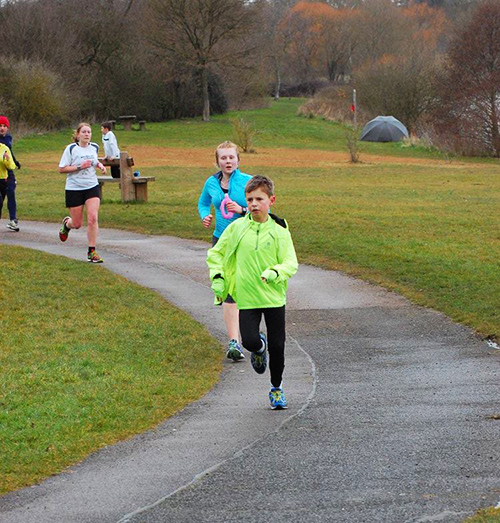 Annoyingly, when I checked my watch I hadn't even hit the 30 minute mark, finishing slightly over.
Garmin time: 30:12 (over 3.22m)
Official time: 30:15
Position: 257/426
Gender position: 72/189
Age category position: 13/29
There were 426 runners at Peterborough parkrun last week which I thought was quite a lot, but as I was listing all the parkrun results on my running club website on Monday afternoon I checked how many had run at Bushy parkrun, as one of our runners had made his way there for a bit of tourism. – 1060 runners!  That is insane.  Apparently the highest number of runners they have ever had is 1705!
I have felt rather envious of everyone out completing their 20 milers over the past couple of weeks but my body won't be ready for a marathon this Spring now.  I did spend a spare twenty minutes earlier in the week logging all of my marathon and ultras to date onto the 100 Marathon Club application form ready for the day (way in the future!) when I apply though!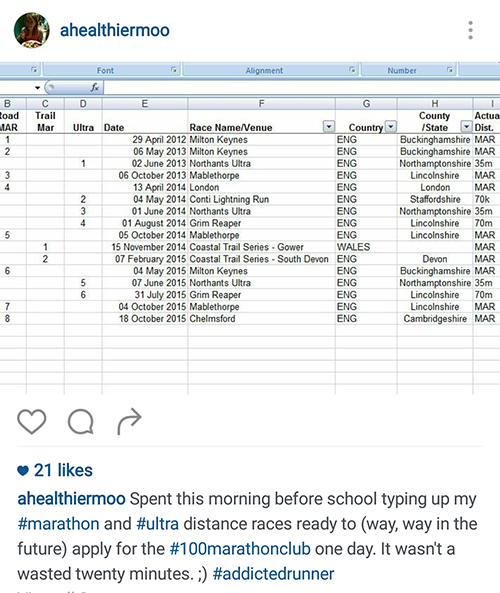 What is the longest distance you are running at the moment?
How far has being ill put your training back in the past?