Erm yep, I am aware that we are infact in March now, and will be entering April in just a few days.  This draft post has been sat on my computer since the start of the year though and I did make a few little purchases right back at the start of 2016 that I planned on sharing with the blog world.
I have never been a massive sale shopper, even when I was younger.  There might have been a few years as a teenager when I rummaged around the shops along the high street in Norwich, but I've never really been one for spending hours sliding top after top along the sale rail until I found something that worked out to be vaguely a bargain, and was something I would probably wear only the once.
Even if I did 'waste' my money on that one wear top, it would never have come to more than a few pounds at a time that I was throwing into the high street pocket.  Fast forward a few years to now and January sales shopping has suddenly become a whole lot more expensive as an adult.  You know all those boring couch adverts that pop up in-between the Christmas shows on Boxing Day morning?  (Or over the last few years seem to have even crept in on Christmas Day evening?!)  Well, turns out that adult-Mary sees those sales as much more interesting now since buying a larger house and still needing to kit out a large portion of it!
…January sale sofa shopping is way more expensive than January sale clothes shopping!
I treated myself a lot in the first month of 2016, and for somebody who often finds it hard to part with their cash, it was a little worrying how quickly a chunk of my savings pot disappeared during those first few weeks!
For the house:
A new bed for our back spare room
(This is an image of it in the shop, we're yet to complete this room in our house, although the bed is up in the back of the room now, the room still needs a lot of work doing to it.)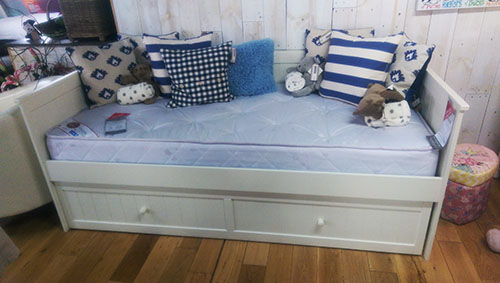 The 'drawers' under the bed are actually a pull-out single bed so that we can have more people stay over when it gets to Summer BBQ season.  Our back spare room is actually one of the largest in the house and we ummed and ahhhed for quite a while trying to decide between a double and a single or something different, before both falling in love with this solution.  We also got a large mirror to match which still needs to go up behind the bed in the room.
A new bed, bedside tables and chest of drawers for our bedroom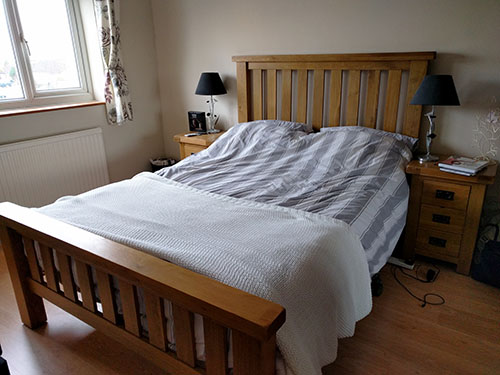 Dan and I spent a few days towards the end of the Christmas holidays painting out and putting up the furniture and curtains in our bedroom.  Eventually we will have carpet in our room, but we're waiting until the rest of our house is complete before laying any new carpet down on the floors.  This is probably our most complete room in the house, despite still needing carpet, skirting, coving and the ceiling to be skimmed!
Running:
Ultimate Direction PB Vest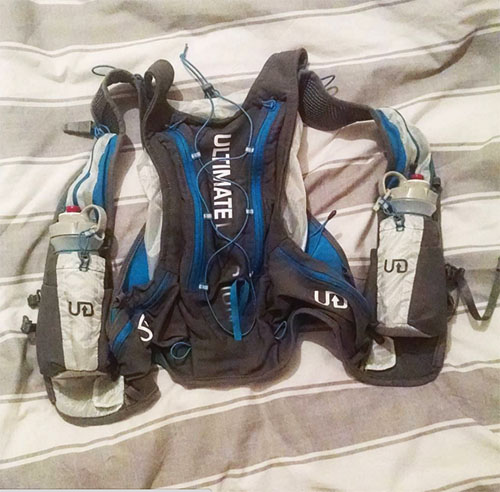 I'd been on the lookout for a new running vest for a while and this one came recommended to me by a friend following the Gower Marathon back in November.  Although pricey (just over £100) it has so far been worth every penny and I managed to get quite a bit of use out of it on long runs and at events at the start of the year.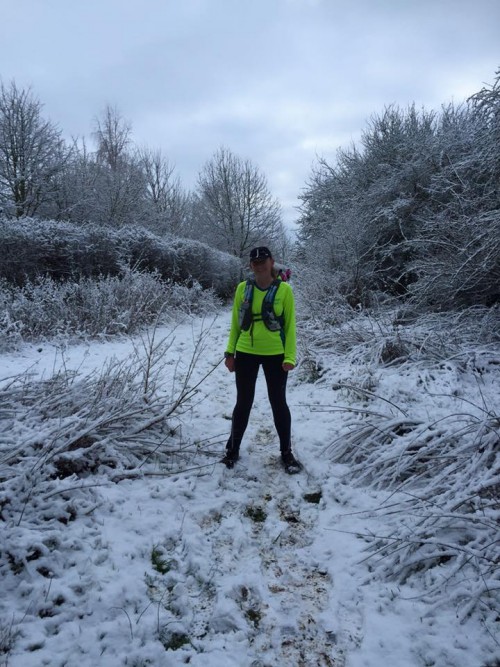 My main issue when running long distance had been that I always carried my water bottle by hand previously.  I'm not a big fan of using bladders in bags as I like to know how much water I have remaining at all times on a run.  The two front pockets which came with water bottles suit me perfectly in this vest and there is a multitude of different zip and tie pockets all around the vest in various sizes so that I can hide away my money, phone, waterproof and food essentials!  There are quite a few front facing pockets which is really handy for when I am in a race and don't want to have to lug my back off my back every time I want a handful of pretzels!  The bag sits snugly on my back and is yet to move at all whilst out on a run so rubbing is not an issue.
Another pair of Asics Nimbus 16s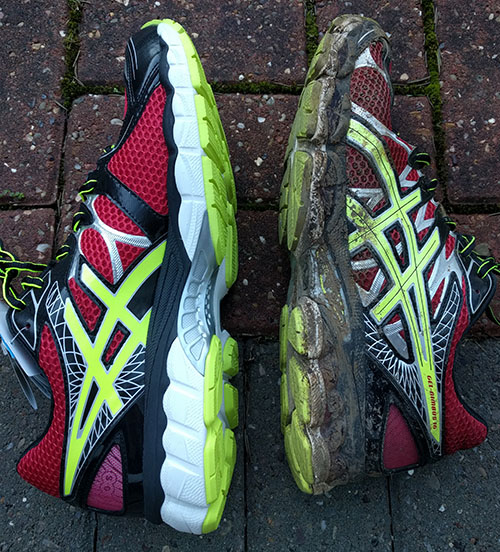 I got two emails over Christmas from Strava to say that two of the pairs of trainers I was running in had reached the 500 mile guideline of miles that means they should become everyday household trainers rather than ones used for running.
There is something about fresh new road shoes and I love the feeling of 'springing' along the road.  It often takes a new pair of road shoes to realise just how old and worn out my old trainers were and I'm very glad of my snug and super comfy Asics.  I am very much an Asics girl and I'm not sure I'd even look at another brand of trainer now following how well my feet seem to get on with my previous pairs of Asics shoes.
Weights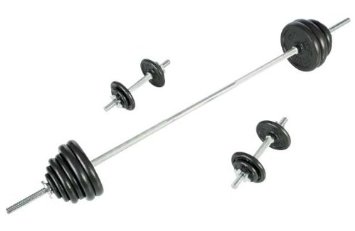 One of the parts of running I always neglect is strength work.  Because Dan and I share lifts into work it means I arrive at my school rather early each morning (I leave home at 6:20 to arrive around 7am).  Although I currently spend this time working on school work I did look into the cost and practicality of using the attached gym before work in the mornings, but I felt that to be gymed, showered, changed and back in my form room by 8:15 might leave me in a bit of a panic so I decided against it for the time being.  Instead, purchasing a set of dumbbell weights for use at home.  I bought these just as I got sick so I haven't made much use of them yet, although I already know that I shall get more use out of the money spent than one month of gym membership!
The terrible and wonderful reasons why I run long distances book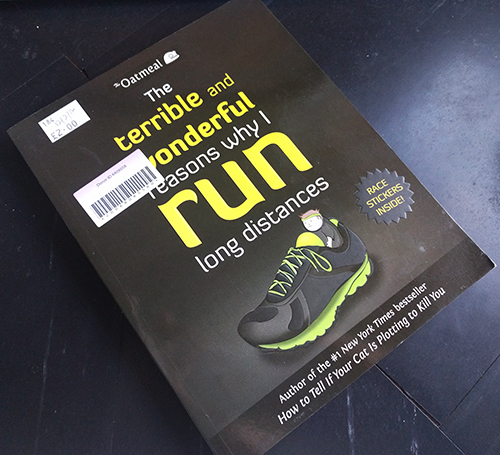 I spent half term continuing to go in to school as I had so much work to do before year 11 exam season began.  Annoyingly, the school was locked up at 3pm each day though, so each afternoon whilst I waited for Dan to pick me up at 5 I wandered into town, popped into Costa and browsed some of the (very few) shops in the town.  I did spot this book in a charity shop for £2 and it made me laugh quite a few of the afternoons whilst I was waiting for my lift!
Probably best read once you are already a runner though, otherwise you might be put off from our sport!
Other:
Nexus 5x phone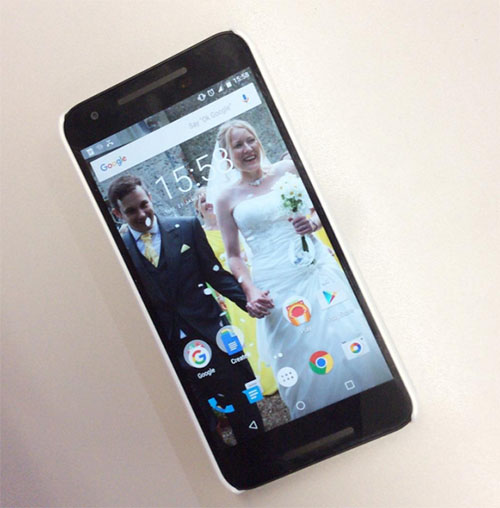 I am awful at dropping my phone!  On our wedding anniversary last year my phone managed to launch itself from my dressing gown pocket and onto the hard tiles in our kitchen, smashing the front screen.  In February I was finally due an upgrade and so went with the Nexus 5x.  I love it and it does everything I need my phone to do.  Dan managed to swing me an amazing contract for £23 with unlimited minutes, unlimited texts and 2G of data which I never go over.  Before I was always going over my call and data allowance and ending up with charges on top of my monthly bill.  The few apps I had downloaded onto my last phone took up most of the space and meant that on a daily basis I was having to delete texts and photos just to try and fit everything on, but I've had no complaints at all in the last couple of months with my Nexus.
What big purchases have you made this year?  Find any bargains or cant-live-withouts?
Are you a sales shopper?