Sunday was of course, London marathon day.  Even my non-running friends knew what was taking place down in London at the weekend.
I headed down to support in person for the first time last year and loved the atmosphere and excitement of hunting people out in the crowds of runners.  Last year I headed down on the bus with Tom who had got himself a place in the ballot, and his sister.  This year, Tom decided that he wanted to see what the atmosphere was like from the other side of the barrier.  So, along with Kev, we caught an early train down from Wellingborough to St Pancras on Sunday morning.
Dan has always been the one to organise our travel.  In fact, when I went down to support last year he printed off maps, wrote down train times and highlighted tube lines for me beforehand!  This year I was on my own when it came to navigation.  Especially when both Tom and Kev confessed beforehand to not knowing how to book train tickets online and asking if I would book for the three of us!  I literally checked the date and times on the tickets repeatedly for days to make sure I hadn't gotten anything wrong.  Luckily, we made it to London just as the wheelchairs were then setting off, so still with lots of time to spare to get to Tower Bridge, our first vantage point.
Tom and I split off from Kev here, who had decided to head straight towards the finish line.  We did point out that he would be enduring rather a long wait before he saw the first runners coming through!
So Tom and I caught the tube down to Tower Hill and then had to ask a policeman for directions to the bridge!  (I know…I just don't visit London very often.  I don't know where anything is!)  We arrived just as the wheelchairs were coming through, and headed a little way down the turning on the far side of the road to secure our spot before the elites made their way past.
When you see the elites go through it seems as though they are not going that fast to begin with.  Then you glance at their leg turnover, see how long their stride is, realise that they are ticking off every mile in less than five minutes…I could never even run one mile in that time, never mind continuously for 26 and a bit of them!
It's generally fairly easy to spot our club runners at races as our luminous green vest can usually be picked out from a distance.  At London, with such a variety of charity vests and other tops, it is much, much harder to recognise our club vests in time though.
Last year I took just one photo of our runners out on the course.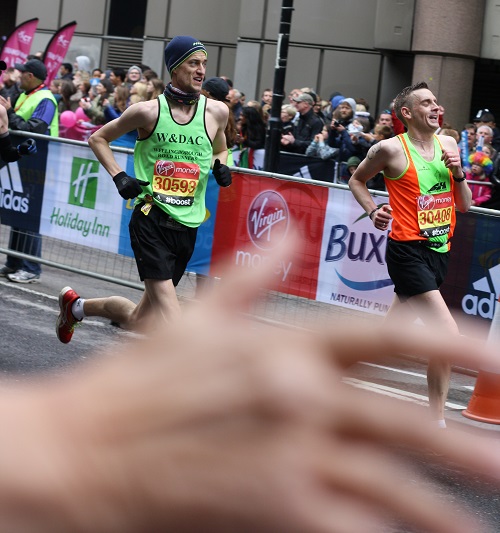 Jon is a sub three hour marathon runner and a good head height above most others, so even easier to spot than most.  Even then, I only just managed to get this one shot of him, with a supporter's hand in the way.  As the volume of runners increased, it became impossible to take any more photos.  It was tough enough spotting runners before they reached us in time to shout encouragement out as they passed.  Therefore, I decided that this year I wouldn't bother taking my camera and just concentrated on the cheering instead.
Tom and me were a good team though, and between us we managed to spot everybody from our list who had been wearing a Welly green vest and some of our club who were out running in their charity tops as well.  We definitely would not be able to spot as many as we did had it not been for the tracking system on the marathon website though.  Apparently the actual tracking app is only available for Apple users, but I heard several reports about it not really being very reliable both last year and this.
We stayed at the bridge for about two hours before heading back down onto the underground and popping back out again at St James's Park.  We knew by this point (thanks to Twitter!) that the men's race had been won in an almost world record time and I was eager to see find out how close it had been in the final stages.  As they had passed back in front of us at mile 18 on the course the front two runners were a long, long way ahead of the rest of the pack.
Kev was waiting for us by the '600m to the finish' sign.  We heard him before we saw him.  Tom and I arrived in time to see the first of our runners go through, who then went on to run a 2:56:44.  Jon went by a few minutes later, another one of the guys from our club and then our first lady, Kelly, went by to finish in 3:12:42 for her marathon debut.  What a time!  She even ran a portion of the race with Dame Kelly Holmes, so made it onto TV for a few seconds as well.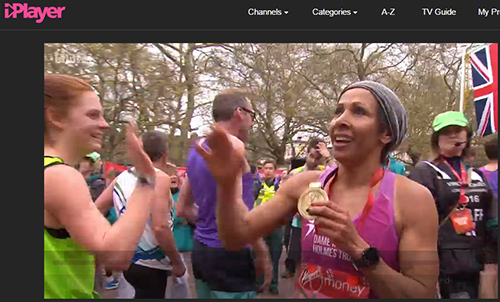 After Kelly came through it became more and more difficult to scan the crowds for our runners and we relied more and more on the website tracking to help us predict when runners would be coming through.  The crowd were amazing and so supportive of the runners out on the course.  Every time a runner slowed or broke into a walk, the crowd became deafening, urging them to continue for the final 600 metres of the race.
One older guy dropped down just infront of us with really bad cramp.  Immediately, another runner pulled over and without even exchanging words picked the guy's leg up, pushing into it with his palm to try and relieve the pain.  He remained with him until two people near to us on the supporting side jumped the barrier and took over so that the selfless man could continue with his own race.  There were several runners who had teamed up to offer support either side of runners with failing legs and one guy was even picked up and carried in a fireman's lift when his legs gave way completely.  It was amazing watching all of the fast runners storm past on their way to the finish line, but it was so humbling to see so many selfless people stop to check on the wellbeing of other runners so close to the end of their own race.
The weather just started to turn as the last of our runners came in to the finish and we felt a few drops of rain.  Time for pizza and to head home.  It's pretty knackering supporting all day!  😉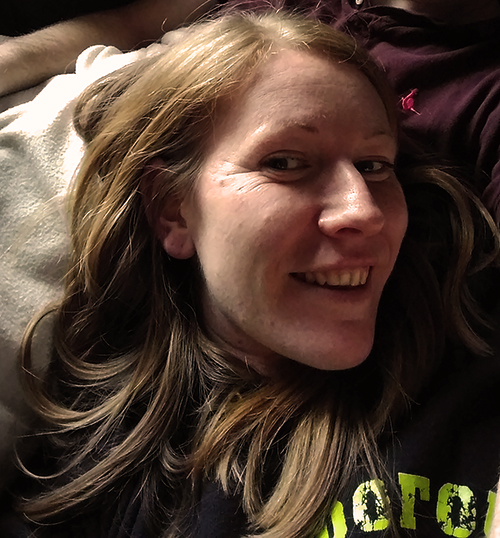 Now to spend the next few evenings catching up on the TV coverage through iPlayer…
Did you watch the London marathon this year?
If you attend a televised event, do you still turn around and watch it on TV afterwards?