So as a teacher I get two weeks off for Easter.  Dan also had the first of my two weeks off, and so I decided to take a complete break from work for that week.  This week I'm slotting in a class of coursework marking each day (about 5-6 hours worth).  Broken down into little doses helps to make me feel like I'm still on top of things!
It was lovely to have a complete week without work last week though.  It gave me lots of opportunities to run, blog, catch up with friends and spend time with Dan.  It feels very unnatural to allow myself to put work completely out of mind for a while, but I enjoyed it!  I'm already looking forward to later this year when my workload will be decreasing immensely.  More to come on that soon!
Anyway, last Saturday was parkrun #49.  50th one coming up next weekend!
As has become the norm recently, I ran with Laura around the Northampton course.  For a change though last week Dan joined us, although ran slightly ahead of Laura and I.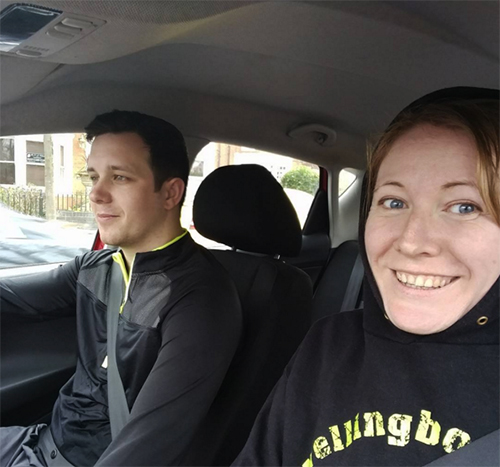 It was chilly when we arrived so hoodies stayed on until the last possible minute, before tossing them under the tree.
It has been really nice running at a casual chatty pace for the past few parkruns.  Although the pace was still easy on Saturday it felt like something was really pushing down at the base of my stomach which made it a little uncomfortable for the first couple of miles.  I carried on running and chatting though and the uncomfortable feeling had eased by the end.
Dan had had no real aim for the parkrun, having not run one since last Summer.  He ended up trotting round in 30:59, slightly ahead of Laura and I.
Official time: 32:36
Position: 288/383
Gender position: 86/149
Age grading position: 13/22
I am really missing the build up for marathon race day this year.  Since starting running in the Summer of 2011 this will be the first Spring where I'm not running a marathon and it feels really surreal to still be reading statuses from friends about how their 20 mile runs are going.  I do have London marathon spectating to look forward to in a fortnight though which I'm so excited about.  The atmosphere at that race is like no other and the London Marathon theme music really gives me the chills.
As well as having last week off, Dan had also booked the Tuesday of this week off so that we could go and watch the Wolves game in Milton Keynes stadium.  Not really my thing, but as Dan pointed out, I have been to several games now, you could almost class me as a fan!  I even wore my Wolves top for the game!
After I had got a little work done in the morning, and we had demolished some sandwiches for lunch, we drove over to Milton Keynes to have a little look around a couple of the shops.  We also headed over to Bletchley Park for a couple of hours as it was somewhere that Dan wanted to visit.  There was a lot of reading required and I was feeling quite tired by the end of the time there.  The admission price is actually for a pass for the full year though, so perhaps we shall visit again in the Summer.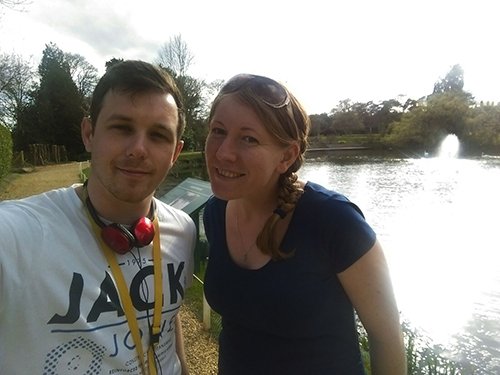 As we're still hunting for a few pieces of furniture we then finished up in Ikea, sampling their famous meatballs for tea.  We didn't make any purchases, as we had already parked up by the football ground, walking over to Ikea, but Dan now has a list of things to buy next time he heads back home to Wolverhampton past the Wednesbury store.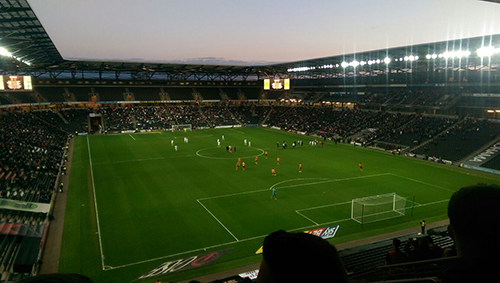 It was very odd sitting up in the tiered seating at MK Dons.  I've visited several times before, all to run in or support at the marathon though.  We ended up behind a bunch of proper loud, gobby teenagers who decided to stand and shout for the entire match, meaning that we also had to stand in order to see any of the game.  My legs were exhausted by the time we headed for home a few hours later.  Standing up all day is a lot more tiring on the legs than it is running all day! 😛
In food news, I am LOVING watermelon right now.  Good job, as I bought this GIANT watermelon from Tesco the other day without really thinking about how long it would take to get through.  Dan won't touch watermelon so I'm in this one on my own.  I started on Tuesday and I'm still going strong at the moment!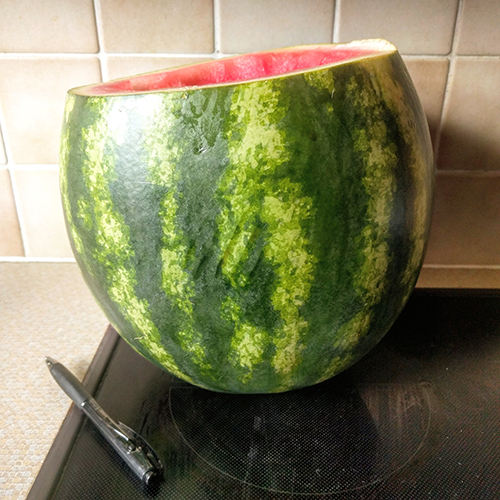 (The pen is there as a size comparison!)
I think it's something about the warmer weather and knowing that Summer is on the way.  Having said that though, I've recently gone back to my beloved porridge bowls in the morning.  I'd gone off porridge for most of the Winter, and all of a sudden it's back on my radar again.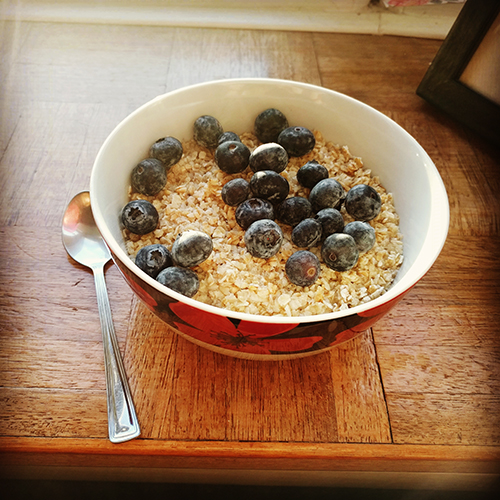 Are you a football fan?
Did you do anything special to mark your 50th parkrun?
Do you eat differently during the Summer/Winter?