It feels like so long ago now, but I still owe a race report from the Thames Trot 50, which took place right back at the start of February.  I'll do my best to remember the happenings of the day…
Several of our running club had signed up to run the event and so a minibus was booked and a very early pre-race breakfast was had before I jumped into the car with Tom, who had agreed to pick up me, along with another couple of runners along the way to our minibus pickup point.
The lack of sleep and not knowing where the next runner on our stop-off list lived caused for some early morning entertainment.  When we headed over to pick up Amy, all house numbers seemed to be dowsed in darkness at that time in the morning.  Tom had me out of the car and running up and down the street looking for the right house whilst he crawled slowly alongside me in the car.  As I neared the doors of houses, security lights would kick in, I'd realise that we were still outside the wrong building and leg it before dogs began barking and people began questioning why we were slowly disrupting every house on the street at such an ungodly hour!  Luckily we found the correct house in the end, stopped to pick up one final runner and then made our way over to Wellingborough where the minibus and other eight runners were ready and waiting.
Our little group were some of the first to arrive at race HQ and we had plenty of time to get ready.  Therefore I just sat and chilled and received quite a lot of stick for still not having changed into my race gear or even started to get ready until about 30 minutes before the race was due to start.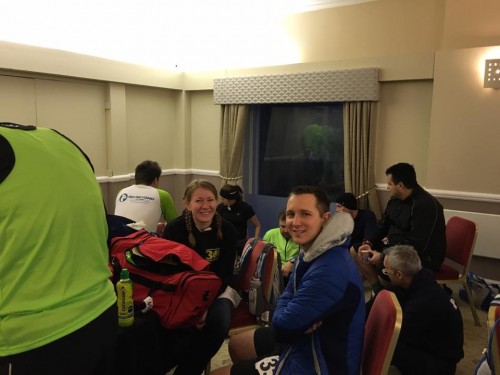 Not only did we have a large number from our club running the event but as the event is organised by Go Beyond, of which the Race Director is also a member of our club, we had large numbers of our members out marshaling the race at checkpoints as well, busy taking our photograph at every available opportunity!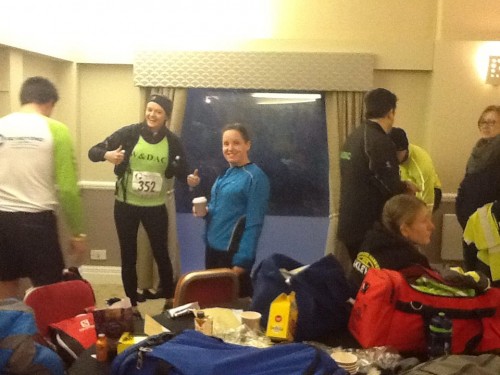 Finally, when it seemed like everybody else had already begun to vacate the hall I decided it was time to get ready so headed for the loos.  Which, by the way, were the poshest loos I have ever seen at a race.  They were the sort which contained free samples of smellies and small towels for you to dry your hands on before throwing into a wash basket.  Much classier than the pre-race portaloos I've come to expect as a runner!
We managed to get a pre-race photo of our club runners inbetween loo trips and on our way to the start line (just outside the race HQ, but you'd be surprised how many times we turned around to find someone missing from the lineup!)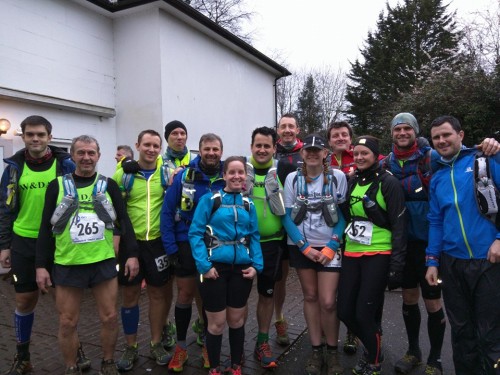 Ten guys, three ladies and a lot of food between us.  This was the first race where I wore my Ultimate Direction PB vest and I can confirm that there was plenty of room for lots of sneaky snacks to be tucked away in there…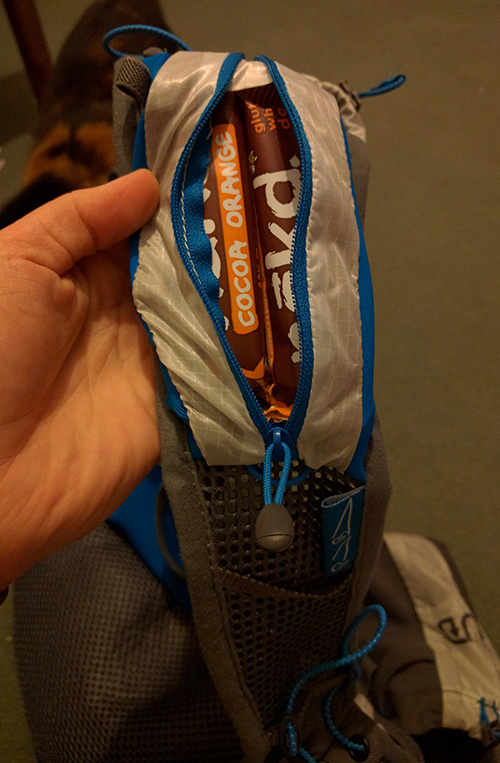 The start was gentle and did not prepare us for what was to come.  We sped off along the road before all getting caught in a queue to cross the bridge over the water.  This part was easy.  About half of the first mile had been downhill and on road.  I was busy chatting to those around me.
My initial planned race for the Winter had been the Country to Capital 45m race back in January.  On Kev's advice though, I changed my plans to run the Thames Trot 50m instead.  He was convinced that I would find the long, straight canal path of C2C dull and get fed up with the race early on.  Both races have a cut-off time of 11 hours.  For Country to Capital, 11 hours is 14:40 minute miling and on a fairly solid and flat course for the second half of the race.  I could almost power walk the distance at that speed.  Anything around the 15mm mark is comfortable territory and would not concern me too much before a race.  At Thames Trot however, the cut-off times remain the same, but with an extra five miles to run, working on 13 minute miling and not a lot of give for getting lost or stopping at aid stations.
But…there was a large crowd of us and we all set out together with lots of banter.  Knowing that I don't race well in large groups I had purposefully made it clear that nobody was to wait for me if I got left behind and that if I kept going it was only to remain consistent when others stopped for food.
The mud was horrific as soon as we crossed the water.  I was in a pair of old trusty trail shoes, so felt fairly comfortable sticking to the less tacky edges without fear of slipping in.  Had I worn any other pair of shoes and I'm sure that wouldn't have been the case though.  The mud only got worse and worse.  Although always moving through the mud, there were places where we slowed to a walk in order to stay upright.
I think this photo of Kev sums up the first section of the course!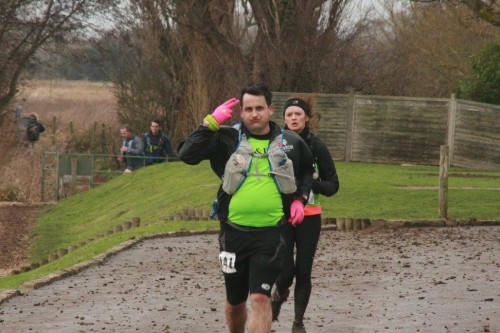 It was a great sight to see familiar WDAC faces as we headed into the first checkpoint after 2h 9m.  I had been a few minutes behind our little group upon entering the checkpoint, but as they had stopped here and I headed straight through I made up the lost distance and ran with them for a little way again once more.  Looking back at the results now to remind myself of the times I see I was actually the last one to continue through at this point.  I don't like a time pressure in a race.  My strengths lay in remaining strong over a long period of time when others often blow up later on in the miles.  I like to think I am pretty stubborn and it takes a lot for me to give up, but I won't go winning any races on stubbornness alone!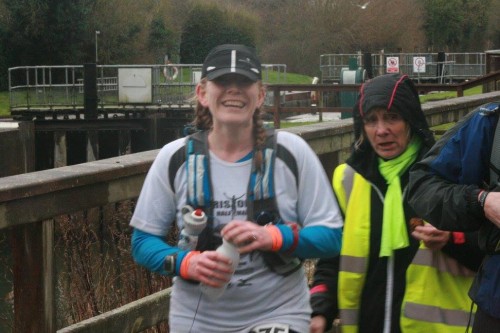 I decided to let the others drift away and zone out into my own race a little.  As much as the first part of the course had been to stay upright despite the mud, the next section of the course was to stay upright despite the wind!  The second my feet headed onto more solid, grassy land, the wind hit me full pelt and blew my cap completely off my head.  By the third time this had happened within the space of ten minutes I was ready for a full on strop!  My cap had blown out across onto a bush overhanging the river, meaning to get it I had to scramble across to the edge of the bank and lean over.  Once in my hand again I decided to stay put for a few minutes and just dangled my legs off of the bank deciding how best to tackle the wind.
Two minutes later, a quick call to Dan and I was ready to go again, really putting my all into forward motion even though the wind was completely against me the entire way now until checkpoint two.
It was in the miles between checkpoint one and checkpoint two that I decided to pull at the second checkpoint.  I knew there were still several runners behind me at this point, as I had picked up the pace a little and overtaken a number of them in the final miles.  Everybody I passed looked thoroughly beaten and pissed off with the wind and mud and I didn't blame them!
I would have been able to continue.  I arrived at checkpoint two with half an hour to spare but as I had come to the decision to pull at the next checkpoint several miles earlier, it had immediately felt like a weight had been lifted from my shoulders and I was enjoying the miles once more.  I had been rather poorly and weak during the week before, to the point that I had rung my doctor for advice as to whether or not I should run at the 50 mile race the following weekend.  Unable to say, they gave me a number to ring so that someone more qualified could give advice.  I was told that seeing as I had already run the distance previously and I was fully fit and generally in good health I should be fine to continue with the full distance, but if I was in any discomfort or felt weak or dizzy at all to stop and pull.  I was being sensible.  The Thames Trot wasn't my goal race for the year and worrying myself doing constant body checks that I was still in full working order wasn't helping the stress levels!
Upon reaching checkpoint two it wasn't long before I was ushered into a minibus van to meet several other runners who had already decided to drop at the checkpoint due to the bad conditions of the day.  Although I had been warm whilst running, the wind was very chilly and we were grateful when Howard of Go Beyond started the van to warm us up.  I texted Laura who was marshaling at checkpoint 3 to let her know that I was pulling from the event and Laura quickly responded by ringing to see if the van could swing by the next checkpoint as she had a man who was now severely shivering.  The small group of us in the van debriefed each other on our race experiences and chatted general running talk before reaching the finish base to hand in our chips and collect our gear.  The others all quickly dispersed (home for showers I expect!) whilst I managed to change between shaking in the toilet cubicles (not as nice as the ones had been at the start, but at least I was the first one to head through so avoided the worst of it!)
I knew I had a fairly long wait as the minibus wasn't due to collect our little bunch for hours yet, and the rest of our runners were still out on the course.  So, I made myself busy – deciding to help the marshals at the finish line.  I got to see the winner come through in an insane time of 5:49:19 – he finished nearly an hour before the guy in second place crossed the line!  And then I grabbed hold of some medals and helped place them around the necks of runners as they reached the end, directing them for timing chip removal and hot drinks.  All the while, looking out for runners from our own club.  One by one we heard via text or phone of drop outs from the others.  Most had made it to the next checkpoint before either being pulled or deciding to pull themselves.  A few had made it as far as checkpoint four.  Just four of our original starters remained in the race.
Ben was the first to come in – it was still daylight when he crossed the line in 7:52.  It was still light enough for me to snap a photo at this point.  No headtorch required!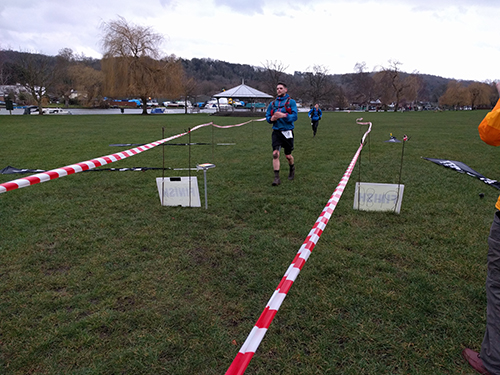 Guy trotted over the line a couple of hours later and headed over to the local pub where the other drop-outs from the club had headed on arrival to go and watch the rugby.  I stayed dishing out medals and waiting for our final two to come in.  Both Tom and Craig were another 25 minutes.  Annoyingly, the pub crowd arrived back just in time to see our last two runners cross the line.  I could have had pub grub with the rest of them and still seen everyone finish!
Despite so many of us not completing the race, we were in high spirits on the way home.  A bottle of champagne even went round the bus on the return journey!
I knew Thames Trot would be my last attempt at an ultra for a little while because, although when I rang the midwife she had seemed happy with me continuing running long distances at 6 weeks pregnant, I'm not so sure that she would be so happy for me to continue as my pregnancy progressed…