So I finally became a member of the elusive  parkrun 50 club last weekend!
I feel like I've been working towards number 50 for ages now. It's not even a whole year of Saturdays though, and when I think about the fact that I fitted five parkruns into a week over Christmas it seems like I should have ticked my 50th run off ages ago!  I can't even imagine how chuffed I will be when I reach the 50 marathon target on my way to 100 (currently sat on 16 marathon and above distances so still a fair way to get yet!)
Does anyone know when I will be able to claim my t-shirt though?  I logged into my parkrun account on Sunday and received this message…

Hopefully soon, before my belly gets too big to wear it!
It was Northampton parkrun that I headed to on Saturday morning. I put a shoutout on my running club Facebook page to announce that I would be bringing cake along if anyone wanted to join me for the run or just come along and support.  I was a little nervous that either nobody would turn up from the club or everybody would and I would run out of cake!
Luckily the situation was neither scenario.  So, following an evening of cake decorating with my Mum the night before, I arrived super early to the car park, along with 30 parkrun decorated slices of chocolate traybake.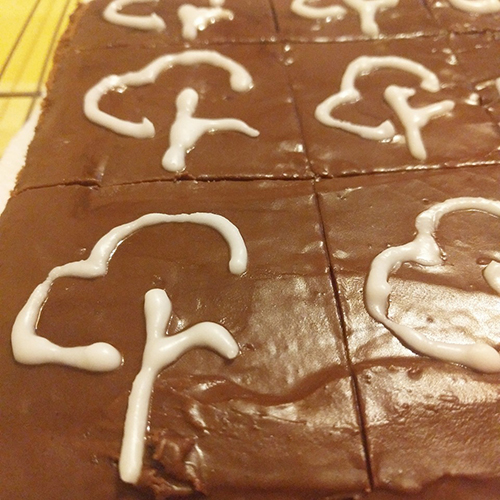 It was horrible drizzly weather outside but there was a good turnout from club, including some members who aren't regular parkrunners. The lure of cake(!)  Our club membership secretary even turned up to take a couple of photos and he had made me a sign to hold.  I also got to hold his massive umbrella whilst under the sign.  Winner!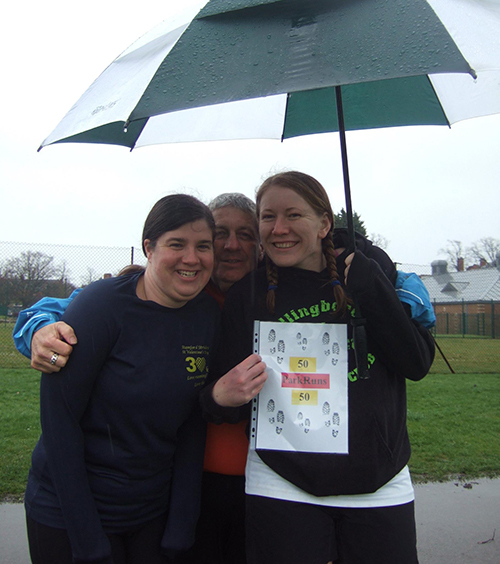 Because the weather was so awful, I was yet to warm up and knowing that I would not be running particularly quickly I decided to keep my hoodie on during the run – something I never do!  Who can run in a hoodie?!…Turns out I can when I'm just heading out on an easy chatty run.
Several of the runners from club stuck together in a little group at the back and we had a long chat all the way round.  It was one of the most chilled out and enjoyable runs I've had in a long while!  One of the members was preparing for London marathon this coming weekend, another is planning an epic series of marathons across Iceland during the Summer and another I just hadn't seen in a very long while!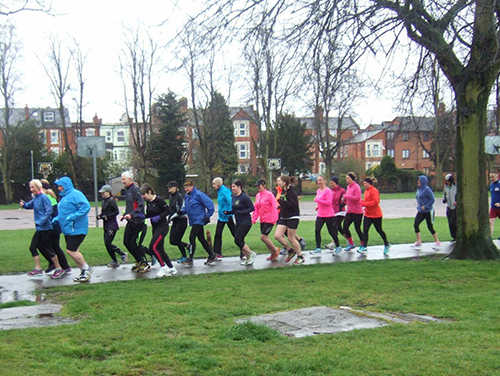 (I'm in the middle of the above photo wearing shorts and my hoodie!)
As I am no longer hiding my pregnancy, as and when people are asking about my race plans I am now letting them know the reason why I have no race plans for this year.  I'm not someone who feels like I have to announce my pregnancy to people amongst other things.  In fact, if I am friends with you in real life, you will probably spot that nothing has appeared on my personal Facebook regarding my pregnancy at all.  It would make me uncomfortable 'announcing' something or being very 'me, me, me' on Facebook.  I've really struggled to tell people at all to be honest – the hardest people to tell being my parents and also my boss.  I've found it marginally easier to mention the pregnancy on the blog, purely because I really want to talk about running and training through pregnancy and to have something to look back on from that respect.  I haven't found a huge amount of bloggers who do continue to run any real amount of miles through their pregnancies so want to document my experiences of hopefully continuing to do so.
Anyway, one of the ladies I was running with on Saturday morning asked why I didn't have a marathon booked in for this Spring, so I thought it only fair to tell the truth – that I was four months pregnant.  She went on to congratulate me, and so did two or three other runners around her who had also heard my admission!  As we went to scan our barcodes at the end, it came up in conversation with another runner as to why my times had been dropping.  Again, I shared my news and an older gentleman turned and said 'But you beat me!…and you're pregnant?!'  I laughed and said that it was still early days and that I was only four months pregnant.  He told me that the time I want to watch out for is when my future children start beating me at parkrun!
Mile 1: 11:28
Mile 2: 10:47
Mile 3: 10:25
Nubbin (0.17m): 9:35mm pace
A mouth full of cake alongside some of the cookies that Laura had made and it was time for a very wet photo!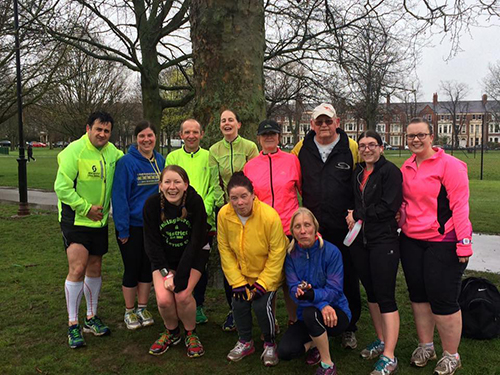 I always say it, but I do love my club and the level of support that they give.
Garmin time: 34:16
Official time: 34:17
Position: 289/368
Gender position: 94/149
Age category position: 15/22
As much as I've enjoyed having some very easy going and chatty parkruns just lately I think I might see what I can comfortably still run on my own next time, just to see where my fitness level is currently at.
How long did it take (or do you intend it to take!) for you to reach your 50th parkrun?
Do you take cake to events?!
Can you recommend any blogs with bloggers who continued to run throughout their pregnancy?