It's been nice over the last few weeks to have some of my energy levels returning.  I was completely wiped out during the first twelve weeks of pregnancy and barely made it out of the house for runs as all I wanted to do in the evenings after work was sleep.
Now that things have started to vaguely return to normal – sickness and tiredness wise – I'm eager to get back out again.  More specifically, out on the trails whilst I'm still able to do so.  Over the past few weeks my staple runs have included the Wednesday night club trail run and parkrun on a Saturday.  I am so, so grateful that I have been able to continue running as I know that many are unable to do so.  Two runs a week isn't enough to keep me sane though, so I've started to gradually introduce more runs again now, although I've been keeping the majority of my runs under 10k in distance.
After I run my belly seems to 'pop out' and be more noticeable.  Maybe just because I'm tired and can no longer hold my upper body together?!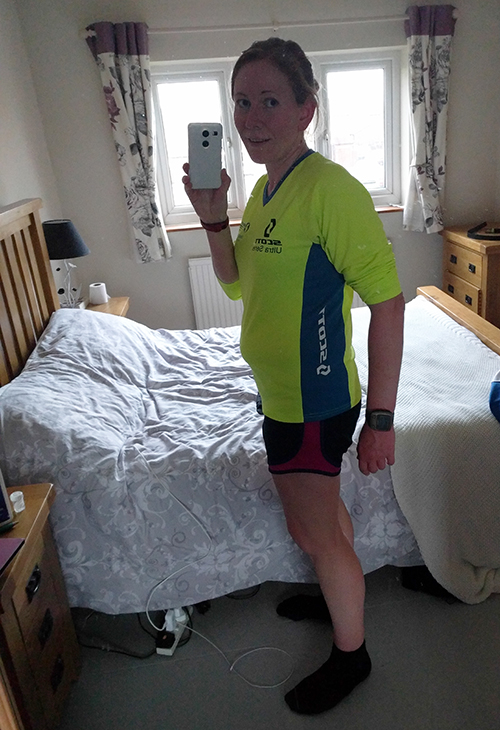 This was me at 16w 4d pregnant following a 4 mile run.
Since returning to school following the Easter holidays at the start of April, none of my school trousers have fitted, neither have the shirts that I used to wear daily for work.  I've purchased a few new maternity tops to wear to get round this.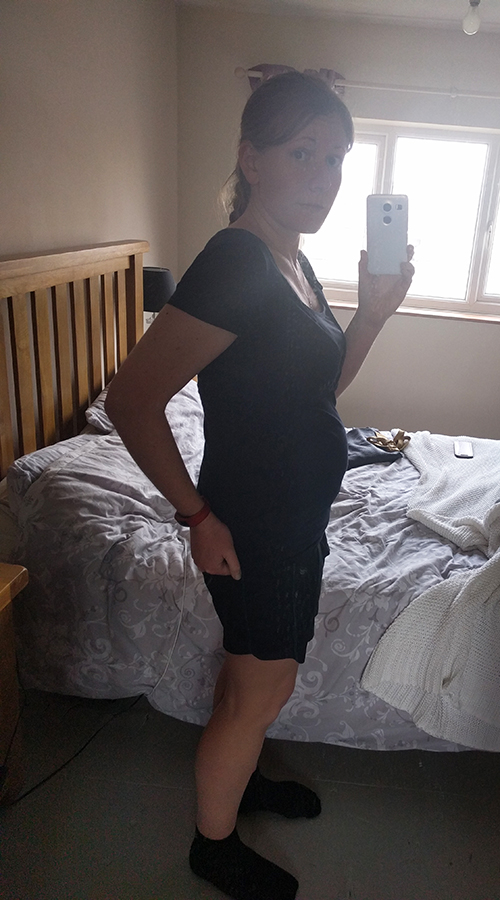 This was during the middle of changing into sports kit for a run!  So – maternity top teamed with running shorts!  Taken at 17w 1d pregnant.
My saviour for work though has been a set of two belly bands I bought from Mothercare the week following the Easter break.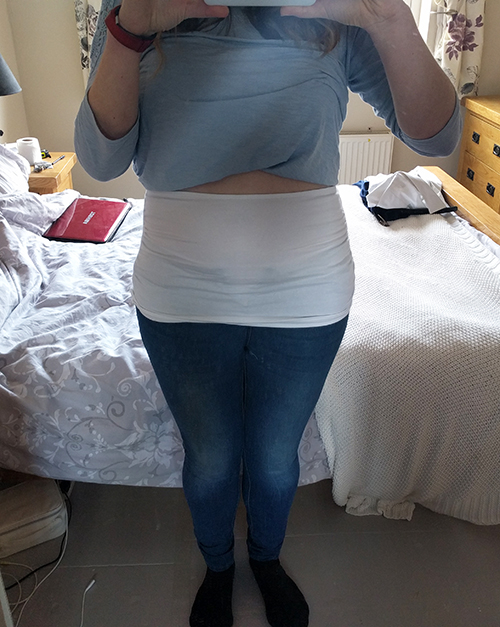 (Picture taken at 17w 4d pregnant)
Basically, you wear the band over your undone-because-they-no-longer-do-up trousers which a) hides the fact you are unable to do your trousers up and b) helps them to stay in place!  A long top over the top hides the button silhouette poking through the band and the effect is kind of like when you wear a vest top as an extra layer underneath your main top.  These bands have been a lifesaver!  It was only a tenner for two.  You can see through this white band how far away my button is from doing up now!
My pregnancy weight seems to be all bump really at the moment.  I hope that baby isn't getting too big in there!  Nice small baby please!  The bump has actually begun to make sitting upright on the sofa a little uncomfortable after a while now, and I have to put the car seat back slightly on long car journeys.  Oh, and travel sickness was not a fun pregnancy symptom to add to the list earlier this week.  I have a 45 minute commute to work each way!
I seem to have good days and not-so-good days with running now.  Although, as a friend pointed out at the weekend, this is always the case as a runner anyway.  A couple of weeks back I was really lagging behind on the trail run, with runners two club groups below me storming off up ahead on the hills.  Last week though I was passing people from the group I had been running with before falling pregnant.  I think it makes a difference the way the baby is laying, even though it is incredibly small still.  Well, not baby-sized yet anyway.  It's still more than 14cms from head to bum and the size of a sweet potato.  Some days running feels just like it did before pregnancy and other days I am really conscious of something being in there!
One of the parts of a run I struggle with most is actually the downhills.  If I lean too far back, I think perhaps with my hips thrusted forwards the pressure is all on baby and it's very uncomfortable.  I've had to walk a few downhills over the past fortnight which was rather mortifying to begin with, especially when I would then be fine running the uphill the other side again!
I'm not too worried about my speed at the moment.  Most of my running buddies now know that I am pregnant so I have a ready-made-reason as to why my pace drops off on some days.  I did run a trail run a few days back where the runners were much quicker though.  None of the usual crowd I run with turned up, and so the pace was much faster than I have been running.  I stressed myself out in the first couple of miles worrying that I was holding people up but in the end I could only run what felt comfortable to me and so I made sure to concentrate on what felt comfortable instead.
Normally, I would have raced at least five or six times by this point in the year.  I am missing the race atmosphere and the buzz that comes with crossing the finish line, although I have booked in to the Milton Keynes 5k and half marathon this weekend.  Tomorrow's half marathon is the furthest I plan on running during pregnancy, and this will be at a fairly sedate pace.  I'm hoping there will still be plenty of time for races post October though.  I'm already debating which my first marathon back will be!  (Although too scared to book anything until after the birth.)
The weather is perfect for evening running at the moment.  Still nice and warm and as we haven't had too much rain just lately the ground is fairly mud-free.  I know I won't be able to run trail right the way through until the end, as there is more chance of falling on the uneven ground, so I am trying to get in as much trail as possible now.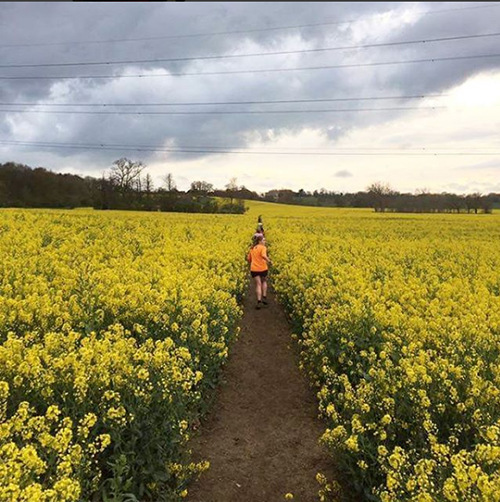 Lots and lots of people have recommended getting a bump band for running just lately, but when I spoke to the midwife about it at my appointment last week she couldn't really give me much information about them.  If anyone has one that they recommend, please let me know.  I don't feel like I'm lacking support too much at the moment, but I'm sure that will change soon.
I had my second midwife appointment at 17w 2d so got to hear the heartbeat for the first time then which was quite surreal.  I'd been feeling the baby for about a week, so I knew that my midwife would be able to find a heartbeat but I still held my breath until we could hear the regular rhythm beating away.  This actually ended up taking quite some time as the baby was wriggling around everywhere.  Every time the midwife found the heartbeat, the baby would squirm and move away to a different spot!  I have supervised six hours of Computing mock exams this past week at school and it seemed that every time I would say the line 'You may open your paper now' to the students, the baby would start to wriggle, which made me smile.  Having to sit really still and quietly for the exams meant that I was much more aware of any movements taking place.
I have my next scan booked in for 23rd May when Dan and I will get to see the baby for one last time before it arrives sometime in October.  May until October seems like a really long time!
You can read all of my previous pregnancy posts here.