The weekend before last was a double whammy of races with the Rocket 5k on the Sunday, followed by the Milton Keynes half marathon on the Monday morning.
When I had signed up for the race several weeks earlier, I had agreed to run round with Laura, who was recovering from injury.  Laura at the time optimistically hoped for 10 minute miles, but I was doubtful she would return to full fitness in time for this, knowing also that I would no longer be able to run at 10mm pace for 13.1 miles, especially if the weather turned nice during the morning, as it seems to have done on all but the first of the Milton Keynes marathon days!
With limited long run training taking place beforehand, Laura opted for a run-walk technique for the race on the day with the aim of running for as long as possible before having to take walking breaks out on the course.
Having either raced or driven over for the race on each of the MK event days since 2012 when they first started up I knew just the sidestreet to park down so shared my insider information with Laura. Turns out though that the event organisers had shared my secret sidestreet in the race information booklet though and despite arriving with plenty of time to spare when we arrived there was no longer any spaces left!  Laura and I followed the convoy of cars which eventually led into a business estate, a short walk from the stadium start.
The weather did end up being ridiculously warm on race morning  and I was glad that shorts and a t-shirt had been my chosen race outfit.  I would have preferred just a vest rather than having to wear my club vest over my chosen t-shirt, but it wasn't to be!  I had thought ahead, knowing that my regular fitted ladies club vest was getting rather snug over my growing pregnancy belly and boobs.  It was fine for purpose for the 5k on the Sunday but for longer distances I knew it would a) not look very attractive and b) potentially start to rub under my arms.  Therefore, I purchased a new male vest the week before the race.  The male vests have larger arm holes and are less fitted around the stomach.  I was hoping it would allow me to run without having to wear a top underneath, but on testing my new piece of race kit out a few days before the half marathon I realised that I would not be able to wear the vest on it's own – unless I wanted the world to see the majority of my bright blue bra!
T-shirt underneath required!  I figured that with the run-walk strategy I probably wouldn't overheat anyway, so would be fine with two layers.
We hung around for quite a while at the start.  Usually there are lots of Wellingborough runners at the Milton Keynes marathon/half, but it seems that quite a few of the regular MK runners had managed to get a slot at London instead this time round, so our numbers were much less this year.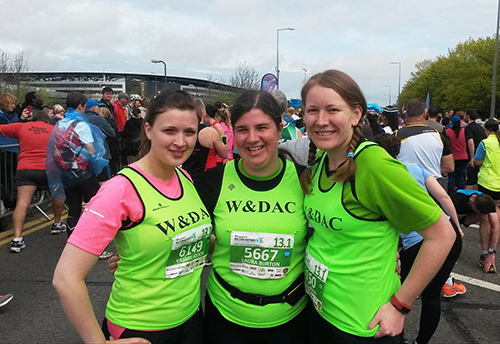 We seemed to wait at the start for quite a while before crossing the line.  (Looking at my official start time it apparently took nearly 13 minutes!)  The advice had been to start queuing a half hour before the race start, but Laura and I cut it closer to the start time before heading over.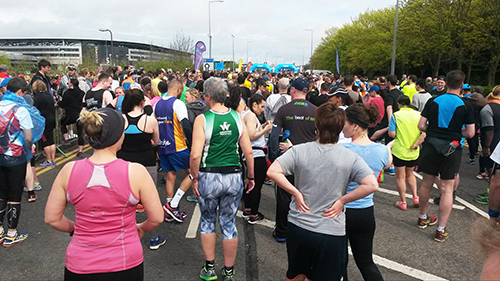 The route had changed again for 2016, and whereas in previous years the first six miles were a series of out and backs along parts of dual carriageway, this section was largely condensed for the fifth year.  The heat was tough though and I was feeling the power of the sun.  If only I had remembered to lather on some suncream before setting off!
Laura set off at a fair pace and I reminded her a couple of times to slow down as she had been running at the pace of some of her most recent parkruns!  In previous weeks the furthest she had run non-stop was just over 4 miles and the furthest distance she had covered (using a run-walk technique) was the 10k of the Stanwick route we had run on Easter Monday.  Her initial aim was to try and run continuously for longer than she had done since returning from injury.  After passing the 4mile mark her target was upped to running the first 10k distance.
At mile 5 I could feel that my trainers were too tight over the top of my foot.  Something I've never experienced with my running trainers before, despite having super wide feet.  I told Laura to carry on and I would just nip off to the side to loosen the lace before jogging to catch her up.  Loosening the laces seemed to help, but I had to leap off the track a few miles further up the road to do the same thing again.
Laura started to drop off after getting past the 10k mark.  She was quite good at setting herself targets to get running again though, so after every walk break she would declare the next visual marker along the path where we were going to begin running again and that's where we would break into another jog.  I favour this technique when I am finding long races tough too.
At roughly mile 8 Laura began to struggle a little, so we took a walking mile, snapping a few pics along the way.  Something you don't often get the chance to do during a half marathon race!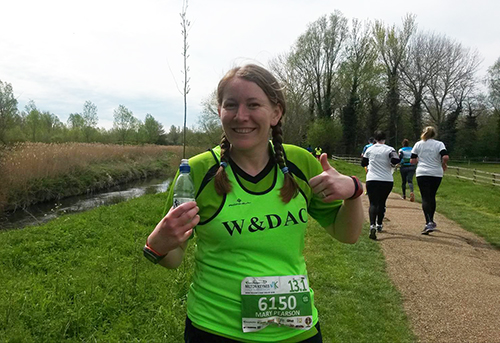 I took advantage of the water bottles handed out every three miles and stayed well hydrated the whole way round.  This, combined with an eighteen week pregnancy bladder meant that I needed the loo by the final water station though, so again, told Laura to continue without me and that I would catch her up.  There wasn't a queue for the portaloos so I nipped in, squirting a generous dollop of what I thought was hand sanitiser onto my hands before exiting the cubicle.  Only it wasn't hand sanitiser.  It was very thick, gloopy soap, and there seemed to be no water left in the cubicle taps.  I had to waste most of my remaining water bottle washing off my hands before they became too itchy from the unwashed soap!
Laura was adamant that she was going to run the stadium for the finish and I convinced her that she also needed to run the car park as there would be lots of people out here cheering us round still.  Convinced, she did run from entering the car park the rest of the way to the finish line.
There was music blaring out in the car park and several people out cheering.  The atmosphere was fab and it's not often I feel as fresh as I did at the end of 13.1miles, so I definitely picked my pace up unintentionally here.  It really made me want to run another race properly again soon.
As we entered the stadium we heard a few 'Go Wellingborough!' cheers and enjoyed our lap of honour before the crowds started to get really loud as we reached the finish line.  Certain the cheering was no longer for us, I turned immediately on crossing the line to be able to cheer the winning marathon lady over the finish.
Although the half marathon was by far the slowest I've run, it was nice for a race to feel super easy, to take several pictures and to have someone to chat to the whole way round!  Up until race day I had unofficially decided not to run another distance of more than a half marathon again before having the baby at the start of October.  Following the MK half though I was ready to sign up to another straight away and see what I could actually still run.  I'd like to think I would probably run somewhere around a 2:20-2:30 mark fairly comfortably, although time obviously isn't important at the moment.  I just really miss the feeling of racing!
Gun time: 3:03:34
Chip time: 2:54:16
Official position: 2135/2220
Gender position: 946/1011
Age category position: 366/386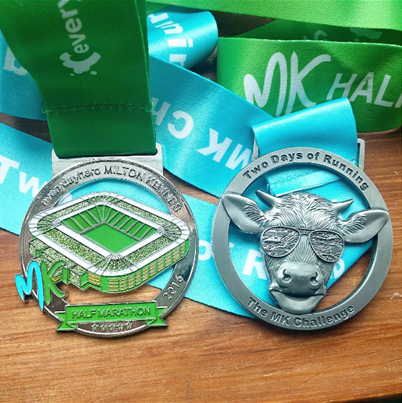 Not only did I get the awesome green half marathon medal for running the race, I also got the fantastic blue cow medal for having run the 5k the day before followed by the half.  Definitely worth two days of running!  

Not quite the same, but did you ever decide that you were just going to run one half marathon/marathon but then decide to enter a few more?!
Any portaloo disasters before?  I think I've been fairly lucky to be honest!