Last weekend was the Waendel walk. Back in 2015 I ran the 25k distance with a group of friends from running club. This year I managed to persuade Dan to join me and we walked the distance instead.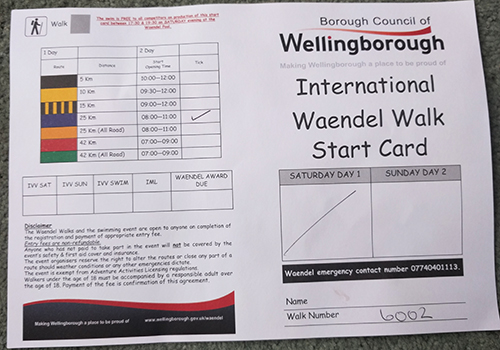 Not only is there a 25k distance, but there are also options to complete a 5k, 10k, 15k, 25k (trail or road) or the 42k (also trail or road) distances. Dan was undecided between the 15 and 25k but I managed to convince him to cover the longer distance, knowing that he would enjoy the plenty of pub stops I knew were along the way!
Initially aiming to arrive by 10am it was probably closer to 10:45 by the time we signed up and were given our wristbands with emergency contacts on.  We were handed a map, along with written instructions and sent out of the back doors to find our own way in the countryside!  There were arrows at every turning anyway, although I think it would have made things even more fun if walkers had to rely on map reading and route directions alone.  The directions were very good to be fair.
The weather was perfect for a walk on Sunday. Beautiful sunshine, happy people and lots of burgers on BBQs at all of the checkpoints. We stopped for ice creams after about a mile! 😉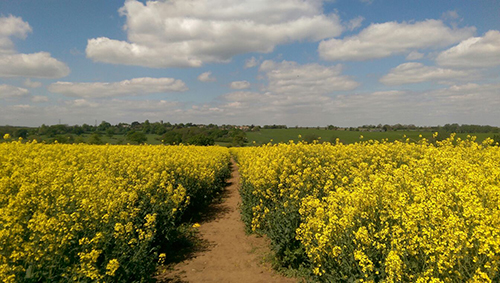 Every year thousands of walkers come from all over the world to take part in the walk and it's quite interesting to hear all of the different accents and languages babbling away at each of the pub stops. Several of the foreign entrants tend to display their home flag on their bodies or bags somewhere for all to see, so are fairly easy to pick out.
The first few miles were on road up until we reached checkpoint one at the Old Grammarians Sports field. From here our route took a more off-road path and headed off onto footpaths and bridleways through the surrounding villages of Wellingborough.
Dan got rather frustrated at this point as we became stuck mooching along behind a group of rather slow walkers whilst crossing a series of fields with rather narrow paths crossing through.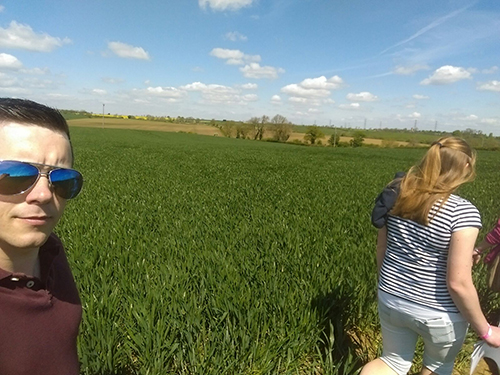 He shot past them as soon as the track ended up out on the road again!
The next checkpoint wasn't long after this, and so we stopped for a drink in the pub after getting our cards stamped.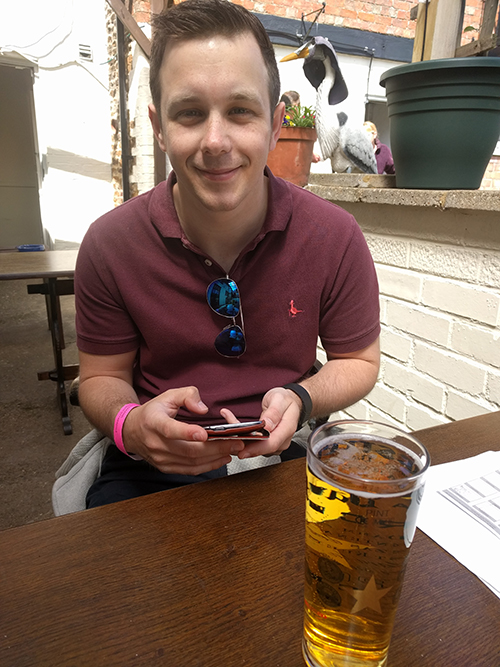 At each checkpoint you pass you receive an ink stamp in your checkpoint card.  Some of the checkpoints had tied in their stamps with their location.  Checkpoint two was at the sports ground, checkpoint three was at the pub called The Lamb, the fourth checkpoint was by the church and the seventh was run by the local scout group.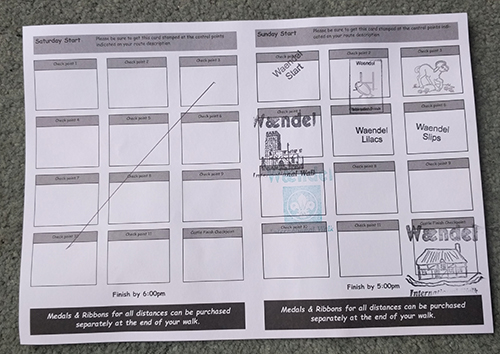 After the stop at The Lamb we started to lose walkers around us as some of the shorter distances turned off along a different path.  We had started towards the end of the 25k allowed starting time, so had probably begun as some of the back walkers at the event.  Dan and I are both fairly quick walkers though and we found ourselves overtaking others along the whole distance.  (We were probably overtaken back during our pub stops though!)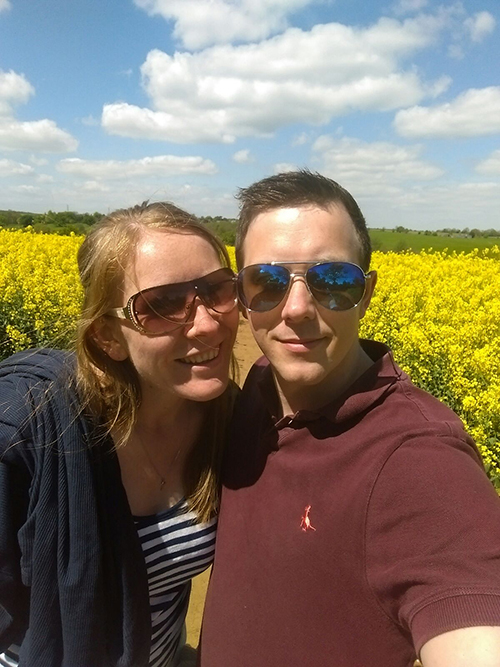 It was nice being outside and having a route for our walk in the sun.  Since first finding out I was pregnant I've made it a mission to try and fit in at least 10,000 steps a day and Dan has been joining me on evening walks around town to make up my step count a couple of times a week.  I must admit I am feeling a little bored of my immediate walking routes now though and it was nice to have a change!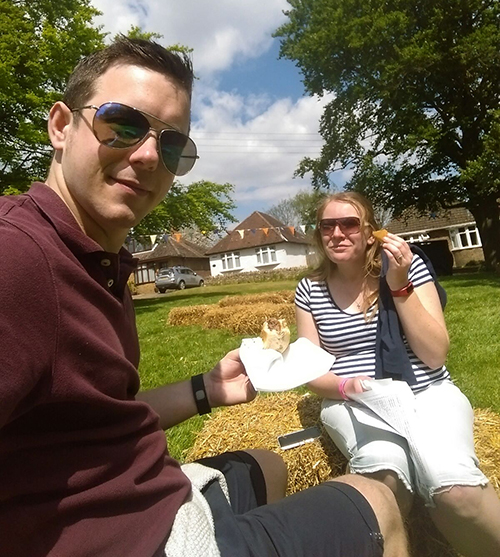 When we reached the village green at Orlingbury it was time for a burger stop.  Dan had been eyeing the burgers up at previous checkpoints, but we had both decided that it had been too early for lunch until this point.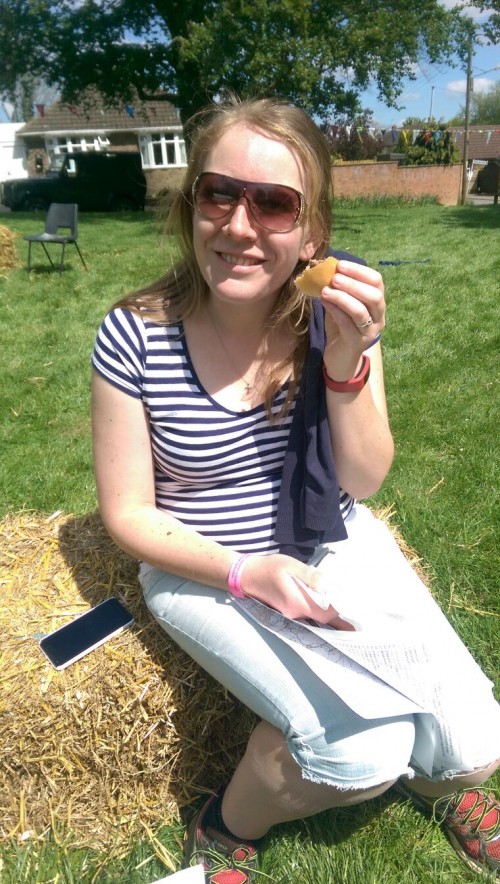 Checkpoint before last…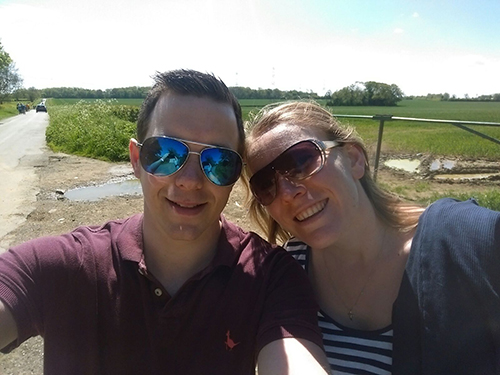 It was hot out there.  I got a little burnt!
Several of the footpaths I had run with the trail group at club before, so I knew the majority of the route quite well.  I'd be interested to see where the 42k route took walkers.  Perhaps I'll try that one next year and learn a few paths for some of my runs!
Just as we were arriving back at the walk HQ we realised that the board for the car park had read that the car park would be shutting at 4:30pm!  (WHY do I always do this?!)  We rushed through the finish, collecting our certificates before speeding back over the road to the public car park only to discover that drivers had 15 minutes grace to exit the car park after it shut.  Phew!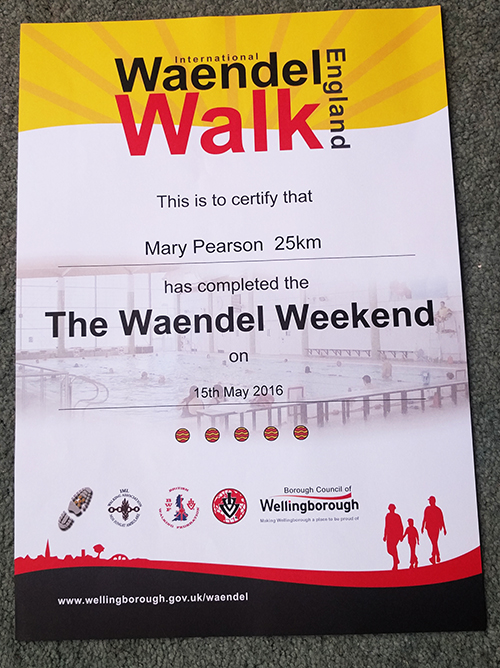 Start time: 10:45am ish
Finish time: 4:35pm ish
Burgers consumed: 2 (between us)
Liquids consumed: 2 pints of beer, 2 pints of water, a glass of cranberry and one of apple juice.
Toilet stops taken: 5 (again, between us.  My pregnancy bladder isn't quite that small yet!)
It was a lovely end to the week.  Shame work starts again on a Monday!
What's the furthest distance you have covered by walking?
Have you ever taken part in a walking event before?
Do you like to explore the countryside where you live?