I'm thinking about starting up a second blog.
There are a few things I want to write down about pregnancy and potentially baby musings after having the baby, but I don't feel like this blog is the place to do that.  This blog is my current baby (along with Bella-cat of course!) where I can chat all things running and doing my best to fit in a healthy lifestyle around the madness that is my life.  I don't want pregnancy or being a Mum (Uggg! That makes me sound old) to take over from that.  The second blog isn't in place quite yet, but I very definitely do not want to change AHM from what it has become, so watch this space!…
Having said that, at times I know that pregnancy and baby will cross over into this blog, as they are quickly becoming more and more part of me and the madness that is my life at the moment.  (I have no desire to stand on the scales anytime soon, but when your belly struggles to fit under the desk at work anymore you know you can no longer deny your pregnancy!)
For example, today I want to write about running at 20 weeks pregnant.  That, to me, still fits in with where I see this blog.
Technically I'm actually in my 21st week now, with my final scan taking place next Monday morning, but for the purpose of this post, I am writing about week 20.
This is what I looked like at the start of my 20th week…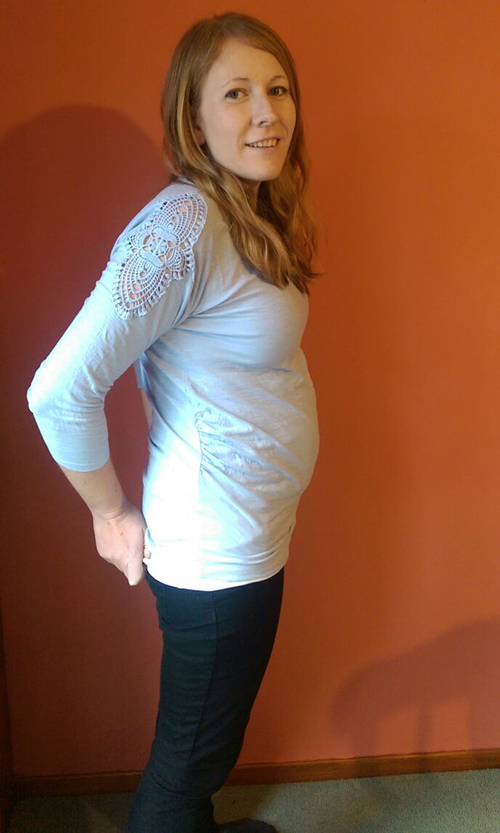 (Yes, the horrific wall colour in our dining room is one of the items on our current house-in-progress list!)
Week 20 was when I started to feel BIG.  Not just that my clothes no longer fit and I was a little tired, but big and incapable of completing silly little tasks that I had always taken for granted before.
On Saturday my parents came to visit for the day.  I say 'visit', but my Dad can never just 'visit'.  His visits always have a purpose and this weekend, like the one a fortnight before was to help us sort out some of the jobs that needed doing on our house.  We moved here last July and although entirely liveable, there were lots of areas of the house that needed improvement.  The bathrooms being one.  We've had a plumber round on and off for the last month fitting a new boiler and replacing our old suites for new ones.  (It is so nice to finally have a bath that I can sit down in again…Simple things!)  Anyway, the plumber being in kickstarted a whole host of other jobs that needed doing, including the need for extractor fans, new light fittings and re-tiling of the bathroom.  It was some combination of those tasks that saw my parents arrive bright and early on Saturday morning at our doorstep.  Dan disappeared upstairs to help Dad and my Mum soon settled in the garden to pot up some of the flowers she had brought over for our garden.  My task was to make the drinks and fill the watering can.
Apparently I'm not supposed to put my hands in compost as it contains some element which is not very good for pregnant women.  I also couldn't lift the heavy pots up to move them across the garden.  I felt a little guilty when I shot out at lunchtime to meet Steph at the Northampton Food Festival, but it was something I had told my parents about before they had arranged to visit.  And besides, several portions of tasty cheese and fudge could only cheer me up, right?!  I could be useful selecting tasty cheeses to bring home!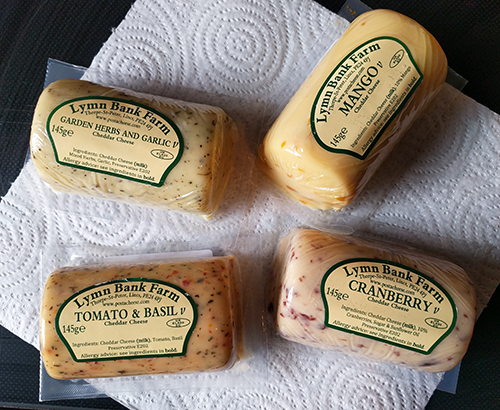 I thought the Tomato & Basil was my favourite, but then I tried the Garden Herbs and Garlic one, was torn between the two and ended up coming home with four cheeses!
There was lots going on at the food festival (mainly cheese and fudge!) and Steph and I nibbled on lots of samples on our way round the event (again, mainly cheese and fudge!), stopping to watch a couple of demonstrations taking place.  Luckily, most of the cheese samples were cheddar, so I didn't have to forgo too many of the offerings.  Although I did look rather longingly at the Prosseco and Baileys shots that were being handed out in one tent.
The weather was rather miserable which was a shame, but it didn't rain whilst we were there.
On returning home I made another round of teas and offered out slices of fudge before scrubbing the garage door and then waving my parents off as they returned home to Norfolk.  I attempted to help Dan tidy the mess from the drilling upstairs but the task he set for me was to bend down to pick up items from the floor of the hallway, walk to the airing cupboard and place them on the floor inside the airing cupboard door.  Bending over and me haven't been getting on very well this past fortnight and my belly is now at a size that makes bending over forwards incredibly difficult.  In the end I sat on the floor by the airing cupboard and Dan passed things down to me.  So I did play a part in tidying up, even if it was rather a small one!
Last week at work was a busy one.  Friday was the deadline for the majority of GCSE and A level coursework marks to be sent off to the exam boards by.  Having taught 170 year 11s this year, along with a handful of A level students I had rather a lot of paperwork to be filled in towards the end of last week, meaning that I didn't manage to slot any evening runs in at all.  With my parents down on the Saturday and the 25k walk on the Sunday I didn't even get a run in over the weekend either.  This meant that most of Monday at school was spent thinking about where I planned on running that evening and planning some nice easy miles outside in the sun.  I changed into my running gear the second I got home, snapped my watch on my arm and tied my trail shoes in place.
As soon as I got out of the door I knew it wasn't going to be a good run.  I felt big, I felt blundery and my stomach just felt uncomfortable.  It seemed like my stomach was moving all around inside yet the outside of it was still pretty solid.  I'm at the stage now where some people have started realising that I am pregnant, although nobody apart from one year 10 boy in my ICT option class has mentioned it to my face.  I just see the odd person glancing down to my belly from time to time, and the question silently pass over their face.
Knowing that some people are now aware of my pregnancy has meant that what runs I have gone on I have headed out on the trail or out-of-the-way roads, as I don't want people to a) assume I am much slower because I am overweight or b) judge me as I have decided to run through my pregnancy.  Both very vain remarks I know, but that is what runs through my head when I'm out with my trainers on at the moment.  I had a few judgemental comments from people (non-running people!) that knew I was running the Milton Keynes half marathon the other week.  I am not someone that is able to just sit in the house and not get out and exercise.  I pity the poor women all those years ago when that was what was advised as best for them for 9 months!  There is every evidence now that in the majority of cases, it is better to be out and gently exercising than sat on your bum for 24 hours of the day!  My midwife even allowed me to start at the Thames Trot 50m event back in February!
So yeah, I managed to get about 3/4 mile on Monday before realising I needed to cut my losses, turn around and head for home.  I'd already walked by this point.  I wasn't tired, or out of breath, it was just super uncomfortable in my belly and I knew that the walk would do me just as good, probably more so as I wouldn't overstress my body on a day it clearly wasn't ready to run.  I reckon my body is having a super workout every time I do run anyway, as it's now carrying so much extra weight! 😉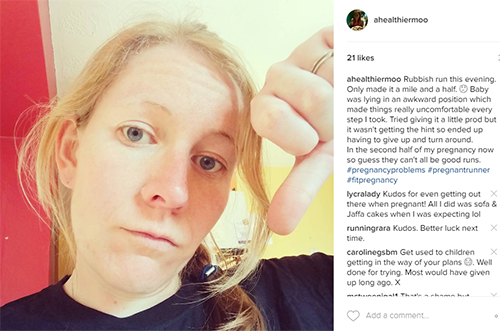 Like last time I posted, sometimes the running is fine and just like pre-pregnancy, but other days I have no chance of completing my planned session and really need to play it by ear.  Annoyingly I've felt like I've had to avoid my regular club and trail runs with friends for the past couple of weeks for this reason.  It's frustrating, as I am already starting to miss my running buddies and there are several weeks to go yet!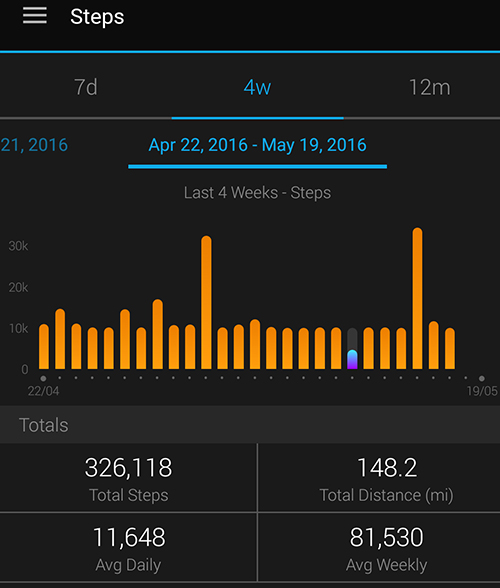 To try and make up for my poor running days I have been trying to ensure that I hit 10,000 steps on my Vivofit every day.  I find that this target still gives me an achievable focus even if the baby is lying in an awkward position and making running near-impossible on that day.  There have only been one or two exceptions where I haven't hit my target since very early on in my pregnancy and I find I feel so much better afterwards for having got out there and moving rather than curling up in a ball on the couch like I find I want to do on some days.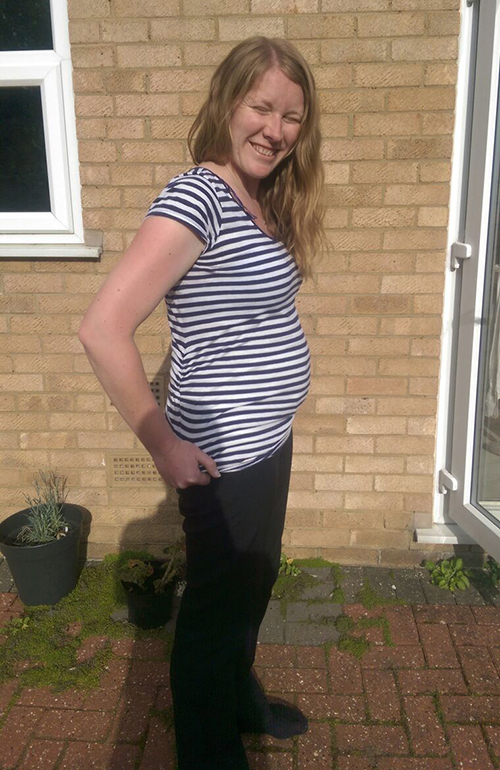 This is me at the end of twenty weeks.  Squinting in the sun, with one foot missing and Dan's shadow over the top of me.  I got Dan to take several photos for me and this was seriously the best one!
Have you ever chosen to run away from where people can be seen 'judging' you?
Do you feel lost when you have to miss out on running sessions with friends?

You can read all of my previous pregnancy posts here.