1. Five years a runner!
One day last week my Timehop alerted me to the fact that I had joined my running club five years ago.  I've been a runner for five years! Although some days I think it feels like I've been running for so much longer now. I really cannot remember life before running.  What did I even do before all my spare time was spent planning runs, running and blogging about them?!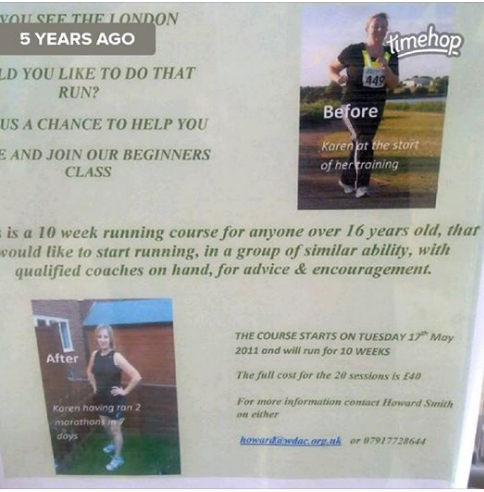 2. Living on a building site
Despite having moved into our house last July, there are several remaining unpacked boxes in the garage and we're still waiting to unpack several of the larger items like bookcases and cabinets until after the house is more complete and new carpet goes down.  I did get desperate for storage in the kitchen though and had to move the TV cabinet in as a make-do larder as there was nowhere to store food!
We have been making much more progress just lately and my parents have travelled up to help over several recent weekends.  The aim is to have our house more or less complete in the way that we want it before the Summer holidays is over.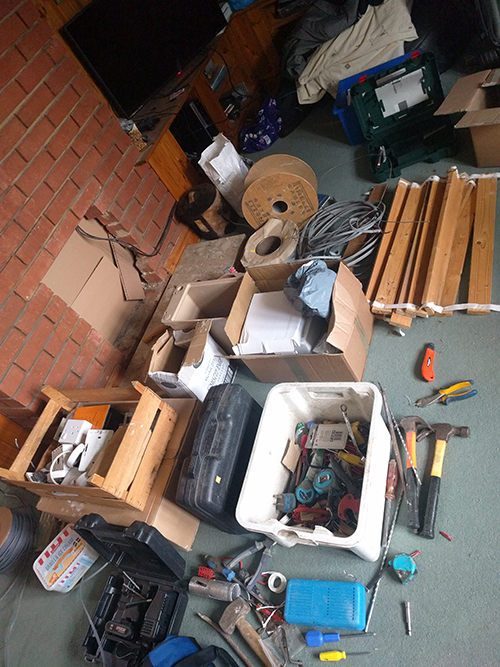 I've pretty much accepted that until the Summer there's a good chance I won't see my lounge floor as it's been completely overtaken by tools.  Frustratingly, lots of the jobs that have been completed during recent weekends have been ones with small impact on the overall look of the house.  Between them Dan and Dad have added extractor fans, changed light fittings and fixed creaky floorboards.  All necessary, but very insignificant-seeming in the grand scheme of things!
Dan and I began the task of knocking through and clearing the archway leading from the lounge into the dining room last night.  I've convinced Dan to let me have a dresser in the dining room, but to make room we first need to knock into the wasted space taken up by the archway, a task that has been one of many on our to-do-list since moving in last year.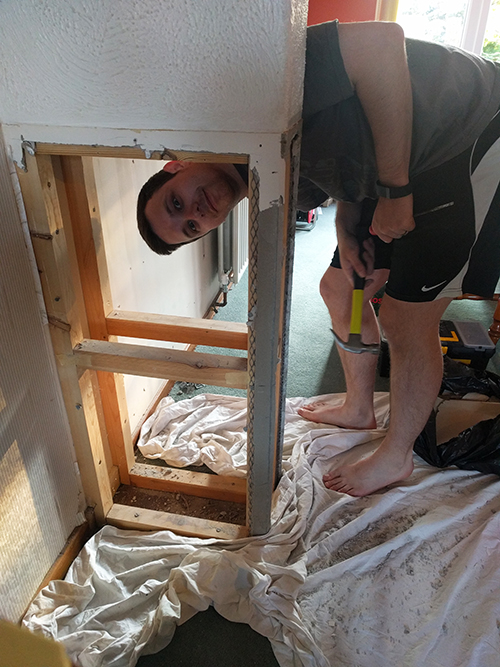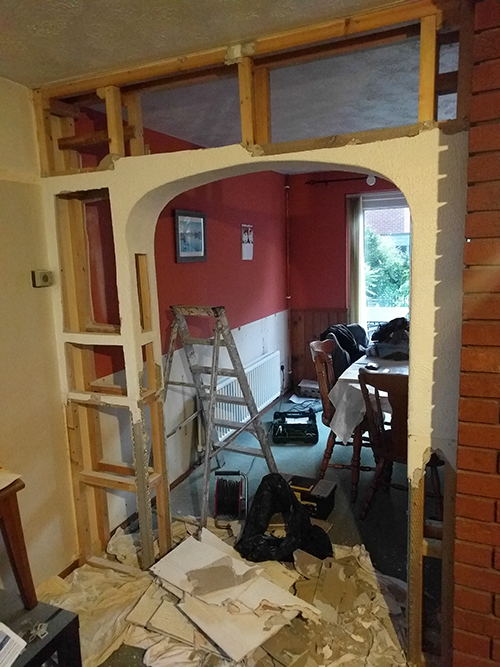 The archway is still a work in progress as it begun to get late before we could finish last night.  Another job for the weekend!  The list is so long!
3. Off on holiday!
A few weeks ago when the first of Dan's many upcoming stag dos took place I got a bit of holiday-envy.  Dan and I haven't been away since our honeymoon nearly two years ago and with the impending arrival of our baby this coming Autumn I wasn't sure when we would next get to go away again.  Luckily, Dan is always up for a holiday, and despite already having plans for three weekends away this year (two of them abroad!) he agreed to head away for a few days with his wife as well! 😉  Initially thinking that it would be nice to head away for some time in the Summer around our anniversary in August I was shocked to discover the other day that with most airlines I wouldn't be able to fly after my 28th week of pregnancy.  My 28th week falls before I begin the Summer holiday from school!  So, we panic booked and are now off for a few days in Prague over the half term holiday instead.  I'll admit that work has been so busy since we booked the trip that I haven't even thought since about going away or what we need until now and I'd like to have some sort of plan for the few days we are away.  At least I'm not so big that I won't be able to enjoy it yet though.
4. My Nephew turned four
Last week our only nephew Jenson, turned four.  He starts school in September which is a really scary thought.  Although we have two nieces who are slightly older, they are not blood nieces, as they are from Dan's siblings' partners' previous relationships.  (Still follow me on that one?!)
As Jenson was having a birthday party in a village hall in the Midlands, Dan and I found ourselves Midland-bound last Sunday.  May birthdays are plentiful in our family and close friends list, and so we arrived in Birmingham a little before shops opened in order to rush round to find cards and presents for all before seeing them that afternoon.  I literally felt like I was a candidate on The Apprentice.  We had a list, we had a time limit, we each had a credit card and on the drive into the city we worked out our game plan for when it came to collecting the items on the list.  Throughout our mad rush round town we repeatedly phoned each other with updates and caught rushed conversations in passing as we bumped into each other between shops!  No day trip from Lord Sugar at the end for us though!  Instead, just a very bad stitch for me and whinging from us both that we were hungry!
We arrived to the party in time to see a stream of superhero dressed four year olds filing through the village hall doors, excitedly handing Jenson his presents.  Jenson wasn't a fan of the 'Happy Birthday' song and clearly did not enjoy the extra attention!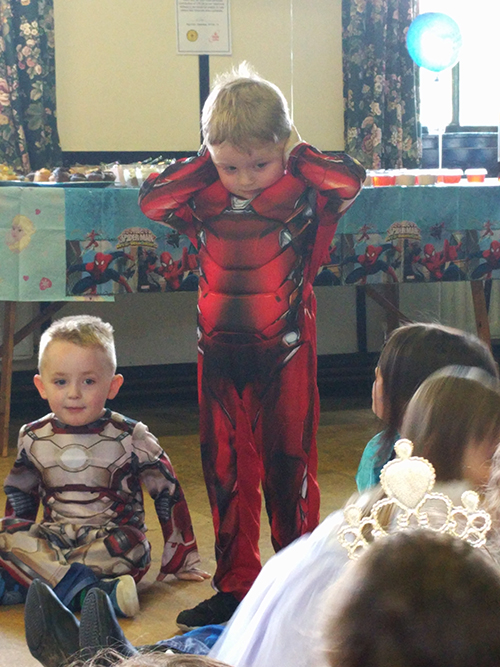 An afternoon filled with seventeen children running around a hall was very loud!  I don't remember friends' parents attending birthday parties when I was younger, but all of Jenson's friends' parents remained sat around the edges of the hall.  Clearly the etiquette has changed since I was a child.  I made it clear to Dan that when our child is born that he is to accompany said child to all birthday parties.  I had a headache by the time we left on Sunday night!
It was rather entertaining to watch the children interacting though, and I had to stifle my laugh as one Batgirl wearing a lot of leather-look clothes appeared to be doing some sort of interpretive dance to 'Let it Go'!
No birthday cake this year but I did bring home almost a week's supply of leftover caprese salad and miniature cheesecakes to take to work with me.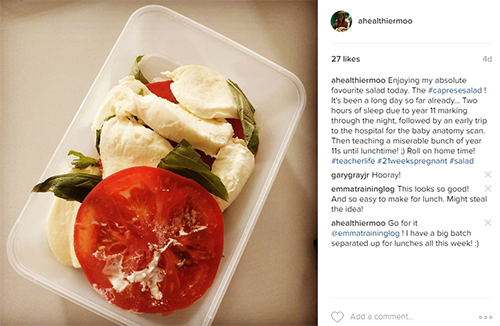 5. Still loving the ultras
So, even though I can't run ultras at the moment, I've managed to keep involved with one or two…
I am gutted that I am not able to run at the Shires and Spires Northants 35 mile ultra next weekend.  This was my very first ultra back in 2013 and I've run the race every year since.  As the race is organised by Go Beyond, I have put my name down for marshaling duties instead this year.  Although I'm not sure if that will make me more aware of the fact that I am missing out?…

 If you are running next Sunday then look out for me on the registration desk and also at checkpoint 2 out on the course.  This year the design for the medals is looking pretty awesome too…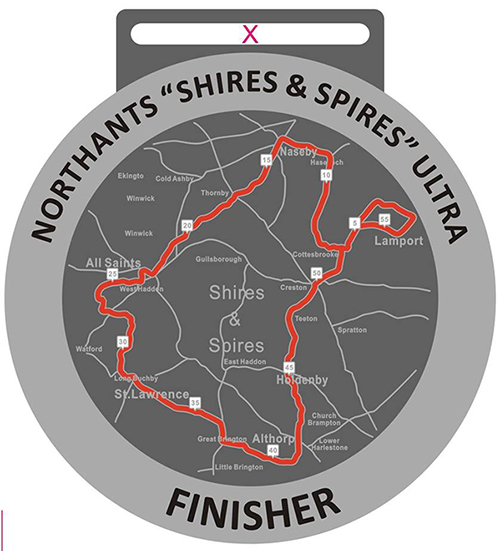 …medal envy!
My big target running-wise is still the South Downs Way 100.  I've volunteered to marshal at the event this year on the 11th June to get a better insight of the event and hopefully chat to lots of more experienced ultra runners too.
I'd like to think that I will be able to recover from childbirth and return to training quickly, ready to attempt the event myself eight months later in 2017.  Obviously though, I'm still several months away from giving birth so if that becomes an unrealistic target then I will adapt my dates accordingly.  A 100 mile event will still be on the cards though.  And anyway, I hear that women are supposed to be much stronger at running over long distances after having had a baby! 😉 After powering through uncomfortable baby kicks on Tuesday night's run I figure I could probably power through any stitch I got from running now!
Do you have any plans for the long weekend?
How long have you been running for?
Any suggestions for places to visit/eat out at in Prague?