Thanks for everyone's comments on my recent post where I contemplated moving the baby/pregnancy side of my writing to a different blog.  As a whole, the comments seemed to be mainly positive about remaining on just the one blog so for now, I think I'll keep things all together here for the time being instead.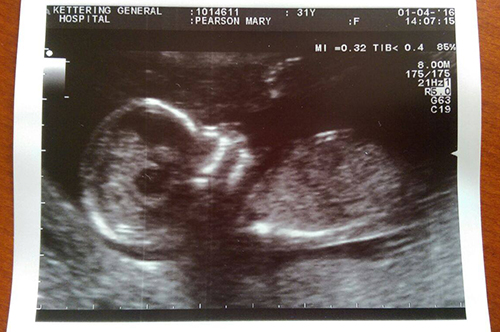 (Our first scan at 13 weeks and 3 days)
At the start of last week Dan and I went for our second scan at the hospital.  The anatomy scan.  We had an early appointment booked in at 8:30am, and a trainee sonographer asked if we minded if she led the scan, supervised by a fully trained sonographer.  It didn't bother either of us, and in fact it actually ended up probably being much more interesting as we learnt how certain tests were done with the two of them discussed technique throughout our appointment.  Although I have nothing to compare it to, our appointment actually ended up very long, at almost an hour and a half in length by the time everything had been checked.
Even since before we got pregnant, Dan and I have always said that we would not want to find out the gender of our children before birth.  I'm glad we're on the same page, as it would be rather awkward if one of us wanted to find out and the other didn't!  The second scan is the one where you can find out which gender the baby is and we went in on the Monday morning a little nervous that the sonographer would accidentally tell us what we were expecting, or it would be very obvious on the scan.  Luckily, neither was the case and we came away without any further clues as to what we were going to be coming home with in October.  (Other than a baby!)
In the very early months I had some inkling that we were having a girl.  After our first scan, the pregnancy began to feel more real and Dan began talking about it more often, always referring to the baby as a 'he' or 'him', which pushed the girl inkling for me towards a boy.  Now, neither of us really have a clue.  Despite not actually wanting to find out though, Dan and I thought it would be fun to test out some of the old wives tales to see what they predicted we would be having.  I'll post our results below…
#1: If you are carrying high, you are having a girl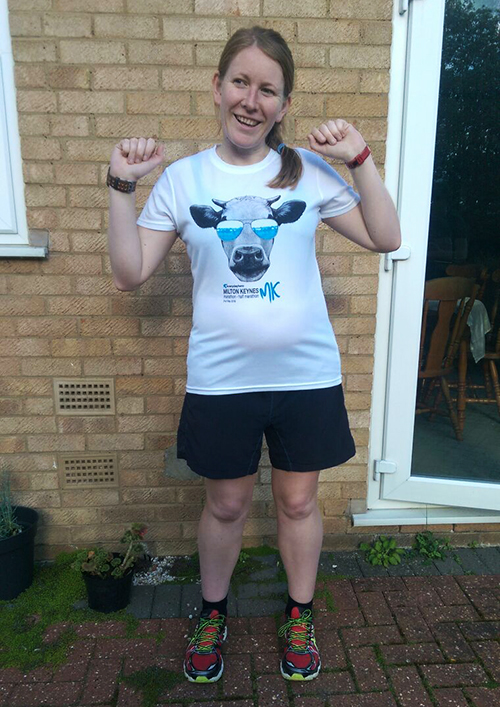 (Taken at 21 weeks pregnant, following a run – I think this was probably the first day I really noticed a big bump rather than just a rounded belly)
Inconclusive
I'm not sure at what point in pregnancy you can establish if you are carrying high or low?  Four people this week have said to me that my bump is very small for the number of weeks I am at though, so perhaps I will balloon in a few weeks time and can retake this test then.
#2: If the baby's heart rate is over 140 bpm you are having a girl
Girl
Although only just over the 140bpm mark, the heartbeat was recorded at 144bpm at my 16 week midwife appointment.
#3: If you crave sweet foods, it's a girl
Boy
I've really gone off sweet foods.  If someone offers me a chocolate, I'll probably take it, but there has been a pack of chocolate in the top cupboard of our kitchen for months now and it really does not appeal to me at all, whereas in the past I would have probably snuck one or two pieces per evening until it was all gone!  I went out for a meal on Saturday night organised by a friend who is currently pregnant, due at the start of July.  Despite the desserts (and milkshake desserts, – yes apparently that is a thing!) looking amazing, I really didn't feel like ordering any of them so went without whilst everyone else tucked in.
#4: If you break out in spots during pregnancy, you're having a girl
Boy
I rarely get spots anyway, and haven't had any at all since falling pregnant.
#5: If you have bad sickness during your pregnancy, it's a girl
Boy
Although I felt ill for much of the first twelve weeks I was never actually sick luckily.
#6: If you are gaining weight all over, rather than just on your bump, it will be a girl
Boy
Dan tells me it's just on my bump.  (Good Husband!)
#7: If your feet are much warmer during pregnancy than they used to be, it's a girl
Boy
Literally only this morning I found myself tucking my feet under the cushions on the sofa when we had friends round as my tootsies were getting cold.
#8: If you end up frequently moody and grumpy with others, you are having a girl
Boy
I think it takes a lot to put me in a grump, and if anything I've been much more relaxed and chilled out throughout my pregnancy.
#9: If you find you are graceful, and not in any way clumsy, it is a girl
Boy
I could never be described as graceful.  Only clumsy!
#10: If you wake up and find you have slept on your right hand side, it's a girl
Boy
Although I always start off by facing Dan and lying on my right-hand-side in bed, when I wake up it's always facing to the left.  The left is apparently the side you are supposed to sleep on during pregnancy anyway, as it increases the amount of blood and nutrients that reach the placenta.
#11: If your partner gains weight during the pregnancy it is a girl
Boy
Again, I let Dan answer this question and he assures me no weight has been gained by him!
#12: If, when you thread your wedding ring through a strand of your hair and hold it over your belly it swings from side to side you are having a girl (round in a circle for a boy)
Boy
Despite Dan being the other side of the room he told me that my ring was clearly moving round in a mad little circle over the top of my bump.
TOTAL:
Boy: 10
Girl: 1
Inconclusive: 1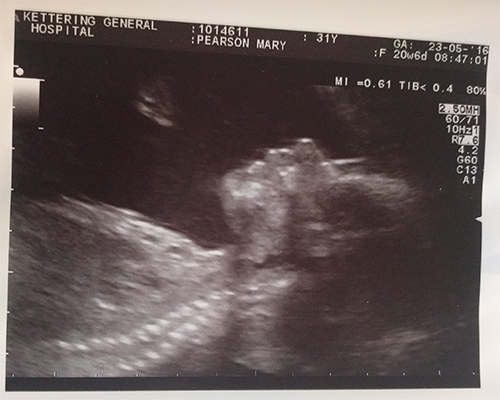 (Our second scan at 20 weeks 6 days)
Do you believe in old wives' tales?
Have I missed any out?
Any guesses on the gender of my baby?
You can read all of my previous pregnancy posts here.