I managed to get out for three runs last week which felt really great, – compared to this week when I didn't run at all!  (Although I did do a lot of walking whilst away on holiday in Prague.  Some days Dan and I walked more than a half marathon distance around the city, and there were some tough hills out there in the heat!)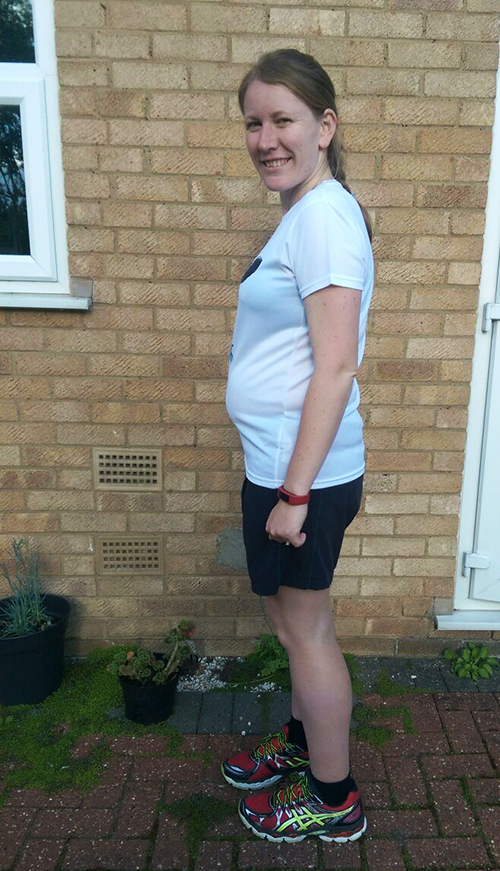 Here's a photo taken of me post-run the Tuesday before last when I was 21 weeks pregnant.  It felt like my belly really 'popped' out that week.
After a few busy weeks at school with the GCSE ICT exam and samples of coursework being called to be sent off to the moderator I really wanted to get back running with friends again, and vowed to attend the Wednesday night trail run, wherever it was held.  I hadn't made it to a trail run for several weeks and feared I would be rather slow so headed out on a 3.23m offroad run on my own on the Tuesday night.  The run felt good, the pace felt easy, the baby was in a comfy position so I didn't have to stop as frequently as I have done on some previous runs and I was looking forward to heading back out with friends the following evening.
Wednesday night and I met up with a handful of other runners at a new-to-me location for a 6.21 mile trail run.  The weather was perfect; nice and warm, but with a slight breeze and Kev didn't throw too many hills into the mix, which is always a bonus since I've slowed down!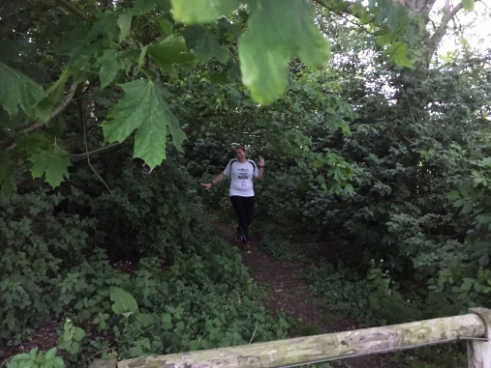 And I wasn't right at the back, which I feared I would be.  Not that it matters…(but it does a little…!)
It appears that the belly can no longer be hidden in any of the running tops I own and a couple of other runners commented on my bump for the first time since falling pregnant.
By the time Saturday rolled around I was ready to head to parkrun again.  Weekends have been so busy just lately, I hadn't made it back for a parkrun since running my 50th 6 weeks earlier and I was getting itchy parkrun feet.
The course had changed slightly since I last ran, with the finish heading off to the right of the path instead of finishing along the field on the left hand side.  This was mainly put in place due to the high numbers of other activities that now take place at Northampton Racecourse on a Saturday morning, and not wanting runners to interrupt the other events on the field.  It was packed at the Racecourse though, with 414 runners that week.  That's a lot of runners on a two-lap course and it makes me feel quite glad that I haven't been aiming for a PB this season, as I think the attendance numbers would make it rather impossible at the moment.
As has frequently become the case just lately I left the house long before 8am arriving in Northampton a little before 8:30.  Even then, there was nowhere to park at the course, or even in the surrounding nearby streets.  Several club runners have also commented about the increased numbers making the run feel a little uncomfortable during recent months so I've done a little investigating this month…Watch this space…!
I set off from towards the back with Laura, who had been for a physio appointment the day before and was feeling rather tender so was in no urgency for a time.  We started at what felt like a fairly comfortable pace, but within quarter of a mile the tops of my legs really began to ache.  That post-marathon heavy leg feeling, despite having not run any great distance since back in February!  It was rather frustrating because baby was in a comfortable position, I didn't need to pee (increasingly becoming a bigger issue lately!), I wasn't tired…just, my legs really ached!  To the point that when I told Laura that it was really uncomfortable she suggested we walk the (really teeny tiny) hill at the back of the course a mile into the event.  After our hill walk we set off at a run again and for some reason the ache had faded and eventually disappeared, so I have no clue where that came from!  The second time round Laura was feeling the effects of the physio from the day before, so she requested another hill walk.
Garmin time: 34:24
Official time: 34:24 (Not sure I've ever recorded the same as the official time on my garmin before!)
Position: 355/414
Gender position: 124/169
Age category position: 24/30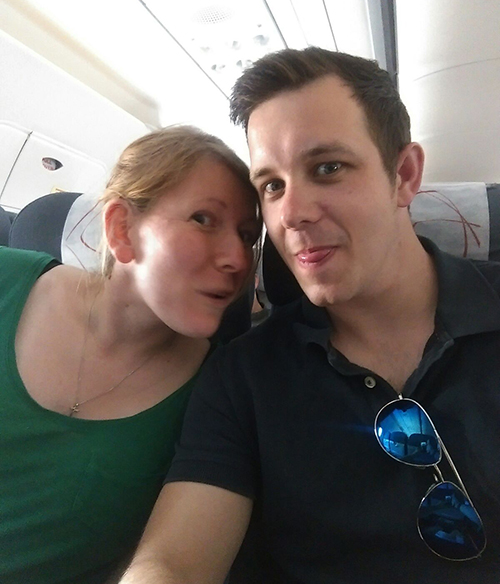 This week Dan and I jetted off to Prague for a few days of escape from the real world, which was lovely, and very definitely required!  We walked everywhere whilst away.  With our hotel being a 30 minute walk into town we headed in during the day and then again for evening activities.  A few days it became a little tiring from the walking and at some points I did have to ask Dan to slow down so that I could keep up.  I'm not used to that, – normally I'm the one storming off ahead!  If I walk too fast lately though I get what feels like a really bad stitch but at the base of my belly, making walking rather uncomfortable until I slow down again.
I had been tempted to take my running kit over to Prague but a) I'm not sure I would have wanted to run round the streets of a city known for cheap beer in the early hours and b) Dan didn't allow it!  It was a nice break though, and I kept active with all the walking instead.  I will probably end up with a higher step count during week 22 than I did during week 21 and my three runs!
Have you been involved with the setup of a new parkrun before?
Does running in foreign cities alone bother you?
You can read all of my previous pregnancy posts here.