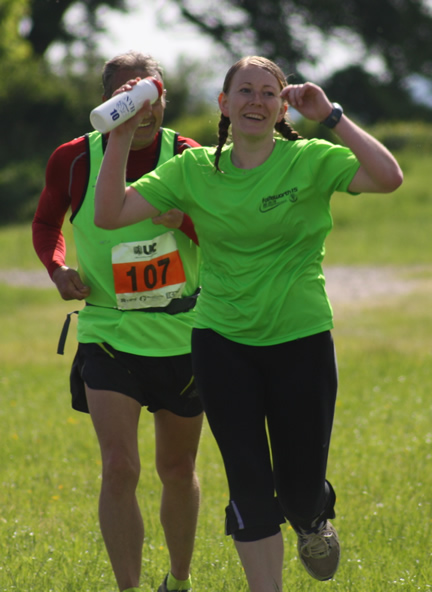 Shires and Spires was my first ultramarathon back in 2013.  I went on to run the race two more times in the following two years and this year, 2016, was my first year of not running the event since entering the world of ultramarathons.
It did make me sad that the build up to race day this year wasn't packed with recce runs of the route and mid-morning café stops for milk and cake along the course for me.  No sunny days filled with jokes and friends and beautiful scenery.  It was nice, however, to see things from the other side of the race tape and marshal for a change.
I've marshaled at nearly all of the Go Beyond events before.  (The Race Director runs with our running club) but never marshaled at a Go Beyond event that I have run beforehand or know as inside-out as I do the Shires and Spires 35mile course.  I was very capable of answering all questions directed my way by the runners on Sunday!
I was scheduled to work on the registration desk from 6:30am and then make my way over to checkpoint 2 to log runners on their way through the checkpoint in case of chip timing failure.  (To my knowledge, there has never been a failure of the chips during a race.)
A few days before the race I checked the forecast to see that the weather Gods had decided not to break the tradition of race day being super hot and sunny.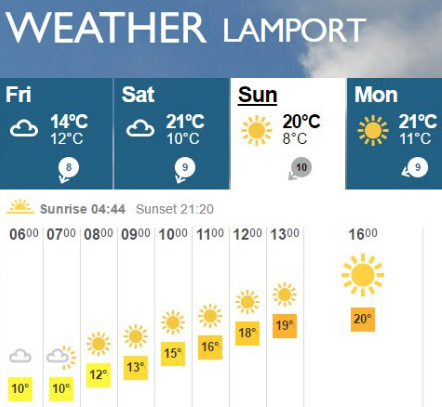 Although when I arrived at Lamport Hall a little before 6:30am to help set up the registration desk I was freezing, despite being bundled up in jeans and two layers under my Go Beyond crew hoodie.
Having worked at several of the Go Beyond races now, I always get runners coming up and saying hello which is really nice, especially those runners that come back year on year.  A couple even congratulated me on my pregnancy this past weekend although commiserated with me that I wasn't running the event.
There were no pre-race issues and so at 8:20, ten minutes before runners were due to set off, I moved over to the edge of the hall to direct runners away from the car park and out onto the road at the start of the race.
(Full video on my Facebook page)
I managed to remember not to cheer runners past as I stood filming behind the phone.  However, it is clear when the Wellingborough runners passed as the mad waving I did at them with my free hand clearly affected my filming abilities – the picture is all over the place!
It's hard to tell in the video how foggy it was out there at the start of the race, but you get a bit of an idea from this picture taken by Adrian Howes, the official photographer.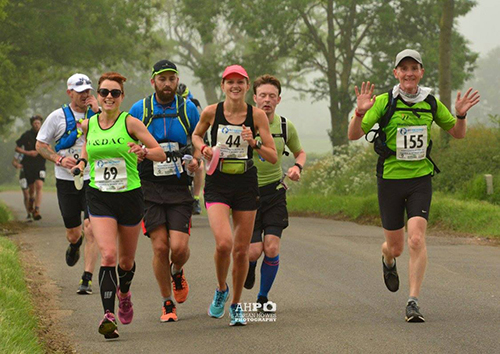 I was the first of the marshals to arrive at checkpoint two – situated just before mile 9 on the course.  Even the van with supplies had yet to arrive, which made me a little nervous!  All I had to offer runners was two half-full bottles of water I found lurking in my car from previous events, a pre-packaged croissant that Dan hadn't had for lunch the week before and two softmints at the bottom of my left pocket.
Luckily, the other three marshals soon arrived, closely followed by the Go Beyond van which delivered 21 packs of water bottles, a few boxes of jelly babies and a supply of GU gels along with two portions of the famous Go Beyond fruit cake.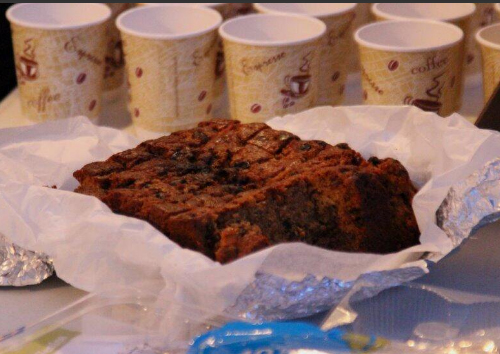 I pulled a couple of the new Chocolate Peanut Butter GU gels from the checkpoint to try in the Autumn as the flavour sounds so yummy, but they are apparently not suitable for pregnant women so I have to hold off for now.  

I took charge of writing down the race numbers of runners which Kelly shouted out to me as she directed the runners to dib in to the timing device on their way through to the checkpoint.  Donna and Trevor were in charge of topping up the supplies on the table and helping runners fill up their bottles where necessary.
All runners made it through the checkpoint on time and we had cleared all leftovers back onto the van by 10:30 ready to head home.  I decided not to head to the finish line to see runners in this year as;
a) even the front runners were still three hours away from the finish
b) it was still very cold (although apparently the sun got out to really heat things up later on in the day)
c) I was starting to hear my belly rumble out loud after having only fed it a handful of jelly babies since leaving the house that morning
d) I didn't want to have more race/medal envy from having not run the race this year
e) my parents were up helping Dan organise tiles for the bathroom and kitchen storage
f) Dan and I hadn't returned home until gone 3am that morning so I had only just managed a little over an hour of sleep before waking to get ready for the race
The previous day Dan and I had headed to Manchester as we had tickets to see Coldplay.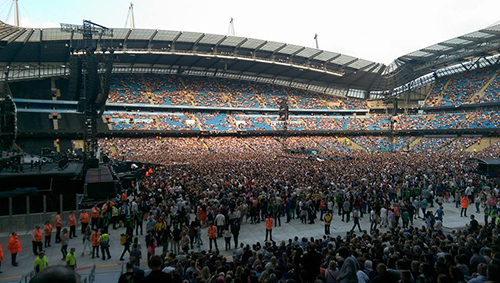 Saturday was super hot so we started the afternoon off with a walk into the centre of Manchester for lunch about 30 minutes away.
After lunch and browsing of a few shops we walked back alongside the canal and met up with a couple Dan went to uni with.  We had quite a wait until Coldplay came on at 9pm.  As we went through the turnstiles we were each given a wristband to wear which came in a variety of colours.  When certain notes were played throughout the night, different wristbands flashed in different colours, which was really cool.  It doesn't seem to have picked up the colours or lights very well on Dan's phone camera, but you can kind of get an idea from this video I found on Youtube just now…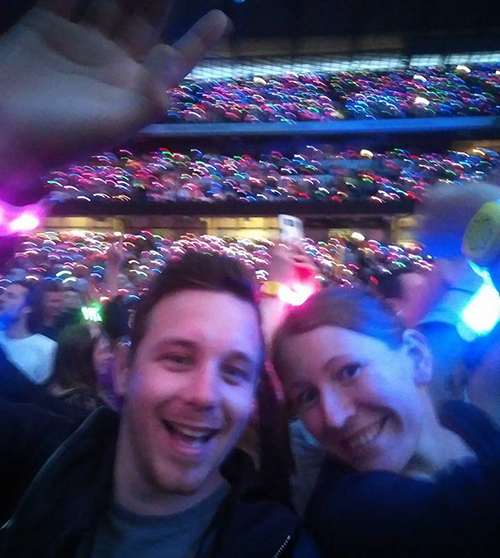 Good times, but very tiring.  After a quick lunch on Sunday following the race marshaling I napped all afternoon!
Have you been to many gigs?
Who is the best band you have seen live?
What is your favourite gel flavour?
Do you cope well on little sleep?