Two weeks ago, during the half term holiday I headed to Prague for a few days on a city break with Dan.  (How is it that we've already been home for over a week?  Where did that time go?!)
We had debated whether or not to take a holiday this Summer since long before I fell pregnant.  Despite having been together for more than 9 years our holiday experiences have been rather limited.  We headed to New York for New Year a few years back, and we took our honeymoon in Italy in the Summer of 2014.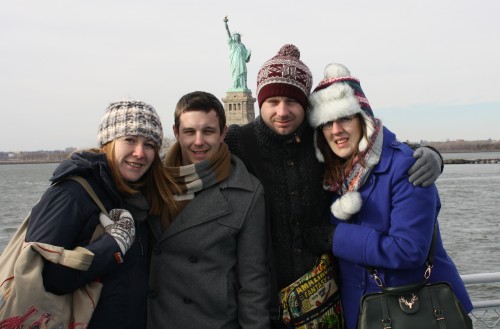 Although I also spent several months in Idaho upon finishing High School, and helped organise a school trip to Malawi in 2012, there is a lot of Europe that I am yet to see, and as we would be traveling when I was almost six months pregnant, we thought it best to stay relatively close to our home country for our proposed trip!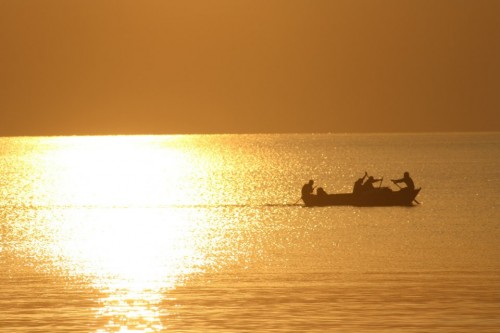 The original plan had been to sort something for August, when our two year wedding anniversary will fall, but an early investigation online meant that we soon realised I would no longer be able to fly at that stage of pregnancy.  So instead, two weeks before half term we booked our flights to Prague during the holiday – a city Dan had visited previously, but one I had only read about.
We traveled out from Birmingham airport on the Bank Holiday Monday, and our hotel was then a 40 minute journey from the airport by taxi.  Everything struck me as being incredibly cheap very early on in the trip.  Our taxi ride came to less than £20!
We couldn't believe our hotel 'apartment' when we arrived.  Our motto has always been to not use too much of our holiday money on the accommodation, but to save our pennies for the fun memories instead.  Our hotel rooms are usually on the small side, with just enough space between the bed and the wall that we are able to shimmy around to climb into bed after a day of adventure!
So after we had checked in at our Prague hotel and climbed the six(!) flights of stairs we were very shocked to see that our usually very tight holiday quarters was this time made up of several incredibly large rooms, with our own kitchen area, lounge, a bedroom that was twice the size of our own back in England and a nice sized bathroom.
It didn't take long for us to unpack and head out for a little walk in the surrounding area.  Purchasing a large pack of bottled water was a must.  It was super hot and I was already gasping for a drink!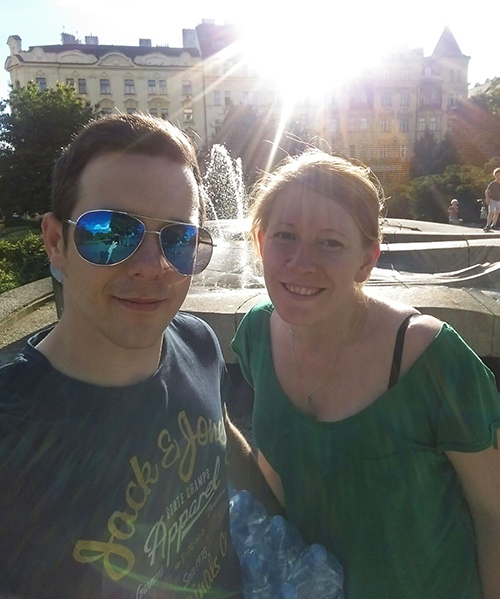 On the first night we headed out for pizza at the restaurant next to the hotel.  Our meal consisted of one large pizza each, two pints of beer for Dan, two bottles of ice cold still water for me and a dessert for Dan.  In total, our meal out came to the equivalent of less than £18.  My two waters actually came to more than Dan's two beers in price!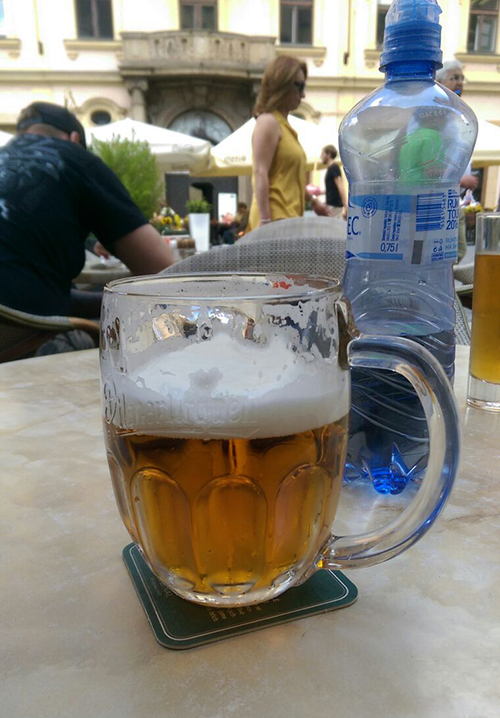 Day two and we ventured right into the town, where we waited to see the figurines appear on the astronomical clock.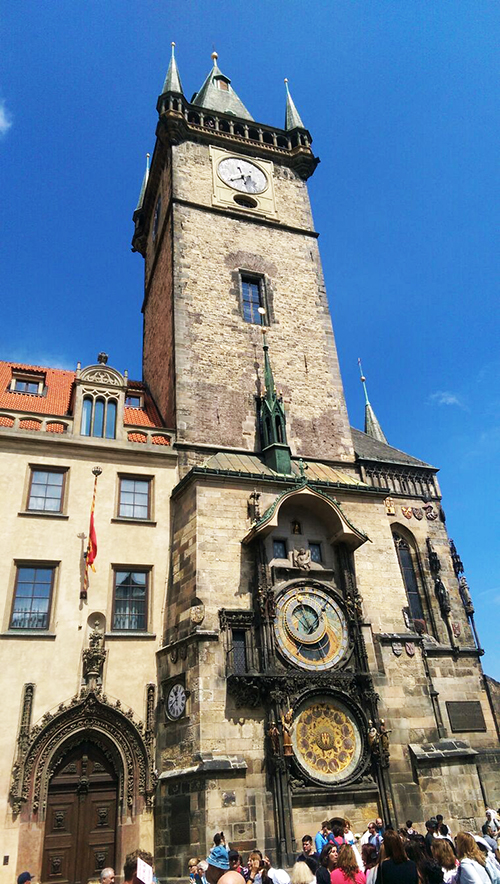 We arrived a little before the midday appearance, and the square was packed with tourists, also waiting to view the figurines circle around the top of the clock when the hour was chimed.  The square cleared afterwards as quickly as it had crowded and already feeling rather peckish we decided to pick up a mid-morning snack.
Dan had managed to see some epic donut pictures on LadBible from Prague the week before our trip and so we were on a mission to find the magic looking doughnut cones, with insides covered in chocolate spread, and then filled with strawberries and icecream, topped with chocolate sauce.  In his preparation, Dan had even written down the address of the bakery we could find these magic desserts, but there was no need.  It turns out that the doughnut icecream cone is Prague's speciality and we were spoilt for choice when it came to finding one.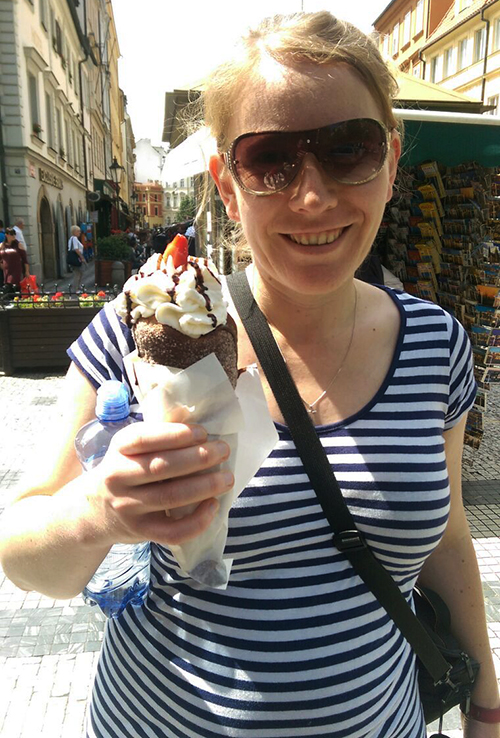 Dan had a few issues when it came to ordering his though…
The woman on the stall didn't speak the best English and when Dan tried to explain to her that he didn't want strawberries, just the chocolate inside his cone, she didn't grasp that he was also still after the icecream.  She selected a cone straight from the hot grill which didn't meet at a point at the bottom, proceeding to coat the insides with chocolate spread before handing the warm cone to Dan.  Dan pointed out that he did still want the icecream inside, but rather than pick up another fresh cone to fill she continued to fill the piping hot cone without a bottom with icecream.  Even before Dan had collected his change the bottom of his napkin had started to turn soggy with the melting mess!
We quickly found a set of steps to perch on so that we could try and consume our cones whilst making as little mess as possible.  I turned to see that there was a long trail of icecream drips from the stand to where Dan was sat though, and he had managed to get icecream all over his hands, his face, his jeans and his jacket.  Funniest thing ever!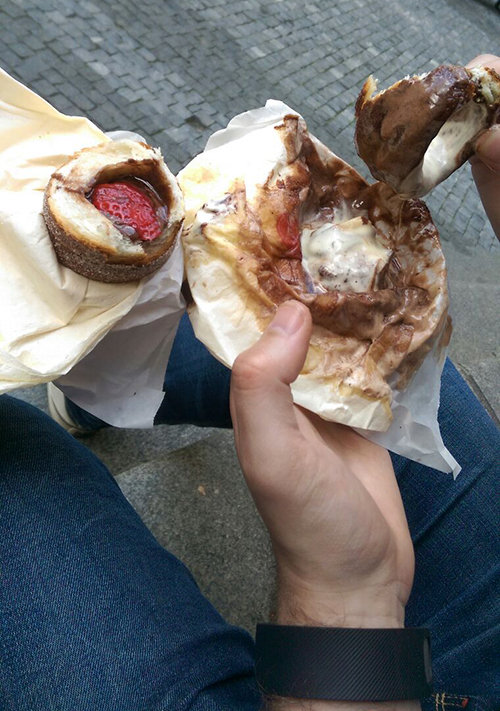 Side-by-side comparison of my icecream cone and Dan's one!
Most of our second day abroad was spent exploring.  After purchasing our icecreams we headed up to look at the Cathedral on top of the hill.  It was such a steep climb up to the very top in the heat and it seemed like every other person was heading back down in the other direction!  We made it eventually though and were treated to some beautiful views and a walk through the slightly sheltered gardens.  The forecast had threatened thunder since we arrived and so I had brought an umbrella along with us.  Good job, as, when we began our steep climb back down the hill again, the sky turned rather black and we could see fork lightning around us in several directions.  We hurried down the hill to try and miss the rain and managed to make it with just a few drips on the top of our umbrella.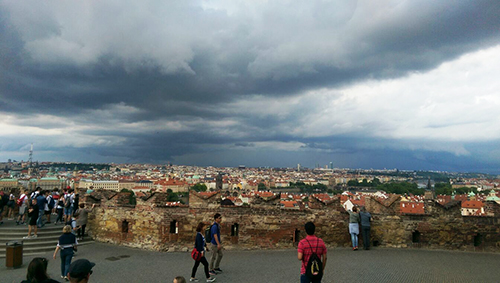 It waited until we hit the bridge before absolutely hammering down.  We could barely see the sky had become so dark and the wind was so ferocious I thought several times that I was going to go off the side of the bridge led by the umbrella!  We eventually made it to the other side of the bridge only to struggle to push our way through by the arch as it contained everybody that had made a run for it when the rain hit.
We squeezed our way through and found the Museum of medieval torture, so decided to pop inside and avoid the worst of the rainfall before heading back to the hotel.
We were soaked through!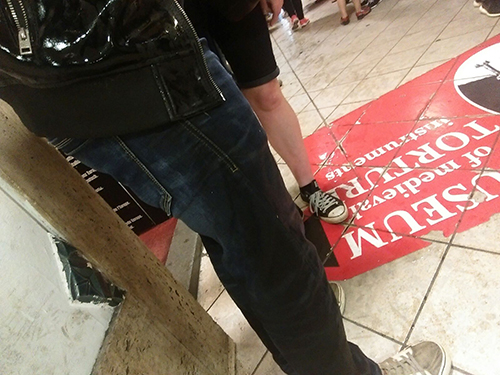 In fact, somebody followed us round the museum with a mop we had brought that much water inside.  Whoops!  We were literally squelching with every step!  The museum was interesting, but rather gruesome in places!
We headed back to the hotel for a couple of hours in the afternoon to avoid the worst of the weather and got ready to head to the Hard Rock Cafe that evening for burgers and beer (and non-alcoholic cocktails!)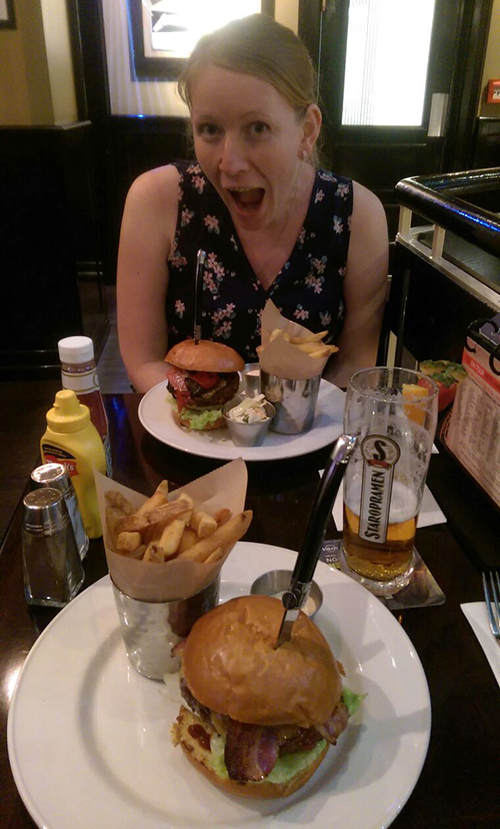 (Trying to see if my mouth would stretch wide enough to fit round my sweet potato and mozzarella burger!)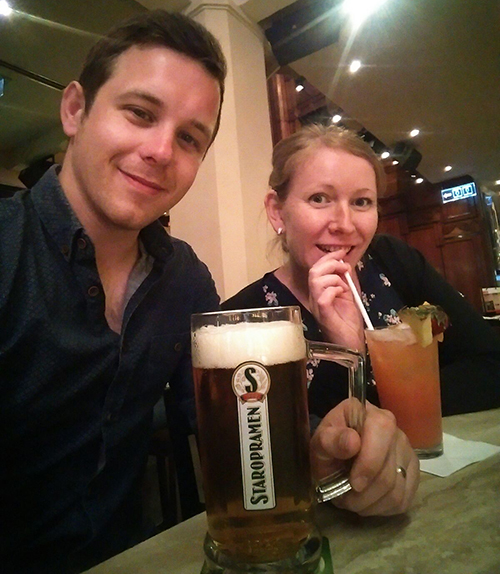 I love when cocktails come with a whole side of fruit on the glass!
Having been to HRC in New York on our last trip, Dan and I decided that the list of Hard Rock Cafes should determine where we went on holiday next, and spent some time closing our eyes and pointing out random places in the list on our table!
By Wednesday we had already managed to see the majority of landmarks we had set out to see, so took our time wandering a little further afield and taking lots of photos.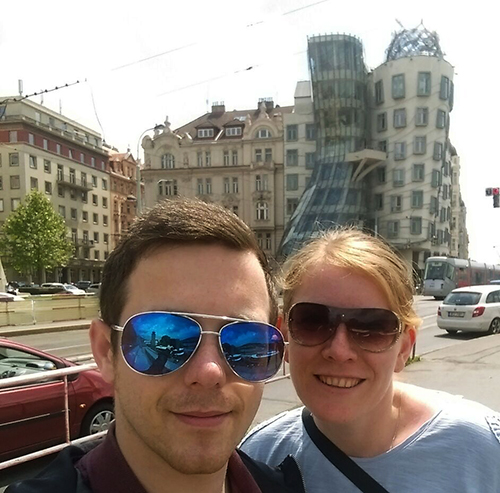 Check out that very twisted building we came across!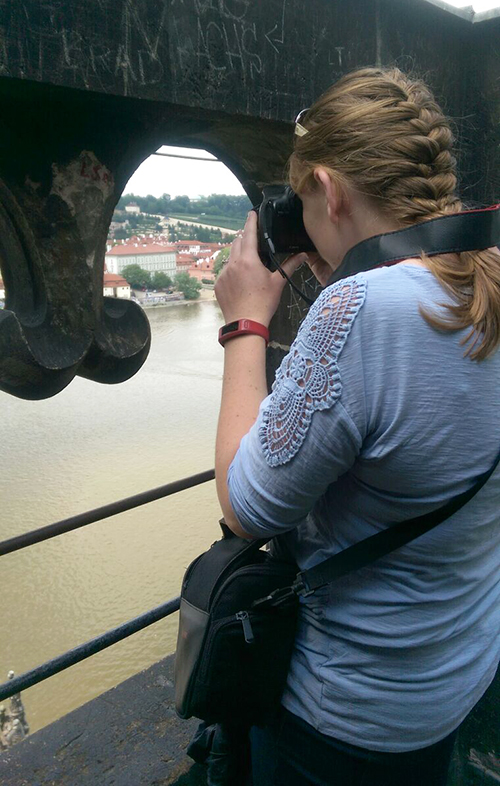 We paid to go up to the top of the bridge tower and view out across the city.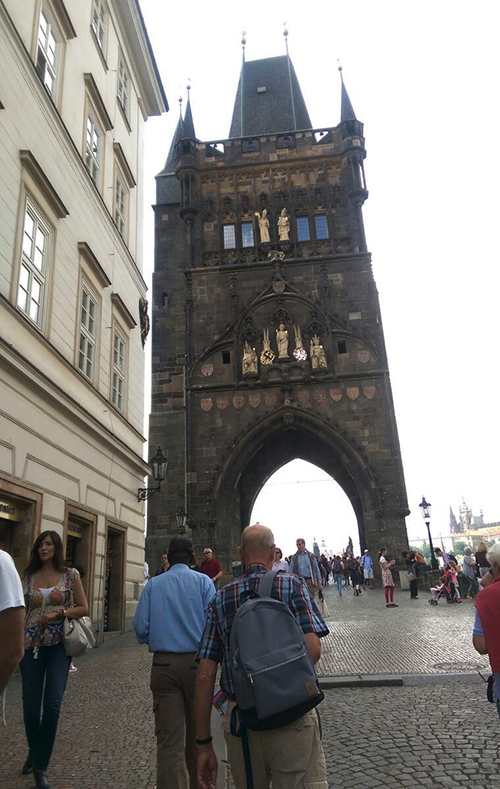 It looked so different from the day before when hundreds of tourists had been sheltered underneath it from the storm!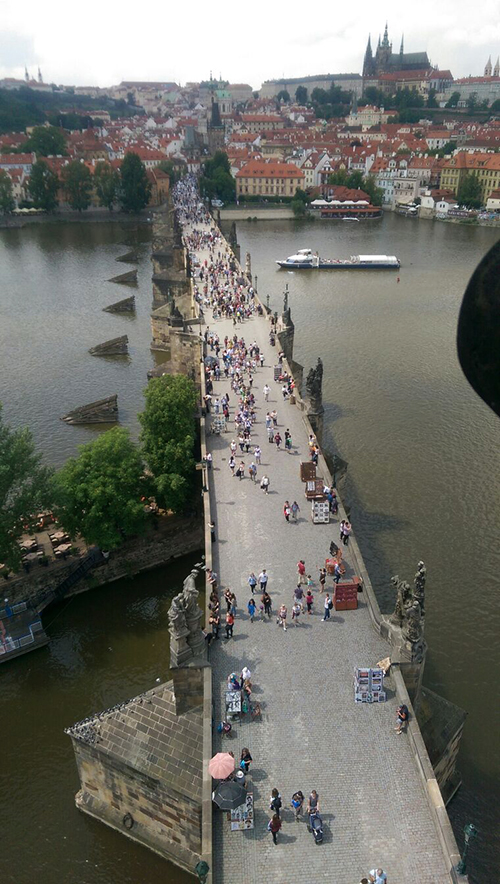 In the evening, we had managed to get tickets for a performance in the Rudolfinum and so we dressed up a little before meandering back into town again later that night.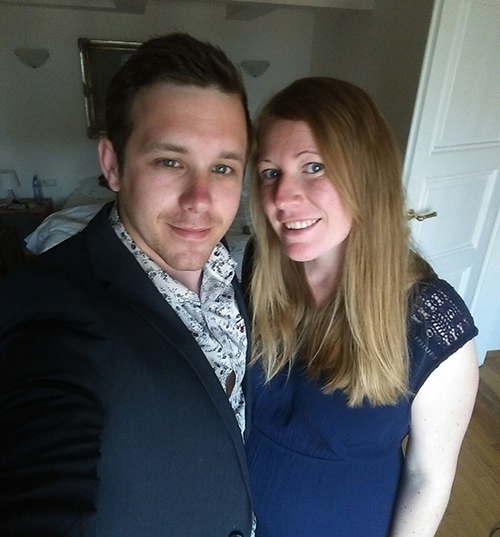 Unfortunately, confused by the language once more, the seats we had managed to book were 'poor visibility' and I ended up sat right behind a pillar!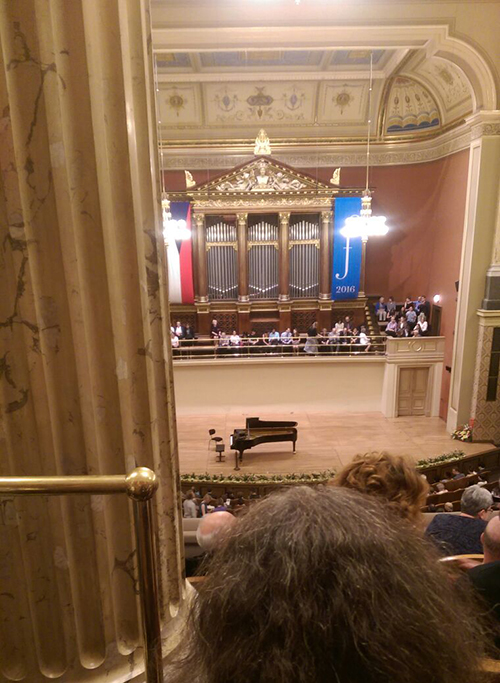 This is the view from Dan's seat, I sat one seat to the left, and wasn't even aware there was a piano on the stage my view was that blocked!  Luckily, the people to the right of us never showed for the performance, so we scooched across and enjoyed clear views for the rest of the night!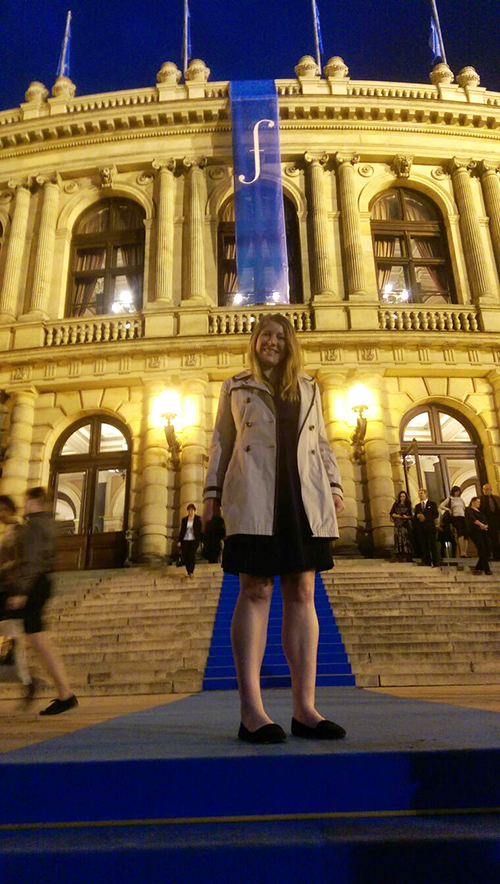 The building itself was beautiful and dressed up throughout with blue carpet and trim.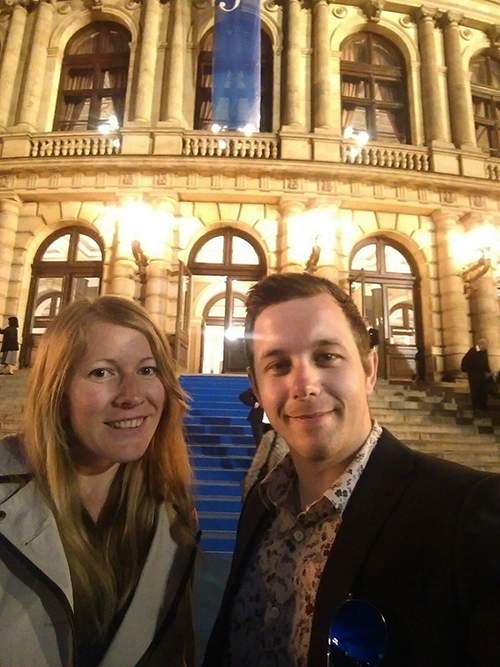 Our tickets were the equivalent of £7 each (although I'm sure would have been much more expensive had we not had quite such restricted views for the seats we paid for!)  The performance finished around 9pm and so we strolled back into the city centre to grab some al fresco dinner, just as the rain started up again.  Only a little drizzle though, and the restaurant we had chosen was under parasols.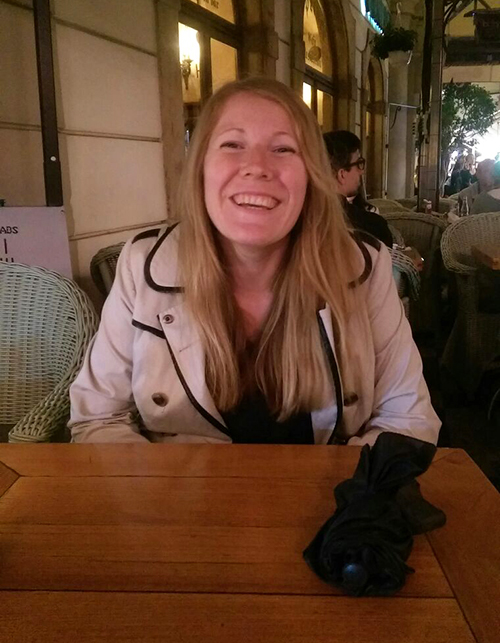 We used our final morning to purchase a few souvenirs and gifts for people, chilling out with a twenty-minute horse and carriage ride around the city centre before lunch.  I wasn't really feeling too hungry at lunchtime, but when I spotted this platter advertised at the Carte D'or cafe I knew we wouldn't be leaving without ordering!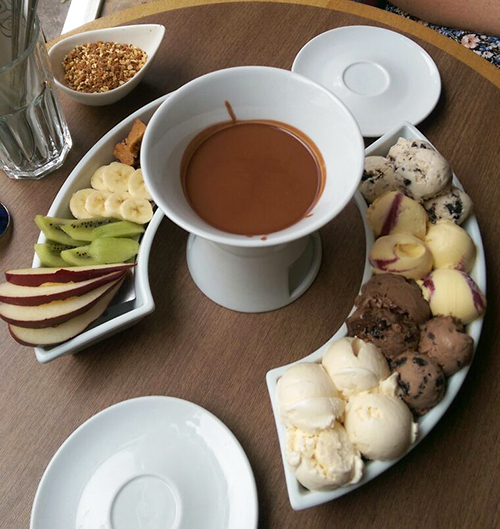 Our icecream fondue set came with four balls each of vanilla, chocolate chip, raspberry ripple and cookie icecream.  We chose milk chocolate for our fondue (although other types of chocolate were available) and we also received a bowl of nuts and platter containing apple slices, kiwi, bananas, cookie pieces and brownies.  This-was-amazing!  The icecream began to melt fairly quickly once it was out of the frozen counter, so the order of our selection was dictated for us, but there were no regrets!  The platter came to about £15 in English money, but if you can't treat yourself whilst on holiday, when can you eh?!
Our flight ended up being delayed by over an hour on the way home, then we hit roadworks on what seemed like every single A-road on the way back, so it was fairly late by the time we arrived back in Northamptonshire.  As a treat, Dan let Bella sleep up on the bed with us and she then did not leave my side at all the following day!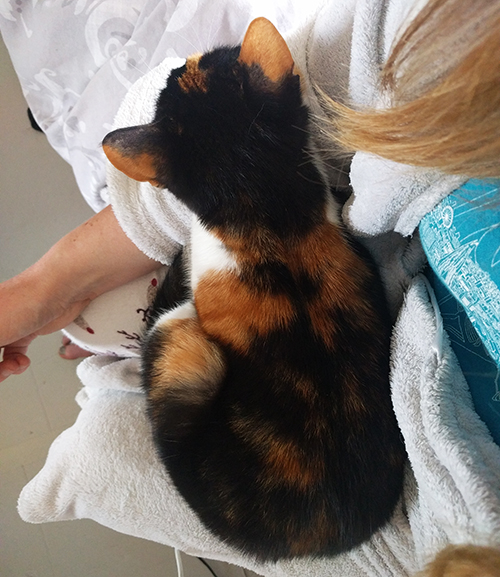 How do you decide where to head on your holidays?
Do you prefer sight-seeing holidays or relaxing ones?
Any fabulous local specialities you've found to rave about?!